Partnersdbbet.com
is an affiliate program specializing in attracting traffic for online casinos and bookmakers. Working directly with advertisers, this affiliate program provides participants with the opportunity to earn on a RevShare model with up to 75% of the net income from gaming platforms.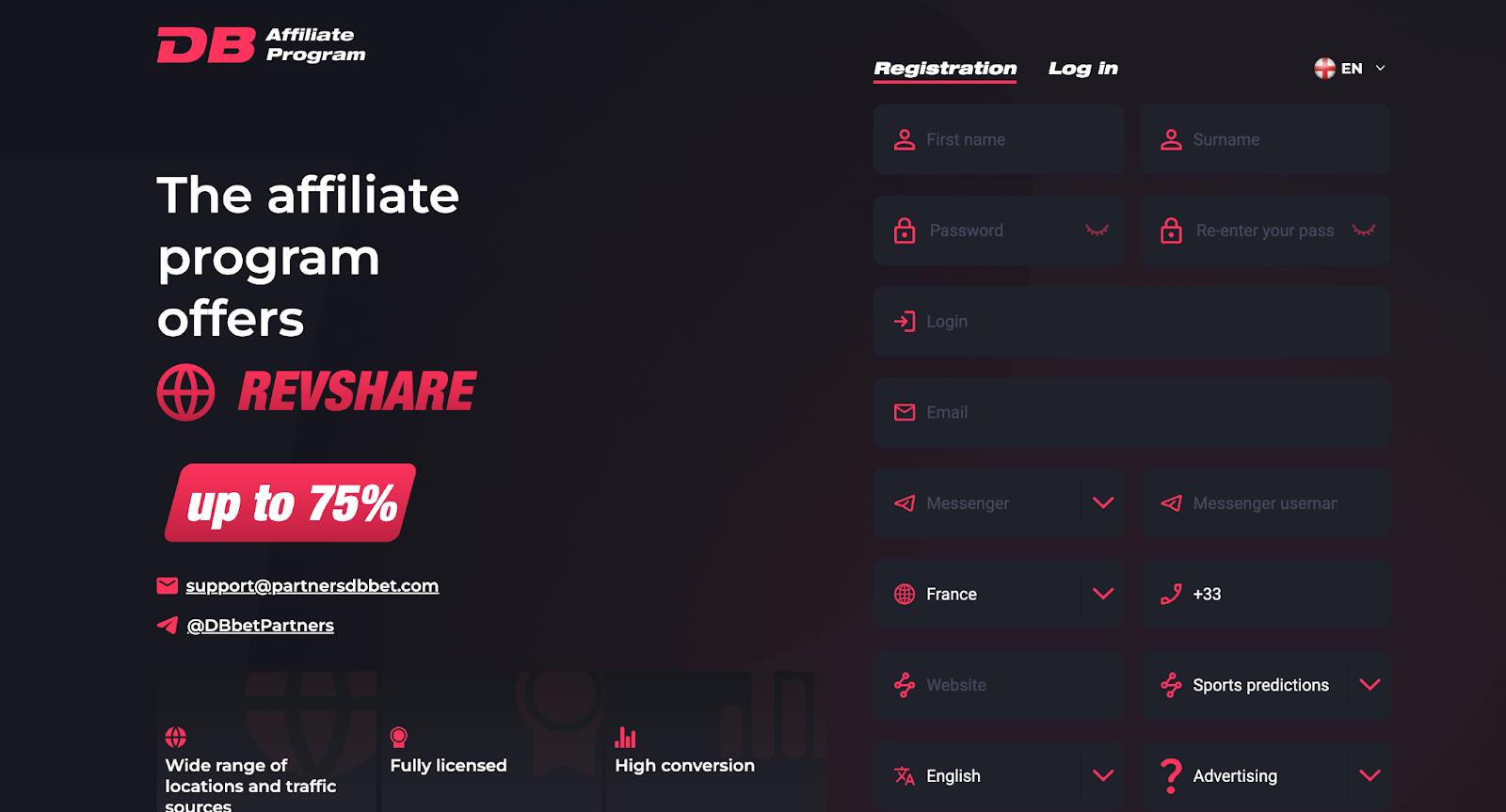 Key Advantages Partnersdbbet:
Fast Moderation and Partner Collaboration: The program ensures prompt moderation of new partner applications, enabling quick collaboration initiation.
Transparent Statistics:
Partnersdbbet.com
provides webmasters with convenient statistics and report settings, ensuring transparency in tracking their performance.
High RevShare Rates: Program participants can expect high RevShare rates, maximizing their earnings.
Promo Codes and Referral Program: Webmasters have the opportunity to create unique promo codes for players directly in their dashboard. Additionally, the program features a referral system allowing webmasters to earn by referring other affiliates..
Getting Started:
Registration and Dashboard Access:
After confirming registration, participants gain access to the dashboard, where detailed statistics reflecting registration dynamics, traffic, and earnings for different periods are provided.
Adding Traffic Source: In the "Websites" section, participants can add new traffic sources by specifying their URL, language, and category, such as sports predictions, casino, sports broadcasts, and more.
Marketing Tools: In the "Marketing Tools" section, partners can generate unique links and promo codes to attract new players. The "Media" section offers diverse promotional materials in various formats.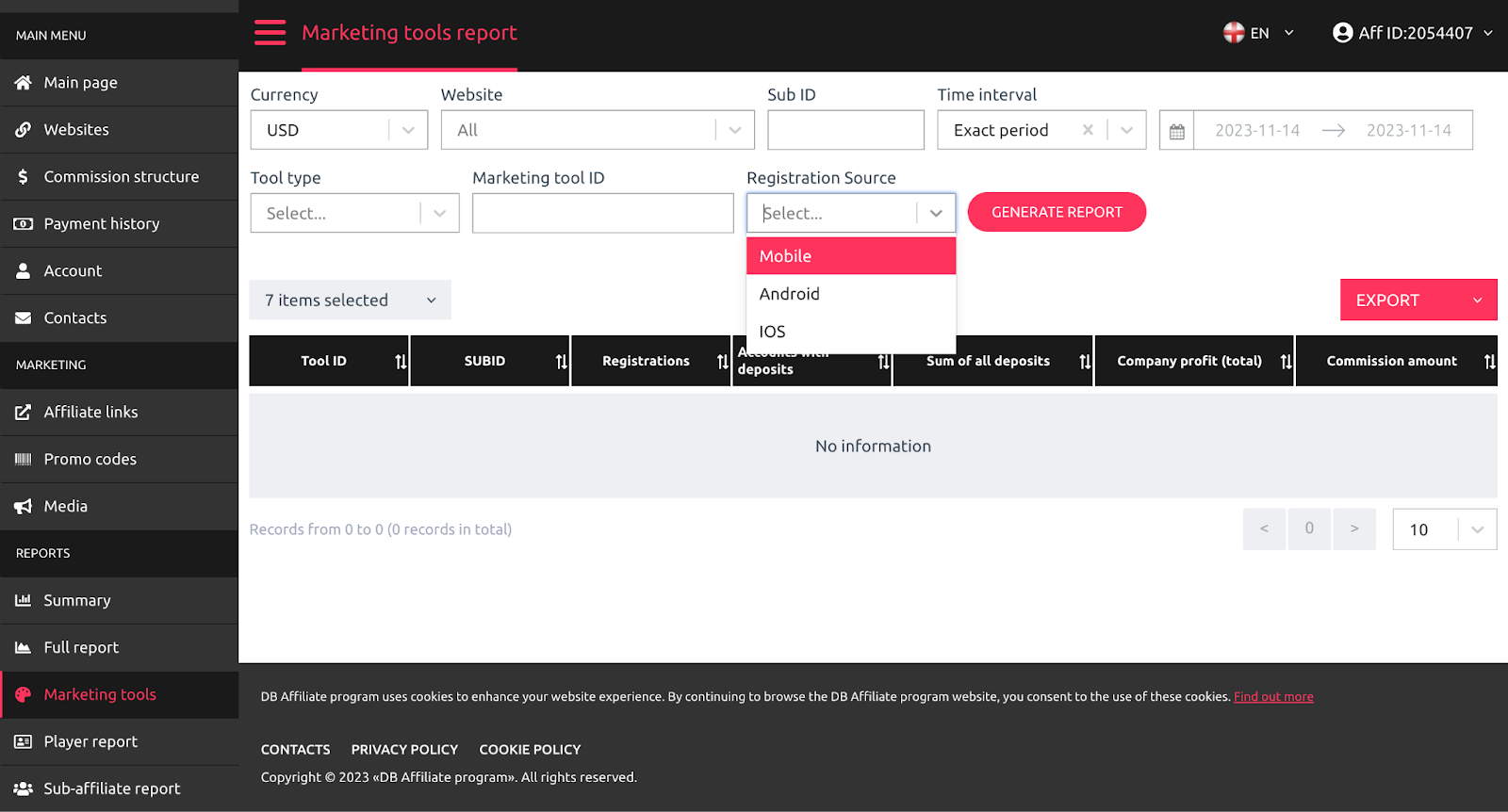 Reports and Statistics: Partnersdbbet.com provides a full range of reports, including player information, referrals, marketing tools, and total earnings.
Offers from Partnersdbbet:
Instead of a catalog of offers, webmasters can choose a category corresponding to their website: online casinos, sports, bookmakers and bets, sports predictions, sports news, and sports broadcasts.
Payouts and Referral System:
The minimum amount for withdrawal is only $30. Partners receive their payments upon request for the first time, and subsequent payments are processed automatically. The referral system provides a reward of 5% of the income from referred webmasters.
Contact Information Partnersdbbet.com:
Telegram: t.me/DBbetPartners
E-mail: support@partnersdbbet.com
Skype: live:.cid.c764539e7e737526
If you have questions, suggestions, or need additional information, feel free to contact using the provided contacts. The Partnersdbbet.com team is ready to assist you with any inquiries related to the affiliate program and collaboration.
Reviews about Partnersdbbet
John P. "I went through the registration on Partnersdbbet.com and haven't regretted it! The user-friendly dashboard, clear statistics, and, most importantly, stable payouts. Collaboration with the team goes smoothly, highly recommended for all webmasters!"
Emma M. "Partnersdbbet is a gem for those looking for a variety of offers. Impressive geographical coverage and the level of RevShare provide excellent earning prospects. Promo codes are a pleasant bonus that is easy to work with."
Alexander K. "Recently started collaboration with Partnersdbbet.com and already see positive results. Transparent statistics and responsive support - ideal conditions for a webmaster."
Anna S. "Earning from online casinos and bets has become even easier with Partnersdbbet. Attractive RevShare rates and the ability to create your own promo codes for players make this partnership the best choice for webmasters."
Daniel I. "Very pleased with the collaboration with Partnersdbbet.com. Convenient interface, a variety of marketing tools, and prompt payouts - everything needed for a successful partnership."
Olivia R. "Partnersdbbet is not just an affiliate program but a whole ecosystem for webmasters. Unique promo codes, diverse offers, and an individual approach make collaboration pleasant and profitable."
Victor L. "Looking for stability in partnership? Then Partnersdbbet.com is your choice. High RevShare rates, prompt payouts, and friendly support. Highly recommend!"
Catherine N. "Thanks to Partnersdbbet.com, I was able to maximize income from gambling traffic. Transparent reports and the ability to work with different categories make this program perfect for webmasters."
Adrian P. "Over a year of collaboration with Partnersdbbet.com, I've noticed only positive aspects. An efficient team, clear statistics, and attractive rates. Highly recommended!"
Maria S. "Partnersdbbet is not just an affiliate program but a reliable partner for your business. Regular payouts, interesting offers, and a team ready to help in any situation."
Conclusion:
Partnersdbbet.com offers webmasters a flexible affiliate program to maximize income from gambling and betting. With attractive collaboration terms, promo codes, and a referral system, this program becomes an intriguing option for webmasters focused on gaming traffic.