Starter pack of tips for those who want to start working with the Adult games niche from the Cpamatica team.
Hello colleagues. Today I will share my knowledge and observations on WHAT and HOW to do in order to start earning in the adult games niche using the PPS scheme.

A little about myself:

My name is Alexander, and 7 years ago, I became a crafts teacher. After working for a year at a school, I realized that a teacher's salary can only buy bread and salt. Unfortunately, my life plans included sugar as well. That's why I started changing my career direction. Trying different ways of making money, I came across the adult niche and, without any experience, created my first website with adult games.

The website grew, and I experimented a lot with different combinations to increase conversion. Gaining experience and understanding how it works, I decided to scale up and venture into the competitive market of adult arbitrage (my brother pushed me towards this, recommending not to limit myself to organic traffic, but to acquire and monetize other sources of traffic).

That's how I became not only a webmaster but also an arbitrageur. After 6 years, I am sharing my experience for the first time so that you can also try yourself in the PPS adult games niche.
So, what is PPS?
PPS (Pay Per Sale) is a payment scheme where the commission is paid based on sales and/or depends on the amount spent by the referred customer.

Specifically in our case, we will receive significant commissions from purchases made by the visitors we attract to the partner-providers' pages. In simple terms, we earn money immediately after a person enters their credit card details to access adult games.

In my opinion, this is the most stable and profitable scheme: no one will accuse you of fraud, as it happens with SOI offers, because you receive rewards for actual purchases. Therefore, you will forget about concepts like fraud, risks, and shaves from advertisers forever. And all because bots don't have credit cards =)
There are two types of PPS:
PPS FULL $50-$100 - if someone buys full access to the games; $8-$11 - if the visitor doesn't have enough money on their card to pay for full access; $1 - if there is no money on the card, but it is valid.

PPS FIXED - here it's simpler: you receive a fixed amount of $25-$45 if the visitor's card is valid and has money (based on my observations, if it has more than $1).

Tip #1: I recommend working specifically with PPS FULL offers. After a week-long split test, the conversion rate was three times higher compared to PPS FIXED.
Where to find PPS offers and whom to work with?
That's a good question, as there are numerous affiliate networks out there, and all of them will try to hunt you down as soon as you start achieving results. I work with the affiliate network Cpamatica, and after 5 years of cooperation with them, I can't say anything bad. They have quite a few advantages for promoting games in the adult niche:
At the time of writing, they have over 40 offers for adult games in any GEO. You can learn more about adult games and this vertical on their website cpaverticals.io. Each offer comes with pre-set landing pages. Weekly payouts, and the possibility of receiving early payments. This is a HUGE plus, especially when you decide to scale up.
I recommend choosing the following multi-lingual offers: 7474. SlutSaga - Mobile/Desktop [WW]
Premium Adult Games - Mobile/Desktop [WW]
Standard iFrame for Adult Games - Mobile/Desktop [WW]
Tip #2:
Try to work only with multi-lingual offers and forms, as many people on adult sites use VPN. If you target traffic to the US, it doesn't mean that the traffic will be 100% American. From the total amount, approximately 15% are people using VPN from other countries. Therefore, we choose offers with localization in different languages to avoid losing leads that are encrypted.
I've noticed that VPN traffic is most prominent in these countries: US = ~15% FR = ~30% DE = ~60%
Keep this in mind.
Which GEOs, devices, and browsers convert the best for games?
After numerous tests on an audience of 5 million unique visitors, I can say with absolute certainty that all countries work. Below, I will provide the ones that perform better when using a good combination.
The lead-to-registration ratio is relevant for PPS FULL offers, which is the scheme I work with because at least one of the three actions is paid.
Other countries also convert, but due to their smaller volumes and a conversion ratio of 5:1000 for PPS FULL, it's not convenient to work with them. Therefore, I recommend focusing specifically on the countries listed: US/CA/AU/UK/FR/DE/RU.
Which operating systems and devices work?
Again, based on my statistics, both desktop and mobile devices, including tablets, work. However, it's crucial to target traffic to the right operating systems.

If we consider EPC (Earnings Per Click) as the main criterion (calculated as the ratio of the total revenue generated from traffic sales to the number of clicks that generated that revenue), it will become clear which devices to prioritize.

Please note that the EPC for devices varies slightly, BUT there are a few significant nuances to consider as well:

CTR (Click-Through Rate): You should know that the clickability of MacOS and iOS devices is almost always 2 times lower than Windows and Android. This is important to consider because while your bid in the ad network may be the same, Apple users click on creatives two times less, and naturally, the cost per conversion also increases by 2 times. eCPM and competitor bids: Of course, competition is everywhere, and they will do their best to hinder you and throw obstacles in your way. Therefore, prices for different devices can vary significantly. For example, MacOS and iOS can cost approximately 2 times more for buying the first rotation compared to Windows and Android.

However, don't worry about this. I will explain a trick that will help you earn from PPS games and attract the right visitors right from under the competitors' noses.

Tip #3: Separate your advertising campaigns by different devices: Windows, MacOS, Android, and iOS - each separately. This way, you can adjust bids on devices where conversions are lower.
Which browsers to include and which ones to forget?
Surprisingly, not all browsers will help you make money. On some browsers, you're pouring traffic and eagerly anticipating the purchase of a brand-new Porsche, while on others, you're scratching your head wondering why there are zero results.

Let's start with the browsers where users actually have money to make purchases. In our case, it refers to accessing PPS games.

These are the favored browsers with stable conversion rates, and users always have a few dollars to buy something from you. Desktop: Google Chrome, Safari, Microsoft Edge, Firefox. Mobile & Tablet: Chrome Mobile, Chrome in-App, Safari Mobile, Samsung B, Android WebView.

If you are an experienced and well-funded affiliate marketer, feel free to target all the browsers mentioned above. If you want to test the waters more cautiously, choose Google Chrome, Google InApp, and Samsung Browser.

Now, I'll list the browsers that you should not include in your advertising campaigns because either there are no volumes or the traffic is completely dead.

Desktop: Internet Explorer, Opera, UC Browser. Mobile & Tablet: Internet Explorer Mobile, UC Browser, BlackBerry, Chromium, MAUI WAP Browser, Silk, Firefox Mobile, Puffin, DuckDuckGO.

In my experience, it's best to forget about these browsers because no matter how hard I tried to run successful campaigns, I always ended up with negative results in this targeting.
Statistics by browsers for PPS Games in the United States.
In general, the statistics show that the majority of users prefer Google Chrome or Safari, but it's worth paying attention to the browsers that convert well with a low number of clicks. This can be a profitable strategy with minimal costs and potentially passive income.

Regarding time targeting, since you're working with a PPS (Pay Per Sale) offer, it's important to understand that you're targeting a financially capable audience of men aged 25-45. Considering that this target audience is likely busy working during the day to support their family, pets, and other expenses, they are more active online in the evening.
The most profitable time slots for PPS games are as follows:
08:00 - 10:00: People have just woken up and are looking for a boost of energy before work. They visit adult websites where your advertising can be displayed. 11:00 - 13:00: Lunchtime. Some individuals may not have anything to do or don't feel like eating, so they spend time on adult websites where your ads can reach them again. 17:00 - 20:00: People have returned from work, potentially experiencing stress due to issues at home. Unsatisfied potential customers may visit adult websites during this time, making it a prime opportunity for conversions. 22:00 - 00:00: When everyone has gone to sleep, some individuals may enjoy a drink and feel lonely. Adult websites can provide entertainment and serve as an opportunity to display your ads. 03:00 - 05:00: "Party-goers" and "night owls" tend to go to bed late but visit adult websites to unwind before sleep during this time.

Below is a table showing hourly statistics from your tracker for a one-month sample period. The data is specific to the United States (US) and relates to Offer #7474, SlutSaga, available on both mobile and desktop platforms worldwide.

Please note that the displayed time on the screenshots is in Moscow time. Carefully analyze the information as it is valuable. If you provide the specific details or data you would like to be translated into English, I would be happy to assist you further.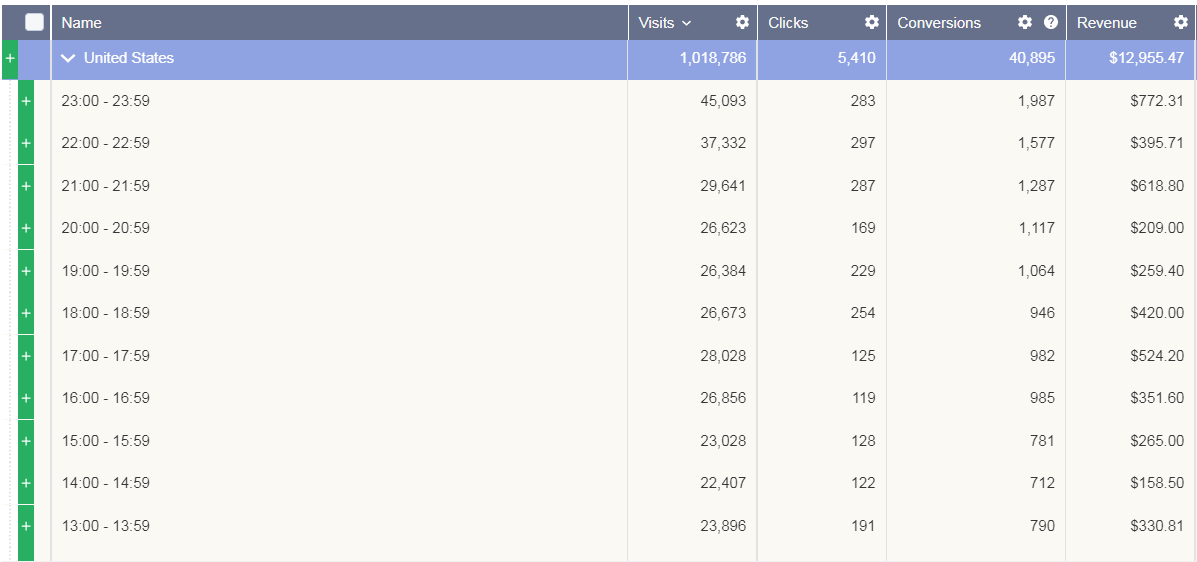 Tip #4: If you plan to run native campaigns, videos, or pop-ups, make sure to set time targeting because there is very little traffic during certain periods. Use the saved money to launch multiple advertising formats, thus increasing visitor conversions during peak hours and, consequently, your profit as well.

Observation: In large countries like the United States, Russia, and others, there are multiple time zones. Therefore, if you target by time, include several time periods to avoid missing out on relevant visitors.
Jobs-to-be-done Approach
What should every adult webmaster understand? From a smart perspective, it's Jobs-to-be-done; from a human perspective, it's how to capture a user who came for a quick fix and evoke the desire to enter their valid payment details for a game.

Here, the audience can be divided into two categories:

Organic - those who are already at the Action stage, actively searching for adult games. We capture this audience through SEO. Acquired - the audience that visits other adult resources, primarily driven by the need for a quick release and relaxation.

Therefore, when working with the second type of audience, especially for PPS offers, we use long landing pages to distract users from their initial goal. The content on the main page should be attention-grabbing, and you can experiment with various landing page styles because the main objective is to divert the user's attention from the adult site and encourage them to scroll and explore the warm-up content.

My tests fully confirm the effectiveness of this approach: the longer the landing page, the higher the rate of valid cards with sufficient funds for full payment. Conversely, shorter landing pages tend to have a higher percentage of cards with only $1 or less.

It is also important to cover a wide range of sexual preferences with pre-qualifying questions on the landing page. For example, not only BDSM but also bukkake, hentai, pissing, hardcore, trans, and more. By doing so, you can expand your funnel with a single question, especially if you have dynamic content on the landing page, as in the XXXCyberGames offer.
Therefore, don't forget about fetishes and users' secret desires.
Running and Scaling
As I mentioned at the beginning of this article, I started as an adult webmaster before becoming an arbitrager.

The progression of my journey presented me with a great opportunity. I have my own website that generates organic SEO traffic, and in addition, I also buy traffic from other platforms.

Here are a couple of secrets to successful traffic acquisition, using Exoclick as an example.

Exoclick is an advertising network based in Barcelona that provides a vast amount of high-quality adult traffic. Many arbitrators, including myself, love this source because it is the largest and most reliable provider of quality adult traffic.

There is a tremendous amount of 18+ traffic available here! So, I will specifically focus on Exoclick. The minimum deposit is only $200.
Choosing the Right Format
Since we need traffic for adult PPS games, I recommend starting with the native ad format. Create an advertising campaign based on the targeting options and recommendations I mentioned earlier in the article. Let's take a look at launching a campaign in the US as an example.

Click on the "New Campaign" button to start the creation process.
You select the ad format, desired categories, and zone types that interest you. In the screenshot below, I indicate the most effective categories and zone types for the PPS adult games niche. By making these choices, your expenditure will be moderate, and your ROI will be positive.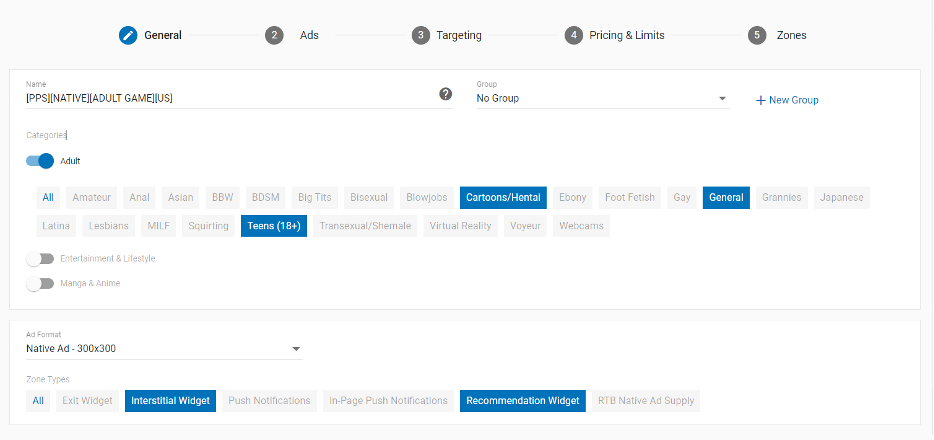 When adding creatives, you need to enter your direct offer link or the link from your tracker. Then, you should come up with an interesting headline, description, and brand name.

Tip #5: Do not use your competitors' headlines, as they are USELESS! Be creative and always add emojis to your texts to increase CTR.
Examples of successful headlines:
This game excites more than sex.
Best SEX SIMULATOR 2022.
STOP JERKING OFF! Until you try this game.
And so on, and similar examples...
When adding creatives, I recommend using images featuring 3D girls, especially if you're working with Cpamatica offers, as they are actively developing the gaming niche. (Their exclusives can be found at cpaverticals). By including 3D girls in your creatives, you can avoid mis-clicks from people who are interested in hentai and anime girls.
Tip #6: Don't hesitate to upload a variety of different images. Through short split tests, you can find the "Golden Grail" that will give you good conversions, even if you didn't anticipate it.
Choosing the payment model for your advertising campaign, I recommend starting with CPC (Cost Per Click) model. Since the minimum click price on ExoClick is only $0.005, set that as your bid. Don't worry, there will be many clicks, but the cost per click is incredibly low =)

This pricing strategy will allow you to avoid significant expenses, and you can easily build a whitelist or blacklist of websites.

Tip #7: Since Cpamatica uses Postback for registrations and purchases, I recommend relying on the following factor to prevent overspending on each individual platform.

The optimal price for a simple registration should not exceed $0.5-1 (US/CA/UK/AU/NZ/FR/DE). If the registration cost on a particular website is above $1, I suggest adding it to your blacklist. In the future, you can always revisit the websites that don't meet your expectations right now =)
Final step: You can now launch your advertising campaign, add poor-performing websites to the blacklist, and enjoy the conversions!

P.S. In the beginning of the article, I promised to share a secret that will allow you to buy traffic and always stay profitable, and here it is...

It may sound absurd, BUT it's true... DO NOT BUY ADVERTISING AT HIGH BIDS - in the adult PPS games niche, even the last rotations and average bids convert well.

So, for a start, you have an understanding of GEO, time, OS, devices, and the buying process. These tips will help you in the beginning of working with the niche and prevent you from falling into pitfalls.

Testing is crucial in this niche; you need to find the winning formula. You should understand every step your user takes: whether they are already motivated or if you need to warm them up before they make a purchase.

Go for it, affiliate joys are guaranteed in this niche.

Important clarification: Once you succeed, you won't want to go back to low-paying SOI offers. Only PPS, only hardcore.

Good luck in adult gaming, and until our next meeting!