Disclaimer: This case study was written by one of the partners of CMaffiliates who wished to remain anonymous. If you are interested in learning more details about working with crypto, please contact support, they will be happy to assist you.
Offer Selection
Affiliate Network: CMaffiliates
Offers:
Bitcoin Profit Greece
BTC System Portugal
Both offers with native call centers
Geos: Portugal + Greece
Traffic Source: FB
Accounts:
Own Farm
Purchased
Payment solutions: Custom solution
Let's go through everything in order.
At the end of April, we set out to test a stack of unconventional geos for crypto. Since these geos are not the largest, it means that Facebook moderation will not be too aggressive, or at least that's what we hoped for (considering that Facebook moderation, in general, cannot be remotely called non-aggressive lately).
We had a challenging task ahead of us, which was to push and convert old aggressive approaches with celebrities on pre-landers, transforming them into a new format.
We reviewed the resources we had at our disposal and started thinking about how to accomplish this.
The managers at CMaffiliates suggested that we test geos/offers on a CPL basis (they have plenty of them), in order to significantly reduce the cost of testing. With sufficient experience in this vertical, we decided to take the bull by the horns and chose a couple of geos with native call centers for testing on a CPA basis.
We dug up old pre-landers and also requested LPs from the CMaffiliates managers, who kindly provided them to us.
We made some modifications and retouched them a bit before launching them for testing (special thanks to manager Nastya for providing us with working pre-landers).
I will now reveal the cards and give an example of the most successful LP for Greece.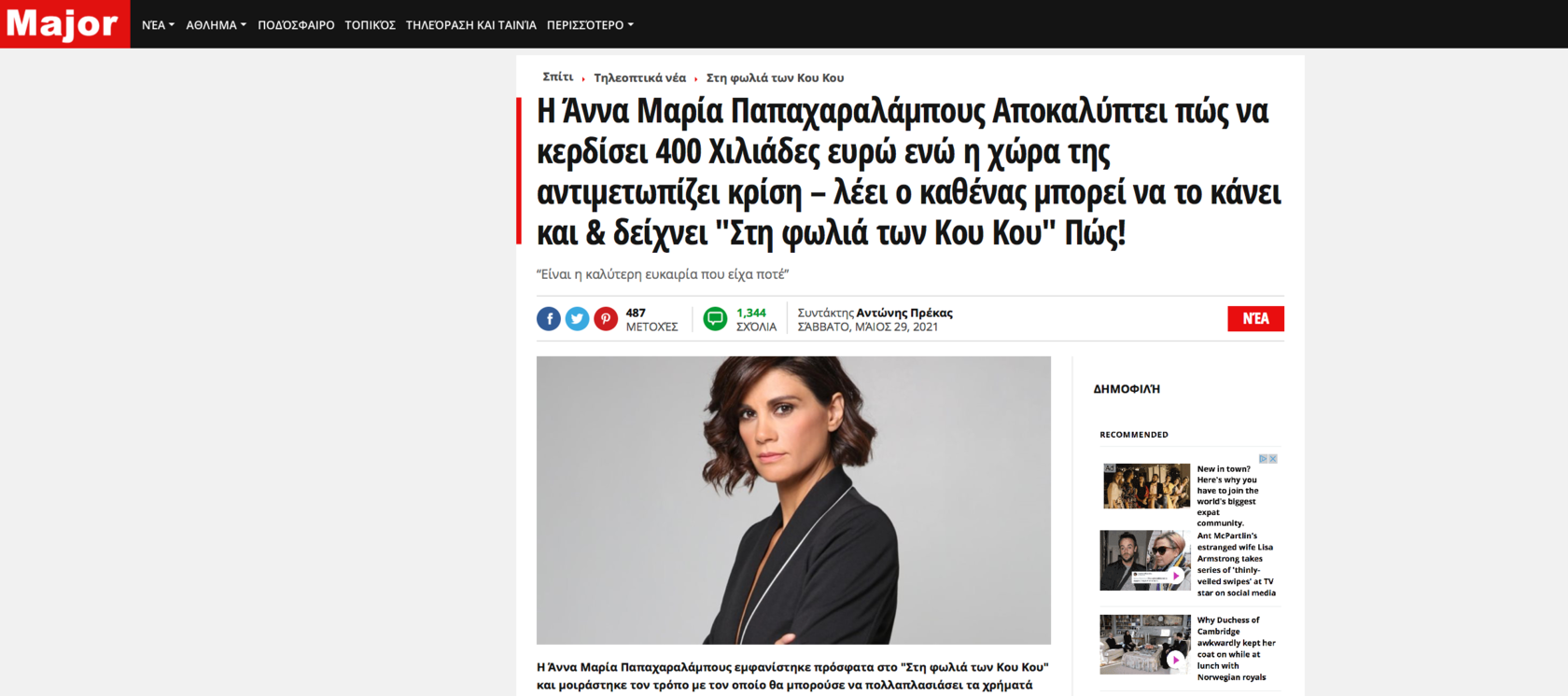 On this LP, we used an aggressive approach by featuring well-known successful local entrepreneurs/businessmen. However, despite gaining high trust from the audience, we had to deal with Facebook bans. In search of a winning approach, we tried a dozen variations of creatives using celebrities. However, we are unable to share them as we received several letters threatening legal action from lawyers representing the "heroes" we used. Therefore, always be cautious when using such promotional methods. If you want to explore our creatives, take a look at the spy tool 🙂

Our winning variation for Portugal is as follows:
These are the results of testing a larger number of LPs.
Regarding the promotion, we tested several approaches:
Images with celebrities: In our experience, this approach was weak, and when using an aggressive approach that generates cheap leads, it also resulted in Facebook bans.
10/20/30-second videos with professional voiceover in the native language: This approach is much more interesting. Facebook still allows pushing somewhat aggressive approaches in videos featuring celebrities.
The campaigns are still running, and the current results are as follows:
If you are interested in more details, please leave comments, and we will provide you with some working ideas.
The distinguishing feature of these campaigns was the PROMO/CREATIVES. In combination with high-converting offers and native call centers, they maximized the profit from the incoming leads. Our recommendation is to not hesitate to invest effort and resources into high-quality promos (all our successful videos were created with the help of contractors, not in-house).
It was the original promos that helped us acquire leads at ridiculously low prices and minimize bans, although this still remains the biggest headache.
The placements that were used:
Facebook feed
Instagram feed
The targeting was kept as broad as possible (M/F, ages 35+), which increases conversion rates and provides excellent lifetime value (LTV) for the advertiser. Consequently, the advertising efforts were maximized in such traffic.
It is worth noting a recurring observation in the crypto industry that if you consistently generate a good volume of leads, the conversion rate remains relatively stable (in our case, it was below 3-4% in Greece and 6-7% in Portugal, respectively), which was an excellent performance considering the geo and broad targeting.
Results of a three-week spillage in Greece and Portugal
Greece:
Reg2FTD: 3-4% Cost per lead: $5-8
Portugal:
Reg2FTD: 6-7% Average cost per lead: up to $10 Total campaign costs: $20,875.44 Total campaign revenue: $103,795.00 Profit: $82,919.56 ROI: 397.21%
Conclusions and recommendations for working with crypto: We haven't seen such ROI in years, and we will definitely continue testing (you can read about them in upcoming case studies on ZorbasMedia). The test brought us great results, so we have concluded that successful crypto campaigns today consist of several key elements:
Everything new is well-forgotten old. As practice shows, all old LPs work well, even the aggressive ones. They just need a fresh twist in the form of original promos/creatives that haven't become too familiar to Facebook and users.
Offers and quality lead follow-up. You can send tons of traffic, but if your offer is "nothing special," then all your expenses and efforts are in vain. Here, the expertise of the affiliate network is crucial. We trusted CMaffiliates and didn't regret it. The team effectively converted our traffic, provided daily lead status updates, and pushed ads to maximize late deposits from our traffic. The ROI suggests they did a great job.
For example, I have separately attached statistics from another affiliate network (which I won't name). The test was conducted in the same geos.
What do you think of such differences in performance?
Perseverance.

Don't give up after the first failures. Based on experience, if a campaign starts working at breakeven or with a positive ROI right away, it's considered fortunate. Keep testing. In our case, it took dozens of tests to find a winning combination.

For those who don't have many resources, try Crypto offers on a CPL (Cost Per Lead) basis. It's an easy way to test your hypotheses. CMaffiliates, for example, offers several GEOs on a CPL basis, both expensive and affordable.

Don't be afraid to test rare GEOs.

Even if you don't know the language or find it difficult to translate on your own, there are always exchanges and tools available. You can start with Google Translate. Usually, there's more profit in such GEOs.

Don't forget to do preliminary research on the GEO.

Each GEO has its own peculiarities. Don't hesitate to ask your manager for advice. In our case, the affiliate network provided us with information on regions with excellent and very poor conversion rates. It had a significant impact on the results.

That's all. Thank you for your attention, and here's to astronomical ROIs.