Hello, friends! Acquiring users for dating platforms is relatively easy due to the simplicity of the target action required. In most cases, users only need to register on the dating website. However, the main challenge lies in the low payouts for registrations. Therefore, to achieve a good profit, substantial volumes are needed. But there is a solution - targeting Tier 1 countries, such as the USA, where payouts are much higher. In today's case study, we will explore all the peculiarities of this approach. Let's get started!
Choosing an Offer
In the CPA network AdsEmpire, there are numerous dating offers available. For the USA, the affiliate program of the dating site "OneNightFriend" is well suited. For desktop registrations, the default payout is $2.5, and for mobile users, it is $1.9. It's worth mentioning that the mobile traffic payout was later increased to $3.
Advertising Formats
The traffic network ClickAdilla was chosen as the traffic source. They offer a wide range of formats, but it's important to understand that not all of them convert well for dating campaigns.

Three formats were selected with the option to include images. In-Page Push is an ad fixed to a specific part of the screen. Push notifications resemble familiar push notifications that users receive. And banner ads are static ad blocks placed at the top or bottom of the screen.
Budget
The available budget for advertising was no more than $1,500 per week, which means around $200 could be spent on promotion per day. This was more than sufficient for the campaign.
Creatives
When creating creatives, it's essential to consider the local population's mentality, habits, preferences, and interests. In this case, there was no need to reinvent the wheel. The ads featured attractive girls in the photos, accompanied by explicit calls to action in the ad copy.
Translations:

"Get free tokens and make girls cum."

"Masturbate with me."

"Start chatting with aroused models."

Advertising Campaign Settings

After uploading the creatives, we move on to fine-tuning the advertising campaign settings.

Country: United States of America.

Device Type: Mobile and Tablet.

Operating Systems: Android, Linux, iOS, MacOS X, BSD, Maemo, Bada, Tizen, Google TV, and Kindle.

Browsers: All.

Campaign Activity: Daily for 18 hours.

Activate ad placement in the prime viewing position.

Enable bot filtering for IPv4 and IPv6.
Next, it is necessary to specify premium 18+ websites on which the advertisements will be displayed. To assess their value and traffic volume, specialized spy services can be used. In this case, the ads were shown on the following websites: vjav, hotmovs, thegay, porn555, hclips, voyeurhit, txxx, hdzog, tubepornclassic, and upornia. All resources are located in the .com domain zone.

Set the cost per click in the range of $0.08 - $0.09.
Results
To begin with, let's look at the number of clicks per week and the amount of money spent. On the best days, it was possible to obtain over 3,000 clicks.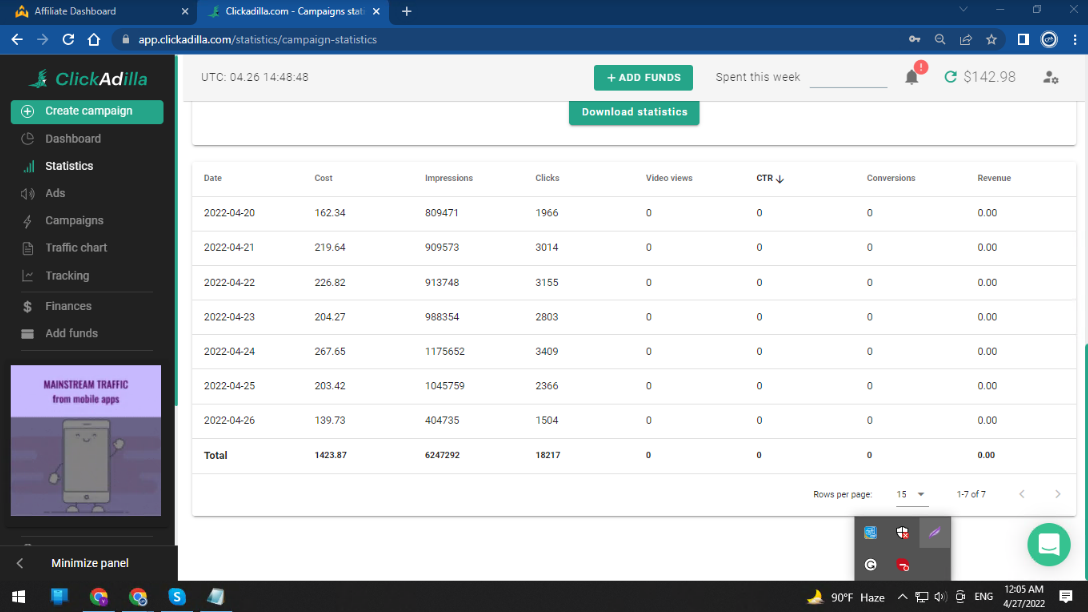 A screenshot of the affiliate program's statistics captured the volume of registrations, which did not drop below 200 per day starting from the second day of the campaign.
Here, it can be seen that the earnings reached $729.80 per day. Over the course of 7 days, it surpassed $4,000. It's worth noting that on the eighth day, even after the traffic had been stopped, registrations continued to come in, generating additional revenue.

Additionally, we are attaching a screenshot that shows some payments from AdsEmpire.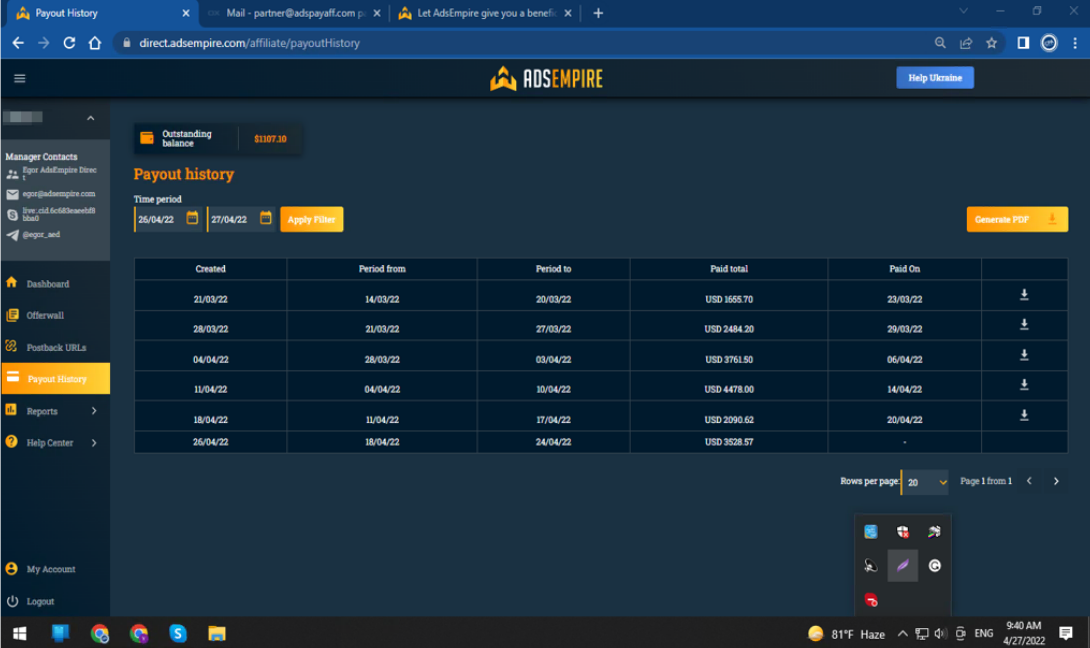 Results
As a result, over the course of one week, $1,500 was spent, a little over $4,000 was earned, and the net profit amounted to $2,500. This translates to a daily net profit of over $350.

Every aspect of this combination is important: a reliable affiliate program with a good offer, an advertising network with suitable formats, proper campaign settings, and, of course, attention-grabbing creatives that appeal to the target audience.

Can this case be replicated? Who knows... But it's definitely worth a try! Good luck!