Greetings, readers. This time, we have decided to conduct a small experiment and test a relatively popular advertising format in the Western market but still rarely used in the Russian-speaking segment - the Social Bar. As an offer, we chose gambling, a stable niche that is resilient to any catastrophes. It serves as an excellent control for testing new advertising formats. Presented here is a detailed case study featuring a traffic leak targeting India with a CPA model.
Key Features:
Offer: RummyCircle Traffic Source: Social Bar GEO: India Affiliate Network: AFF+ Payment Model: CPA - Mobile App Install + Registration Soft KPI: 5% deposits from total registrations Campaign Period: 7 days Advertising Costs: $338.4 Revenue: $1009.4 Profit: $671 ROI: 198%

What is Social Bar?

A brief overview. Social Bar is one of the newer advertising formats that emerged a little less than two years ago in the Adsterra advertising network (now similar formats are appearing among competitors). It is somewhat similar to in-page push, but with the advantages of traditional banner advertising and pop-up videos.
Key Features:
There are no strict requirements for the format of creatives. It can be a standard banner or an imitation of a message, chat support.
The banner can be interactive - perfect for gambling, as you can launch mini-games.
Advertisements are well adapted for both desktop and mobile browsers.
It has high resistance to AdBlock, with the script successfully bypassing most ad blockers.
The main argument is high conversion. Social Bar appears maximally native and non-intrusive while still capturing attention. Compared to regular push notifications, the conversion rate is significantly higher.
However, these are theoretical claims and experiences from foreign arbitrage specialists. In the Russian-speaking segment, this format is less prevalent. Therefore, we decided to personally verify whether everything is as promising as claimed.
Choosing the Offer:
There was no specific intention behind choosing the offer. Our goal was to test the effectiveness of Social Bar. We selected gambling as a reliable niche, and India as a country with abundant traffic, a large audience of gamblers, and consistently growing income levels. The Indian internet segment is actively developing, and it is enormous, with affiliate marketers from around the world struggling to keep up.
While searching for interesting offers, we came across RummyCircle. It is not the typical gambling offer for the Russian market, which worked to our advantage. This presented an opportunity to further test the new format for gambling entertainment.
Rammy is a popular card game in India and other Asian countries. It is similar to poker, combined with solitaire. It is a multiplayer game where the winner is the first to form a combination. We have never worked with this format before.

The offer turned out to be highly attractive. The payout is $2.45 for each mobile app installation + registration. There is a KPI, but it is modest - only 5% deposits. It is a "soft" KPI, meaning it is not mandatory to achieve. Considering the Indians' inclination towards gambling and the traditionally low advertising acquisition costs, it can be considered a jackpot. Most other affiliate networks pay around $1 for registration + install.

Targeting is limited to Android only. Traffic is accepted from specific states: Kerala, Karnataka, Maharashtra, Tamil Nadu, Andhra Pradesh, and Gujarat. However, these are highly urbanized regions with high average incomes in India and a population of nearly 300 million people. Major cities such as Mumbai, Gandhinagar, Surat, Bangalore, and Hyderabad are located in these regions.
Strategy:
Our strategy relies on a large volume of inexpensive Indian traffic. Considering the local advertising exchange rates, we opted for cost-per-click (CPC) payment. After consulting with the manager, we set the CPC price at $0.002 per click (1/5th of a cent), which is above average rates.

The main bonus is the soft KPI. The requirement is 5% deposits from all registrations. However, it is not mandatory; it is more of a recommendation. If the KPI rate is lower, the affiliate network will still pay. However, they may not approve future collaboration.

Although the KPI was not crucial for us, we wanted to obtain high-quality traffic. Therefore, we re-evaluated the target audience. Gambling, like entertainment in general, is predominantly a male domain in India. Even in major urban areas, women often have domestic responsibilities instead of leisure activities. The number of male internet users in each age category is, on average, four times higher than that of women. The majority of the audience is mobile users.

One notable characteristic of India is that men of all ages are willing to participate in gambling. Whether they are in their 20s, 40s, or even 70s, they enjoy playing. However, the older generation struggles with adapting to new technologies. On the other hand, the younger population tends to have limited financial resources and cannot afford to play with real money. Our goal is to filter out the non-viable audience.

This is where city targeting, smartphone models, and operating systems come into play. Since the affiliate program accepts creatives only for Android, we set the minimum version requirement to 6.0. There is no point in targeting older devices as their conversion rate is low. Users of outdated models are not typically interested in installing new entertainment applications. It is not just a matter of lacking funds, although that is also a factor. Affluent individuals often do not rush to upgrade their phones. Those who have an old smartphone know how quickly updates consume storage space.
In the targeting settings, we specified the age range from 21 to 55 years old. For the GEO targeting, we selected specific states from which traffic was accepted. Interests included entertainment websites, blogs related to betting, sports event reviews and previews, and adult content.

When setting up the targeting, we kept in mind that India is a multilingual country, and different regions have their own languages.
However, in most major cities, residents are familiar with at least Hindi or English, if not both languages. We utilized these languages when preparing the creatives.

Please note that the language of the creative and the landing page should align. If the banner is in English but the referral link leads to a Hindi version of the website (or vice versa), some users will drop off (not everyone may understand the language). Similarly, when setting up targeting, it's important to consider the language of the platforms where the resource is being advertised and the language settings of the browser and operating system.
Creatives
Now let's talk about creatives. India showcases its heterogeneity in this aspect as well. On one hand, salaries are gradually increasing, but on average, it is still a poor country. The caste system is a major factor here.

Individuals from lower castes have little chance of obtaining high-paying positions. Social mobility is practically absent for them. If you are not from a noble, albeit not wealthy, family, the only way to avoid the toil of ordinary labor or farming is to seek success online. Online casinos or sports betting appear to many as a good way to hit the jackpot.

In some ways, Indians resemble the late 2000s users of the Russian Internet. Suddenly, millions of people gained access to modern gadgets with internet capabilities. However, basic digital literacy and critical thinking are not well-developed. That's why prelanders with tales of miraculous success stories, where an ordinary student or resident from a poor neighborhood "cracked the code" on how to beat the casino, work exceptionally well here. Of course, in addition to prelanders, banners and landing pages with huge bonuses and jackpots are necessary.

Let's not forget about affluent individuals, and there are many of them. Although their level of digital literacy is still relatively low, what matters to them is not just the opportunity to rise quickly but their status. For Indians, gambling is one of the attributes of a wealthy life. "They can afford to spend money on such entertainment." We took this specific cultural code into account.
Certainly, an ordinary office worker, a middle-level manager who has earned enough to afford a Tata or Chery compact car, wouldn't mind upgrading to a Toyota Camry or, better yet, a Mercedes. However, for such an Indian individual, it may seem embarrassing, especially when surrounded by others, to respond to an advertisement that targets the lower-income class. In this case, it would be more relevant to focus on promotions offering the chance to win expensive cars or watches worth $50,000 or $100,000, for example.

Furthermore, based on the test results, we can conclude that ads simulating customer support chats work well. Interactive elements engage visitors and prompt them to react to the creative, significantly increasing conversion rates.
Please note! Prelanders with interactive elements such as mini-games, chat, or a wheel of fortune are mandatory. This is not only to increase user engagement but also to serve as a safeguard against bot traffic and click fraud, protecting the advertising budget.
We have prepared creatives targeting the Android OS version:
A package aimed at more affluent individuals, featuring ads in the form of mini-games, as well as enticing the audience with jackpots and giveaways of valuable prizes. We targeted users with Android 9 and above.
The second set includes prelanders with strategies on how to beat the casino, targeting older versions of the operating system.
In total, we have created four sets, considering that we have two languages.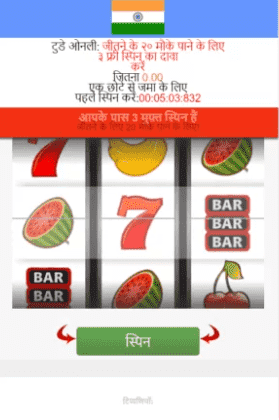 In the creatives, we used standard USPs such as "Get a bonus at the best online casino in India," "Test your luck, you have a chance to win the jackpot," "Only 3% of people are lucky, find out how lucky you are," "The online casino gives away freebies only for an hour, hurry up to claim your bonus."
Optimization
As we often mention in our posts, arbitrage starts with tests. On the first day, we closely monitored the campaign both in the advertising network's admin panel and through trackers. Based on the initial results, we made some adjustments.

Firstly, the creatives. We prepared about 10 different creatives, but the first day showed significant differences in their conversion rates. We disabled all ads with low performance, even those that were profitable.

Don't be afraid to remove or change creatives. Traffic won't decrease, but your conversion rate (CR) and return on investment (ROI) will noticeably increase.

We kept the bid rate the same. For India, in the Social Bar segment, $0.002 per click was more than sufficient.

Finally, we filtered out channels with lower click-through rates (CTR) and conversion rates (CR). It's hard to say whether these were unsuitable platforms or bots (although the pre-landers helped avoid significant budget losses). But we kept only the most conversion-friendly platforms since there is enough traffic in India, even considering the initial targeting only in six states.
Post-Optimization
By the beginning of the third day of the campaign, we made some changes to the targeting settings:

We abandoned Android 6.0 and set the display to devices with Android 7 or higher. We kept the CPC bid rate at the initial $0.002. We used the Hindi language. The clickability and conversion of the English-speaking target audience were noticeably lower, although it was still profitable. We targeted the states of Maharashtra, Karnataka, and Gujarat, as the rest had much lower CR.

We didn't achieve the 5% KPI. Users with older device models had a low conversion rate for deposit registrations. However, our partner still paid out.

If the goal was to continue working, the deposit percentage would have to be increased. This could be achieved by fine-tuning new creatives focused specifically on depositing, targeting not the entire states but major cities, and displaying ads only to users with new devices running Android 9.0 or higher.
Results:
Over 7 days, we spent $338.4 on advertising purchases, which resulted in 169,206 clicks. We obtained approximately 412 conversions, generating $1009.4 in revenue. Profit amounted to $671. ROI (Return on Investment) was 198%.
In the end...
This time we managed to discover a new format of gambling games like Rummy and test the effectiveness of Social Bar. What can we conclude from the advertising campaign?

Gambling is a bottomless niche, in a good sense. It seems like the money here never runs out, and if one affiliate program becomes less profitable, dozens of others appear. All you need to do is dig deeper and not be afraid to experiment with creatives and new advertising formats.

And Social Bar has proven itself completely. Perhaps the marketers at Adsterra exaggerate some things, but the advertising format definitely delivers results and has a good conversion rate.