Hello. Have you ever flooded Australia with gambling verticals? No? Too bad. This rich gambling country is very friendly to our guys and allows you to take home up to $30,000 in profit. Don't believe it? Then we suggest you familiarize yourself with Serge Shu's case from RevenueLab, which he shared at our conference at the end of November. If you missed the conference, watch the recording on our YouTube channel. Here we have outlined the key points from Serge's presentation: case statistics, the target audience profile for traffic pouring, and the creatives used. Plus, at the end, you'll find answers to questions from the live stream viewers and a nice bonus!
What about the statistics?
Let's start by looking at what the guys achieved when entering Australia. We remind you that the work was carried out in the gambling vertical and on a CPA model:
Offer payout - $140;
Deposit conversion rate - 10-12%;
Total revenue - $47,289;
Expenses - $17,610;
Profit - $29,679;
Testing costs - $420;
Account lifespan (referring to FB accounts) - ranging from $50 to $300 (plus hundreds that broke even and got banned); Types of accounts used - farming, renting, and "hype" (the majority of launches were done on farming accounts). Number of launches per day - 10-20; Traffic type - mobile; Average ROI across all campaigns - 168.5%. For the top-performing campaign, the statistics are as follows:
Additionally, Serge provided proofs to dispel all our doubts. If it's difficult to see from the screenshot, the numbers are clearly visible here.
Analysis of the local target audience.
Before entering any GEO, it is important to study the local market: how people perceive casinos, their level of wealth, the government's stance on the gambling industry, and the annual budget revenue in this sector. Here, Serge shared some interesting facts:

Australian residents are very fond of gambling. Online casinos contribute up to 2 billion dollars annually to the budget ($1,300 per person). The average monthly income of citizens is around 4-5 thousand US dollars. For local online casinos, gambling is seen as entertainment rather than a means of earning money (a crucial fact, as it means they are more willing to spend money). The most popular games are not slots but card games, chips, and dice games (here's the first tip for creatives). There is a fierce battle against blacklisted casinos in the local market. They are quickly banned, so it's better to limit cooperation with them (although RevenueLab works with them and, as we can see, quite successfully). As everywhere else, the majority of traffic comes from mobile devices, accounting for about 80% (as everywhere else), and the top sources are Google, Facebook, YouTube, and Instagram.

We note that the population of Australia as of 2020 is 25.6 million people, and according to the latest Facebook statistics, the number of users on the continent is 11,656,460 people.

This means that Serge and his team have not reached about 60% of the population. So, it is possible that they could have achieved even higher profits through advertising networks. But that's not certain (Yura aka George provided detailed information about working with ad networks at the conference).
What creatives were used? How about the tests?
It's important to remember the following: due to the high standard of living, Australians are not easily swayed by creatives like "Look, I played at the casino and became rich." Such stories don't trigger them (unlike the CIS region). Financial literacy is at a higher level there. It's all about entertainment and emotions.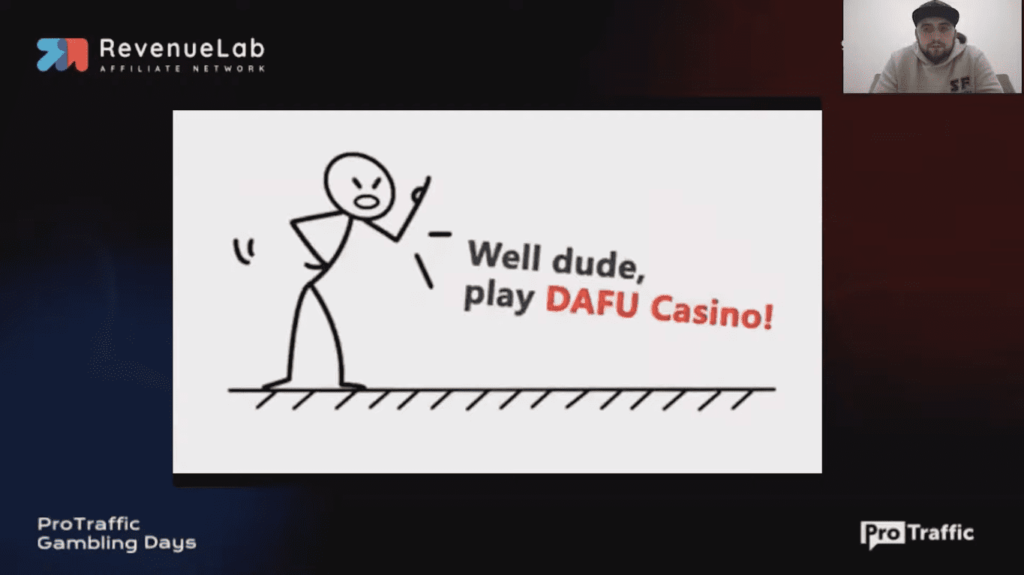 Regarding the overall direction of the creatives, tests showed better conversion rates for videos with emotions triggered by winning, combined with an image of a phone screen. Additionally, creatives with news clips were used. You can also check them at the specified timecode.
Here are some important points to remember: due to a high standard of living, Australians are not easily influenced by creatives like "look, I played at the casino and became rich." Such stories don't trigger them (unlike the CIS region). Financial literacy is relatively higher there. It's all about entertainment and emotions.

Regarding the overall direction of creatives, tests showed the best conversion rates with videos depicting the emotions of winning combined with images of the game on a mobile phone screen. They also used creatives with news clips, which can be seen at the specified timecode.

Q&A Section

At our conference, each speaker had to answer a couple of questions from the audience after their presentation. We asked Sergey the most interesting questions from the chat. Here are some of them:

How do you onboard new traffic sources? Do you look at what they promote or rely on connections?

We have our own affiliate manager who gathers all the information. We also look at which GEOs are receiving more gambling traffic and draw conclusions. Sometimes we listen to advice from partner networks.

What do you do if you have high install costs for tier-1 GEOs?

We try to find ways to reduce costs, either by adjusting the targeting or by creating unique creatives.

How do you evaluate campaign effectiveness?

We consider the cost per install, how it performs, and how it recoups its costs. If the account recoups around $200, we consider the campaign successful.

Sergey, have you tried running campaigns in Canada or New Zealand?

New Zealand didn't work out, although it's nearby. We'll be launching campaigns in Canada in the next week.

Do you work on Instagram? How do leads convert there?

We hardly work on Instagram. There is less traffic compared to Facebook, although the conversion rate is more or less the same.

What should be considered when entering tier-1 countries?

Everything should be considered. The wealthier the country, the more expensive it is. First and foremost, you need a sufficient budget and no fear of spending it. We are motivated by thoughts of profit.

How should testing be done in tier-1 countries?

If we spend 2-3 deposits and end up in the negative, we move on to the next offer. If an offer breaks even, we try to optimize it.

Is it more profitable to target Android or iOS in top GEOs?

We primarily work with Android. iOS can be more challenging and expensive with app installs, but they have a longer lifespan. There was a case where an app lasted for six months. But we're not complicating things right now.

What is the average cost per install in Australia when running high volume campaigns?

We had some installs for $2-3, but now the normal cost is around $6. It has reached up to $20, but we quickly stopped such campaigns. It's great when it's between $4-6 as it allows us to be profitable.

How should traffic from Facebook be optimized: by deposit, install, or registration?

In our case, optimizing by deposit or registration didn't work out well. Firstly, you need a huge database to optimize events. Secondly, we didn't have enough accumulated traffic on the account to start optimizing. So, there isn't much reliable optimization in this regard.

Do you run campaigns from a fan page or using app names?

We do both. Currently, we prefer running campaigns from fan pages.

Why do you only work with Facebook? Why not try Google, which has more traffic?

We are persistent =) Actually, we don't have enough expertise in Google yet. However, we plan to start working with Google in the future.

In Australia, did you target specific interests or run broad campaigns?

We tested both. The narrower the audience, the
In conclusion
Firstly, the GEO is lucrative, so you can work with it. Secondly, even if you didn't watch the live stream, you can still benefit from Sergey's offer. By using the promo code "REVENUELAB," you can enjoy one month of free usage of the self-hosted tracker Binom and receive a 40% discount on the second payment. Good luck to everyone.