We have prepared a fresh case for you on how to tap into the gambling vertical using VKontakte targeting. Honestly speaking, the creative miraculously passed moderation, perhaps the moderator was very tired or in a hurry to finish their shift. Nevertheless, we are thankful to them for the opportunity to achieve a 174% ROI. Enjoy reading as we begin!

The domain and hosting were already available, so all the expenses were solely directed towards advertising costs.

It all started with the idea of taking advantage of the ease of promoting poker offers in VKontakte targeted advertising and turning it into advertising for online casinos.

We created a highly native-looking creative (or so we thought at the time) and a completely non-native headline with a description. In other words, our actions were audacious and aggressive towards moderation.
Over 15 times, the ads were rejected, but something inside told us that the next attempt would yield a positive result, and we could start pouring traffic. And that's exactly what happened!

After 2-3 more attempts, we received a notification that the moderation was successfully passed, and we could start running the ads.

At that moment, all we had was a domain, hosting, approved ads... and that's it. We hadn't even chosen an offer to direct the traffic to.

Relying on our previous experience, we contacted a manager from Affzen and agreed to send traffic to the "Cat Casino" offer with a $40 payout for the first deposit, individual terms regarding the hold, and volume caps.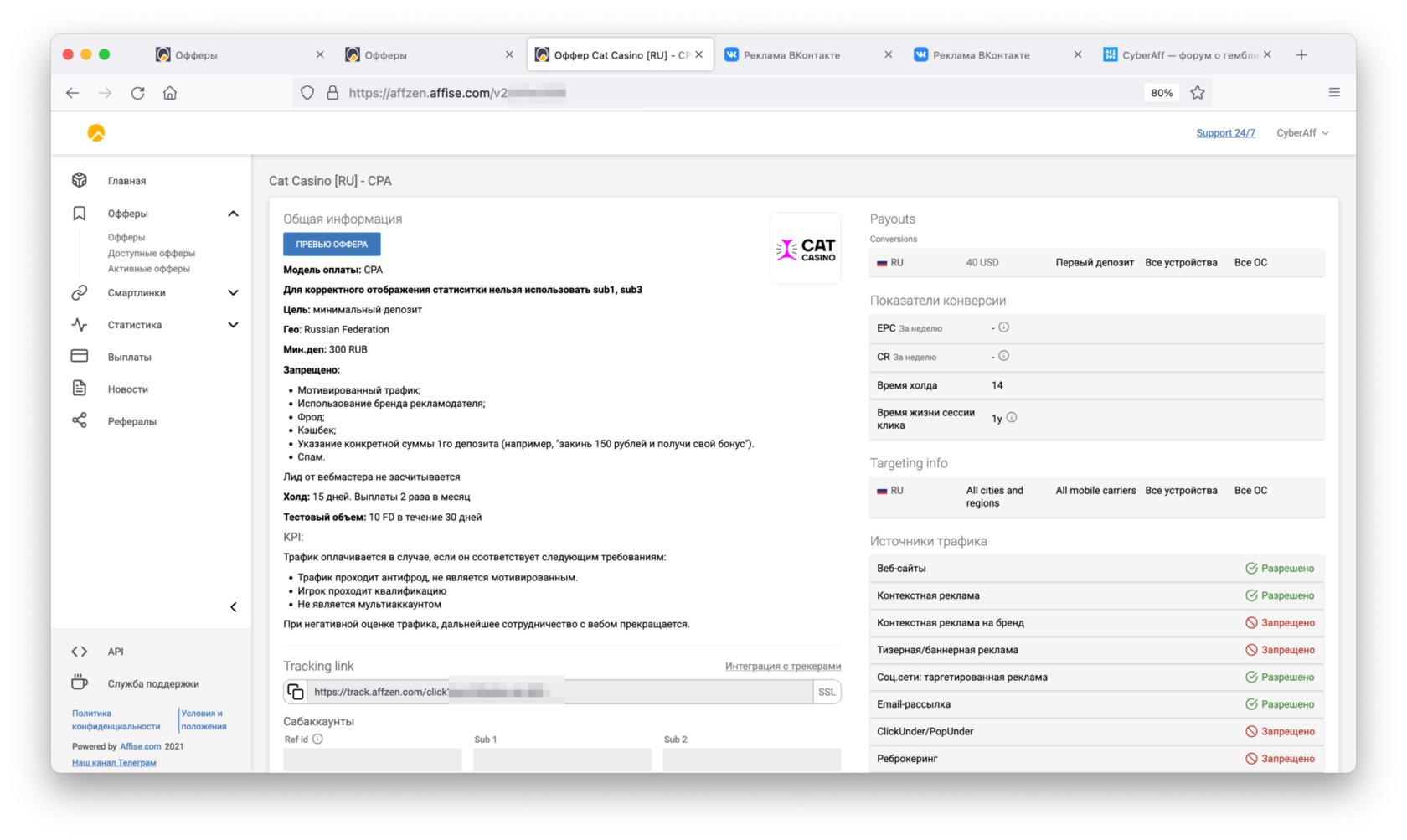 No suitable landing page was found for the offer (it was decided to direct the traffic to a landing page with a choice between two cards), so we downloaded a landing page from another product, hosted it, and replaced the link with the required referral link.
After launching the targeting campaign, it was necessary to achieve a good CTR (Click-Through Rate) in order to ensure productive advertising at a low cost per click and reach a clickable audience. This required spending around 1,500 rubles and creating several variations of the ad. As a result, the average CTR for the entire campaign was approximately 1.9%, with the cost per click being less than 2 rubles.

VKontakte statistics:
Despite the rather unconventional approach, approximately 70% of the entire target audience clicked on one of the cards on the landing page and proceeded to the offer page. They also completed an incredible (in our opinion) number of registrations and deposits, resulting in a positive ROI.

Conversion statistics:
Overall offer statistics:
Special thanks to the Affzen team for providing favorable conditions and prompt feedback.

Conclusion:

Even if your advertising campaign doesn't pass moderation for a long time, don't give up. Submit your ads for re-evaluation, communicate with moderators, and always believe in a better outcome. Arbitrage is for strong and confident individuals!