The head of the media buying department at the new product affiliate network AffStar, Ahmad Karim, shared insights at the recent EasyConf Online 2021 - a conference on product business. Here's a summary of his key points: 2 fresh January cases on Facebook and MyTarget, and the peculiarities of working with SS-nutra, which, according to the speaker's opinion, is more profitable and easier than gambling.
How to test ads and affiliate networks
The speaker highlighted the way Advertisers are tested in AffStar. In the case of arbitrageurs, this experience can be applied to communication and testing of offers in affiliate networks. AffStar does not rely on extravagant bid proposals or approval metrics. The only figure to rely on is the final revenue and results obtained during at least one week of testing. Everything else is considered non-representative. Why is that?
Each advertiser operates differently:
Some send trashy rejections.
Some have openly available GEOs but certain regions are inaccessible.
Some advertisers set exorbitant prices for their products, thereby reducing the overall approval rate.
Arbitrageurs cannot influence these factors, and therefore it is better to conduct tests based solely on the final profit.
Case: 83,000₽ Profit on MyTarget
Ahmad provided several internal case studies as examples of effective product promotion in the CIS region. The first one focused on MyTarget and weight loss products. Here are the details:
We tested both multi-format and video ads, based on what is available in spy services. However, we focused on using modified pre-lander forms.
Initially, the pre-landers featured boxes or a wheel of fortune, but it was decided to remove them, along with the call-to-action statements on the buttons. The first version of the pre-landers used CTAs such as "Buy" and "Order". In the final version, they were changed to "Book Now" and "Get for Free". For the software, Keitaro and Iskander were utilized, with the CPC payment model and contextual targeting based on 5-10 hot queries proving to be more effective. Here is an example of setting up an advertising campaign: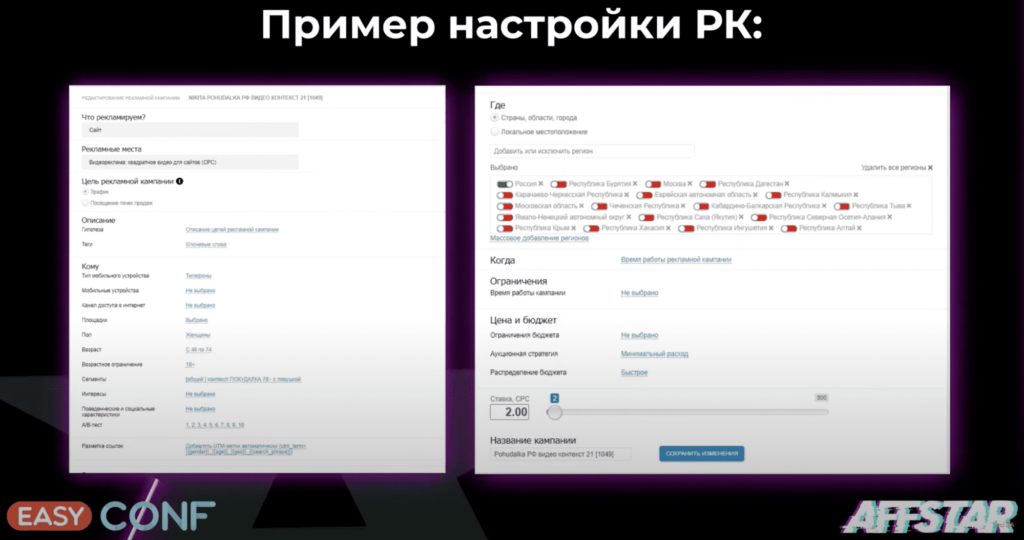 The speaker clarified that the best conversion rates were observed in the mornings.
The cost per lead (CPL) on MyTarget ranged from 200 to 300 rubles, and thanks to dynamic bidding, they achieved good profits.
Traffic from Facebook: What to promote in 2021?
Many people are aware that traffic from Facebook to Russia is not the highest quality. The main reasons for this are:
Overheated auction
High cost per lead
Increasingly challenging to work with
Based on AffStar's media buying experience, the best way to profit from Facebook is to promote international SS offers. According to the speaker, it can even be more profitable than gambling. Let's delve into the details.
In the past few months, AffStar's media buyers have actively worked with gambling, COD (cash on delivery) products, and SS-nutra offers using various payment models such as CPA (cost per action) and CPL. The team concluded that SS offers are the most profitable in the long run. Scaling successful combinations in the gambling industry has become more challenging due to issues with applications, account bans, and Google's whims. When compared to COD products, SS offers in the nutra industry are more advantageous due to higher payouts.
Why is the Straight Sale (SS) model great?
For those who are not familiar, SS is a model where users make a direct purchase and payment on the landing page, rather than paying upon receipt (cash on delivery). Although Cash on Delivery may seem more convenient for users, inspiring trust and influencing lead generation, SS has its advantages:
Once the user makes a payment for an SS product, the arbitrageur receives a fixed payout.
When working with SS, the arbitrageur can disregard approval rates, trash leads, and rejections.
Planning becomes easier as the average conversion rates can be used to forecast ROI.
Additionally, here are a few more notes about international SS offers: payouts starting from $100 per lead, high conversion rates, a financially capable audience accustomed to online purchases, larger or unlimited caps, and a wide range of GEOs. Furthermore, there is no need to install applications!
Case: 517,000₽ Profit on SS Nutra with Facebook.
Moving from theory to practice, Ahmad presented a fresh case study from the AffStar team in January. The GEO was Canada, and the offer promoted was Keto Body Trim.
As for creatives, the team preferred banner formats. They also tested videos within the case study, but images performed better: they have a longer lifespan, and the CTR was more or less the same, at around 2.5%. In the case study, they used a "shock approach" where the image featured exotic fruits and a clickbait headline. The pre-lander included a person with a story or a media personality.
Regarding trackers, targeting, accounts, and other nuances of working with Facebook, general information is presented on the slide:
Трекеры: The Trackers:Таргетинг: Targeting:
5-10 hot queries (contextual targeting)
Аккаунты: Accounts:Нюансы работы: Nuances of working:
Use warmed-up accounts (at least 1-2 months old)
Ad frequency 2-3 times per day
Rotate creatives every 2-3 days
Watch for daily budget spending
Monitor conversion rates
The average spend per ad campaign ranges from $50 to $90 with some variations. There are cases where a campaign runs longer and generates several hundred dollars, while there can also be issues with micro-spending. It's a common experience for everyone. The team primarily runs campaigns through personal ad accounts since Business Managers often get disabled.

In terms of targeting, Affstar splits different age groups, ranging from 30-40 to 41-60. The best results were achieved with general targeting, so the team currently focuses on targeting the female audience aged between 30 or 35 and 60.

As for pre-landers, there's nothing unusual. News-style pre-landers with dieticians work best, and they search and test pre-landers using regular spy services. Here's a screenshot of one of the ad accounts:
When it comes to GEO targeting, tier-1 countries generally perform better. Affstar offers Canada, France, the United States, and Ireland. The pool of GEOs is constantly expanding.
Checklist: What an arbitrager needs for a successful start in SS-offers
Spend: Ideally, it should be $300+ spent from a single account. In a more realistic situation, $50-80 would be sufficient. In this case, you will need to rely on multiple launches and accounts.
Pre-landing page: It is mandatory. Affstar's team also tested direct landing pages, but it didn't yield any results. You can find a working pre-lander in a spy service.
Creatives (banners and videos): They are not different from creatives for COD offers. Test and see what works best for you.
Offers: If you don't know where to start, you can check out our Affstar partner network review. They promise full support at all stages of launch and offer only those offers they work with themselves.