In the middle of the month, AFFSTAR recorded the highest approval rate of 54% for the ORSOFIT offer, priced at 168 rubles - a weight loss product. That's why we decided to show you how it happened.
Summary of the case
Offer: ORSOFIT - weight loss product for 168 rubles.
Dump period: 01.01.2021 - 18.01.2021


Spent: 77,910 rubles.
Earned: 161,183 rubles.
Profit: 83,273 rubles.
Approval rate: 54.42% ROI: 106.41%

Source: MyTarget

GEO: Russia

Tested formats: multi-format and video format

We started running the campaign on January 2nd and continue to run it until today.
Details
Traditionally, let's start with the creatives: square, rectangle, and video format.
Square
Rectangle
Video
Link 1
Link 2
Please note that these videos are no longer allowed, but we can create similar creatives with a lighter tone, and everything will be fine.

Before launching, we thoroughly researched the spy and studied the approaches and landing pages of those who run a lot of campaigns. We took a few ideas for ourselves, but didn't see anything extraordinary. The landing pages and creatives were more or less in the same theme, and the text was similar.

We provided a detailed brief, ordered our own creatives from the designer, and modified the landing pages (changed the order form slightly, removed wheels and boxes in some cases). Based on our experience, a standard form currently yields better conversions, although it used to be different.

Example forms from the modified landing pages:
We didn't include "Buy" or "Order" buttons since it's easier to push the person through the call-to-action rather than through the landing page.
Tracker
As always, we had three traffic streams in Ketero:
Intercept - for moderation, bots, and click fraud.
Main stream with blacklisting.
Closing stream - for all other traffic.
The only issue we encountered was click fraud. We analyzed the rejected leads, identified obvious trash, established specific metrics for ourselves, and added them to our filters. (We recommend studying your traffic daily and identifying suspicious clicks and leads.)
Campaign settings
We should note that using Iskander makes it very convenient to distribute audience segments and launch strategies across all accounts at once, which greatly speeds up the work process.

Below is a screenshot from the PP (performance panel) showing the dump period from January 1st to the current day.

We launched the main traffic on the 2nd. We started testing with 5 landing pages and identified 2 landing pages that performed the best, so we kept them.
The most interesting part: the results!
We launched at the average rate (2-4 rubles) from 6:00 AM to 2:00 PM, then we set the bid to the minimum and tried to capture traffic at a lower rate until 7:00 PM. After that, we increased the bid back to the average rate until 10:00 PM. From 10:00 PM to 12:00 AM, we lowered the bid again, and from 12:00 AM to 6:00 AM, we set the bid to the minimum of 0.01.

As usual, the best conversion time was in the morning. The cost per lead ranged from 200 to 300 rubles, and although the number of impressions was not very high, the high CTR on formats like video (5-10%) resulted in a significant number of clicks.

We spent around 78,000 rubles on traffic, taking into account trash leads, and earned 161,000 rubles, with an additional 8,000 rubles on hold. The ROI is 106.41%.

In summary, we achieved a great result for the two-week period in January with an ROI of 106.41%! We had a fresh offer, tested landing pages, and profitable combinations that allowed for scalability.

During the specified period, we generated 318 leads, with 35 being discarded as trash. The approval rate from valid leads was 54.42%, and including trash leads, the overall approval rate was 48.43%. The average cost per lead was 1,046.71 rubles.

Excellent outcome! We are now scaling with the current combinations and testing new targets to further reduce the cost per lead without compromising traffic quality (contexts, interests, age groups, platforms, and devices).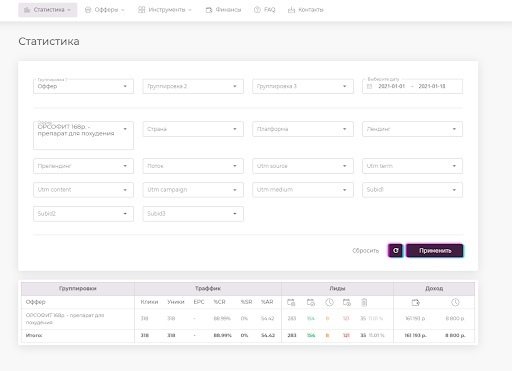 Conclusion
As we mentioned at the beginning, we showed you a test campaign on a top-performing offer. This case proves that testing and exploration yield excellent results, especially when such an approach is scaled.