The dacha season has already begun, which means that summer residents are coming to life! Seasonality is an important factor that requires attention. We did not overlook this hypothesis and were pleased with the results we obtained during two weeks of active influx.
Case summary:
Offer: Agrotens Drain period: 03.04.2021-11.04.2021 Number of raw leads: 1308 Expenses: 212,300 rubles Revenue: 386,098 rubles Profit: 173,798 rubles CR (Conversion Rate): 6.5% ROI (Return on Investment): 82% Traffic source: FB GEO: RU
Accounts:
We use a combination of renting and auto-reg. Let's go through the points: Start warming up the FP with a trusted account via DM for $2 daily for 2 days. Link 5-9 auto-reg accounts. Ready, you can start the influx!
Technical setup:
The technical part is simple, nothing supernatural.
Launched without a cloak. The landing page was set up via API. The landing page we used for the drain was
https://agrotens.ru/part/land/3/
We used both .com and .ru domains, but didn't notice any significant differences. The domain was parked with Ketero. Set up a dynamic pixel for convenience during mass inflow. Configuration in the Ketero campaign.
Creatives:
We only used static creatives.
Fan Page:
We created a themed Fan Page with cats/nature to maximize engagement with the audience. We did this in order to generate as much interaction with the posts as possible. Screenshots are attached.
In the Fan Page, we filled in all the necessary information:
Page avatar
Page cover
Description
Phone number
Email
Website
So, here's an insider tip. We used a non-commercial Fan Page. This is how it looks.
Targeting:
Nothing unusual, the complete targeting breakdown is provided below. Screenshots of placements are attached.
GEO: Russia.
We also excluded the following regions to avoid payout reduction: Republic of Buryatia, Republic of Altai, Republic of North Ossetia, Republic of Dagestan, Republic of Tuva, Republic of Ingushetia.

Age: 45-65+ Gender: Women Devices: Mobile devices Placements: Facebook Feed, Audience Network - Native, Audience Network - In-stream, Audience Network - Rewarded Video.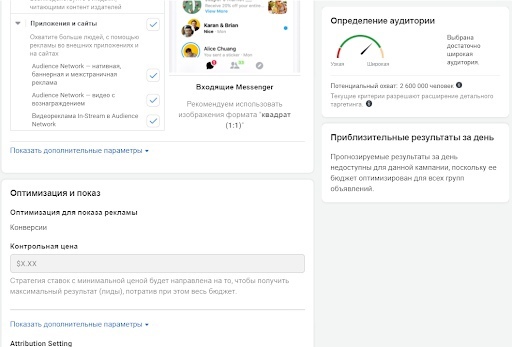 Launch scheme:
Create a Fan Page on rent.
Create 1-2 posts on the Fan Page.
Connect a card through the Fan Page.
Launch warming up for Russia, targeting ages 18-65+, female.
Start with a 1-1-1 budget allocation.
Results:
We launched 10 accounts. The average spend per account was $314.51. Attached are screenshots of the best-performing Facebook accounts.
Conclusion:
Never be lazy and thoroughly work out your funnel from A to Z. Carefully plan your messages and creatives.

Don't stop if you've found a winning combination! This is a common mistake among arbitrageurs. If you've found a successful combination, don't just sit there, plan your next one and put that work on a continuous flow.