Gambling is one of the mainstream verticals that have remained popular for many years, and it is unlikely that interest in them will diminish in the near future. Despite the challenges with traffic leakage from traditional sources, webmasters continue to drive traffic to gambling sites.

Today, we have a case study where an arbitrageur combined two approaches: traffic acquisition from push networks and email marketing. The case study author achieved a high ROI and stable revenue through revenue sharing.

Offer: Several gambling offers Traffic source: RichAds Affiliate network: KeyAffiliates GEO: Canada Payment model: CPA/RevShare Expenses: $5,507 Revenue: $14,220 Profit: $8,712 ROI: 158%

Gambling is one of the evergreen niches that generate profit even during financial crises, pandemics, and other global issues. According to Forbes, in 2021, the gambling industry in the United States alone made a record $53 billion.

The figures for 2022 are 21% higher than the corresponding numbers in 2019. Experts note that casino attendance decreased in 2021, but the average check increased—visitors started spending more money on gambling. The betting niche also grew—the figures for 2021 were 165% higher than in 2020.
Offer and Payouts
The case study author found several gambling offers with good rates for Canada and decided to drive traffic using a hybrid model. The affiliate network paid $180 for First Time Deposits, with a minimum deposit requirement of $15.

The choice fell on KeyAffiliates, which is one of the oldest gambling affiliate networks in the industry. They have been in the market for 12 years and offer three working models: CPA, revenue share, and hybrid.

Their offer catalog includes major gambling platforms such as LeoVegas, MrGreen, Casumo, and CasinoGeroes. KeyAffiliates accepts traffic from various sources, including FB, Google, email, push notifications, and pop-ups, as well as SMS campaigns.
Traffic Source
The arbitrageur has been working with push traffic for a long time, so there was no need for extensive deliberation on the traffic source. Push notifications traditionally show good results when combined with gambling, and the situation remained the same in 2022.

It's worth noting that with the onset of the pandemic, many advertisers have raised their quality requirements for traffic. Many of them started working based on a baseline, which means that a new player must deposit an amount that exceeds the minimum deposit size. This rule often applies to push campaign conversions.

However, there's nothing stopping you from reaching out to your personal manager and requesting a review of the conditions. New affiliates are not always accommodated, but there is a chance that the baseline requirement can be changed to a minimum deposit requirement.
Target Audience and GEO
Canada was chosen as the GEO due to the high payout rate for the offer and the audience's ability to make payments. It is no secret that players in tier-1 countries generally make larger deposits than those in tier 2-3 countries, although there can be exceptions to this rule.

According to analytical research, 82% of online casino players in Canada are men, and 6 out of 10 country residents are involved in some form of gambling activity. Additionally, 70% of players are between the ages of 18 and 39, with 47% falling between 20 and 29 years old.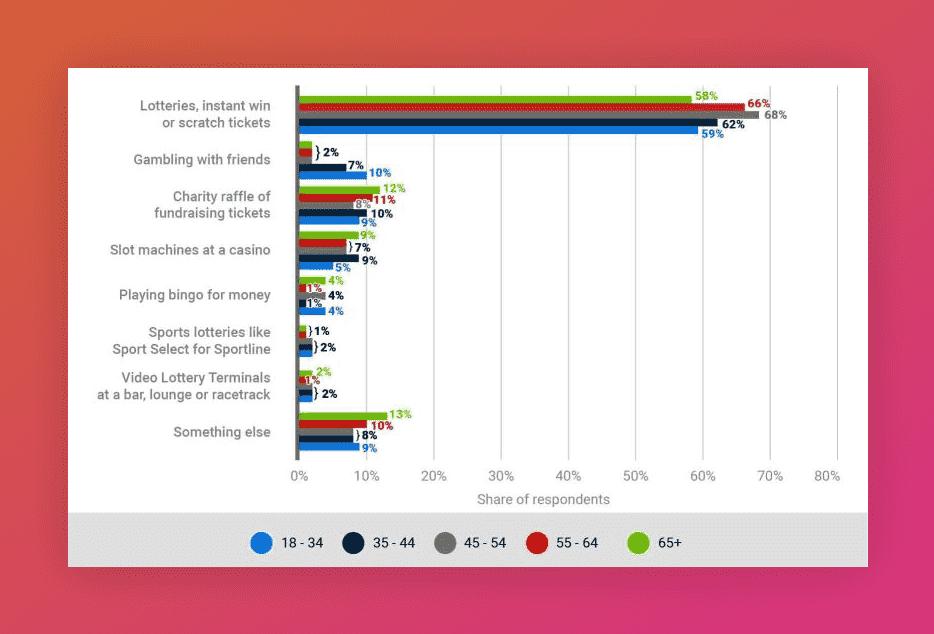 The peculiarity of gambling in Canada lies in the fact that the country has 10 provinces, each of which sets its own rules. Therefore, it makes sense to target advertising to areas where gambling is not prohibited. RichAds allows for flexible targeting, making it possible to choose specific regions and cities within the country. For each campaign, the list of allowed GEOs can be easily configured with just a few clicks.
Creatives
The author of the case study takes a unique approach to creatives by using icons instead of large images. This allows for faster split testing.

The creatives involved standard approaches such as the new message icon, balance checks, and free spins. It's important to incorporate emojis in the creatives to convey specific emotions related to money, winnings, and happy faces. Emojis can be added to the headline and description, but it's important to use them in moderation.
Canada uses two languages: French and English. However, only English was used in the creatives. In RichAds, it is possible to set up targeting based on the user's browser language to display relevant creatives to them.

For traffic conversion, the arbitrageur chose email opt-in type landing pages. There were other options available, but this format showed the best results. The single opt-in attracted users with the trigger "Claim your winnings," while the second landing page used a spin wheel, survey, and email subscription.
For email marketing, the Sendy platform was used, allowing cost-effective email campaigns. Sending 10,000 emails in Sendy costs $1, while the industry leader MailChimp would charge $200 for the same service. Sendy utilizes Amazon SES technology, which enables tracking of target actions. A comparison of the conditions of the most popular services can be found in this review, so you can choose the most suitable one.
The Process of Traffic Conversion
Many advertisers refuse to accept push traffic, but Keyaffiliates does not have such restrictions. However, it is still advisable to ask the manager clarifying questions before starting the campaign to avoid wasting the budget
The Start
Initially, the arbitrageur used the standard combination with push traffic and did not utilize email marketing. Later, they decided to involve an additional engagement tool. When setting up the campaign, it is essential to pay attention to several key parameters:
Time targeting - Users usually show activity between 8 AM to 10 PM.
Connection type - It's better to run separate campaigns for mobile internet and Wi-Fi users. On 3G, the connection may be slow, leading to lower conversions.
Browser language - If the casino landing page is in English, it's essential to target ads to users with ENG set as their default language. Usually, affiliate networks have promo pages in different languages, which can be requested from the manager.
When using push notifications, it is important to remember that the targeting options are limited. Therefore, the creative and landing page should be appealing to a wide audience. Having information about the target audience (TA) will help make the promotional materials more conversion-friendly, so it's worth requesting statistics from the manager.
Process
After initial testing, a decision was made to redirect 10% of the purchased traffic to landing pages with email subscriptions, and even in this case, a good result was achieved. Collecting email addresses allows for audience monetization. The arbitrageur was left with a database of interested users' email addresses, which can be used for future remarketing campaigns.
The email campaign resulted in 147 registrations, 15 deposits, and €72 in revenue share for the month. This is an excellent result considering the 910 clicks. The requirement of €25 baseline deposit did not hinder the additional income from the email channel.
Overall
Throughout the campaign, it resulted in 463,000 unique visits, 2,235 clicks, and 400 leads, amounting to $14,220. It's important to note that revenue share implies long-term income, and the percentage from the player's deposits can continue for several consecutive years.
Based on the case results, it can be concluded that push notifications continue to provide a good ROI for gambling offers in both 2021 and 2022. While it is true that platforms like Facebook or TikTok may generate higher quality traffic, the ultimate outcome depends on the offer's quality and the setup of the advertising campaign.