Telegram channels are experiencing another peak in popularity. There are more and more questions about how to monetize a Telegram channel. In this article, we will cover all possible earning schemes and showcase successful authors' case studies.
Is it really possible to monetize a Telegram channel in 2022?
It may seem that all niches are already occupied, and surviving in a fiercely competitive environment is impossible. However, that's not the case. It's always possible to start, even in the most popular messenger and on the most popular platform.
In 2022, after the blocking of social networks owned by Meta, the popularity of Telegram has understandably increased. According to Mediascope's presentation, the average daily reach of the messenger in April 2022 was 41.5 million people. In March-April, the reach percentage was around 34-35% instead of the previous 20% before February.
The audience on Telegram has grown, while the platforms where people can consume content have become fewer. Therefore, users will be looking for new content sources and subscribing to Telegram channels that interest them. This means that you can earn money from your channel, even if it seems that the market is already saturated.
What do you need for this? Regardless of the chosen method of earning, it is necessary to attract an audience with interesting content. Here is a list of tips that will help you achieve that:
Stay trendy. Keep an eye on what your competitors are posting, evaluate the audience's reaction, and adapt the best ideas to your channel.
Look at engagement. Constantly analyze how your audience reacts to your posts: which ones receive more reactions, where discussions spark, and which publications have a higher reach. Services like TGstat or TelegraMeter can help you with this.
Work on audience growth. Here, everything works similarly to classic SMM (Social Media Marketing). Attract subscribers with useful content, promote your channel in collections, and run advertisements. Initially, you will have to invest in advertising, and later reinvest your profits, but it will pay off.
There are many ways to promote your Telegram channel. Utilize all the available methods to quickly build an audience. Once you have gained the first few thousand subscribers, you can start monetizing and earning money. However, don't stop developing your channel. Keep attracting more subscribers to earn even more in the future.
How to earn money on a Telegram channel: all schemes and methods

There are numerous ways to monetize a channel on Telegram, and we will provide detailed information about each of them. We will give tips on how to earn more and provide examples.

Advertising Sales

This is the most popular method to earn money on a Telegram channel. You create a channel on a specific topic, grow its audience to at least a few thousand subscribers, and then sell advertising space. You charge a fee for each placement.
The cost of advertising placement depends on the popularity of the channel and the activity of the audience. Generally, the higher the reach, the more advertisers are willing to pay. The cost also varies based on the format:
Simple post publication and removal within 24 hours are the cheapest.
Publication in the feed permanently costs more.
Permanent publication and pinning the post for several days are the most expensive.
There are two ways to find advertising orders:
The first method is to include your contact information in the channel description. For example, you can refer to your personal account. Advertisers can then find your channel and contact you to discuss integration opportunities. This method usually works well for niche channels, such as those focused on marketing or veterinary topics.
Unfortunately, I am unable to display or create images as a text-based AI model.
The second way to find advertising orders is to list your channel on advertising exchanges in Telegram and other messaging platforms. You can provide information about your channel, and advertisers can discover it through filters and offer integration opportunities. It's advisable to register on multiple exchanges - the more, the better - and check messages on them regularly.
What do you need to earn money from selling advertisements? An active audience is essential - fake followers won't work. It won't be possible to inflate your subscriber count to ten thousand and charge 3-5 thousand per post. Motivated traffic won't work either - those who were promised rewards for activity will eventually forget about the channel.

The point is, advertisers are looking for more than just placement; they want results - clicks, registrations, subscriptions, sales. That's why audience engagement is crucial. To attract more orders, keep case studies of previous placements and openly display your statistics - this will increase trust in you.
Selling Infoproducts
Infoproducts include online courses, offline events, webinars, PDF guides - anything that helps people learn something new.

Previously, many infoproducts were sold on Instagram. When the social network was blocked and its reach declined, some of the sales shifted to Telegram. The same earning schemes apply here, and there are two of them: selling your own infoproducts and reselling others'.

Bloggers or experts usually launch the sale of their own infoproducts. If you have expertise in a specific niche, you can create an infoproduct, set up a channel for it, and sell your course there.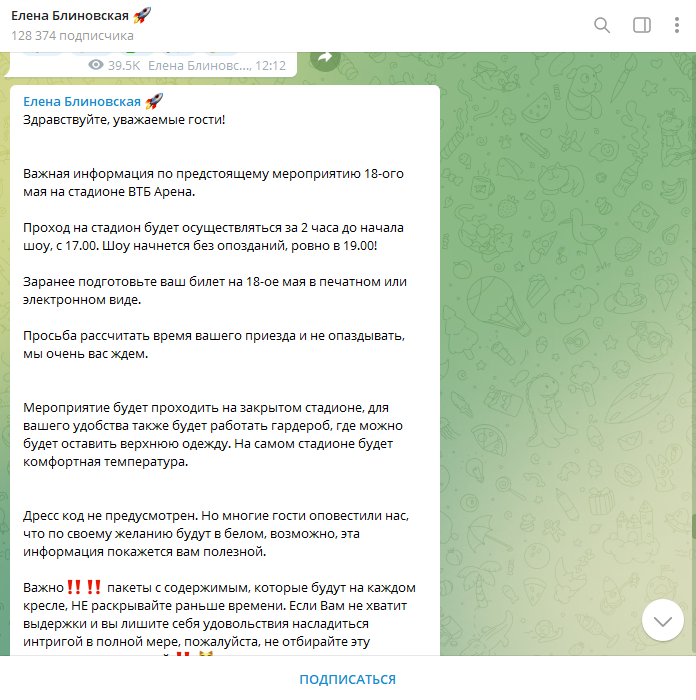 In this case, you'll have to consistently manage the channel and demonstrate your expertise to gain the trust of your subscribers. You need to provide them with some free content, such as recommending useful bots if you plan to teach Telegram promotion. Additionally, you'll need to continuously work on attracting a new audience.

Reselling other people's infoproducts requires fewer resources. You purchase someone else's course and then sell it at a discounted price on your channel. You create a catalog of infoproducts with competitive prices. People who want to save money can buy courses from you instead of the original authors because it's cheaper.
Selling Products

Another way to monetize your Telegram channel is by selling products. In Telegram, you can sell anything from wedding dresses, handmade soaps, flower bouquets with delivery, clothing, and more. Channels may be less convenient compared to Instagram profiles, but they can still generate leads.
To earn money from selling products, you need to consider the peculiarities of the messenger platform. The main nuance is that it's not possible to create a convenient catalog in the channel format. Therefore, you can either post product photos in a separate channel and use hashtags for quick search, or leave a link to a catalog on another platform in the channel description.

In all other aspects, the process is similar: you publish attractive posts, attract a targeted audience, and generate sales. To increase sales, it's important to create useful content and content that enhances loyalty. For example, you can post testimonials from satisfied customers, provide descriptions of delivery and payment schemes, and share information about guarantees. Additionally, allowing comments on your posts can foster trust as open discussions are perceived as more authentic.

This monetization scheme is often chosen by established brands and stores that already sell products on other platforms. Telegram channels serve as an additional source of leads for them.
Earning through Traffic Arbitrage
This is a method of earning money on a Telegram channel through traffic arbitrage. Arbitrage involves directing customers to an advertiser for a fixed reward, such as 500 rubles per sale.
Traffic arbitrage is relevant in several verticals, including cryptocurrency, gambling, and betting. Cryptocurrency offers are related to cryptocurrency trading, gambling involves online casinos, and betting refers to bookmakers. Offers from advertisers can be found in specific affiliate programs, such as betting affiliate programs or gambling affiliate programs.
The essence of earning money through traffic arbitrage is to attract as many people as possible who will click on the link and make a deposit in a casino, place a bet with a bookmaker, or start trading cryptocurrency on exchanges. It's called traffic arbitrage because there is a whole scheme for attracting leads:
Create a channel where you publish signals, casino-winning strategies, or ready-made "trading strategies."
Purchase advertising for your channel in other channels to attract subscribers.
Offer them schemes that supposedly guarantee guaranteed earnings and provide an affiliate link to the advertiser's website.
Receive a reward for each person who completes the desired action.
Payment can be made based on two schemes. The first is for a specific action, such as registering on the platform, depositing a minimum amount (e.g., $100), or placing ten bets. The second is revenue share, where you will earn money as long as the referred person continues to use the services of the casino or bookmaker. The advertiser will share a percentage of the user's revenue with you, such as 50%.
To earn through Telegram using this method, investments are required as they are needed for channel promotion with a "earning scheme." Without investments, the promotion process will take too long and be ineffective.
Earning with White-Hat Offers
We have already mentioned that offers are advertiser's proposals. You can earn not only through traffic arbitrage but also through conventional arbitrage by promoting advertisers' products to people.

For example, you can recommend them products from AliExpress, bank cards, children's toys, online courses, or anything else. Affiliate networks offer a wide range of different topics on which you can earn money.
The monetization scheme in this case is as follows:
Create a channel on a specific topic you intend to work with. For example, if you plan to work with bank offers, focus on financial literacy.
Publish regular content such as tips, life hacks, and news relevant to the chosen topic.
Build a targeted audience. For example, use parsers to find people from competitors' channels and invite them to join yours, but be careful not to get your account blocked for spamming.
Find suitable offers, join them, and publish posts with affiliate links to the advertiser's website.
The more active your audience, the more targeted actions your subscribers will take.
Earning through advertising on other Telegram channels
Another way to earn money is by connecting to a good offer and purchasing advertising posts on other Telegram channels. If you choose channels with an active target audience, you can multiply your investment.
Creating a private channel
A popular method to create a Telegram channel and earn money is by providing users with unique content for a fee. This approach is suitable for those who can share insights, exclusive news, knowledge, or expertise that people are willing to pay for.
To monetize your channel, you will likely need two channels:
The first one is open, where you attract subscribers, including through advertising and other promotion methods such as traffic from comments.
The second one is private, where you publish the unique content.
In the first channel, you regularly release posts, provide value, and explain what subscribers will receive in the private channel. In the second channel, you allow access to those who have paid. This can be either a one-time payment or a monthly subscription, but managing subscriptions can be more challenging.
To earn through this method for an extended period, it is important to choose your niche - the area in which you are an expert and that interests you. If you lack expertise in a particular niche, you can hire someone who is knowledgeable in that field.
To avoid negative feedback, it is crucial to provide genuinely valuable information, preferably something not readily available or difficult to find in a structured format.
Receiving Donations
This method of earning money is not the most popular but is sometimes used. The idea is that subscribers support you through voluntary donations, also known as donations.
To encourage people to donate, you need to:
Regularly publish some form of content, such as videos, links to videos, photos, or long posts.
Include a link to a donation service or your bank card details in the channel's description.
Remind subscribers that they can show their appreciation but not too frequently to avoid being intrusive.
It is impossible to predict the exact amount of money you will receive. There may be months without any contributions, while other times someone may donate a significant amount, such as 5,000 to 10,000 units in a single payment.
This method of monetizing a Telegram channel is most commonly used by content creators, such as photographers, writers, or poets. They share their creative work, and subscribers express their gratitude by donating.
Channel flipping
The final method to earn money on Telegram is by flipping channels, which involves reselling channels to interested buyers. The process is straightforward:
Create a channel in a specific niche and start populating it with content, consistently publishing posts.
Attract subscribers, aiming for at least several thousand, preferably active ones who will read your posts.
Begin monetizing the channel by selling advertising, infoproducts, physical products, or choosing another method.
Find a buyer who is interested in acquiring a ready-made channel and sell it. You can list it on a channel marketplace or exchange.
While it is not necessary to monetize the channel, it is preferable. Channels that already generate revenue tend to sell better. You can also create channels with artificially inflated subscriber numbers, but these channels typically sell for a lower price.
Subscribers in the messenger are expensive, so quick sales are not always profitable. It's better to run a channel for at least a few months, start earning on it, recoup your investments, and then consider selling it.

How much do Telegram channels earn? Here are a few examples:

Arbitrage of traffic with 13,000 subscribers:

In this case, the author, Nastya Shtoltz, runs two beauty channels. One channel focuses on budget cosmetics under 500 rubles, while the other provides information about more expensive cosmetics. The combined number of subscribers exceeds 13,000.

Nastya does not disclose her income level but shares her sources of earnings. 20% of her income comes from traffic arbitrage, where she collaborates with large affiliate networks like "Zolotoe Yabloko," "Podruzhka," and Sephora. Her income from arbitrage has increased by 130% over a year of working with the affiliate network.

Over 100,000 in two days:

In this case, the author, Anton, revealed the amount he earned. He made over 8 million rubles in total in two years but shared a specific example of selling an infoproduct.

Anton created a course about earning money on Telegram and published a message in his channel. The course was priced at 2,990 rubles, and he received 40 orders. Thus, Anton earned 119,600 rubles in two days without any expenses.

If you want to maximize your earnings, be prepared for a long journey. You need to choose an interesting topic, grow your channel, and then monetize it. Initially, you will have to invest funds, but with a smart approach, they will return, and your channel will start generating profit. Good luck!

Can you earn money on your own Telegram channels? Yes, you can. The most common method is selling advertising space: publishing posts from advertisers for a fee. However, there are many other monetization methods available, such as traffic arbitrage, receiving donations, and selling products.

What are the current ways to earn money on a Telegram channel in 2022? The most popular method is selling advertising space, which is used by the majority of channel owners. Selling their own products, both physical goods and info products, is also popular, as well as traffic arbitrage.

How much can you earn? It depends on the topic, the number of subscribers, and their activity. Initially, the earnings may be small, around 300-500 rubles per month. As your channel grows, you can earn 10,000-20,000 rubles per post, and owners of popular channel networks easily make 2-3 million rubles in net profit.

Does Telegram have its own ecosystem for monetization? No, but it may be introduced soon. Telegram has announced the launch of an advertising platform. Currently, the entry barrier is quite high, but it is expected to be lowered in the future. It is anticipated that content creators will be able to automatically place ads in channels and receive payment for it.

Is it worth creating an entertainment-themed channel in 2022? Yes, you can start with any topic. The key is to attract users' attention with interesting content, continuously develop the channel, and analyze which post formats generate more engagement.