Based on our available data, we knew that the binary options market was in demand in Latin America. However, the standard approach to advertising the platform did not yield desired results. Traders either lost interest after their initial unsuccessful experiences or lacked the motivation to continue trading due to the need for independent study of trading concepts. We hypothesized that if we could find someone who would manage a social media profile and conduct live streams where they traded on the platform, their subscribers/viewers would follow their example and start actively engaging in trading.
Key Information:
Period: May 2022
Offer: Binomo
GEO: Latin America
Landing page: Official referral link from Binpartner
Source: TikTok
Goal: Create a PRO trader-streamer-blogger who would conduct trading sessions on Binomo in collaboration with their audience.
Affiliate network: aray.com
Expenses:
Expenses: $12
Streamer's salary: $112 per week
KPI: $0.05 per trade executed by a follower with real money
Revenue: $891
Profit: $601.10
ROI ≈ 207%
TikTok became the main platform for content placement, streaming, and audience engagement. This application enjoys great popularity and has an effective algorithm for promoting active users, which allowed us to build an audience and attract traders without investing in advertising. Together with the streamer, we agreed upon a content plan and gradually filled the TikTok profile. Since the streamer was already an experienced trader, the content was decided to be of an expert nature.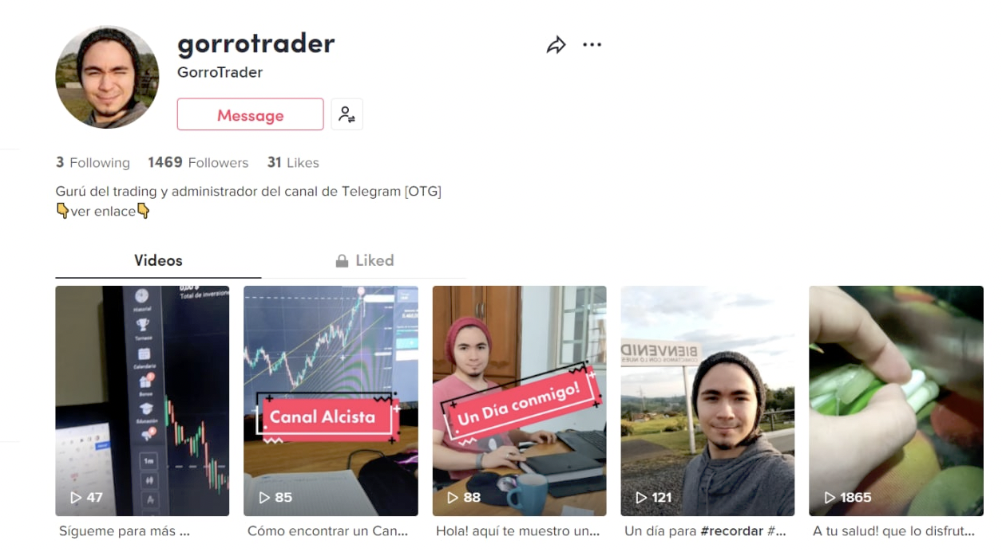 Before the start of the live streams, our posts were averaging around 100 views. Since we knew that live streaming played a significant role in promoting the account, the day after publishing the content, we went live for the first time.

At the end of the first day, we only received a boost to our account and a couple of new subscribers.
On the second day, we continued to post content and conduct live streams, and the results were not long in coming. As a result of our efforts from the previous day, we gained new subscribers and announced the streaming schedule for the current day. This led to the presence of those subscribers during the live stream, which helped retain the new viewers by showcasing that the streamer already had an audience.
On the third day, the streamer was instructed to open additional tabs showcasing their TikTok profile and linktree, which contains the referral link. They were encouraged to periodically demonstrate to the audience how to navigate to the Binomo website to start trading together.
As a result, the streaming results continued to grow, and we also achieved our first positive outcomes in the affiliate program.
We continued working at the same pace and without any changes. As anticipated, the growth of the audience and results in the affiliate program continued.
Results of the affiliate program.
In conclusion, it is worth mentioning that this funnel has great potential, but it is advisable not to rely solely on one streamer.