Account Setup
If previously it required a series of manipulations to create an account, now the process takes minimal time and effort.

Why?

Because TikTok has opened its business functionality for many countries, including Ukraine. This means that it is now easy to create Ukrainian accounts, and TikTok is accommodating towards them.

Upon seeing this news, I immediately decided to create an account. And it took me no more than 3 minutes to do so.

We enter "TikTok for Business" in the search bar and go to the TikTok For Business: Marketing on TikTok page. Click on the bright "Create" button.

The registration page will open:
We fill in all the fields, receive the verification code on our email, and don't forget to check the box for the policy. Click the blue button.

It is important to understand that there doesn't necessarily have to be a connection between your TikTok for Business account and your personal account with videos. I used one of the emails from my Google accounts.

A new page opens.

Choose:

Country - Ukraine Industry - something neutral Business name - anything you like. For convenience, you can select USD as the currency. I entered a fictitious phone number, but it's better to use a real one. You may need to receive SMS on it at some point.
Click on the "Register" button.

We are taken to a page where TikTok asks us to describe our business. As my experience has shown, this is not mandatory. Simply proceed to the "ADS Manager" (I have marked it for you in the screenshot).
Here we are, in the game. We have access to the ADS Manager.
Campaign Setup
For those who have experience with BMs (Business Managers) on other platforms, the interface will be familiar and straightforward. For those testing it for the first time, I recommend exploring the tool's pages initially. Don't be afraid to click around. Here, they appreciate you and won't block your account with a message like "We have noticed suspicious activity on your account."
Now, let's launch the advertising campaign.
I am running ads for dating apps, specifically targeting the Italian market.
Geo:
Italy Target audience: Men, 25+
I have chosen the app from Datify.link for this campaign.
A few words about them:
They provide free apps and offer a ready-to-go setup.
They have good rates (payment per conversion, i.e., registration).
They provide support during the app setup process and help with all the nuances. This is especially important for those trying it for the first time. Don't hesitate to seek assistance from your manager.
They provided me with a link to Google Play, credentials for the push notification panel, and the mobile attribution service, Appsflyer.
The attribution service is needed to track analytics on traffic and integrate with TikTok.
Regarding where the traffic will go, the manager can insert a link to your tracker in the app or, in my case, a smart link.
Great! We have the app. Let's add it to the ADS Manager.
Hover over "Assets" and click on "Event."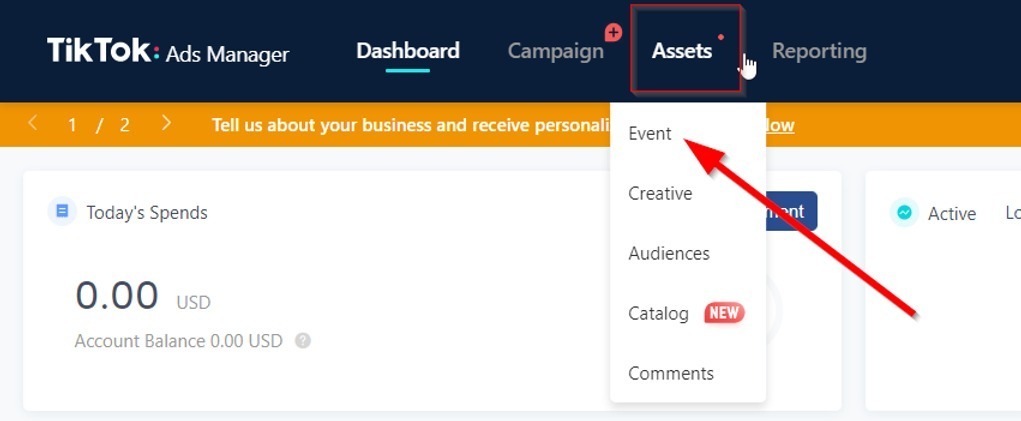 We land in the Events Manager. Click on "Manage.
Next, click on "Create New App." Choose the Android platform and paste the complete link to the application.
You need to select a mobile attribution partner. You can confirm the partner with your manager. Since they provided you with the login credentials for Appsflyer, it means that Appsflyer will be the chosen partner.
Next, TikTok asks you to insert the click tracking link and another link. I requested these links from the affiliate manager, and they promptly provided them to me.

(These links, as I later learned, can be found in the integration section on AppsFlyer.)
Insert the links and click on "Next." Now we have successfully added the application.
Copy the App ID and share it with your manager. This is necessary for Appsflyer to pass the registrations to TikTok on the offer.

Now let's move on to the creatives.

I used a very simple approach. I logged into my TikTok account with videos and liked several videos featuring girls. Then I was flooded with a wave of videos featuring girls. I recorded a few screen captures of the most attractive but moderately provocative videos. I went to the TikTok Creative Studio and created my own creative. It's important that the functionality of TikTok is not visible in the screen recordings. Simply adjust the frame. Also, make sure to record the video without the TikTok watermark.

We have the app and the creative ready. We can proceed with the launch.

On the Campaign tab, create a new campaign. It will prompt us to choose the ADS Manager mode. Select "Custom."

Since we are running app advertising, we choose "App Installs" as the advertising objective. Leave everything else unchanged.
On the next step, we select our app. Choose the desired geo, gender, age, and daily budget.

An important point: Since you haven't had any registrations on the offer yet, select "Install" as the optimization goal. Once you have a sufficient number of registrations, you can create a new campaign with event optimization.

Set the Bid Strategy to "Lowest Cost." You can also experiment with this parameter in the future.
Proceed to the next step and add the creative and text.
By clicking "Submit," you will be asked to provide information for invoicing. Again, you can enter random but plausible information. This information will be mentioned in the emails you receive when topping up your account.
Once you have entered the information, deposit $10 for testing, and the campaign will be sent for moderation.
In just 15 minutes, my campaign started running, and the first installs came in.
From there, it's up to you. Test creatives, test different geos, and strive for profit.
Why should you advertise dating offers on TikTok?
Simple account registration process. If you want to scale up but don't want to create multiple accounts, you can purchase auto-generated accounts from various services. There are dozens of such services, making it difficult to single out one.
Ease of creating creatives. TikTok provides a wealth of organic content that can be utilized in our dating vertical.
Simple process for driving traffic to apps.
Don't hesitate to ask questions to your account managers. These individuals are interested in your traffic and will always provide helpful advice.