Hello everyone! We have a brand new case on traffic leakage in fruit mini-trees. And remember, there's an awesome bonus waiting for you at the end of the article, so make sure to read it all the way through!
Summary of the case:
Offer: Fruit Mini-Trees for 168 rubles
Leakage period: 01.02.2021 - 25.02.2021
Spent: 254,932 rubles
Earned: 409,677 rubles
Profit: 154,745 rubles
Approval rate: 41.21%
ROI: 60.7%
Traffic source: MyTarget
Geo: Russia, Kazakhstan
Target: Men and Women
Offer and Traffic Sources:
Let's start by talking about the offer itself. Fruit mini-trees are a white offer, which means it's easy to pass moderation, create creatives, and set up targeting. Just like with royal hybrid roses, we have a case on that too.

If we talk about the MyTarget traffic source, you can comfortably target a wide audience. However, if you like diving into targeting settings, we recommend exploring contextual targeting and trying to gather various audience segments on Odnoklassniki (OK) and VKontakte (VK) platforms (users and groups). TargetHunter can help you with that.

The offer also works well on Google and Facebook, with no moderation issues if you do everything correctly.

In our specific case, we mainly focused on MyTarget. So, here's our traffic leakage on mini-trees for February.
Creatives:
Traditionally, we created three types of creatives. Square creatives:
Rectangle creative.
We mostly run video format, which has a good CTR. But you can also run animations, which perform well too. In our affiliate program, inside the offer, there is a link to promotional materials. There are enough resources there to create effective creatives.
We provide the creatives as an example. We recommend customizing them and creating your own based on the analogy. Since the lineup includes different types of trees (cherry, pomegranate, etc.), there is a great opportunity for creativity.
You can emphasize the following unique selling points (USPs):
Homegrown, healthy fruits
Growing your own trees at home
Earning from homegrown fruits
And so on. There are many variations; it all depends on your imagination and creativity.
Campaign Settings.
We initially targeted women, but men are also converting. The primary GEO is Russia, but we are actively running campaigns in Kazakhstan, which shows very good approval rates. The campaign settings are the same for both GEOs (Kazakhstan is currently being tested internally by the Bing team and will be available to all webmasters in March).

Please disregard the campaign duration as all campaigns are currently running on rules, and the bid automatically decreases during low-performing hours. In other words, we don't stop the campaigns, but simply lower the bid.

You can see the detailed settings in the screenshot. Everything is explained in a comprehensive and understandable manner.

Targeting:

As mentioned before, the target audience is women aged 50-75. We use city-level targeting based on our statistics for better conversion. We actively use rules to manage the campaigns. The campaign strategy is as usual.

Landing Pages:

Contact AFFSTAR managers, as they will advise you on the best combination for this offer and provide more information on how to get started.

t.me/affstar_v t.me/affagent

Results.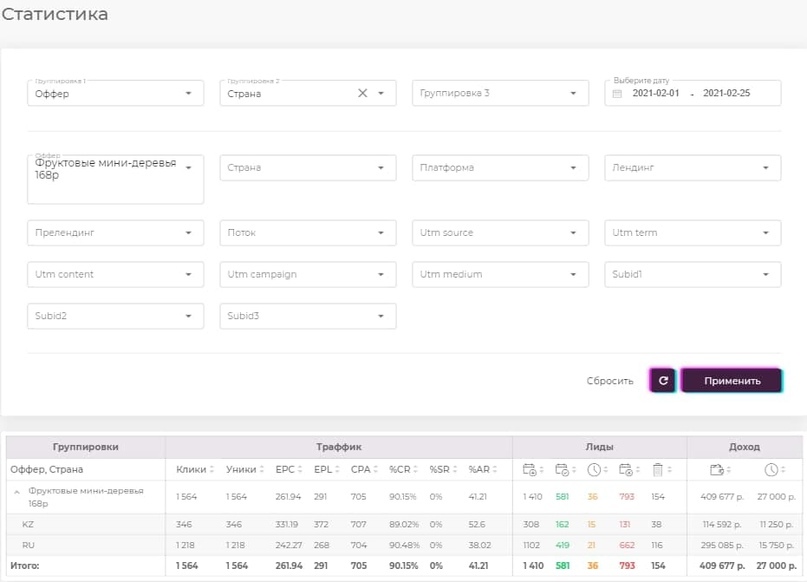 Statistics from the affiliate program:
The average lead cost ranges from 120 to 200 rubles (RU rate at 3.5 or higher, KZ rate at 4.5 or higher). Spent approximately 254,932 rubles. Earned 154,745 rubles. In hold: 27,000 rubles. ROI: 60.7%.

During the specified period, 1,564 leads were generated, out of which 154 were flagged as invalid.
Approval rates for valid leads:
RU - 38.02%.
KZ - 52.6%.
Overall - 41.21%.
Approval rate including invalid leads: 37.15%. The average rate per lead is 705 rubles.