Email newsletters have been, are, and remain an effective tool for lead generation. That is why, for everyone working with email subscriptions, it is important not only to collect or acquire a subscriber database but also to verify the level of user engagement within it.

You can not only purchase a ready-made database but also scrape it from other sources. Today, we will delve into what is needed for this process and how to verify the acquired data. Additionally, we will explore techniques for building your own, active, and responsive database that interacts with your newsletters.
Purchase vs. Collection of a Database
Purchasing an email address database is often considered a quick and easy solution (which it is not). It may only require a certain amount of money, but there are several pitfalls to be aware of.
You may end up buying a "cold" database, where users are already overwhelmed with spam, have abandoned their email addresses, or created them solely for subscribing to a single service they no longer use. As a result, your email campaigns may go unopened, end up in spam folders, or not reach the intended recipients at all.
Furthermore, if you buy a mailing list rather than a database, you won't be able to send subsequent emails to nurture leads and encourage conversions.
Moreover, according to Campaign Monitor, the click-through rate of email campaigns can be around 3%, assuming recipients are willing to open emails from familiar companies and respond to relevant offers (provided they are interested based on the email's subject line). However, if you spam a purchased database, the consequences can be severe:
Your email service may be blocked.
Your emails may be marked as spam, and nobody will see them.
Therefore, manually collecting and segmenting an email database based on specific interests is a time-consuming and painstaking task. However, it will yield a living audience that opens your emails, clicks on links, and takes desired actions. The main drawback is the investment required in terms of time, effort, and resources.
On the other hand, if you are absolutely certain (and I mean very certain) that you are purchasing a ready-made database of engaged subscribers relevant to your offer, then you can expect higher conversion rates.
Services for purchasing databases
Online marketplaces offer databases where you can customize targeting based on countries, cities, age, and subscriber interests.
Base-email
A service for purchasing email databases for newsletters in Russia. It allows filtering users by cities, industries, and topics of interest. The website is still active, but the lack of optimization and initial spamming in the article (as evident from the Title indicating it's built on WordPress) is somewhat surprising.
ExportBase
Another service for purchasing email databases for business purposes is available. It is particularly suitable for those who earn profits in sectors outside the conventional iGaming industry and instead focus on bringing subscribers to the "real business" sector, specifically B2B (business-to-business). The company offers collaboration opportunities with advertisers offering services related to product sales, technical repairs, medical services, and more.
BazyEmail
According to the service's statement, they have over 16 million addresses worldwide. These addresses are collected either manually or verified using ePochta Verifer. The service offers a breakdown by GEO, and it all seems good. However, the outdated design suggests that the owners may not be keeping up with market trends or they are doing so well that they don't need a new design. In any case, after selecting the GEO, you will proceed to choose the desired thematic categories.
Should you use free services for downloading email subscriber databases? The answer is both yes and no. Yes, you may find your target audience among the thousands of downloaded databases. However, all of those databases are already inundated with spam, and people are not ready to respond to new emails in their inbox (even if you use BIMI and other clever techniques).
Parsing
Another method of collecting a database for email newsletters is through parsing. Such services and programs allow you to quickly gather user data that matches your desired GEO, interests, and more. Typically, the search is conducted on social networks, forums, classified ad boards, online directories, and so on.

In other words, you obtain data about individuals who have been searching for "something similar to your offer."
LetsExtract Email Studio
The program allows for gathering email addresses from search engines, visited websites, social networks, and forums. The software scans the pages and generates a list of contact information. Additionally, it offers email address verification for relevance and enables sending email campaigns to those addresses. For example, you can find a forum where potential casino players interact, parse their email addresses, and send newsletters.
ePochta Extractor
The service will assist in gathering customer contacts from websites and social networks. The service parses email addresses, determines GEO information, and understands user's key queries. It also supports proxy usage, provides filtering based on addresses and domains, and offers features to avoid spam traps, among others.
Skrapp.io
An email address search engine that, according to the service's claims, is utilized by companies such as Oracle, IBM, Adobe, Microsoft, and others. It integrates with LinkedIn and Sales Navigator. The service asserts that it provides only verified email addresses.
Scrapebox Email Scraper
A paid service that is ready to find email addresses based on keywords, verify existing databases, generate unique URLs for email campaigns, and support multi-threaded operations. The service offers both a plugin and standalone software that work on both Windows and macOS platforms.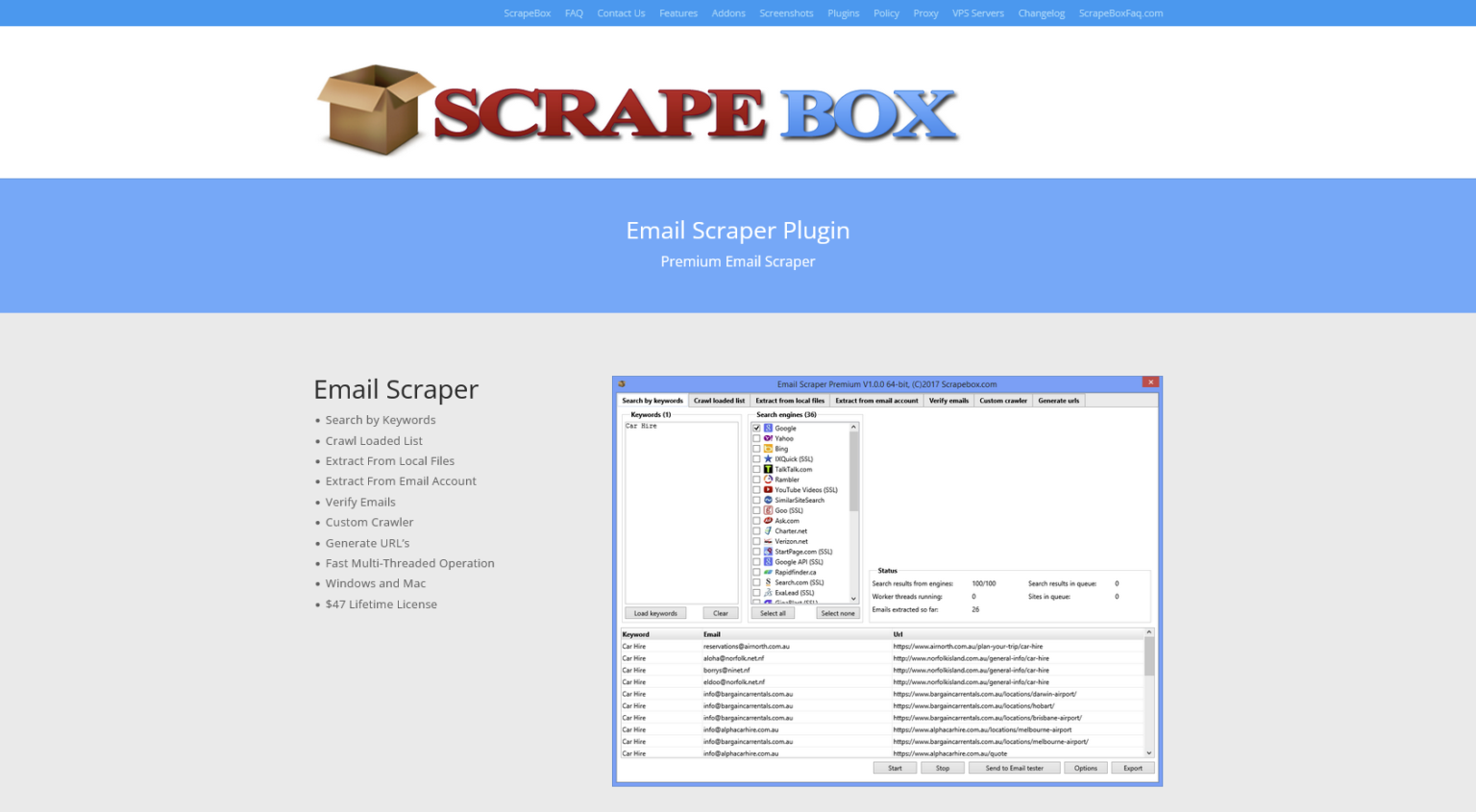 Aeroleads
The service and its corresponding Google Chrome extension offer users the ability to search through 425+ million existing profiles, automation features, data verification, and integration with any CRM system.
The main drawback of such services is the need for payment. For instance, even if you pay starting from $49 USD per month, you may still encounter the need to verify email addresses for activity and accuracy of entered data. After all, each user can create multiple email accounts for subscriptions and may no longer access them.
Methods of collecting email addresses
As usual, you can utilize both free and paid methods to collect a subscriber database. The free methods will require effort and time (assuming you already have a source of traffic), while the paid methods involve launching advertising campaigns (e.g., on VKontakte or other social networks with a goal of "Lead Generation").
How to obtain subscribers using free methods?
Place a subscription form on your website.
Use pop-up windows (but avoid excessive use).
Enable push notifications.
Offer bonuses for subscribing.
Add an email field to the checkout form.
Collect emails through online chats and messenger bots.
Run giveaways and/or offer valuable content in exchange for email and mailbox verification.
Add email registration forms to mobile applications.
To the free methods, you can also add paid methods:
Advertising campaigns on social networks (VK, FB, etc.).
Purchasing advertising from bloggers (Instagram, TikTok, etc.).
In any case, you must offer something valuable to the user, such as a discount, unique offer, or a solution to their problems. In this regard, it all depends on your creativity in creating incentives and/or your agreement with specific bloggers.
Email database verification
How can you verify a purchased or collected email database? The level of user activity directly affects how many of them will open your newsletters, click on your offers, and take the desired actions.
Ping
Of course, you can send test emails to a few randomly selected subscribers from a neutral email address. However, this sampling will take a lot of time and may not provide you with objective data.
Double opt-in
In this case, verification occurs automatically. For example, if you attract a user to your landing page where they didn't make a purchase but subscribed to a discount newsletter, they would need to provide and confirm their email address to receive future newsletters. As a result, you acquire a subscriber who MAY potentially react to your emails.
Services for email verification
To avoid manually verifying purchased or collected email databases, you can use existing services. They can help filter out corporate domains, addresses with spam traps, domain or name typos, documentation domains, disposable emails, and more.
MailboxValidator
The service offers a trial period (up to 100 addresses within 30 days). Additionally, there is a bonus of 300 addresses upon API integration. Moreover, there is the option to view separate statistics for iOS and Android applications.
QuickEmailVerification
We offer free verification for up to 100 addresses per day. The prices for paid plans vary based on the size of the database (ranging from 500 to 3500 mailboxes). You can export the statistics in CSV, TXT, XLS, and other formats. A significant advantage is the flexibility to choose between a monthly subscription or payment for a specific number of addresses to be verified.
MailValidator
The service will assist in verifying email addresses, excluding those that do not comply with email protocol standards, and provide reports that can be exported in a convenient format. API integration is available as well. The cost starts from 0.33 RUB per 1 email.
MillionVerifier
The average cost of verification will be 29 USD for 10,000 addresses. The price decreases as the volume of email addresses to be verified increases. Additionally, there is a free period available: 10 emails initially and an additional 200 after phone number verification. A beneficial feature is the online chat support available during the trial period.
Conclusion
Obtaining or purchasing an email database for newsletter campaigns does not guarantee immediate profits. It is crucial to acquire a user database that is genuinely interested in your offer, verify its activity, and only then launch your email campaigns. The success of your efforts directly depends on how responsibly you approach the verification process and how much time and effort you invest in building your subscriber base. Of course, you can try to monitor email database leaks (which happen quite regularly). However, it is ultimately up to you to decide whether to invest your resources to achieve short-term profits or focus on acquiring loyal subscribers who consistently open your newsletters and generate continuous revenue.