VPN and proxies do solve most of the problems for an arbitrator in the current landscape. However, when it comes to payments, specifically their absence, it has become an issue for webmasters in Russia. But that doesn't mean that there are no more options. The team at ADLEAD.PRO has gathered all the available solutions in the market at the moment, excluding virtual cards from Tinkoff.
N.B. The situation is changing rapidly, sometimes within hours. If any of the mentioned payment solutions are no longer working, we will try to indicate it with "UPD" (update). Thank you for your understanding.
What do you need to know about UnionPay and MIR cards if you are a solo arbitrator?
It is expensive and inconvenient. Apart from that, everything is great. These cards are not a salvation for those who work with foreign markets. MIR and UnionPay payments are accepted by most advertising networks that continue to operate in Russia. So you can easily use them for push traffic, pop-ups, native ads, myTarget, and VK advertising. Additionally, cashback services like ZaleyCash and Eprofit work with these cards.
Is everything okay with topping up through your service? At the moment, you can top up using Russian cards, USDT, and direct withdrawals from partner programs with an additional 5% bonus.
Which cards do you accept payments from? Currently, we only accept Russian cards (Visa, MasterCard, MIR).
Do you have solutions for working with foreign markets? Our service works with VK, MT, and TT, so our clients do not face such problems.
ZaleyCash support shared the following information:
But if you are working with foreign markets and don't plan to stop, you will have to obtain the cards yourself. And they won't be UnionPay or MIR cards - those can only be used for wiping. Firstly, Facebook doesn't work with UnionPay at all. Secondly, Facebook is currently banning accounts with Russian BINs. This has already been discussed in chats.

UPD: Google is suspending cooperation with RU advertisers, so ANY cards from Russian banks are not working at the moment.
The solution for arbitrators from Russia is TikTok (which is currently not working). RU payment methods are valued there as long as they have 3-D Secure. So here are a few words on where to get UnionPay virtual cards with a currency account:
Gazprombank
Vostochny Bank
Solidarnost Bank
Bank Saint Petersburg
Promsvyazbank
PrimSotsBank
Primorye Bank
Zenit Bank
Pochta Bank
Please note that in all the mentioned banks, you can issue a virtual card for free, but only if you are already a customer of the bank. To become their customer, you will need to issue a physical card, which may cost around 5000₽.
Here's an example of tariffs:
Another small remark regarding the fact that Alfa Bank and some other banks have announced the extension of the validity period of their Visa and MasterCard cards until 2028. In reality, these cards continue to work only within Russia, as transactions go through the domestic NSPK (National System of Payment Cards).
UPD:
Prepaid UnionPay cards in USD can also be obtained through Paxum. More details can be found via
the provided link.
Let's start with an inspiring comment from the team at AdsCard with a forecast on the development of the situation:
For a while, there will be a period of simplicity, but it can't stay that way forever. We are confident that new players who were previously hesitant will now be able to enter the scene. Larger players may face some difficulties in restructuring, so it will take them some time. Some may quit and be unable to adapt. Every year, someone will shout about the end of arbitrage. But on a global scale, we haven't seen any significant changes for a couple of years now.
How do they handle payments in CPA.club?
We spoke with Mikhail Petrov, the head of CPA.club, and learned how the residents of the club solved the payment issue:
Miсhail, how do you assess the current situation in the payment market for arbitrage, and will UnionPay and MIR save the situation? Despite the blocks, there are still plenty of solutions in the market for working with foreign traffic, dealing with platforms like FB, Google, and others. UnionPay and MIR, of course, are primarily local stories, and the big players won't rely solely on them. However, this is not the first or last crisis we experience, and I am confident that we can adapt to the new realities. Only the strongest players will remain. The development of the market depends on how advertising platforms function, whether international payment systems will return, and whether the use of foreign capital and wallets will be allowed. It is impossible to make predictions right now because the payment market is more volatile than ever.
What solutions can you recommend to readers? I have talked to some people, and there are a few options: AdsCard.net is currently working with Google, paying through the Assist system. YeazyPay has introduced cards for FB; you can scale with them, but they are currently manually processing everything. Qiwi is still seeking a solution and will likely catch up a bit later, but overall, Capitalist is working smoothly without any workarounds.
Great, can you give any forecast for the future? All payment systems will shift towards foreign traffic, and many new ones will emerge, but they will quickly face bans or limitations. Everyone needs to consider legalizing their "business" and open companies in the US or Europe. I would advise the majority to be extremely cautious right now. In the current demand-driven environment, there will be a significant increase in fraud in this niche.
Sellers and services where cards are available
We have also reached out to almost all well-known services in the market, and if you need access to the foreign market, it is available. The prices and offers are quite comfortable since the majority of companies were initially oriented towards the foreign market.

On March 15th, we will be hosting a live broadcast together with representatives from Capitalist, QIWI, ZaleyCash, Karta, AdsCard, and the team leaders of ZM TEAM. We will discuss payment solutions and explore what can be used for working with advertising networks and affiliate programs.
EPN.NET
EPN is a service for arbitrage teams that provides Visa and Mastercard cards with BINs from 18 major American banks. These cards seamlessly integrate and do not get blocked on platforms like Facebook, Google, TikTok, and others. Each card has a physical copy, which increases trustworthiness with the platforms.

• 0% for the first deposit
• $0 card issuance fee
• 0% payment commission
• 0% withdrawal fee from the card
• 0% fee for declined payments
The service does not work with first billing, so the cards pass moderation instantly.
Some pleasant advantages include:
Team access
High-level support
Capitalist - everything is available, everything works
We do not block or plan to block users based on their residency. The company is registered in the Virgin Islands, and our operational companies are distributed worldwide, with a significant portion in Europe. We diversify risks to ensure the safety of our clients' funds.
Considering the restrictions and sanctions in place, our virtual cards seamlessly integrate with Facebook, TikTok, and payments for international web services. The jurisdiction of the cards is the United Kingdom. Mass issuance is available. A Capitalist account can be opened for free in three fiat currencies (RUB, USD, EUR) and three cryptocurrencies (BTC, USDT - TRC-20, ERC-20, ETH).

Important note: The cards are issued using the data of EU citizens, but KYC verification is not required by the bank. The card is issued immediately after filling in the required fields (without document photos, etc.).
Promo code
"LUCKY"
for a free issuance of a Capitalist virtual card (USD/EUR). Activation is done through the bot:
@CapitalistNet_bot
The following withdrawal options are available:
Cards in RUB of Russian banks' payment systems VISA, MC (can be transferred between MIR accounts)
Cards in KZT, UAH for Kazakhstan, Ukraine
Cards in USD/EUR of MasterCard payment system from Russian and global banks
Electronic wallets YooMoney, QIWI, WebMoney
Mobile operators Beeline, MTS, Megafon, Tele2
Cash withdrawal (Moscow, St. Petersburg)
Cryptocurrency wallets
Exchanges
Indian payment systems PayTM, IMPS.
For affiliate networks and advertising platforms: For foreign counterparties who need to settle payments with partners from Russia and Belarus, we offer the option of receiving payments to company accounts in the Capitalist system through wire transfers to the operational accounts of the Capitalist group of companies located outside the CIS jurisdictions. - Capitalist Team
PST.NET
PST.NET specializes in issuing payment cards for working with any offers. The main advantages of the service include low fees, favorable conditions for BTC and USDT top-ups (only 2.9% commission). Additionally, there are no limits on the number of issued cards, a constantly updated pool of standard and exclusive BINs, minimizing the risk of blockages. Cards with 3D Secure are available, allowing you to work with any accounts and services. The service itself is tailored for arbitrageurs, including personalized user accounts and tariff plans. There is also special functionality available for teams. The currency of the cards is in dollars and euros. The presence of a Telegram bot for system notifications makes the work highly convenient.
QIWI Master
QIWI support has stated that currently the Visa cards from the "Master" package are issued with Russian BINs, and it is considered unsafe to link them to international advertising platforms. However, they claim that some websites, if requested nicely, might be able to find a solution (although the exchange rate might negate any benefits).
Karta.io
The service works with websites that have a monthly turnover of $40,000 or more. To maintain a lower turnover, it is possible to use partner networks that collaborate with this service. Additionally, it is possible to obtain a test payment card.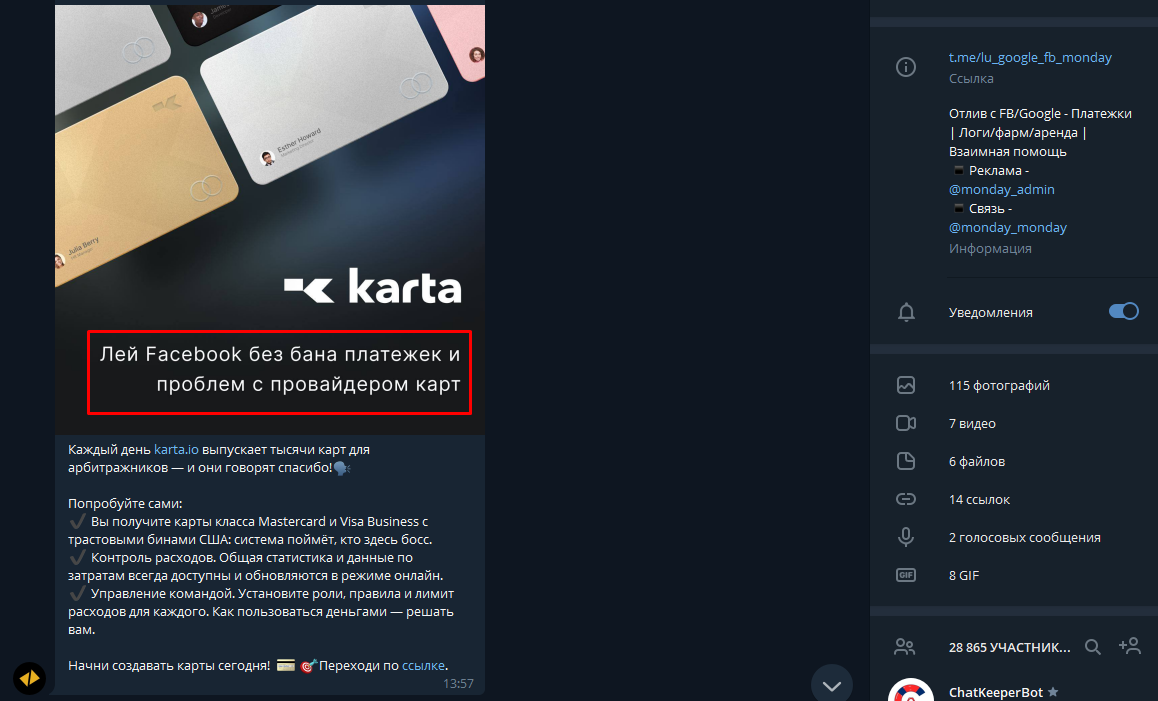 LeadingCards
A well-established service that offers the conditions shown in the screenshot for a turnover of $10,000 and approximately 50 cards per month. They provide a Telegram bot for contacting support:
@LeadingCardsBot.
Zambulay.com
Our affiliate had a chance to communicate with the team from this service. Zambulay offers BINs from different countries. The pricing is higher compared to other services, but there are not many mandatory requirements.
Card issuance costs:
Belarus: geo
Virtual card: $10
Corporate plastic card: $15
Corporate plastic PLATINUM card: $50
Ukraine: geo
Virtual card: $10
Russia: geo
Corporate virtual card: $15
Corporate virtual PLATINUM card: $50
England: geo
Corporate virtual card: $15
Germany: geo
Corporate virtual card: $15
Lithuania: geo
Corporate virtual card: $15
USA: geo
Corporate virtual card: $20/$100
You can contact them through Telegram:
@Zambulay_bot.
Yeezypay.io
The service has been mentioned earlier. On their website, they promise stable compatibility with Facebook, Google, and TikTok, instant card issuance, and unlimited transactions.

Card funding methods include WMZ/Capitalist/Cash/USDT/BTC/Paxum/Payoneer with a fee of 5%, non-cash transfers with a fee of 5%, card-to-card transfers with a fee of 5%, and withdrawal of all funds to your accounts with a fee starting from 5%. If there is no activity (deposit/transfer/closure and withdrawal of funds) on any of the cards for more than 30 days, a $7.99 monthly account maintenance fee is charged.

Currently, all operations with this payment card are conducted through Telegram.
AdsCard.net
If you work with Google, you can use AdsCard to pay for advertising through the Assist system. Among their clients are MetaCPA, StoriesGain, and TrafficHUB. The service owner also mentioned that they are currently in negotiations with European and American banks, and they have recently introduced a mass payment product. This means that customers of the service now have the ability to withdraw funds to Russian cards, and soon there will be an option to withdraw to cards in the CIS countries.
Funneldash.com
MasterCard cards with foreign BINs, plus a 3% cashback feature. There are no reviews available, so it's recommended to use an escrow service as a precautionary measure before getting started.
Idigishop
American prepaid cards with a balance. They are widely accepted and indistinguishable from genuine credit cards. The billing address must be in the United States. Any name can be used. Create US accounts with a US IP and use anti-detection methods. The link is provided here. Similarly, it is advisable to use an escrow service for added security.
Juni.co
Virtual Visa cards with unlimited daily limits are issued for free. You can open an account in euros, pounds, and dollars. They are compatible with FB, Google, Twitter. The cards are issued completely free of charge. The service is currently in beta testing and works with companies from the EU and the UK. To apply for cards, KYC verification of the company and individual is required.
As you can see, there are plenty of solutions available. If you can't find something or need assistance, feel free to reach out to the affiliate managers at ADLEAD.PRO. They will guide you on where to go and who to ask for help. Just a couple of mouse clicks away from profit! 😉
Deposit and withdrawal transactions
Currently, arbitrageurs still have the freedom to choose which payment systems to use and which cards to utilize for working with advertising networks. Companies are already working on developing products that will meet the market demands, but it may take some time to restore volume and quality at an affordable price.