The Canva service, which was used not only by designers but also by SMM specialists, webmasters, and even arbitrage specialists, has blocked access for users from Russia. It allowed users to quickly edit existing creatives, add new elements, or change sizes. Moreover, its interface was significantly simpler compared to professional programs like Photoshop or Illustrator.
Of course, you can still use Canva with the help of a VPN. However, difficulties may arise with subscription payment. Therefore, it's worth looking at alternatives to the service that are available without the need for additional software for connection or circumventing payment issues.
Design Wizard
The service's interface is similar to Canva, but the available tools are slightly different.

There are fewer ready-made templates and elements, and auto-alignment is missing. However, Design Wizard can work with layers and montage areas. Additionally, you can edit video creatives, adjusting the number of streams, fonts, and transitions. There is a free plan with limited functionality. The minimum subscription cost is $9.99 USD per month.
Flyvi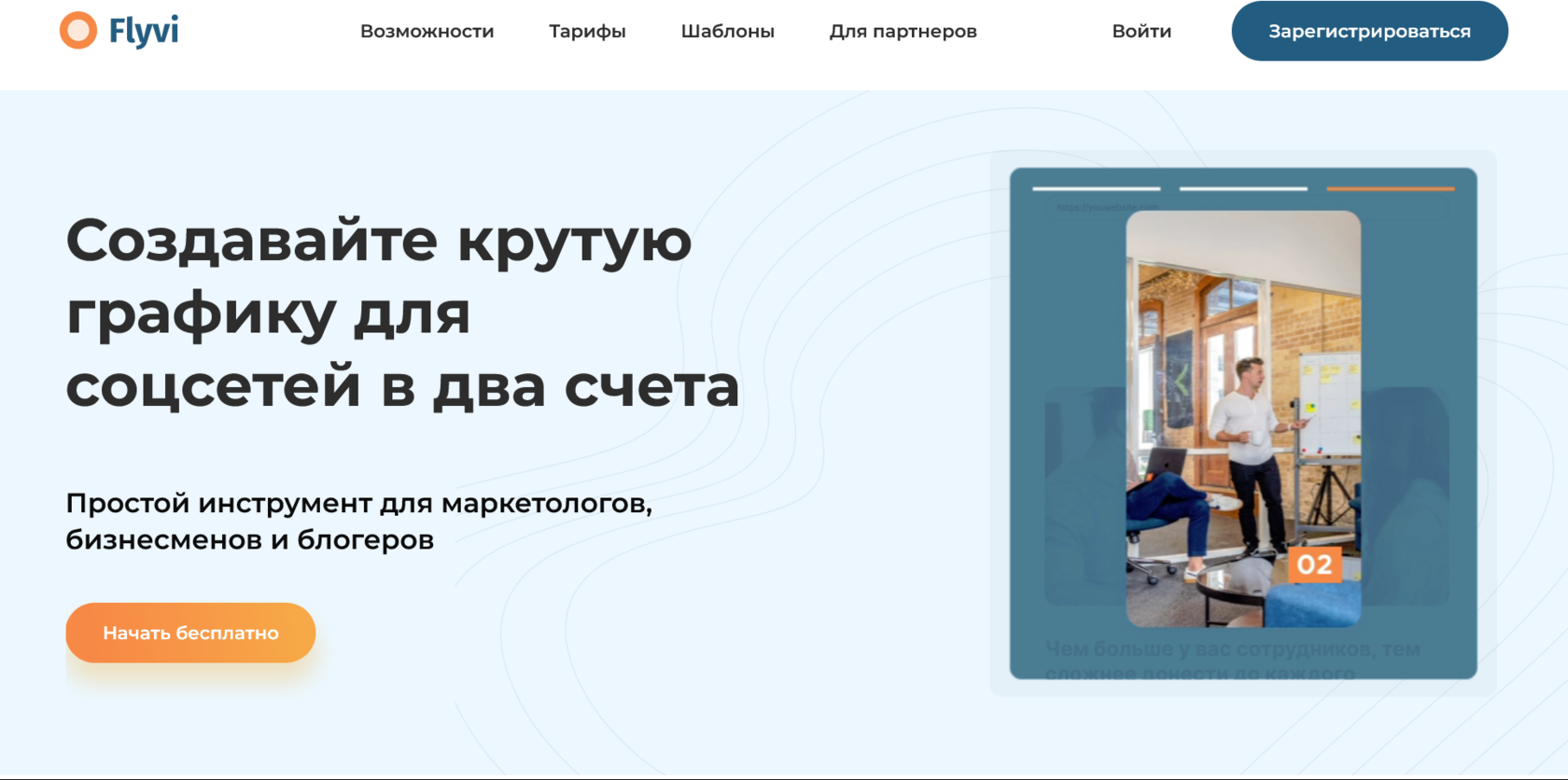 An analog of Canva developed in Russia. It offers practically the same features: photo editing, using templates, adding animations, masks, effects, creating GIFs, and more. Even on the free plan, there are 2500 ready-made templates, 10 million photos, and 2 million GIF animations available. However, when using the service for free, a watermark will be applied over the creative.

The minimum subscription plan costs 399 rubles per month.
Glorify
This service is something in between Figma and Canva. Users get a wide selection of ready-made elements and animations. Moreover, you can work with layers, use pre-made icons, buttons, and mockups. The service is suitable not only for creating creatives "from scratch" but also for quickly customizing existing images. There is a free plan with limited capabilities. The paid subscription offers extended features starting from $39.99 USD.
Pablo
Simply a photo editor with a minimalist interface. It allows you to accomplish all basic tasks, such as overlaying text on images or cropping photos to the desired size.

You can also apply various filters. One downside is the absence of layers and pre-made elements. However, Pablo provides access to photos from stock, making it easy to update or create creatives based on existing samples. The usage of the service is completely free.
Pixlr X
This service is an online photo editor. Users get a good selection of templates, ready-made animations, filters, the ability to remove backgrounds, overlay text, and more.

Moreover, there is an option to upload images from stock photos. The functionality is similar to the familiar Photoshop: you can use layers, retouch photos, adjust colors and contrast. Additionally, you can edit both photos and videos. A free plan is available for getting acquainted with the service. Full access to all features is provided through a subscription starting at $4.49 USD per month.
RelayThat
A professional service with all the features of Canva, while also offering more graphic design tools. It has an automatic template generation feature and supports collaborative work on layouts and creatives. The downside is the absence of a free plan. The paid subscription starts at $25 USD per month.
SMMPlaner
A social media automation service suitable for anyone working with social networks. It includes a built-in photo editor that allows users to apply filters, add effects, and overlay text on photos. For beginners, there is a free 7-day trial period. Afterward, the subscription starts at 450 rubles per month.
Snappa
A convenient platform for creating creatives, covers, infographics, and much more. It offers a constantly updating database of images and templates, the ability to create images of any size, upload custom fonts, and much more.

Free access is available but with limited features. The paid subscription starts at $15 USD per month for a single user.
Supa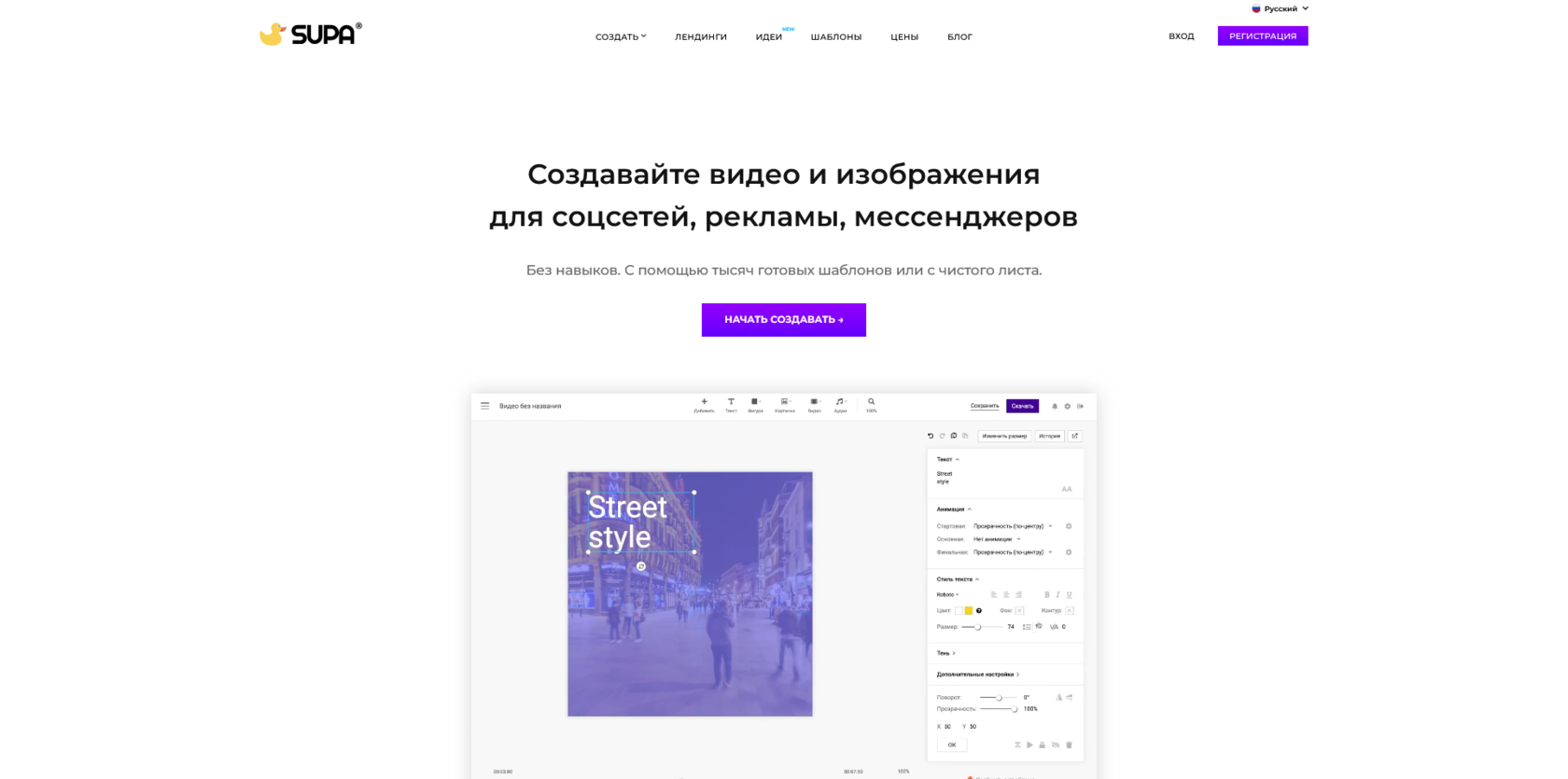 A popular Russian service where you can use ready-made templates or create creatives from scratch. It offers team access and provides over 2000 templates for creating stories, advertisements, and more. It's worth noting that the service specializes more in working with video clips rather than static creatives. There is a free trial available for getting acquainted with the service. For full access, the subscription fee is 990 rubles per month.
Visme
An online editor for creating advertisements, social media content, presentations, and more. It shares a similar functionality and interface with Canva. It allows users to edit not only photos but also video clips. Additionally, there is a wide selection of export formats available, from PDF to PNG and HTML5.
Conclusion
The restriction of access and subscription payment options on Canva is undoubtedly an unpleasant event for all those who actively used the service. However, there are now many alternatives (we haven't mentioned all of them in this material) that offer similar tools and can facilitate the work of webmasters and arbitrage specialists.

Perhaps, working with some of these services might be unfamiliar at first, but the free plans will help users quickly get acquainted and choose the most suitable product for their needs.