Creatives that were recently easily approved on TikTok are now getting banned within seconds after submitting the campaign for moderation. However, it is still possible to work with TikTok.
What can you promote on TikTok now? Just like before, practically any vertical. It's all about your ability to pass moderation. What can you promote?
E-commerce, product sales, lead generation, info-business, etc. TikTok prefers such offers, so working with them can help you avoid constant bans and loss of money.
Nutra: TikTok is gradually tightening moderation requirements, so any dietary supplements will be blocked immediately. However, you can still work with nutra as long as you set up your cloaking correctly.
Gambling and betting: In TikTok's eyes, these are 'black hat' offers that are blocked right away. Nevertheless, cloaking can help you profit from gambling enthusiasts.
You can learn more about which verticals you can work with on TikTok

from the stream featuring

Vitaliy Gavrilov (Owner of the 3T team), Vladislav Bochkaryov (solo arbitrage specialist), and Daniil Dekst (Co-owner of the Slivki team) on ZorbasMedia.
TikTok Business Center
In essence, the TikTok Business Center is similar to Facebook's Business Manager. It allows you to easily manage multiple advertising accounts in one place, grant access to other individuals, launch campaigns, and track their performance.
To use the Business Center, you need to register a TikTok Ads advertising account: you can create a new one or link an existing personal account on the social network. It's worth noting that when using Business Center accounts, you need to be cautious: if your account gets blocked, you won't be able to transfer unused funds to other accounts.
The capabilities of the TikTok advertising account
After registering or connecting to the advertising account, you will see the following tabs:

Dashboard: A standard page with summary information about all launched campaigns, expenses, conversions, and so on.
Campaign: Here you can create and configure your ad campaigns.

Assets: A section where you can preload creatives, create and configure pixels, set up ready audiences for targeting and retargeting, monitor comments, and more.

Reporting: A page where detailed reports on launched campaigns are created and exported.
The algorithm for launching advertising on TikTok
As the social network has introduced restrictions on advertising launch and management, you will need to prepare some consumables:
Anti-detection browser.
Proxies for the desired GEO location.
Advertising accounts (personal, purchased, or agency).
Creatives.
Payment methods.
Let's go through the algorithm of launching a targeted advertising campaign on TikTok Ads as an example.
Acquire proxies for the desired GEO location.
Log in to the prepared account.
Check to ensure there are no registration issues (there should be a message saying 'Good to Go!').
Link a payment method with the minimum deposit.
Check the account for Instagram ban (to do this, run a white campaign with coverage for the desired GEO). No additional settings need to be specified, as we are currently checking the account.
Check the account for Instagram ban (to do this, run a white campaign for coverage in the desired GEO). No additional settings need to be specified, as we are currently checking the account.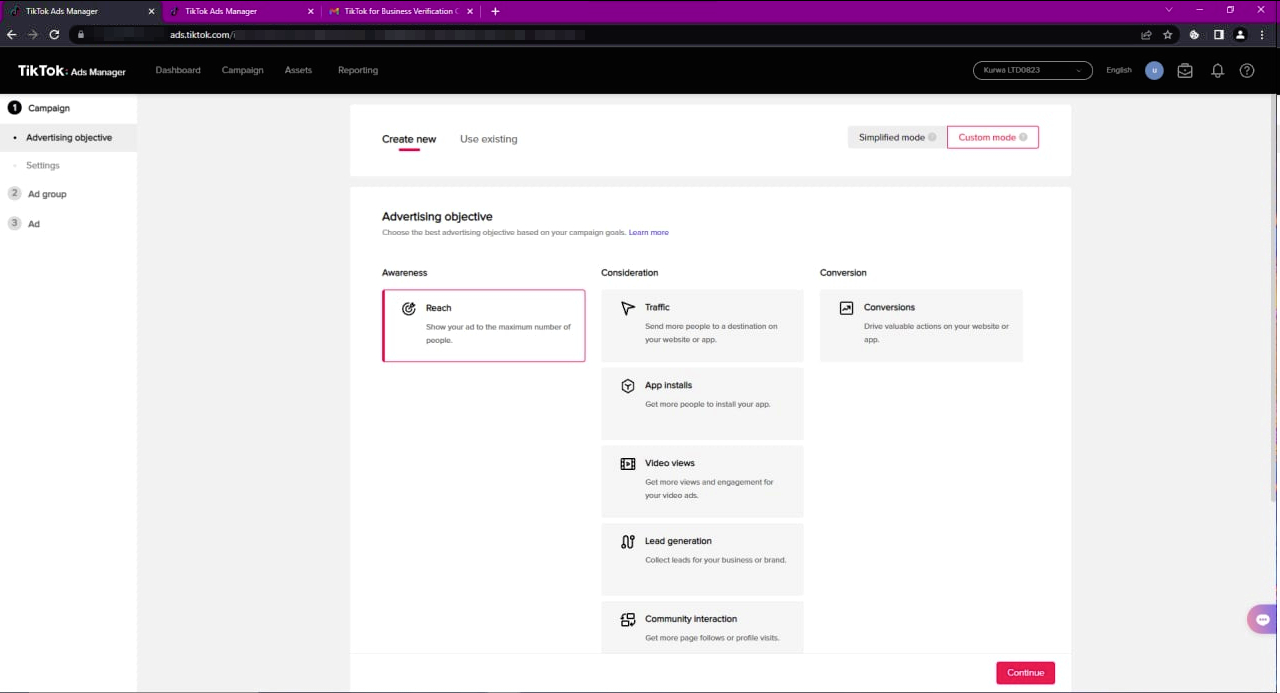 For the test campaign, set minimum budgets and bids.
Create any identity for uploading.
Add white creatives and text (anything you like).

Publish the campaign.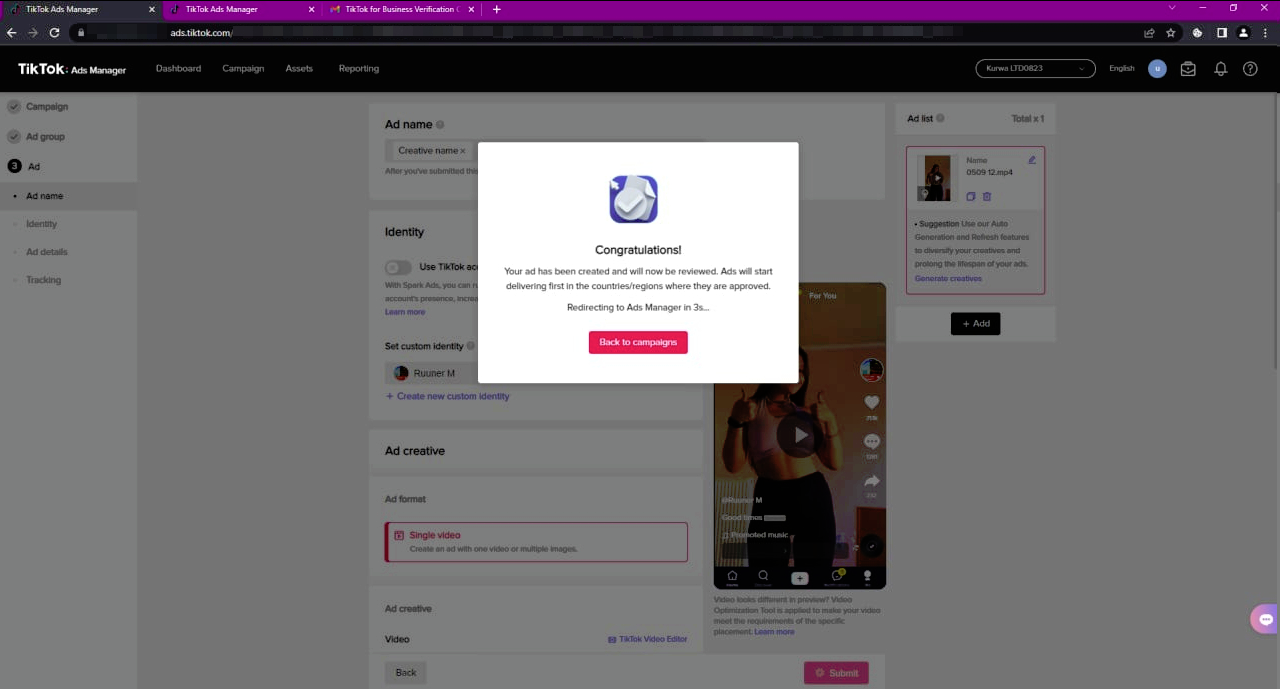 If everything worked out, it means there's no Instagram ban, and now you can start your advertising. To do this:

1.Create a pixel and configure it according to your working scheme.
Retrieve its data.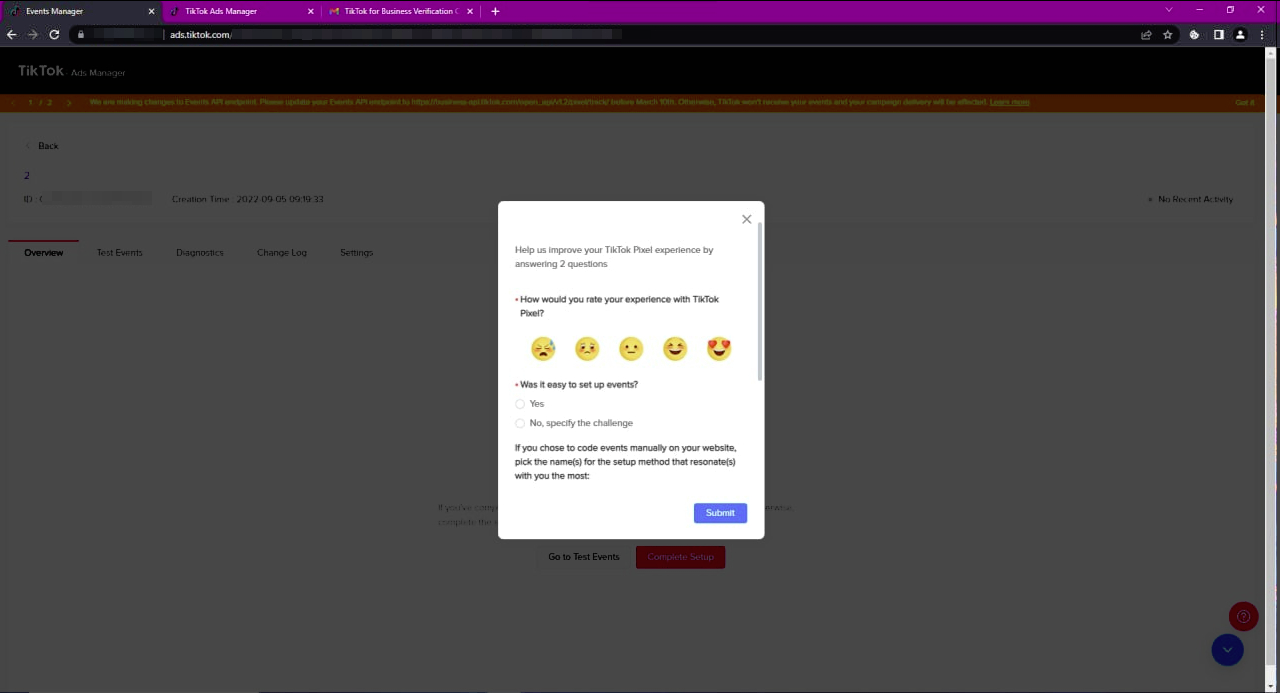 Next, create a conversion-focused advertising campaign.
Select a pixel with passed events for it.
For placement, select only TikTok.

Set up targeting. To broaden the audience, do not specify interests, only device restrictions.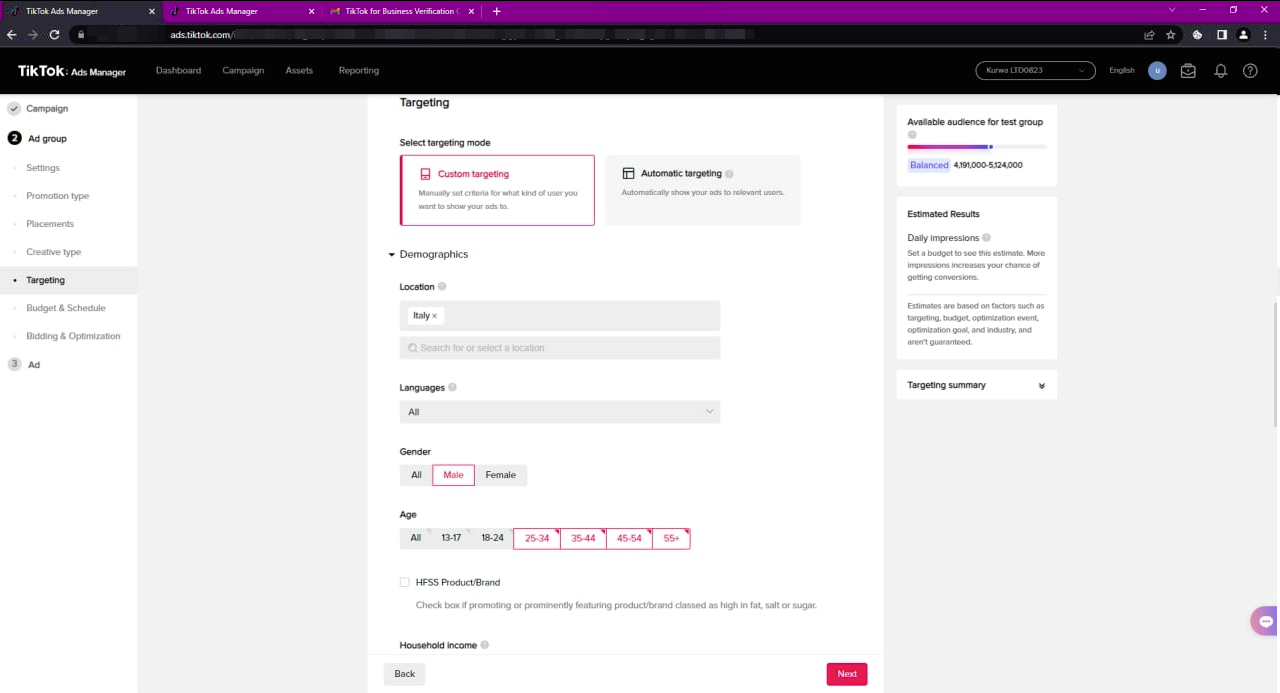 Set budgets and display time.
Limit the bid according to TikTok's recommendation.
Specify the same Identity as in the white test campaign.
Add creative and simple text without stop words.
Choose dynamic call to action (CTA).
Publish and wait for moderation.

After passing moderation and launching the advertising campaign, you will see the results on the 'Dashboard' tab, which displays data on spending, impressions, clicks, conversions, ad group statuses, and more.
Questions and answers
Maxim, TT Buyer ZM TEAM
How much more difficult has it become to launch advertising on TikTok Ads in the last six months?
Starting from April 2023, ad moderation, like account moderation, has been getting stricter with each passing month, but there are occasional relaxations.
The method of returning money from banned accounts by leaking it into the public domain has been disabled, first for Business Center accounts, and a week ago for personal accounts.
As of July 19th, TikTok's moderation has gained the ability to see everything the user sees in the TikTok browser without cloaking.
In broad strokes, TikTok is tightening the screws faster than Facebook*. What will happen next is unclear, but many of my acquaintances have stopped running ads on TikTok due to the significant effort required for relatively low spending.
Agency accounts are a separate story; I don't deal with them, but I've heard there are issues there too.
What do you use for launching (anti-detection, proxies, accounts, etc.)?
Any anti-detection will work, even the simplest one.
Proxies need to be checked for cleanliness. Both mobile and static proxies will work. The key is to try to use a unique IP for each account.
I use personal accounts + mini Business Centers, as you mentioned in the public domain, so it's not a secret.
Video editing software: Davinci Resolve, Camtasia, and Premiere Pro or After Effects. It depends on individual preferences.
Payment methods vary, but we try to use European options and PayPal.
What can you promote, and what do you promote yourself (in terms of verticals - gambling, betting, nutra, etc.)?
I personally run gambling campaigns, but I have a couple of acquaintances who run Nutra and PayPerCall offers. Running white e-commerce campaigns on TikTok is better and more comfortable.
In principle, you can run anything if you understand how to work with moderation, then the effort justifies the profit.
What works better - launching TikTok Ads or working through account growth (for example, preparing video creatives and uploading them to pre-built or warmed-up accounts)?
Both methods have their pitfalls: in the case of direct advertising, it's the strict moderation; in the case of organic traffic, it's shadow bans and scalability challenges.
Ideally, working with both methods is the way to go. For instance, growing your accounts and then running ads with a connection to these accounts.
Conclusion
TikTok has been and remains a source of high-quality traffic. Despite the regular tightening of advertising requirements, the introduction of various restrictions, and so on - working with it is possible and necessary. For those who can understand the logic of how moderators work, it will bring significant profits not only 'here and now' but also in the long run.

*Prohibited in the territory of the Russian Federation.