An interesting case from PIN-UP Partners, in which the internal buying of the affiliate program shares their experience of using push notifications to attract users. However, what's particularly intriguing is how long PIN-UP conducts analytics on the drained traffic.

In this case, the only campaign has been running from August 2020 to April 2021, with the traffic source being push notifications – a channel often deemed unproductive and non-converting by many. Yet, after the campaign concluded, PIN-UP continued to meticulously monitor the traffic and push players until August 2022. Ultimately, over time, these seemingly disregarded push notifications yielded favorable results, showcasing the fruits of patience.

Can a similar case be replicated? Unlikely. Can this experience be applied to working with your own product? At the very least, to understand how long its impact might persist. In any case, enjoy the read! There's a little promo at the end.🙂

Hello, everyone!

PIN-UP Partners here.

We frequently conduct traffic analytics, including over extended periods. Recently, during our routine analysis, we came across a very illustrative case involving a push traffic campaign.

As of now, it has generated $100,000 in profit and continues to grow! This is precisely what we aim to delve into in this article.
Briefly, the case in numbers
How was it launched and why did it work?
The case is noteworthy because the campaign was run on a RevShare model, which is atypical for arbitrage due to its extended budget timeline. However, it proved to be a successful and costly test.

Approximately $50,000 was invested; due to currency fluctuations, the exact expenditure is difficult to pinpoint. The traffic was driven over several months, starting from August 2020 and concluding in April 2021.

The creatives were general push notifications in the casino theme, with around 50% of them featuring references to the PIN-UP Casino brand - its logo.

The logo is important for player quality, as players who understand where they are registering tend to be more engaged in their gameplay.
Additionally, the creatives included:
Bonuses available at PIN-UP Casino.
Widely used enticing texts, such as "Andrey just won $94,803 in a jackpot, spin and you could too!"
References to popular player-favorite slots, for instance, "Book Of Ra is waiting for you. Today's your day for luck, dare to spin!"
Examples of creo
❗️Important! If you promote push notifications with misleading content, for example, "register now, everyone's winning" or "earn money at a popular casino" - your profits will plummet, players will abandon the game, and the product will receive negative feedback. We strongly advise against taking this approach.
Landing pages are an essential part.
We used localized wheel-style landing pages in the style of Book Of Ra and Gonzo's Quest.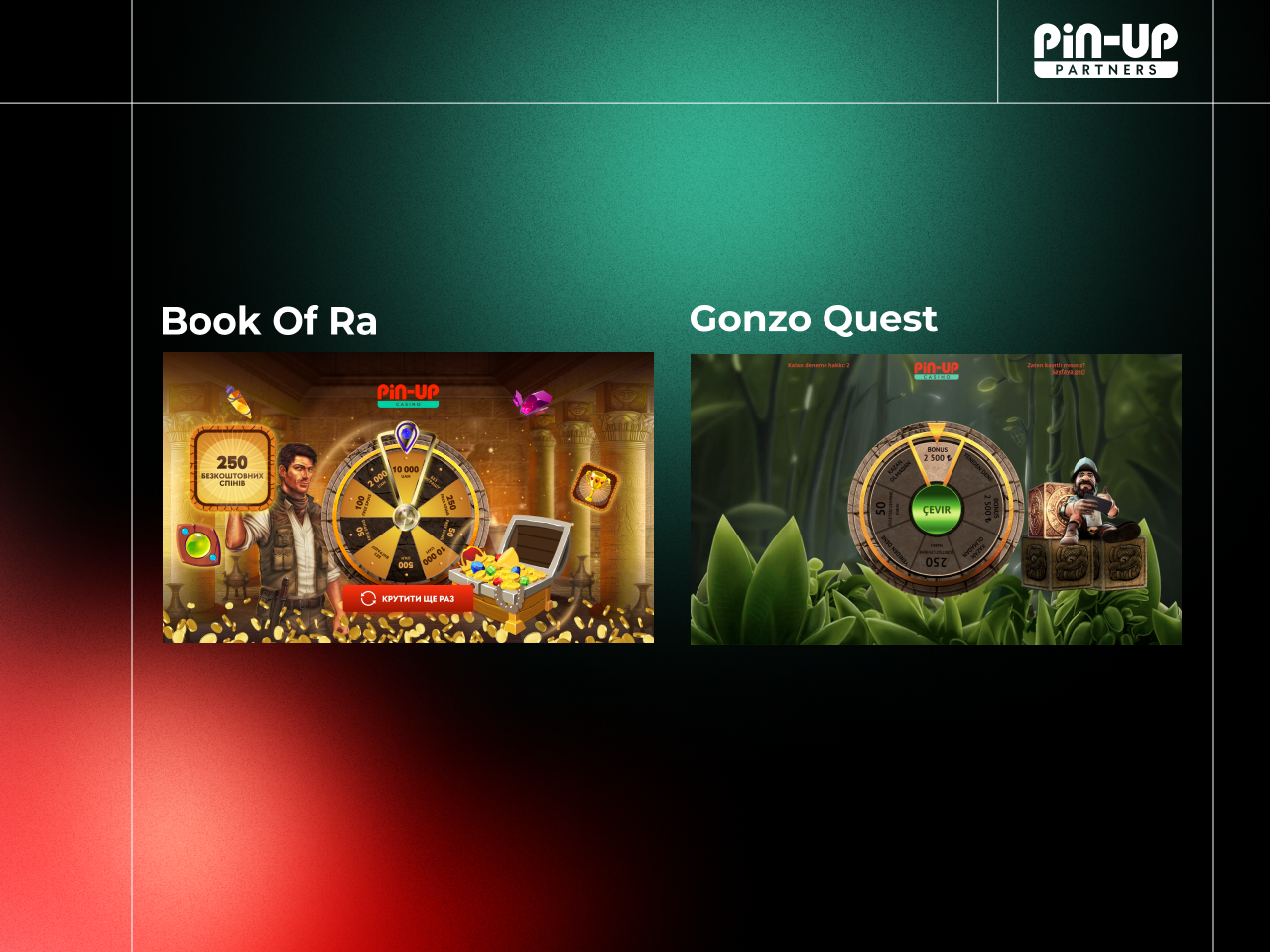 CLICK2REG conversion from a unique click to registration was nearly 2:1 (101k clicks and 48k registrations), which is a fantastic outcome.

However, the REG2DEP conversion rate in the campaign was not very high (2-6%), but the player quality was exceptional due to the use of good creatives without misleading content.

In this case, there was no rush for high CTR and REG2DEP metrics, as is often done by arbitrage specialists. The campaign was oriented towards player quality.

It's precisely the player quality that achieved such an impressive metric as 1 click = $1.
Campaign analysis
Let's examine the statistics by years.
At the start of the campaign, various creative approaches were tested, resulting in a pool of dozens of variations. In the first two months of the campaign, REG2DEP conversion was weaker (ranging from 2% to 4-6%) due to this experimentation. However, it was quickly evident that high-quality active players were being attracted, and the traffic source (Kadam) proved to be valuable.

Thanks to successful creatives and a strong source, the product began generating a significant number of repeat deposits from the first month onwards, showcasing audience engagement.

The Kadam retargeting system deserves special mention. It enables the re-engagement of users who clicked, registered, or deposited. The more traffic poured, the better the performance metrics became. Both REG2DEP and the number of repeat deposits improved.

Regarding ROI, the campaign was in a negative return state during its first year, but the most interesting phase began after active advertising concluded – starting from April 2021 😉.
And here, we'll break down the comments into a list for easier comprehension.
In the second year of statistics, several key factors stand out that became pivotal in traffic profitability.
Let's take a look:
On average, after advertising concluded, players were making around 5000-6000 repeat deposits per month (April-June 2021). However, this metric began to rise from July 2021 onwards. Increasing repeat deposits means that the product's marketing is functioning and profitability is growing.
The absence of a "quiet shave" - we observe that from April 2021 to June 2022, there were around 300 "drip" registrations. This signifies that even though advertising isn't active, players (FD) are consistently joining. If this were a CPA model, all of them would be paid for. Nothing is cut off, and the partner was credited with 931 players! (For most players in the market, after XX days, webmasters are no longer credited with new players; they fall into the "organic" category of the product.)
Every "downturn" period in RevShare earnings indicates that players are winning money on the product. However, after such periods, there is a significant increase in partner profits. This implies that players who have won money are putting it back into the product, once again due to the product's effectiveness.
PIN-UP utilizes licensed gaming software and pays RevShare without any reductions since its inception. The brand's reputation is taken into consideration. For this reason, the campaign is not only profitable because players enjoy the product, but also reliable in the long term.
These points can confidently be called PIN-UP's pride, as typically, the delivered traffic fades away on the vast majority of products. Its metrics, contributed funds, and repeat deposits usually decline. The fact that they are growing is a testament to the product's marketing efforts, which actively engage with the audience not only online but also offline (remember the offline advertising PIN-UP conducted in Ukraine and other countries – this significantly boosts player retention and RevShare earnings).

It's highly doubtful that various scripted brands could sustain even half of such traffic resilience.

And for those who scrutinize the statistics closely, it's evident that the clicks in the stats don't match the numbers stated in the article's title 😉.
The discrepancy lies in the click counting system of the affiliate program itself.PIN-UP Partners calculates traffic in three measurement variations:
All clicks (Clicks/Visits);
Unique clicks (Uniques/uClicks – 24 hours uniqueness);
Unique clicks via fingerprint (SuccessClicks – lifetime uniqueness).
Clicks are registered when a player goes through the tracking link of the affiliate program. If a player accesses the product outside the affiliate program, the click won't appear in the statistics.
It's based on
SuccessClicks
(lifetime unique visitors) that we ultimately achieved the
1 click - $1
ratio in our campaign.
Statistics from the admin panel
Conclusions
It can be said that if there's an opportunity to drive traffic on a RevShare basis, it's worth doing so, but CPA conversions would also yield good results.
Turning 1 click into 1+ $ is possible and doesn't require being a marketing genius. It's crucial to note that the profit doesn't only depend on the CPA price and the % of RevShare earnings, but also on the overall strength of the brand.🙂
P.S.
To be honest, the author of the article, Alex G, often approaches push traffic skeptically, but is pleased that mistakes can be made, leading to reverse positive outcomes 😉. You can reach out to me via Telegram to kickstart a campaign:
@alexgpinup
.
P.P.S.
The folks at Kadam have no doubts about their traffic, and upon learning about our case study preparation from their traffic, they weren't just pleased but also prepared a promo code for those who wish to replicate the case and earn. Feel free to use it: