What is a "донат" (donation)? In literal translation, Donate means "donation." It is a certain amount of money that viewers give to the content creator as a token of gratitude or to support the channel. YouTube streamers engage in live broadcasts (games, interactions, movie screenings, etc.), entertain people, and earn from donations. Additionally, viewers appreciate it when streamers pay attention to them, express gratitude for the support, or answer personal questions. One of the significant advantages of donations is their voluntary nature. Essentially, they are gifts from the viewers, meaning they are not subject to taxes, unlike earnings from advertising revenue, etc.

Therefore, it is essential to set up donations on YouTube correctly so that notifications come on time, and viewers see appreciation for their contributions. To achieve this, both YouTube's built-in tools and third-party services can be used, allowing adjustments to notification settings and appearance.
Types of donations on YouTube
You can collect donations on YouTube through several methods. Regardless of the method you choose, it is essential to...
The 'Sponsorship' feature
This is the "Sponsorship" feature on YouTube, which is an option for viewers to subscribe to a channel on a monthly basis. It becomes available when you enable video monetization and your channel reaches 30,000 subscribers. Streamers receive a stable income, while viewers enjoy various benefits. What does such a subscription offer?
Access to exclusive videos not available to other users.
Early access to newly released content.
Access to sponsor-only live streams.
Private chat.
Unique emojis.
How much does a monthly subscription cost? There are three sponsorship levels:
Low - from 25 to 149 rubles.
Medium - from 249 to 999 rubles.
High - from 1399 to 6999 rubles.
The requisites in the description
The easiest way for a streamer to collect donations is by placing links to their electronic wallets, bank card numbers, and other financial details in the description of their live stream or video. It is also recommended to mention this during the live broadcast or video recording. This way, anyone willing to support the creator can do so directly, without YouTube or other service commissions.
Donations through third-party services
There are services that allow streamers to receive donations and withdraw them to their bank account or wallet. Using these services, you can set up animated and sound notifications for new donations, subscribers, or followers. What services can be used?
DonationAlerts: One of the most popular services among streamers. The commission for viewers during donations is around 5-7%. There is also a commission for the streamer when withdrawing funds. The service pays out money to electronic wallets, bank cards, mobile phone balances, and cryptocurrencies.
DonatePay is another platform similar to DonationAlerts. The commission for viewers is 7%. Additionally, there is a withdrawal fee (which depends on the amount) for the streamer when cashing out the donations.
Donatty is a Russian service for collecting donations. It stands out with a low commission of only 3.5% for viewers who donate to the streamer. There is no withdrawal fee. However, there are limitations on payouts: one can withdraw no more than 200,000 rubles per month, and the account balance cannot exceed 60,000 rubles.
To connect one of the donation collection services on YouTube, follow these steps:
Log in to the convenient platform using the "Sign In" button.
Then, select YouTube from the list of available platforms.
Grant access to your channel.
Setting up donation alerts
Animated donation alert allows you not to miss new donations, comments, or questions from viewers. To make it work correctly, you need to set it up correctly on the chosen service and connect the media source in your streaming program.
Let's go through the example of OBS and DonationAlerts.
Open your account on DonationAlerts.
Go to the 'Alerts' tab.
Click on the gear icon and the 'Configure' button.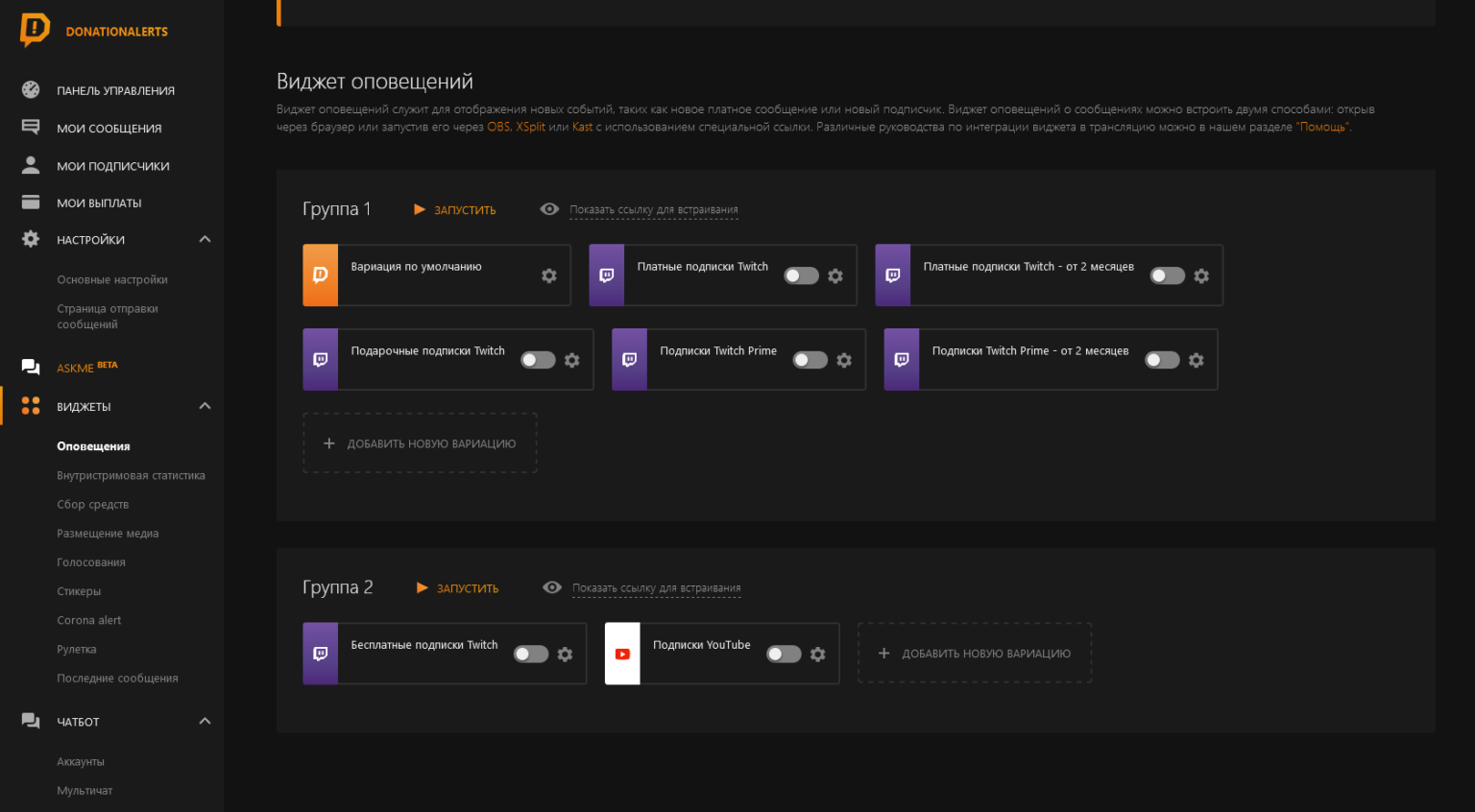 4.Choose the necessary settings (duration, text delay, speech synthesis, etc.).
5.Upload the image (picture or gif-animation).
6.Upload the prepared sound that will play during a donation.
7.Click the "Save" button.

Next, you will need the link from DonationAlerts. It is located in front of the notification groups (where you clicked the "Configure" button). To view it, click on "Show embedding link." Copy it.
After that, go to OBS (or another streaming program). In it, you need to add a media source. Then, choose "Add Browser" (Browser source), enter the name (for example, donations), and paste the link into the "URL" field. Click OK.
Now you need to go to the "Message Sending Page" section in your DonationAlerts profile. Here, you can customize the appearance of the page for sending donations to the streamer and get the link to it. This link is the one you need to place in the description of your live stream or periodically send in the chat using a chat bot. Besides the regular link, you can generate a QR code, which, when scanned, will direct viewers to the donation sending page.

IMPORTANT: It is essential to send a test alert to check your donation settings. To do this, launch OBS without starting the stream. Then, open the "Alerts" tab in your DonationAlerts profile and click "Make a test alert" in the notification settings menu. After that, OBS will play the test donation message.
Setting up Super Chat
Super Chat is a native YouTube tool that allows streamers to collect donations directly without intermediaries. During a live stream, viewers can send messages along with a certain amount of money. In this case, their comments will be highlighted with colors and appear in the top of the chat, ensuring that the streamer notices them and responds.
What are the benefits of Super Chat?
Low withdrawal fees compared to any other donation collection services.
Super Chat messages stay at the top of the chat for an extended period, ensuring they are not missed during the live stream.
Convenient customization features: you can change the length, color, and duration of Super Chat messages at the top of the chat.
How to enable Super Chat on your channel?
Open the YouTube Studio and go to the channel dashboard.
Then: Open the "Monetization" tab.
Select the "Super features" button.
Click "Try" and follow the instructions.
After you've completed all the necessary steps, you'll see two messages: "Super Chat is enabled" and "Super Stickers are enabled." After this, during your live broadcasts, viewers will be able to send donations directly from the chat.
How to encourage viewers to donate
The number and sizes of donations are unpredictable and depend on the number of viewers during the stream and their loyalty to the streamer. Therefore, there's no need to get upset if you don't receive any donations in a few hours of streaming. However, there are several recommendations that can help you receive more donations.
Use Top Donations: With OBS and settings in DonationAlerts (or another service), you can run a ticker displaying the top donors with the highest donations.
Display Top Donators: You can include this widget similarly to the top donations, showing it on the screen during the stream. You can also manually place the top donators' list in the stream's description, as the numbers will change.
Use different notifications based on donation size: You can configure this through settings in your profile on DonationAlerts or another donation service.
Set donation goals: Create fundraising goals and display them as widgets during the live stream.
Remind viewers that they can support you: However, avoid asking for donations too frequently and directly, as it might push away your audience.
The main advice is to conduct live streams
and create content wholeheartedly so that it genuinely appeals to the viewers. People want to experience pleasant emotions and are willing to support those who entertain them. The more users come to your streams, the more donations you can receive.
Conclusion
Donations on YouTube offer content creators and live streamers an opportunity to earn additional income. They are available even to those creators who have not yet reached the requirements for video monetization. By effectively engaging with viewers during live broadcasts, utilizing Top Donations and setting donation goals, you can generate income that can easily surpass the earnings from YouTube's partner program.