Instagram is a vast platform for promoting products and services. It would be foolish not to attract a large market audience and settle for less. That's why each year, more and more individuals and business accounts are registering on Instagram. What are these profiles for? What do they offer? What opportunities does a user gain? How does it impact the promotion of products and services?

Answers to these and other questions can be found in this article. Get comfortable, it will be interesting!
Link to the source: trafficcardinal.com
Opportunities and Advantages of a Business Account on Instagram
The visual difference between a regular account and a business profile on Instagram may be minimal for an ordinary user. However, the owner gains the ability to display important information directly on their page, analyze its performance, and enjoy other perks. It is worth noting that transitioning to a business account is beneficial not only for those involved in trading, owning cafes or salons. Bloggers, creative individuals, and anyone who creates content and wants to monetize it also switch from a personal profile to a commercial one.
Distinctive Features of a Business Account:
Distinctive Features of a Business Account:
Interaction Options: When users tap on the "Contact" button at the top of the interface, instead of automatically being directed to Direct Messaging, they are presented with new interaction options such as making a phone call, sending an email, or getting directions.
Contact Information: Business accounts have a default "Contact" button that allows users to easily access contact details. The address field can be utilized to provide a physical location or additional information as desired by the business owner.
Enhanced Profile Management: Business account owners have additional buttons for profile management, including the ability to edit their profile for personalization, manage promotions for convenient advertising administration on Instagram, access statistics that provide free insights on the effectiveness of advertising, reach, followers, and engagement, and add a shop for further promotion of their business.
Multiple Business Accounts: A user can have up to five business accounts, with no restrictions on the type of business. However, each account requires a separate email address and often a Facebook profile as well.
Let's delve into the details of the possibilities and advantages of a business account on Instagram.
Statistics
Free statistics is perhaps the most useful feature in a business account. Previously, additional services were used to assess reach or count impressions, but now everything is centralized in one interface.
To open the statistics view window in Instagram:
Unlock your smartphone or start your computer.
Log in to your Instagram account.
Tap on the button to navigate to your profile page.
Activate the button that resembles three horizontal lines in the top right corner of the interface.
In the dropdown menu, select the third option, which is "Statistics."
There are two key metrics in statistics that reflect the effectiveness of an advertising campaign: reach and impressions. The reach metric indicates how many people have viewed a particular post. One reach value equals one person. The impressions metric represents the number of times a post has been viewed. For example, a user may read a post multiple times. The reach remains the same (1), but the impressions will show a number greater than 1.

After accessing the "Statistics" window, you will see three sections with different sets of parameters: actions, content, and audience. Let's discuss them in more detail.
Content
The "Content" tab displays user activity on the page. In the "Overview" section, you can see the total number of posts in the last 7 days and all stories from the past 24 hours. The "Promotions" parameter shows the number of promotions within the last week. Clicking on each of them will automatically display the corresponding statistics.
Actions
In this section, information about the sources of views and their quantity is displayed, indicating how many people have read a post or viewed a story. Clicking on the presented chart will show the specific numbers for each day.

In the "Interactions" tab, it shows how users are engaging with your content, including the number of profile visits, website clicks, and the number of users interested in the location of your business.
Audience
This section provides more detailed information about the potential customer base of a business account on Instagram. Clicking on the graph will reveal the total number of followers, the number of new users, and the number of unfollows. All data is presented for specific days over the course of a week.

Here, you can study the locations where your audience is concentrated. Clicking on the chart will show the percentage breakdown by city, region, or country. This information can help fine-tune your targeting, taking into account the cultural nuances, mentality, and needs of your audience.

There is a section called "Age Range" that shows the percentage distribution of your audience by age, as well as a breakdown by gender. The most interesting part is the "Followers" section. The system's algorithms automatically gather information on the days and hours when your followers are most active. This enhances the effectiveness of advertising your products and services, as your posts are published at the most opportune times, increasing the chances of achieving your desired user actions.
Communication with Subscribers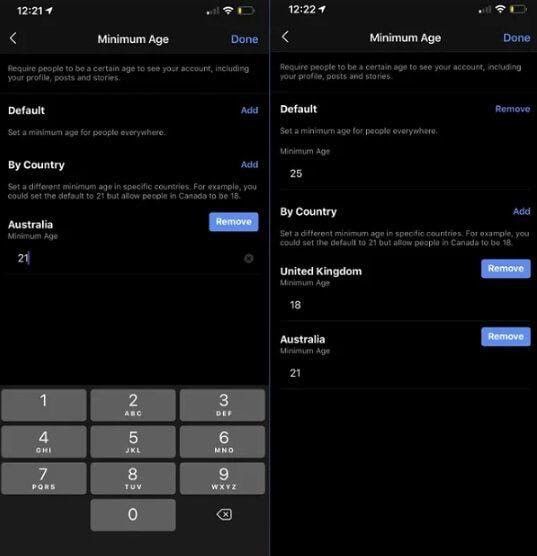 In a business account, you can set an age restriction for channel subscribers to filter the audience and protect minors from specific content.

The "Communication with Subscribers" tab makes it much easier to interact with your audience, providing more opportunities for engagement. This refers to contact buttons where you can add your phone number, email address, and a link to your official website or store. These buttons make it easier for users to initiate interpersonal communication with you, significantly increasing the chances of selling products or services.

It's also important to pay attention to your profile description and work on its appearance. If done correctly, your direct messages, phone, and email will be flooded with inquiries, collaboration offers, and notifications about orders or submitted inquiries.
Advertising
The created Instagram business account allows you to set up targeted advertising within the app. However, currently, you can only promote a post that has already been published to your audience's feed. There is a special button for this. After activating it, you will see an interface with targeting settings, which include parameters for selecting the target audience and budget. Payment is made with a linked bank card to your account.

The results of your advertising campaign will be displayed in the "Promotions" tab. The algorithms will show the age of the audience, gender, the number of clicks and reach in percentage, as well as the advertising budget used. If you link your Instagram account to a Facebook profile, you will have broader advertising opportunities. We have already covered how to set up advertising on Instagram through Facebook.
Shopping Tags
This feature allows you to add tags to products with brief descriptions. Users can browse through posts featuring products and, upon closer inspection, see details such as the name and price. To recognize Shopping Tags, you can look for the white shopping bag logo displayed above the post.

The advantage of Shopping Tags is that visitors no longer need to message the seller to clarify product details. Businesses are also relieved of the manual task of publishing template posts with descriptions. This reduces the workload for employees and operational expenses.

Currently, this feature is not available in Russia, but it is expected to be introduced in the near future.
Are there any downsides
The most significant drawback of Instagram business accounts is the decline in reach. This was mentioned by Mark Zuckerberg himself during the first public Q&A session.
According to Mark, the priority in reach will always be given to personal profiles rather than business ones. That's why targeted advertising exists for businesses, where continuous investment is required to increase the reach of the target audience.

Users also complain about errors that sometimes occur when linking Instagram and Facebook accounts, as well as the necessity of this linkage, without which targeting settings and analytics are quite limited.
How to create a business account
Let's talk about how to create a business account on Instagram. To begin with, it's important to note that you cannot create a business account from scratch; you can only convert an existing account to a business account.

If you don't have an Instagram page, you need to register one by entering your user information in the empty fields (last name/first name, phone number, and a secure password). The steps to create a business account may vary slightly depending on the device you are using, so let's break it down in more detail.
Connecting from a phone
We log in to the system and tap on the button with three horizontal lines at the top of the page.
In the dropdown menu, we select the option "Settings." In the opened window, we activate the "Account" tab. Then, we tap on the "Switch to Professional Account" option.
In the provided list, we select the account type: "Creator" or "Business."
Both types have brief explanations of which option is more suitable for whom or what. We select the appropriate category from the list and enter the company's contact information.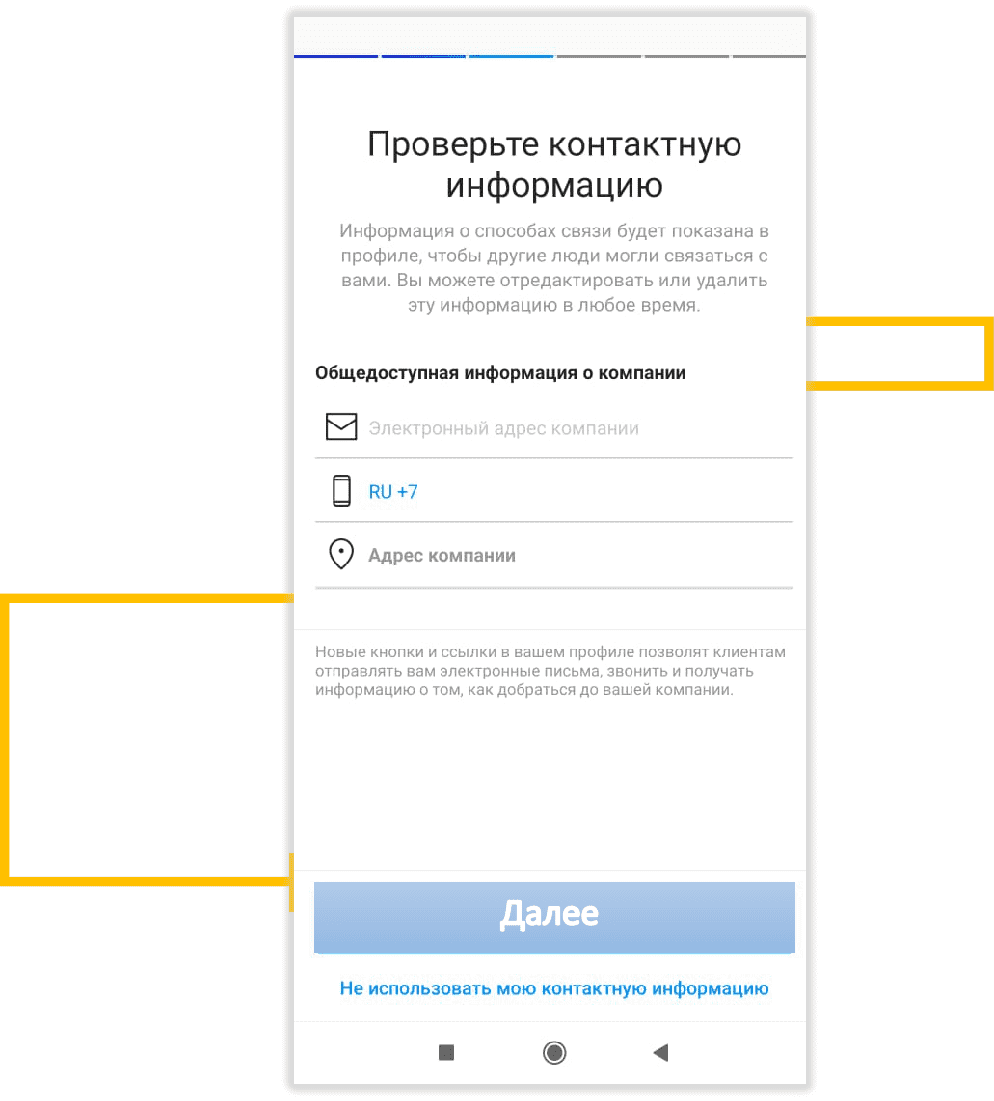 Confirm. The Instagram business account is ready, and it can now be used for advertising products and services.
From a computer
Next, let's look at how to create a business account on Instagram from a computer.

Log in to the system and navigate to your profile page. Click on the button with three horizontal lines, then click on "Settings," and activate the "Account" tab. Click on the "Switch to Business Account" button.

Just like in the mobile version, choose between "Creator" or "Business" options.
After selecting one option, you can review a brief description of the advantages.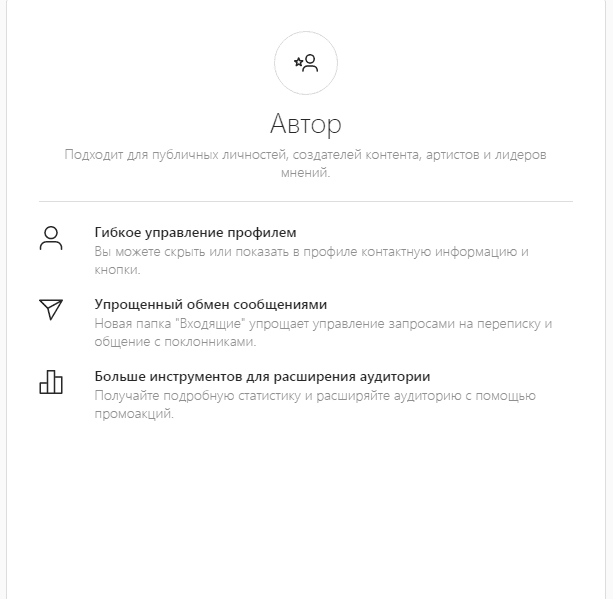 Each option leads to the same form - the category selection. Choose from the provided options or enter your own using the keyword search.
Provide your contact information. You can leave the fields empty, but it's better to have them visible to all visitors.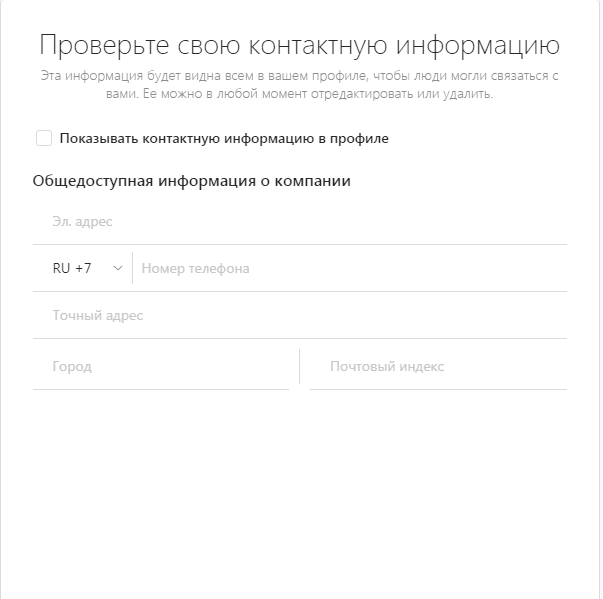 After completing these steps, the creation of your business account is finished. You can then link your Instagram and Facebook accounts together, assuming you have created a Facebook account if you don't already have one.
How to convert a personal Instagram account into a business profile without linking it to Facebook
It's quite simple - currently, the Instagram system does not require linking during the transition to a business profile. You just need to follow the steps described above, and your Instagram Business account will be ready. You can now prepare to launch your advertising campaigns.
How to set up a business account on Instagram
Having created a business account on Instagram, you have only completed half of the work for promoting your products and services. It is important to properly design your page to attract not only regular users but also advertisers and representatives of serious organizations with significant budgets. Therefore, when it comes to design, it is important not to rush, and we will go through everything step by step.
The Title of the Page
Each profile should have a memorable and simple nickname that would describe the company's activities and also serve as a promotional element. When your follower wants to share your contacts with someone they know, they can simply tell them the nickname, even if they don't have a phone at hand. But no one will memorize a long or complicated nickname, so simplicity and conciseness rule here.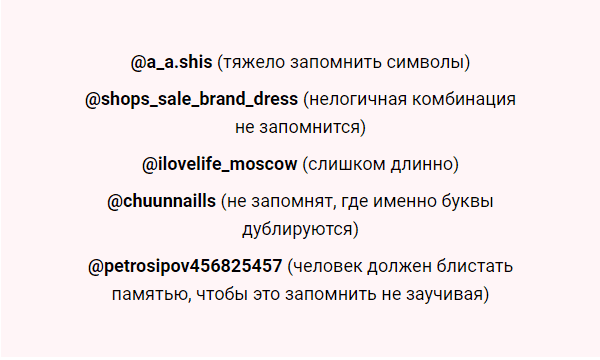 Examples of easily memorable nicknames:
@moscow.see.
@apple.
@aliexpressru.
It is also desirable to come up with one name and never change it again to avoid confusing followers and new users.
Profile header.
This is the most prominent and important part of the profile. It should definitely include keywords that will be highlighted for users in search results. If you are selling a specific product or service, it should be prominently displayed in the header.
If you are a public figure, better known by a pseudonym, it is worth mentioning that pseudonym instead of using your full name, which may be unfamiliar to many. In your profile description, you should write something unique and eye-catching to engage newcomers and "persuade" them to subscribe to your blog.
The "Highlights" section features stories that will not be automatically deleted after 24 hours. Therefore, it is important not to add any irrelevant content to it.
Provide users with only the necessary content to familiarize themselves with the channel or important evergreen announcements.
Profile picture.
It should be a round photo that will be displayed in the top left corner of the screen. To create a high-quality blog, it is not recommended to use downloaded photos from external sources. Take a photo yourself or ask someone to create a unique shot.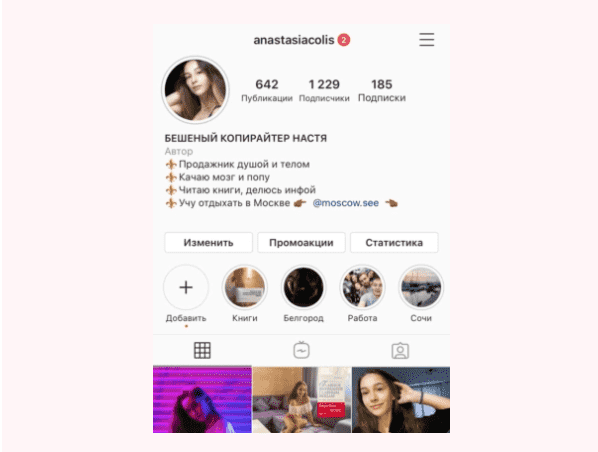 Photos should be memorable and capture the attention of new users, who could potentially become followers. In the past, a successful Instagram account was not much different from a page on Avito (a Russian classified ads platform), but now the requirements have increased. It's about having a well-thought-out visual aesthetic, curated according to a unified style concept.

Even if you write brilliant posts that no one else has, if there is a terrible (unprofessional, low-quality) photo displayed prominently, visitors will quickly leave your page. Therefore, pay special attention to the visual aspect. If you lack the necessary skills, consider hiring a freelancer or a specialized company to help you.

Additionally, work on your website link if it is necessary. You can use UTM tags to track additional statistics for your blog. However, Google Analytics does not work well with Instagram. Remember the golden rule: the shorter the profile link, the more pleasant it is to copy and share with acquaintances and friends. Utilize link shorteners. If you have any secrets for effectively optimizing business accounts on Instagram, feel free to share them in the comments.
How to manage a business account on Instagram.
Each item in this section is equally important, so attention should be given to all of them equally.
Content
Content is the foundation of any blog. It is unlikely to be successful without powerful meaningful content, combined with visuals and proper formatting. To start, you need to create a special document, label it as a "content plan," outline it, and prepare posts for at least a few weeks. Then, you need to analyze the audience's response to different posts in order to identify the pain points of your target audience.
To create a content plan:
It is important to clearly understand the difference between a company page, a professional blog, an author's blog, and a regular user's page. The chosen type determines the tone of communication with users, as well as the overall meaning and focus of the content.
Creating a structure for a future content plan involves developing a categorization system. These categories, also known as sections, will define the thematic focus of the posts. Here are some examples of sections: entertainment, promotional, and so on.
Provide approximate topics and create a grid for the posts.
A fail-proof option is to directly ask your followers which category or type of posts they enjoy the most. If the company's status doesn't allow for this, analyze the reach, impressions, and engagement of your posts to identify pain points and user interests.
If you need persuasive posts, consider the following topics:
Describing the advantages of your product over competitors and honestly stating ongoing efforts to improve it.
Announcing new products or entire product lines.
Sharing genuine testimonials from satisfied customers.
Hosting a "live" Q&A section or FAQ blocks with popular topics addressed by company employees.
To diversify your posts with entertaining and informative content, consider the following topics:
Discussing current trends in your company's professional field.
Sharing positive news about your company.
Illustrating the work process with a touch of humor.
Sharing stories about your employees or the organization's origins.
Publishing motivational content that inspires you and your colleagues to work on product improvement and create new products.
Reflecting on the organization's mission and philosophy.
Sharing amusing moments from the work process or meetings.
It is also important to sprinkle personal emotions (yours or your colleagues') to create the image of a person embodying the company. Here are some ideas for posts:
Philosophical musings.
Stories about personal transformations after starting work and your attitude towards the product and creation as a whole.
Reviews of useful literature for personal growth in the chosen field.
Plans and dreams for the future.
Reflections on life rules and principles you adhere to.
In your content plan, it is crucial to include educational and reputational posts. Write about:
The use of your product, including guidelines for its operation.
The history and challenges faced in establishing the company or personal brand.
Accomplishments, awards, achievements, and statistics related to your product or service. Highlight if celebrities use it or if employees have undergone professional development.
Participation in charitable initiatives.
If you're completely out of ideas on what to write about, consider the following options:
Curate collections of quotes.
Publish guest posts.
Conduct interviews with prominent figures in your professional field.
Write reviews of useful resources that help you in your work.
Photos and videos
This type of content increases the audience's trust in you and your product. It's one thing to write beautifully, but it's quite another to show the reality, such as the production process. When it comes to photos and videos, quality should be your priority. Invest in good equipment for shooting or hire a professional who knows their craft.

If you think the investment won't pay off, you are mistaken. Users immediately notice quality and compare products and presentation with competitors, basing their choice of seller or business partner on these factors.
Remember the following:

Brand identity is created to establish a perception of yourself in the minds of your followers. The main weapon of advertising is the image. Build a visual representation that conveys your core values to users, rather than simply pushing sales. Offer your audience the opportunity to grow spiritually and physically, to become more beautiful, healthier, and more confident with your products. Any respectable brand has its own brand identity, which includes colors, patterns, fonts, graphic elements, and unique filters for photo/video editing. Avoid redesigning if your company is less than 100 years old. Otherwise, you'll just confuse people and decrease conversion rates. Don't exclusively follow new trends when it comes to visual elements. There are always classic techniques that have already proven themselves.
Emphasize minimalism and pastel tones or opt for bold and vibrant combinations of different colors. The color scheme should align with the nature of your company's work and the products you promote.

Hashtags deserve special attention. They should always accompany all types and forms of posts. Include at least 5 hashtags for each post. You can use more to increase reach, but an excessive amount may distract readers from the image and text. Don't be afraid to experiment, as even a random hashtag mistake can become a brand's unique feature.
Paid and free methods of promotion.
If your business account is linked to a Facebook profile, you automatically gain access to targeted advertising. This means that in the promotion settings of a specific post, you can define the parameters of your target audience and set a budget for your advertising campaign. To consistently reach the desired audience, you will need to pay for it.

There are also free methods of promotion. For example, mutual PR or collaborations with other blogs. This is a great opportunity to introduce two different audiences, gain new experiences, and acquire subscribers. You can also publish semi-promotional posts on free platforms with links to your business account. For instance, create a channel on Yandex.Dzen and redirect traffic from there to your page.

There are options to participate in free compilations or top lists and collaborate with emerging bloggers. There are many possibilities, and it's important to test everything to identify the most effective methods of promotion.
Increasing user engagement
It is important to keep your audience engaged so that users are always ready to take the desired action. To achieve this, periodically conduct giveaways with prizes for reposts or participation in voting.

Motivate your audience to move in the direction you want by rewarding the most persistent ones. This way, your blog won't turn into a dull swamp but will always be buzzing with discussions under the posts. And that's crucial. We also recommend reading an article about Instagram promotion, as it will be very helpful.
Can a business account be closed
You cannot close the business account immediately. First, you need to switch from the Instagram business account back to a personal account. To do this, click on the "Switch to Personal Account" link.
Confirm the action in the warning window:
Only after that, you can go to the settings of your personal account and either temporarily disable it or continue using it.