The VKontakte parser is a tool that allows you to collect data from users, communities and social network publics.Using it, you can acquire a ready-made target audience to set up your advertising campaign effectively.
Is such a service legal? It does not violate legislation and gathers data that is publicly available through the VKontakte API. The social network allows the use of scrapers and does not block them.
How does the VKontakte scraper work? Let's delve into the essence. For instance, you need to launch an advertising campaign to sell car insurance. To achieve this, you start the scraper and search for users subscribed to automobile-related communities. As a result, you obtain the IDs of potential clients: they are the ones who will eventually see your advertising announcements.
What is prohibited when using the scraper?
Sending spam to collected users.
Distributing personal data obtained through it.
What data can and should be parsed?
What settings can be used in scrapers? You can configure data collection based on:
Keywords.
Competing communities.
Group statuses (for finding administrators).
Numbers of likes and comments.
Audience parameters (gender, age, location, workplace, interests, etc.).
What specifically can be scraped on VKontakte?
User IDs. The scraper helps obtain a ready-made target audience for fine-tuning advertising campaigns.
Community and public IDs. These data help gather a pool of popular groups with engaged audiences where advertising placement will be most effective.
Group administrators' profiles. Some communities conceal contact information for creators and moderators. With the help of the scraper, you can discover their profiles and reach out with offers for mutual promotion or advertising purchases.
Content creators. Analyzing popular posts allows you to identify their authors. This can be useful if you're looking to hire a content creator whose texts resonate with the audience.
Personal user data. The scraper can collect phone numbers, Skype accounts, Instagram profiles, and links to profiles on other social networks.
Posts. Reviewing popular publications helps understand what resonates best with users. This insight enables you to craft a well-thought-out content plan for community growth or devise an effective approach when creating creatives.
Comments. They provide insight into what interests the community's audience the most.
How to use the acquired data depends on individual needs, but often they are used for targeting setup, building a database of active community members, launching advertising campaigns targeting specific individuals, verifying communities and personal profiles for engagement fraud, and much more.
How to use a scraper for advertising purposes?
As an example, let's consider the service Pepper.Ninja – working with other scrapers will generally follow a similar algorithm.

Let's say we want to gather an active audience to advertise online car insurance services to. To do this, using Wordstat, we'll find a suitable keyword query. This could be "Online Insurance." We insert this query into the "Keywords" field in our service.
Next, we configure the approximate audience: gender, age, location, interests (for this, you'll need to set additional filtering options). You can also specify negative keywords that will exclude certain data from being collected.

We've set the following conditions: the keyword "online insurance," location – St. Petersburg, age 24-27 with an interest in "car purchase." After this, we click "Search." The service finds relevant communities.

We select the ones suitable for us and move them to the parsing list.
Next, we click the "Parse List" button, set the activity settings, and click "Start." After the task is completed, we obtain a list of active community users, which we can use to launch an advertising campaign.
Top scrapers
There are quite a few services that allow you to collect VKontakte user data. Almost all of them are paid. Some offer a trial period that allows you to explore the functionality in a limited mode.
Cerebro Target
A service that allows you to gather users and analyze communities without leaving VKontakte. The cost starts from 590 rubles per month. A notable advantage over others is the presence of ready-made educational materials on creating engaging content, advertising posts, and campaign setup. Additionally, the service assists in detecting and removing bots from your own communities.
Pepper.Ninja
A convenient tool for parsing not only VKontakte but also in Odnoklassniki and other social networks. It allows both data collection and analysis of various communities. The cost of a paid subscription starts from 490 rubles per month. There's a free 3-day trial period available. It's suitable for those who want to try out the tool before making a payment.
Segmento Target
A cloud service that gathers an audience from VKontakte, Instagram, and Odnoklassniki. The platform allows you to find contacts of community owners, filter users by activity, and combine collected databases (select users based on specific parameters). There's a free trial mode with limited capabilities available.
TargetHunter
A scraper that offers a multitude of additional features for collecting and working with data from social networks. It is an official VKontakte partner and provides more than 150 settings for targeting and finding the desired audience. The paid subscription starts from 18 rubles per day (with annual payment).
VK.Barkov.net
A popular scraper offering 200+ scripts and tools for audience collection from VKontakte and Odnoklassniki. It allows data collection based on activity, comments, participation in polls, donations, shared links to profiles on other social networks, comments, and much more. The cost starts from 799 rubles per month. There's an option to purchase 24-hour access. Additionally, a free plan with limited features is available.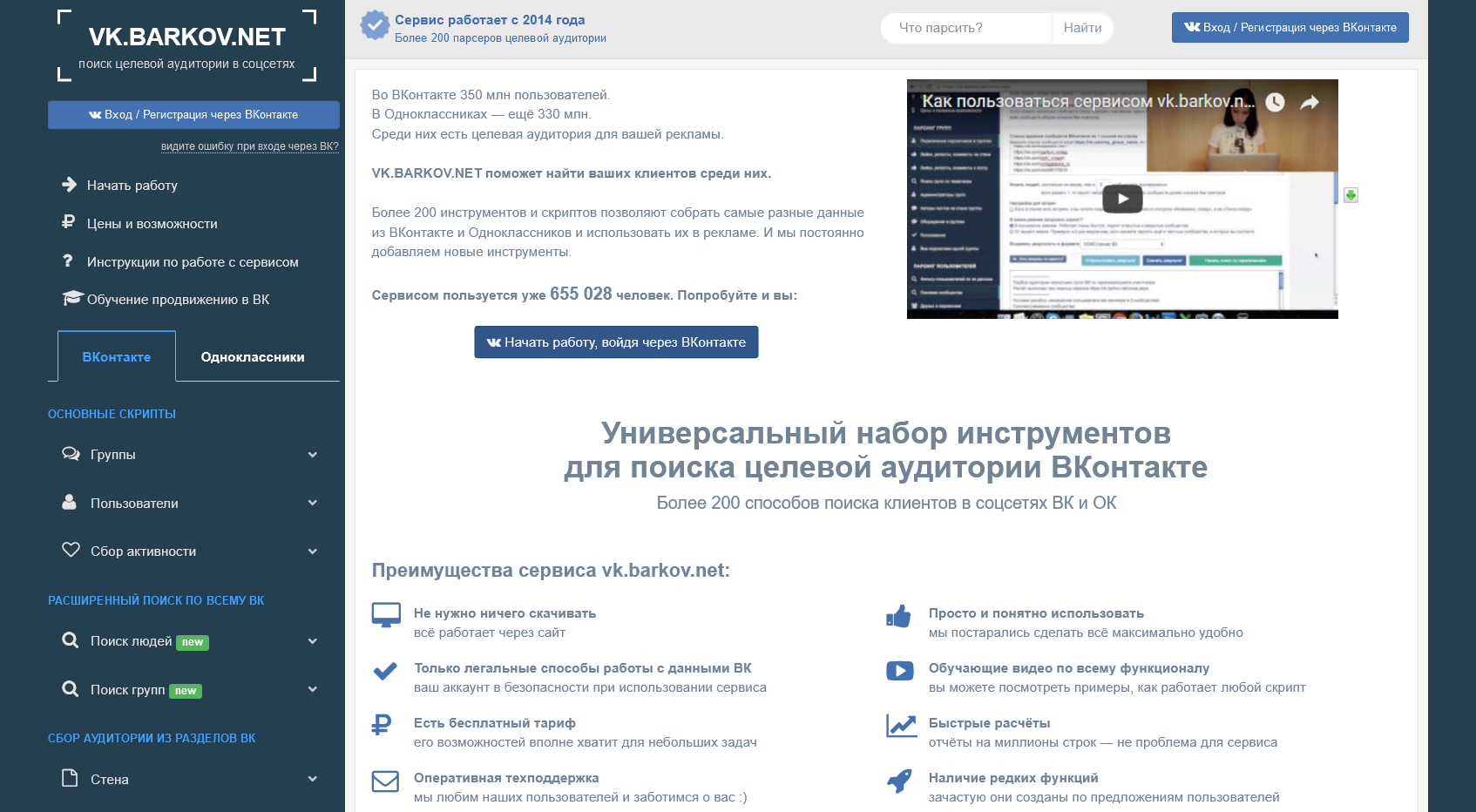 Conclusion
A VKontakte scraper is an essential tool for anyone looking to monetize traffic from this social network. Gather your audience, analyze community statistics, evaluate user behavior – all of this will help optimize your advertising budget and generate more profit with each campaign you launch.