TikTok monetization is a popular method of earning money online, which has gained significant popularity as the platform grows. Today, we will delve into the various ways to earn money on TikTok and discuss the potential earnings on this social media platform.
TikTok Monetization: what you need to know before you start
The most common misconception about earning money on TikTok is that you can only make money through advertising integrations by growing your account. However, this is not true. Here are the various ways to monetize TikTok:
Traffic arbitrage
Redirecting traffic to other platforms
Selling products and services
Buying and selling TikTok accounts
Earning through donations
Engaging in activities such as likes, comments, and other forms of engagement manipulation
Managing other people's TikTok accounts
Automatic content monetization (currently unavailable in Russia)
Advertising integrations
Next, we will examine each of these methods in detail with examples.
Earning in TikTok: all existing methods
There are different ways to earn money on TikTok: free methods that do not require any investment and paid methods where you need to invest some budget to get started. We have gathered the best earning schemes in TikTok for beginners. By the way, in our arbitrage chat, you will find discussions on all the earning methods and tips from professional arbitrageurs.
How to make money in TikTok on traffic arbitration
TikTok has recently proven itself as a platform for traffic arbitrage. Contrary to the prevailing belief that "only teenagers use TikTok," a large portion of its audience is financially capable.
That's why TikTok offers its own target audience for arbitrage specialists in almost any vertical. The most common verticals where traffic is directed from TikTok include:
E-commerce - both general and niche products. Leading platforms are AliExpress and iHerb.
Dating - primarily mainstream offers, but sometimes also adult offers.
Gambling and betting - discussions on winning strategies and predictions are common.
Nutra - often related to weight loss and vitamin supplements.
White and not-so-white product offers.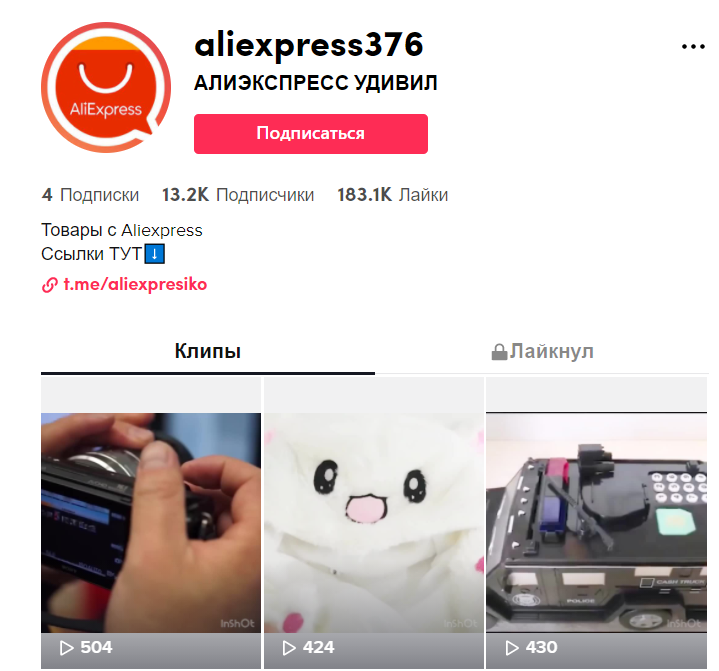 The easiest way to drive traffic from TikTok is through your own account or a network of accounts. It is a free source of traffic, and you can sustain it for some time, even when directing it to "gray" verticals. However, for arbitrage purposes, the account needs to be established, and promoting it will take time. A faster method is advertising through other influencers. The cost of advertising will depend on the reach of the account. To avoid wasting your budget, it's important to realistically assess the actual reach and engagement of the audience. Many influencers tend to overprice their advertising.

Since 2020, TikTok has introduced its own advertising platform. It may be more challenging to advertise nutra or dating offers through it (for example, joint support products are usually not approved during moderation). However, if you know how to cloack and use soft creatives, you can still succeed.
Earnings in TikTok on traffic overflow
TikTok can serve as a traffic source for other platforms such as YouTube, Instagram, VK (VKontakte), and your own website. For example, in traffic arbitrage from TikTok, a link to an Instagram account is often included in the creative or account description. And from there, the traffic can be directed to the target landing page.
This earning method is not only suitable for arbitrage specialists but for others as well. By redirecting traffic from TikTok to a YouTube channel, you can quickly increase its growth and reach the necessary number of views for monetization. The same applies to Yandex.Dzen. In other social media platforms, it becomes easier to promote an account, reach the target audience for selling products and services, or simply grow a community. Additionally, TikTok can be used to drive traffic to your own website, either for promotion purposes or for other objectives.
How to make money in TikTok by selling your goods and services
Another way to earn money on TikTok from scratch is by promoting your own services or products. These can include handmade items, educational games, services of a psychologist or stylist, or the sale of informational products. The most common ways to present your services on TikTok are:
Show the results of your work or a brief process. For example, a TikToker showcases handmade soap making, knitting clothes, or creating realistic toys.
Explain and highlight the importance of your service. This is commonly used to promote services offered by specialists or informational courses.
The TikTok format revolves around short videos. Therefore, in an advertising video, it's important to include only the most essential elements, such as the importance and benefits of the offering for the target audience and its advantages compared to competitors. If the content cannot fit within a minute (for example, a masterclass or presentation), try dividing it into several logically connected parts. Alternatively, you can upload the beginning to TikTok and provide a link to your YouTube channel for viewers to watch the continuation. This way, you can generate views on both TikTok and YouTube.
How to make money in TikTok: the scheme of earnings on the purchase and sale of accounts
Well-established TikTok accounts are in demand by many individuals, including arbitrage specialists, targetologists, and even regular bloggers who don't want to bother with building up their view count. Therefore, one of the most profitable ways to earn money on TikTok is through reselling accounts. Here's how the earning scheme works:
Create a new account or buy a pre-existing one at a low cost.
Regularly post fresh content to facilitate organic growth.
If necessary, artificially boost the number of followers. However, this should only be done in extreme cases. Your goal is to attract an engaged audience, as it is unlikely that someone would purchase an account with clearly inflated numbers.
List the account for sale on one of the marketplaces, such as Telegram, VK, or Kvorka.
The more active followers, views, and likes an account has, the higher the price it can command. Therefore, a significant portion of success depends on the blog's growth and engagement.
Earnings in TikTok on the sale of advertising
This is the method that most people associate with earning money on TikTok. It is well-known that millionaire bloggers make substantial profits through advertising. You can earn money by promoting the products, services, or content of advertisers. There are four options for advertising integrations:
Account Mentions: This involves mentioning another TikToker in your video and description. Some of your audience may visit their profile and follow them if they like their content. You can also collaborate with other users in the form of duets, and your followers may also check out their profile.
Brand Ambassadorship: Brand ambassadors promote a brand by showcasing its products in their videos. Typically, TikTokers with at least 1-2 million followers become brand ambassadors. They don't advertise directly but simply feature the brand's product in their content. For example, Nike ambassadors wear only Nike sneakers.
Profile Link: In this case, you leave a link to the advertiser's profile on Instagram, YouTube, or their website in your TikTok profile. Then, you create videos with a call-to-action. Instagram and YouTube buttons for profile redirection are available to everyone, but adding an active link to the profile is only possible for users with 1000 or more followers. However, it is possible to reach this number in just a couple of hours.
Participating in challenges is another way to earn money on TikTok. Large brands like Coca-Cola may come to the platform to promote their products and seek assistance from popular influencers. They initiate a challenge by creating a video using a specific track and adding relevant hashtags. The audience then picks up on the content and starts creating similar videos. Advertisers pay for creating the initial videos in these large-scale challenges.
How to make money on cheating likes in TikTok
If you have a TikTok account, you can earn money by boosting likes, followers, comments, and other forms of engagement on the platform. You can find such tasks on micro-tasking platforms that offer simple orders.
They pay a small amount for each task individually, but they can be completed quickly, allowing you to take on a larger quantity of tasks. This type of earning opportunity is accessible even to beginners, as it doesn't require any special knowledge, skills, or experience to earn money from likes. It doesn't require as much effort and investment as growing your own profile; you simply perform repetitive actions and receive money for it, albeit in small amounts.
How to make money in TikTok on donates
This is a earning method available to anyone with over 1000 followers. With such an audience size, you can start live streaming. Viewers of your livestreams have the ability to send you virtual gifts, which they can purchase using TikTok Coins. One advantage of TikTok is that you don't need to integrate third-party donation platforms, as you would on platforms like YouTube, to earn through this method.
The internal currency of the social network will be converted into "diamonds" in your account, and these diamonds can be converted into real money. However, TikTok will retain 20% of your total earnings as a fee for providing you with an audience. Once you accumulate $100 in your account, you can withdraw the money via PayPal or other common methods.
How to make money in TikTok for account management
An unconventional way to earn money on TikTok is by managing accounts on the platform. You can take on partial or full responsibility for managing TikTok accounts. For example:
Generating ideas for new videos and writing scripts for them.
Organizing video shoots.
Editing and uploading content to the account.
Responding to comments.
Accepting requests from advertisers.
Promoting the account.
While most TikTok influencers prefer to manage their own accounts and create content themselves, as TikTok's popularity grows, there is an increasing demand for account management services.
Just remember that being a TikToker is still a job and requires skills in content creation, hashtag selection, and often account growth strategies.
If you have the skills, you can post an advertisement on freelance platforms like Upwork or Freelancer. There is demand for such services there. Alternatively, you can directly reach out to the interested TikToker to find potential clients.
How to make money in TikTok on content monetization
The most obvious way to earn money on TikTok is through content monetization, similar to YouTube's partner program. Popular creators can also earn money based on the views of their content, but there are a few nuances to consider.
Firstly, the official monetization program is currently not available in Russia. It is being tested in the USA and other countries, and there have been rumors that it will be expanded to other regions. However, for now, creators in Russia and CIS countries cannot earn money directly on the platform.
Secondly, even in countries where the monetization program is available, the earnings are relatively small. Typically, creators are paid around $20 per million views. This means that to earn just $100, you would need to have content that receives 5 million views. In Russia, it is estimated that earnings could be around 50 kopecks (Russian currency) per 1000 views, or 500 rubles for every million views.
However, monetization is gradually being rolled out, and some TikTokers have already been granted access to it. Users now have separate tabs with their account balance in their profiles.
Just a little more waiting, and you will be able to start earning money for each video. The earnings are expected to be modest, but besides monetization, there are other ways to generate income from TikTok.
According to some information, only users who meet the requirements of the social network will be able to activate monetization. Here are the requirements:
Age of at least 18 years.
Having at least 10,000 followers.
Having at least 10,000 content views in the last month.
No violations of TikTok's rules.
Only original content, not others' videos.
If you meet all the requirements, wait for the monetization feature to become available. If you don't meet the requirements, you have time to prepare yourself.
Earnings in TikTok: where to start
The most important thing to start with is choosing the theme and name of your blog. The success of your growth and monetization often depends on the chosen theme. When making a choice, familiarize yourself with the trends on TikTok and explore the top accounts.
While it's not advisable to copy someone else's content, you can certainly draw inspiration from others and gather ideas for your own videos. This will be helpful because, regardless of your chosen method of earning, you'll need to post regularly and frequently. Experiment with different formats, track your statistics, and see what resonates with your audience. If you manage to grow your account successfully, you can monetize it using any of the methods we have discussed.
How much does TikTok monetization bring
It's impossible to provide an exact earning amount on TikTok as it depends on several factors:
Chosen method of monetization.
Page reach and audience engagement.
Account's niche or topic.
For example, TikTok can be profitable for traffic arbitrage. In the screenshot provided, it shows the earnings statistics of an arbitrage team promoting a product offer (monocular glasses). They earned 400,000 rubles in a week, net profit after deducting advertising expenses.
We have a full case study on this campaign with examples of the creatives used. However, it's not necessary to copy approaches for successful earnings – you may come up with your own unique ideas.

Regarding earning through advertising, you can simply visit any TikTok influencer marketplace. Beginners with smaller reach typically charge relatively modest amounts, ranging from 1000-1500 rubles for a video review.

Millionaire bloggers earn significantly more. In the screenshot provided, you can see the rates for advertising by one of the popular TikTokers.
Indeed, determining the exact earnings in TikTok through other methods is more challenging. It depends on the activity of your followers and the size of your audience.
Pros and cons of earning in TikTok
Monetizing TikTok, like any other social media platform, has its advantages and disadvantages. The main and obvious advantage is the potential for good profit on a TikTok account, as supported by the numbers mentioned earlier. Other advantages include:
The ability to combine multiple earning methods. For example, you can earn through traffic arbitrage and donations simultaneously.
Various earning schemes to suit different preferences. If you know how to grow an account, you can offer audits for other blogs. Even beginners can earn through likes. And if you are familiar with traffic arbitrage, TikTok has proven to be a good field for arbitrage.
There are monetization methods that don't require investments, such as likes and redirecting traffic from your own accounts or managing other people's blogs.
Of course, there are also downsides to earning on TikTok. Here are some of them:
Earnings can be unpredictable, as you can only rely on approximate figures. For example, donations depend on the goodwill of viewers, and the success of traffic arbitrage depends on how well your creatives convert.
The algorithmic workings of TikTok can be peculiar. The content displayed in the TikTok recommendation feed is even more unpredictable than platforms like Instagram or Yandex Zen. Even high-quality content can be downplayed in the algorithm. This is why some TikTokers even resort to creating new accounts for earning purposes.
Strict moderation, primarily impacting arbitrage practitioners. Currently, TikTok's moderation policies are not as stringent as those of Facebook, for instance. However, it may be challenging for newcomers to run certain types of ads, such as those related to grey niches.
TikTok has another advantage that outweighs the downsides - an untapped target audience for now. Arbitrage practitioners can promote offers that have already been saturated on other platforms (such as Telegram or VKontakte betting). Many people also find success in selling products and services through short video formats. So go ahead and give it a try! We wish you good luck!
How to make money in TikTok: checklist
We have put together a small guide on earning money on TikTok. Here's what you need to do to start earning:
Choose a topic for your account and come up with a memorable username.
Decide on the primary method of monetization.
Depending on the chosen monetization method, plan your growth strategy. For example, if you're earning through likes and followers, you'll simultaneously promote your own account. If you're managing someone else's account, you need to understand their target audience. In the case of arbitrage, you may need a network of accounts.
Consistently post content that is interesting to your target audience.
With a well-established account, you can monetize it using any of the methods we listed or even combine multiple methods.
Conclusion
Indeed, anyone can earn money on TikTok. You have listed all the popular methods and earning schemes. If you have your own profitable monetization strategies, feel free to share them in the comments or our chat. We are always open to new ideas.
A brief summary of the article
Is it possible to earn money in TikTok?
Yes, monetizing TikTok accounts is becoming increasingly popular, and many influencers are successfully earning money. There are numerous earning schemes that can be combined or used separately. We have listed them in this article.
What do you need to earn in TikTok?
To start, you need to create an account, choose a theme for it, consistently post engaging content, and promote your page. Once you have an established account, you can monetize it using any of the methods listed.
How to make money in TikTok?
The main methods of earning on TikTok include traffic arbitrage, selling or reselling accounts, donations from followers, and advertising integrations. You can also sell your own products and services on TikTok, help promote other accounts by liking and engaging with their content, among other activities. There is also automatic monetization on TikTok, but it is currently not available in Russia.
How to earn money in TikTok for a beginner?
For beginners, earning money by completing tasks on TikTok, such as liking, commenting, and following, can be suitable. You can also earn through advertising by setting relatively low prices. Once you have built your loyal audience, you can try traffic arbitrage as well.
How much can you earn in TikTok?
The earnings potential depends on the method of monetization, reach, and the account's niche. For example, you can earn around $1-2 per day through likes. However, with traffic arbitrage or advertising integrations, earning up to 100,000 rubles per day is not uncommon and far from the limit.