No webmaster can do without regular checks of their website's positions in the search engine results. This essential task helps to assess the effectiveness of the chosen promotion strategy. Additionally, position monitoring allows identifying pages that may have a negative impact on the overall ranking of the website.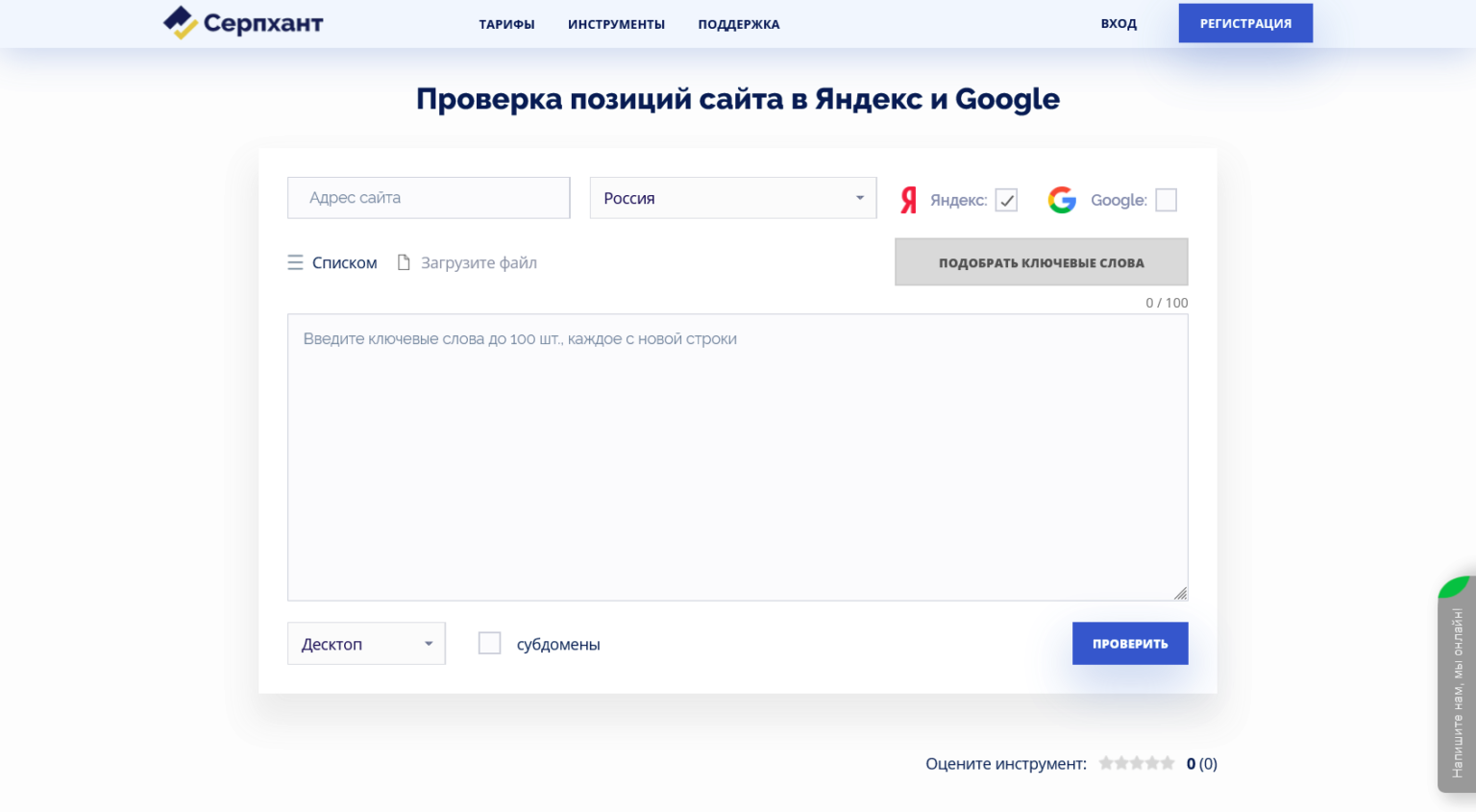 In general, services for checking website positions provide not only the ability to determine its ranking in search results but also offer features such as sitemap exploration, identifying technical issues, analyzing traffic and indexing of individual pages, and much more. Depending on the workload, users have the option to use both paid and free tools.

For small websites with infrequent checks or limited tasks, free services can be used comfortably. While they may not gather detailed analytics, they completely cover the need for position monitoring. However, those who analyze large websites, engage in constant monitoring of their rankings, and strive to improve their performance, cannot do without paid services.
Services for checking website positions
AllPositions
A service for website checking, operating since 2010. Besides analyzing search results, it provides information about competitors, keywords, overall website traffic, individual page visits, and more. Additionally, users can generate reports for various locations, devices, and search engines.
Advantages:
User-friendly interface.
Customizable check frequency, from daily to on-demand.
Precise targeting options, even down to specific cities.
Bonus of 1000 coins (the service's internal currency) upon registration to pay for checks.
Disadvantages:
Inconvenient mobile version.
Overall, Allpositions is suitable for both beginners (the registration bonus allows checking a small website multiple times) and experienced webmasters (they can allocate their budget for regular checks and report generation for their projects).
LINE.PR-CY
The service LINE.PR-CY allows checking search results and website positions for specific keywords.
Users can check the first 100 keywords in a single search engine for free.
Additionally, the service enables users to compare their positions with competitors, monitor not only websites but also social media groups, and utilize the service for free by sharing XML limits and referring other users to LINE.PR-CY.
Advantages:
Access to a history of checks.
Inclusion of all subdomains of the tested website in one report.
Analysis of mobile search results.
Possibility of free checks.
Disadvantages:
The service only works with Google and Yandex.
The system has been operating since 2006, making it suitable for even novice webmasters. All necessary knowledge and detailed instructions for using LINE.PR-CY are available in a dedicated section on the service's website.
MegaIndex
MegaIndex is a service designed for website auditing and promotion. With MegaIndex, users can analyze competitor websites, their keywords, and promotion strategies.
Advantages:
Multiple tools for website auditing and development in one service.
Capability to audit competitors.
A dedicated marketplace for external backlinks.
Disadvantages:
Outdated design.
Uncomfortable navigation within the dashboard.
MegaIndex has been operational since 2008. Today, it can assist not only in checking website positions but also in devising promotion strategies.
Pos10.ru
A simple service that displays website positions in Yandex and Google. To initiate a check, you only need to provide the website link, the desired keywords, and select the location. The service will then gather the information and present it to you.
Advantages:
History of checks available.
Capability to track and analyze multiple websites simultaneously.
Possibility to check positions of mobile applications in marketplace search results.
Disadvantages:
Limited functionality in the free version.
The service only works with Google and Yandex.
The checking system has been operational since 2020 and is popular among solo arbitrage specialists and beginner webmasters.
Rush Analytics
A comprehensive service for webmasters and SEO specialists. The system includes tools for checking website positions, collecting and analyzing keywords, auditing existing platforms, and building PBN (Private Blog Network) networks. During search results analysis, users can view not only occupied positions but also the quality of page indexing. SERP monitoring and SERM (Search Engine Reputation Management) features are also available.
Advantages:
A wide range of tools for webmasters.
Saving the history of checks for subsequent analysis.
Offers a 7-day trial period.
Disadvantages:
The minimum tariff is 500 rubles.
Short trial period.
Rush Analytics is a suitable service for any webmaster. The system helps to check website positions, understand the reasons for their changes, and optimize work to achieve top search rankings and outperform competitors.
Semrush
A system for website auditing and optimization. The service allows handling SEO components, checking changes in search results, analyzing the work and approaches of competitors, and much more. During website position checks, users can also monitor the volatility of Google and Yandex search results, and evaluate domain rankings to choose the best options.
Advantages:
A wide range of tools for webmasters.
Daily updates of keywords, domains, and backlinks.
Results of checks are saved.
Integration with Google Data Studio.
Disadvantages:
No trial period.
High price (starting from 119 USD per month).
Semrush will be a good choice for experienced webmasters who actively monetize their websites. However, the relatively high subscription cost might deter beginners and novice arbitrage specialists.
Serpstat
A multifunctional SEO platform. Users have access to over 30 tools for checking and improving their websites. The system allows obtaining data about search engine results, collecting semantic data, conducting link analysis, tracking daily position changes, and much more, all in one place.
Advantages:
Offers a trial period.
Analyzes competitors in organic and paid advertising.
Ability to analyze not only the website but also each individual page separately.
Keyword parsing by frequency and top rankings.
Saves reports and check history.
Disadvantages:
Subscription cost (starting from 69 USD per month).
Serpstat is a good choice for webmasters working with website networks or multiple large projects. The system allows obtaining any statistics and optimizing existing pages effectively.
SEOlib.ru
Seolib is a service for analyzing positions, competitor websites, keyword research, meta tag generation, and much more. Users can set up automatic checks daily, weekly, or in manual mode. The cost of checks starts from 0.04 RUB per 1 keyword in 1 search engine for 1 region.
Advantages:
Offers a trial version.
No monthly subscription required.
Storage of page history.
Ability to set up automatic checks.
Deep position analysis - up to top 250 (Yandex) and top 500 (Google).
Convenient user reports.
Disadvantages:
Works only with Yandex and Google.
Fluctuating prices for checks.
Seolib is a good choice for solo webmasters and small teams. The system does not require an expensive subscription and provides all the necessary tools for work.
Serphant
Serphant is a service for analyzing the effectiveness of promoting your websites. The system allows checking website positions, traffic, and page indexing, content and backlink quality, query frequency, and more. Additionally, you can obtain an audit of competitor pages, which will help optimize your own website and reach the top rankings.
Advantages:
Offers a free plan.
Low cost for checks when exceeding the limit - 0.04 RUB.
Storage of check history.
Automatic position analysis.
Content quality assessment.
Disadvantages:
Limited number of checks on the free plan.
Serphant is a great tool for both beginners and experienced webmasters. Before purchasing a subscription, you can always explore the system's capabilities on the free plan and make a decision.
Topvisor
Topvisor is a service with essential tools for analyzing the effectiveness of search engine optimization for websites. It allows tracking position changes, finding keyword variations, managing advertising campaigns, and much more. The service offers a free plan with access to all necessary webmaster tools.
Advantages:
Eternal storage of check results.
API integration.
Free access.
Prompt customer support.
Disadvantages:
Charges for checks even with a subscription.
Topvisor is one of the oldest SEO specialist tools, operating since 2013. It is recommended for both beginner webmasters and experienced teams engaged in website promotion and monetization.
Conclusion
Absolutely, checking website positions is an essential task for webmasters and SEO specialists. It is crucial to monitor how search engines respond to new content, changes, and optimizations made to the website. Regular analysis helps track positive changes promptly and maintain top rankings in search results. This continuous monitoring and adjustment are key to improving a website's visibility and organic traffic, ensuring its success in the competitive online landscape.