We all love counting money... Today, we will calculate how much it costs owners to maintain their teams. Perhaps after this article, you will weigh all the pros and cons and decide to assemble your dream team (or, on the contrary, abandon this crazy idea).
We know that the level of income and expenses depends heavily on the city, so we will calculate the cost of two teams: a 'regional' one and a 'capital' one. Let's clarify that we are talking about creating a team specifically in Russia, because even within the CIS, prices and salaries differ, not to mention other geographic regions.
Staff
Of course, the most important aspect of a team is the people it consists of. Employee compensation is perhaps one of the main expense items in a media buying team. To get a rough idea of the current offers and salaries in the CPA industry, we delved into job listings on HH.ru and other headhunting resources. Let's go through it step by step.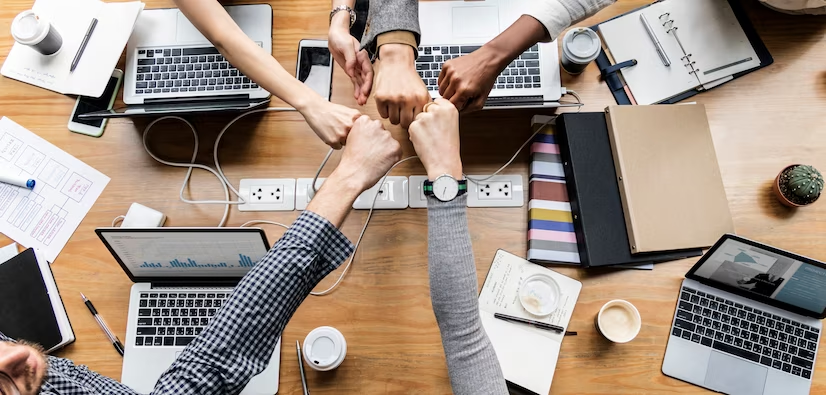 Media buyers
No arbitrage team is conceivable without arbitrageurs. These are the guys who hold everything together, and one could even say that the sustenance of other employees largely depends on the profits brought in by the buyers.
So, judging by job offers with stated salaries (as you know, many employers simply postpone this question until the interview), the base salary for a buyer without profit percentages in St. Petersburg and Moscow is around 50,000-60,000 rubles.
In the regions, the starting rate varies from 25,000 to 40,000 rubles.
Designers
Although many buyers can handle landing pages, creatives for banners, and more on their own, having a designer on the team, responsible for designing various formats, allows buyers to focus more on traffic and analytics and not spend hours in a graphic editor.
The salary of a designer is quite ephemeral. It depends on the specialist's experience and, frankly, their self-assessment. To start, you can offer a salary ranging from 50,000 to 80,000 rubles, depending on how many responsibilities you want to assign to this specialist and the quality of work you expect.
In the regions, you can find a designer for a salary of 25,000 to 35,000 rubles, but the level of expertise at this rate can vary, as many experienced specialists have long established collaborations with companies from major cities with capital-level rates.
Programmers/Developers
App development, working with landing pages, postbacks, tracker integration, setting up cloaks, and other technical matters can be delegated to developers and programmers. Many teams outsource such tasks. The determining factors here are the volumes and internal nuances of the work: for some, it may be profitable to hire low-cost freelancers from India but constantly worry about quality due to the lack of control, while for others, having in-house specialists at competitive rates may be preferable. In both cases, there are pros and cons that are best analyzed in advance.
The fixed salaries for programmers will depend on the volume and complexity of the work. Initially, this can range from 60,000 to 100,000 rubles in the capitals and 50,000 to 80,000 rubles in the regions.
If you want to save money and have plenty of time, you can find low-maintenance but competent freelancers on freelance platforms (especially by focusing your search on third-world countries).
Copywriters
It would be great if every arbitrator had copywriting skills because it's hard to imagine converting creatives and landing pages without compelling, sales-driven text. Nevertheless, following the same principles of delegation as when hiring a designer, you can say that a copywriter will significantly simplify the team's life.
The tasks of a copywriter depend on the traffic sources and types used by the buyers: this can include writing SEO texts for a website (let's say, 12 articles per month), creating persuasive texts for landing pages, email newsletters, and more.
For a team in the capital, this specialist can cost around 40,000-50,000 rubles, while for a regional team, it can be in the range of 15,000-30,000 rubles.
Good news for those who need lots and lots of text: there's no longer a need to constantly search for new outsourced authors - you just need one good editor who knows how to use neural networks. Anyword, ChatGPT, CopyMonkey, Writesonic - these tools can save a lot of time and money when it comes to filling the position of a second/third copywriter in the team. We recently showcased
an example of a funnel with a
chatbot in a recent article.
Farmers
To prevent buyers from having to deal with new accounts every time an advertising account gets banned, the team needs farmers, whose responsibility is to work with accounts. It's clear that no account is eternal, so farmers will always have something to do, and they definitely won't be redundant in the team.
The rate for account farmers in Moscow and St. Petersburg is around 40,000 rubles, while in the regions, it's approximately 25,000-35,000 rubles.
Office
Room
Many teams have experimented with remote work: both partial and full. Perhaps the main takeaway for our article is that remote work is definitely not something beneficial for a team in the formation stage. To prevent employees from drifting apart, they need to be in the office occasionally, even just to stay connected with reality and to realize that they are working on real tasks. Moreover, working in the office helps employees get to know each other better and foster team spirit.
Providing an approximate cost of renting a space is not straightforward, as there are more prestigious areas in cities, as well as less prestigious ones. The same goes for business centers and the spaces themselves, including factors like renovations and offered services. On average, in the capital, you can expect around 100,000 rubles per month (if we're talking about the economy segment). In the regions, this could be 30,000-40,000 rubles.
Here, we are not considering a large office and making a note that not all employees are in the office simultaneously. For instance, the designer and copywriter work more autonomously, and it's sufficient to see them in the office a few times a week, while the rest of the time, it's just a matter of keeping in touch.
Equipment
We highly doubt that office space will come with equipment and office furniture, so be prepared to set up several workstations: desks, chairs, several computers/laptops – that's the minimum, around 500,000 rubles.
...And we haven't even counted coffee makers, refrigerators, microwaves, gaming consoles, hygiene supplies, flowers, garlands, protein bars, and other amenities of modern offices that somehow motivate employees to get out of bed on workdays. Be prepared to spend on these as well to maintain a positive and comfortable atmosphere in the workplace (maybe not immediately, but the sooner, the better).
Services and consumables
Here, we are considering only the essentials because there is an infinite number of 'life simplifiers' for media buying teams that can be integrated into their work - their total cost knows no bounds. We should also clarify that the cost of services and consumables is not tied to geography, so we do not make distinctions here.
For farmers
Anti-detect browser. Working with a large number of accounts is impossible without an anti-detect browser - around 10,000 rubles per month.
Proxy service. These tools help equip accounts with unique IP addresses and also prevent bans. It's difficult to calculate the monthly cost of a proxy service because many offer payment on a per-piece basis (which is logical), so just keep in mind the expenses for proxies.
For buyers
Tracker. It will cost around 10,000 rubles per month for one tracker for the team.
Spy service. Most likely, you will need not just one spy, but several... but even one will cost you no less than 30,000 rubles per month.
What happens
For a regional team
5 buyers — 150,000–200,000 rubles;
1 designer — 25,000–35,000 rubles;
2 programmers — 100,000–160,000 rubles;
1 copywriter — 15,000–30,000 rubles;
3 account farmers — 75,000–105,000 rubles."
The total labor cost (FOT - Fund of Payment for Labor) amounts to approximately 305,000–450,000 rubles.
For the office, a one-time expense of 530,000–540,000 rubles will be incurred, followed by 30,000–40,000 rubles per month.
+Services and consumables - starting from 50,000 rubles per month.
In the first month, by the most conservative estimates, the expenses will amount to 445,000–620,000 rubles (+ 500,000 rubles for office setup).
For the team in the capital city
5 buyers - 250,000–300,000 rubles;
1 designer - 50,000–80,000 rubles;
2 programmers - 120,000–200,000 rubles;
1 copywriter - 40,000–50,000 rubles;
3 farmers - 120,000 rubles.
Labor costs: 480,000–630,000 rubles.
Office: 600,000 rubles one-time (followed by 100,000 rubles per month).
Services and consumables: starting from 50,000 rubles per month.
Total: 730,000–900,000 rubles in the first month and the same 500,000 rubles for office equipment and furniture.
First steps or "Owner's Starter Pack."
Disclaimer: The following information is most relevant to a buying team specializing in gambling on Facebook*. Each niche has its own characteristics that certainly influence certain aspects of team development, and the provided advice may be more or less relevant to different verticals.
Working capital
If you constantly daydream about the process of creating your ✨dream team✨, we'll have to bring you back down to earth (for your own good) to say that the first and foremost question is having working capital, in simpler terms, money for this entire adventure.
We've calculated an approximate amount for the monthly maintenance of the team, but are these funds sufficient? Let's not create suspense - no, they are not sufficient.
When you're just starting out and your team is unknown to both advertisers and affiliate networks, you'll be working with holds of around 30 days - during this period, without a financial cushion, your team can easily sink. After a month of delivering quality traffic, you can request a reduction in holds and more frequent payments - that's when it will be easier to breathe. However, to survive until that point, working capital is needed, and the more you have, the more stable your start will be. We've estimated the turnover - you need to budget at least 1.5 times more for the start, but it's better to have 2-3 times more to compensate for traffic fluctuations and other market uncertainties; otherwise, the first storm will still sweep you away.
Both the tailor, the reaper, and the player on the pipe.
During the team formation period, the owner will have to take on the responsibility of making many decisions:
Technical issues: setting up servers, postbacks, deploying a tracker, arranging rental services (since a small team may not have the resources for in-house development);
Finances. It's crucial to keep track of everything - employee salaries, expenses, subscriptions, grids, and profit. Afterward, you need to analyze and optimize the budget;
Bizdev. If you have less than 200,000–300,000 USD in working capital, it's too early to think about business development. As the founder, you'll have to personally find offers and negotiate with advertisers and affiliate networks;
Farming. If you don't have the initial capacity to hire farmers, you can start with agency accounts. However, platforms like Facebook* are unpredictable, and at some point, these accounts may disappear. In general, there are many stores selling accounts of various kinds - you need to research and choose suitable ones;
Creatives. At the beginning, you can outsource to designers and copywriters.
In general, you can take on a lot of responsibilities, but it's important to understand that, from a business perspective, it's not sustainable (at least in the long term). You need to gradually build your team and learn to delegate.
Team motivation
It's evident that at the start, the team will face challenges, and money won't flow in immediately. So, what can attract employees? The answer may sound epic but truthful: people are drawn to the idea (don't roll your eyes), to a leader who resonates with them spiritually. Therefore, start honing your charisma and perhaps your oratory skills. Nevertheless, while an idea is powerful, it's not something you can buy, so don't overuse it.
Promising bonuses and good conditions in the future can also be a strong motivation. The key is to keep all promises.
Don't create a team if:
Don't create a team if you're not stress-resistant. (Do I need to explain why?)
If you expect significant income growth simply because you're the boss, don't count on it. It will come very slowly. At first, you'll have to work hard, and even then, it's not guaranteed to be profitable. Remember that easy money is a myth.
Conclusion
Creating your own team is undeniably cool, and being an owner is prestigious and exciting. However, as you can see for yourselves, there's also a flip side to the coin: significant expenses (which may not even be available at the start), stress, and many organizational complexities.
If you are genuinely passionate about your idea and ready to go all the way, nothing will stop you. However, don't forget about calculations and planning. Impulsive, ill-considered decisions are the least helpful when starting a business from scratch. And if you think that having your own company automatically means more money, think twice because, given the amount of work and frayed nerves, you might not see that money at all.
Best of luck in your new endeavors!