Gambling and betting are among the most popular verticals in traffic arbitrage. Therefore, it's not surprising that many webmasters create and promote websites for bookmakers and online casinos. However, it's important to understand that despite the similarities between these verticals, their audiences differ.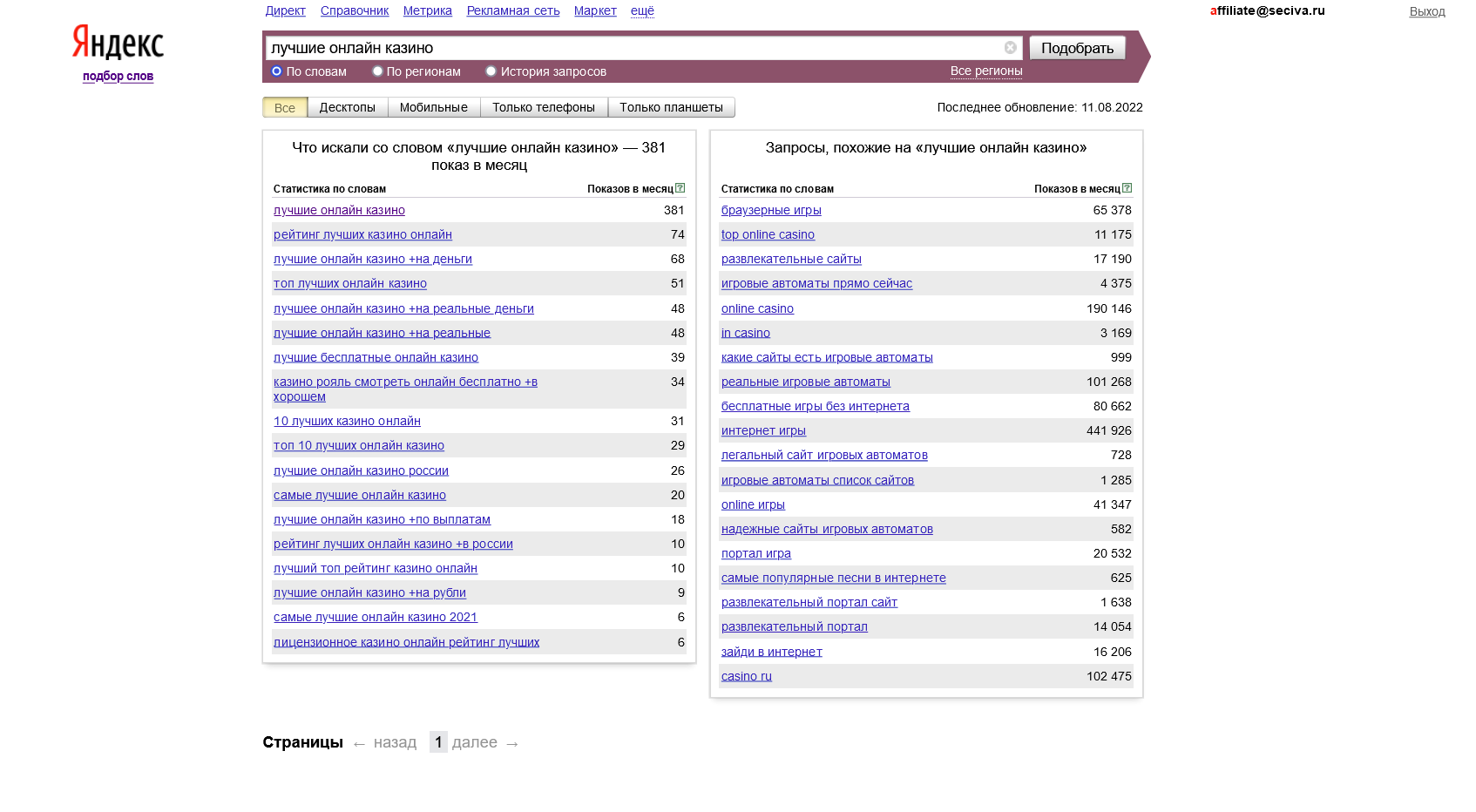 Understanding these differences will help fill your websites with content that will be interesting to the potential target audience. In this case, it's the content aligned with the user's search query that will help elevate your site to the top of search results for specific keywords, improve user engagement metrics, and ultimately increase profits.
Target audience
Understanding the differences between the casino and sports betting audiences will aid in collecting key search queries that are sought after by enthusiasts of gambling and sports betting. Therefore, it's imperative to analyze the search results in Yandex Wordstat or Google Trends.
Gambling
Who plays in online casinos? Most often, it's men aged 18 to 34. There is also an older segment (from 45 to 65), but it's less numerous. Generally, this individual resides in a major city, has a stable income, and can regularly make deposits, using disposable income for this purpose. They will be interested in descriptions of new slots, tournament announcements, promises of intense emotions, and so on. Additionally, they can be recommended not only slots but also poker rooms, lotteries, and other gambling games.

Of course, there are categories of compulsive gamblers and newcomers. The former are willing to spend all their money on a slim chance of winning. The latter are just starting to acquaint themselves with the world of online casinos and might give up after their first unsuccessful gaming session. In any case, their deposits won't be substantial, and working with them under a RevShare model might not be viable.

Are there women among the players? Certainly, there are. However, they less frequently join as new players. But they often remain stable players for a long time, making small deposits and continuing to play.
Betting
Betting company players differ somewhat from regular online casino goers. Firstly, they have a love for sports: they often support a specific team or follow certain competitions. Whether it's football, MMA, billiards, tennis, hockey – they always know who they would like to place bets on and why. Typically, they are also men aged 18 to 45, with a stable income, and a calm attitude towards wins and losses. They are the ones who provide a consistent income for webmasters.

Are there betting enthusiasts who seek quick gains? Absolutely. However, those who fall for "surefire predictions," "corridor and catching-up strategies" often drop out after their first two or three losses. Profit can still be made from this traffic, but it needs to be monetized "here and now," using the CPA model.

Unlike gambling, there aren't as many women among users in this vertical. It's not because sports are exclusively a male interest; it's just that women are less inclined to place bets on a particular team and wait for the outcome of the game, unlike men.
Preparing content
Depending on the vertical and the offer, you should prepare different content that still addresses user queries. It's recommended to work with low-frequency and medium-frequency keywords. The reason is that high-frequency keywords often come with intense competition. Moreover, the advertiser might claim that you are promoting based on a branded query (i.e., a keyword containing the name of an online casino or a bookmaker). Therefore, the first stage of work before launching a website for gambling or betting always involves collecting and segmenting the semantic core.

IMPORTANT: Be honest. If you are creating a review for an online casino or a bookmaker, don't hesitate to blend positive and negative reviews (for the latter, you can include comments about mistakes made, reasons for bans, etc.).
Under gambling
Online casino reviews. Everything is pretty standard here. We create monobrands (websites with reviews of specific casinos) or multibrands (reviews of multiple gaming clubs with their own ratings) that we promote based on the collected keywords. Don't forget to include moderated reviews to maintain control over users' "sentiments."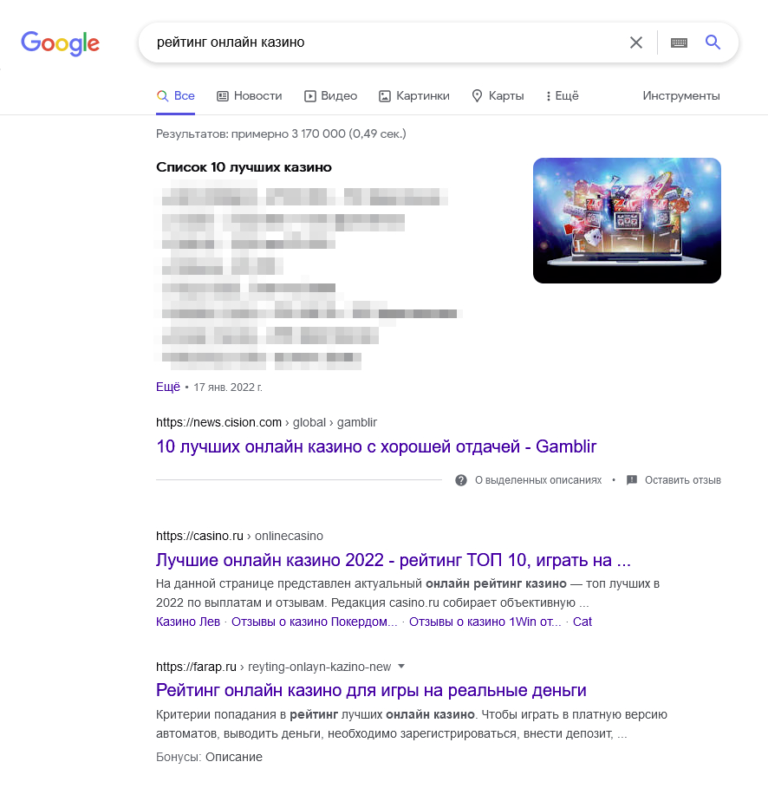 Slot reviews. Sometimes players enjoy playing specific slots and games. And they try to find a casino with the "original slot version" controlled by the developer, rather than the online casino. For example, the query "Crazy Monkey" is entered by almost 21,000 users monthly on Yandex. This shows that people are sometimes interested in specific games rather than online casino brands.
Tournament and marathon news. This content is more suitable for "whales" (regular players who make deposits) or fans of a particular brand. For such news and reviews, keywords mentioning the casino or provider brand will be suitable. But the main thing is that these sites should be specifically focused on reviewing tournaments and marathons. Otherwise, you risk facing penalties due to "brand-related queries."
Aggregators of bonuses and promo codes. Bonus hunting is another way to generate traffic, as everyone loves freebies. You can directly partner with online casinos to obtain unique promo codes or simply aggregate news about bonuses or promo codes on your website.
Winning schemes. (commonly referred to as "scheming" traffic) Another way to generate traffic. It's important to note that not all advertisers accept this type of traffic. The idea is that you create a website or blog from the perspective of a "former employee," "insider" (or anyone else, call it whatever you want), who generously shares information on how to beat the casino. Something along the lines of "deposit 1000 rubles, open this particular slot, place three bets of 200 rubles each like this, and then one more for 400 rubles." Surprisingly, this approach still works.
Pages with links to mirrors. One of the simplest approaches: you can create websites that provide a link (of course, your referral link) to an active mirror of an online casino that has been blocked in the player's GEO location. These sites, of course, can quickly get banned by search engines, but before that happens, you might manage to get some traffic.
Under betting
Bookmaker reviews. Similarly to online casino reviews. These are extensive multi-page sites or mono-brands where you don't encourage playing or placing bets, but provide links to various bookmakers. You can include internal rankings, top lists, information about withdrawal methods, and more. If you prepare a lot of content and promote effectively, they can become a consistent source of traffic and income.
Prediction websites. This topic often overlaps with the section about news websites. The idea is that you offer people some form of "analysis" (whether real or not) that will supposedly help them win. As a result, the user visits your website, sees the prediction, considers it objective, and then clicks your link to place a bet and win. Ultimately, you profit from their deposit or lost money (depending on the working model – CPA or RevShare).
Tournament or match-focused news websites. News sites gather decent traffic and typically pass search engine moderation smoothly. The key is that you don't encourage placing bets; instead, you simply inform about upcoming matches and tournaments. You can also include predictions that entice users to place bets.
Betting tutorials and strategies. This isn't exactly "white hat" content. There are many schools and individuals online promising to teach how to place bets "correctly" or grow one's account. More often than not, these are scams. However, the interest in such websites remains strong, meaning there's potential to earn from this type of traffic.
Questions and answers
Alexander Strizh
In your view, what are the differences in the target audience for gambling and betting?
The difference in the audience for casinos and sports betting lies only in the fact that some search for casinos in search engines, while others look for sports betting options. Betting is just as much a form of gambling as slots, and so on. In my opinion, they don't differ in any significant way.
What aspects should be emphasized when preparing content for the gambling and betting audience?
Honesty. Honest reviews of slots, casinos, bookmakers, upcoming events, and so on. I haven't focused much on betting, but it seems to me that it's all the same. Just work with what you were into as a child. Overall, the same kind of gamblers exist in both verticals, I don't see any differences.
Do sports predictions, match calendars, slot reviews, and online casino tournament overviews generate traffic?
Predictions, calendars, and slot reviews – yes, they do. I'll reiterate, I haven't delved much into betting. However, casino and slot reviews bring in traffic. On the other hand, news or reviews about online casino tournaments can be done just to diversify content, as they won't bring in much traffic.
What types of banners and other creatives work best on SEO-oriented websites (featuring slots, well-known athletes, etc.) depending on the gambling or betting target audience?
I haven't placed any banners myself. For instance, there's a review with a link and a "Play" button, and that's it. All images and banners can be sourced from affiliate programs – you can put them in the sidebar, header, etc. Well, if something special is needed, the affiliate program is always willing to provide custom designs. If we're talking about news-related traffic (like the Champions League final, etc.), there, you can simply request a banner with well-known athletes from the affiliate program, put it up for a week, and see how it performs.
Bakusheva Galina
In your view, what are the differences in the target audience for gambling and betting?
The difference lies in the fact that in gambling, there isn't an audience that's into sports in general or follows a particular team, sport, or athlete. Gambling is purely about thrill and winning. On the other hand, in betting, you have both those who are drawn by the excitement and those who are attempting to profit from their bets. Additionally, there are enthusiasts of a specific sport/athlete/team/tournament, etc., who place bets for the fun of it. Moreover, betting has a seasonal aspect – a time when affiliates and betting companies can strike gold for the year ahead, thanks to those who consistently follow top tournaments, place bets with heightened interest, and hope to win their wagers!
What aspects should be emphasized when preparing content for the gambling and betting audience?
When it comes to SEO, betting involves more substantial expenditures on editorial services and content. For instance, when we launched EuroStavka, we had a sizable editorial team and created various types of content: news (with media licenses), predictions, how-to SEO articles, brand reviews, and more. We also employed creative content methods, like insights, which proved to be extremely effective.

But in gambling? What's there? It's text for SEO purposes. You gather your core keywords and start ranking casinos: best casinos, fast withdrawal casinos, bonuses, and so on, down the list. In my view, the key in betting is predictions.
Do sports predictions, match calendars, slot reviews, and online casino tournament overviews generate traffic?
Predictions – yes. Firstly, they get indexed very quickly since they're tied to the current moment's events. Secondly, predictions encourage placing bets. Brand reviews – undoubtedly yes, but keep in mind that when someone searches for a brand, they usually want to land on the brand's website. So, if they've come to your site, they're likely eager to get to the brand's site ASAP.

Traffic comes from anything you can push to the top for queries people type into their search bars.
What types of banners and other creatives work best on SEO-oriented websites (featuring slots, well-known athletes, etc.) depending on the gambling or betting target audience?
The concept of creativity in SEO doesn't exist. We don't need to make an effort to prove anything to anyone. These aren't paid channels. The individual enters a query and lands on the site. The key is to simply provide information, and that's it. The more accurately the information on the page addresses the primary query the person used to enter, the higher the likelihood of them following a referral link. The main goal is to match the user's intent with their search query.
Conclusion
Understanding your target audience and their search queries is the foundation of success in SEO site promotion. The key is to provide the person who visits your site with a quick and accurate answer to their question. The page itself can be a lengthy article with 100500 characters. If the user sees the answer (a link to a mirror, a mobile app, a promo code, a "Play" button, etc.) in the first few lines, they're likely to use it, click through, and bring you profit.