AdBlock is a browser extension that hides advertisements on the websites visited by the user. The plugin appeared in the 2000s and was initially called Advertising Blocker, exclusively functioning with Firefox. Later, based on its code, extensions were created for other browsers as well. As a result, AdBlock can block not only textual advertisements but also images, Flash, and certain scripts.
All of this becomes a headache for webmasters and website owners since it significantly reduces monetization. Users with ad blockers simply won't see the displayed advertisements, won't click on banners, and won't take the intended actions. Therefore, it's essential to figure out how to bypass AdBlock to avoid losing revenue. After all, if you create and publish valuable content on your website, that effort should be rewarded.
Methods to combat AdBlock
There are several ways to bypass AdBlock. They differ in approach: you can install additional plugins or scripts aimed at combating the ad blocker, or you can influence the user.

Before starting to work on bypassing AdBlock, it's worth assessing how many users of your website are using an ad-blocking plugin. For example, for WordPress, you can use extensions like AdBlock Detector or AdBlock Blocker.

The first one simply shows the number of website users with any ad blocker. The second one can degrade the website's performance for such visitors and display a warning about the necessity to disable AdBlock.

The obtained information about the number of users with an ad blocker can help decide whether to tackle this issue or not. Suppose you have decided to address it. What can be done?
We are reaching out to the developers of the ad blocker
This is a legitimate method to bypass AdBlock Plus. You can write to the developers of the plugin and explain that your website has non-aggressive and unobtrusive advertisements.

There is a possibility that they will add your website to the White List, and the ad blocker will stop working on it. For this method to work, your website indeed should not have intrusive advertising.
Replacing banners
One of the main methods to combat AdBlock is to replace banners. The thing is, the ad blocker "sees" banners that are automatically embedded by advertising or teaser networks. However, it does not detect banners that you manually placed on your website, uploading the images to your own domain. In this case, AdBlock considers them as part of your site and ignores them.

Therefore, it is recommended to pay attention to offers from affiliate programs and CPA networks that allow you to monetize SEO traffic. Depending on your audience, you can promote anything from clothing and health products to bookmakers or trendy items.

Also, it's worth noting that banners should be of non-standard sizes. For example, not 100x100 or 468x60, but 240x400 or 728x63. Therefore, it is advisable to prepare several different banners and experiment with them, immediately checking the results.
Replacing advertisements
The next method allows you to replace advertising banners with alternative ones containing a request to disable AdBlock. Additionally, you can place social media widgets or affiliate banners in them. What do you need to do to set up such a placeholder?

Let's consider an example using Google AdSense. You will need to add code to the page where Google ads are present.
It needs to be placed right
before </body>
. Essentially, the code works like this: it checks for the presence of Google ads. If they are being blocked, then the user is shown the HTML code specified by you.
Locking content
This is a more aggressive method. On one hand, it may discourage visitors. On the other hand, it prompts the user to disable AdBlock immediately before they have accessed the desired content and left the site.

How to do it?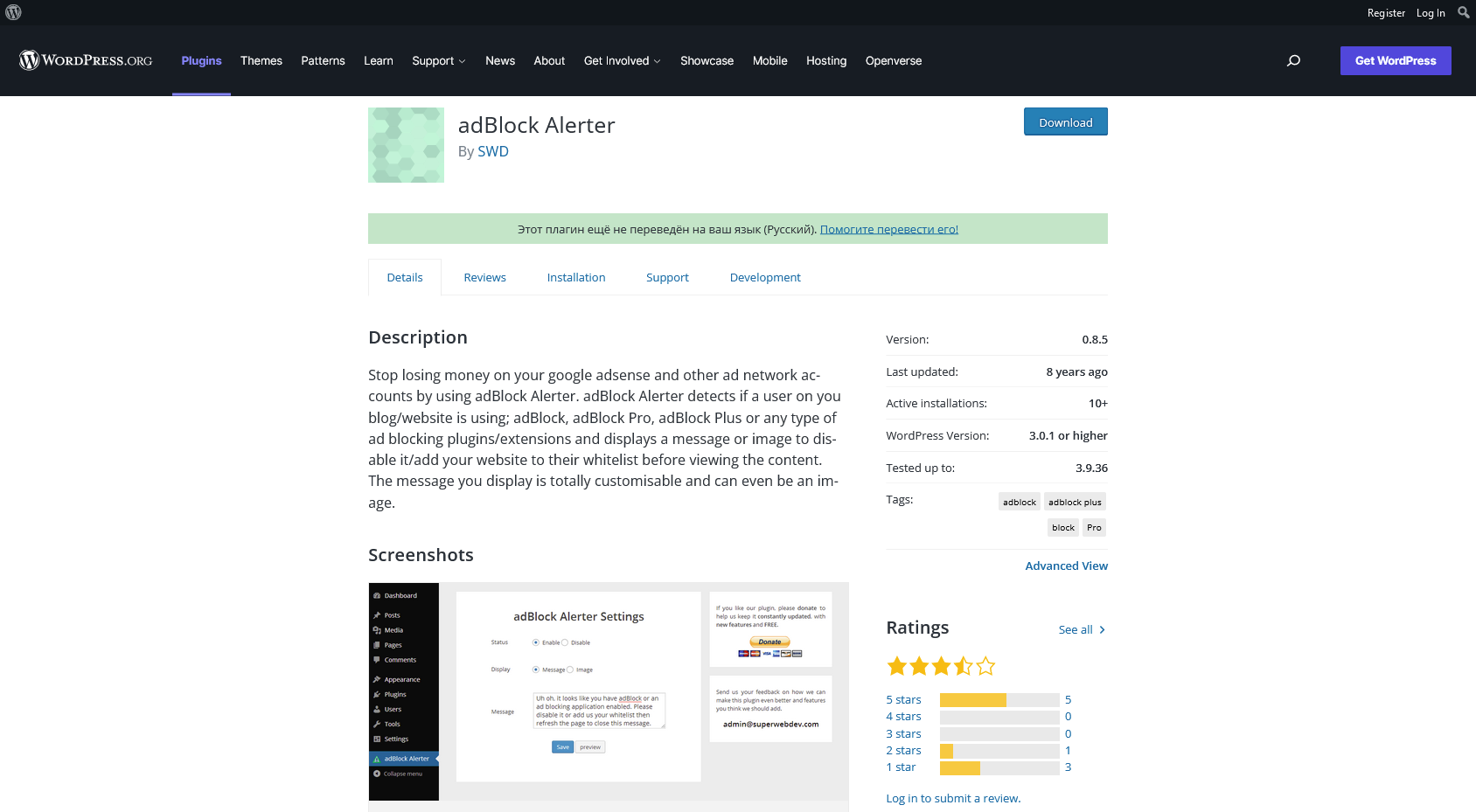 There are specialized plugins for this purpose, such as Better Stop Adblock, AdBlock Alerter, Adblock Counter, and others. They are available to website owners on WordPress directly in the plugins section. What do they do? Essentially, these plugins detect the presence of an active ad blocker and display a warning with a request to disable Adblock, which shades or covers the content for further viewing. Depending on the selected settings, you can show the alert immediately, after a certain time delay, or even after the user has visited several pages.

It is important to note that it's better to display the warning not right away but after 10-20 seconds or after the user has navigated through several pages. This way, you can engage and interest the user, and improve user engagement metrics. Even if the visitor leaves your site, search engines will not record it as a bounce, and it won't negatively impact your search engine rankings.
We use redirects
"One of the most aggressive methods to prompt users to disable their ad blockers. The essence of this approach is to set up a redirect for everyone using AdBlock.

The user won't see your website at all, only a message like 'Please disable AdBlock to access the site.' After that, they will be redirected to an entirely different resource of your choosing."
We organize paid access
This method is suitable only for very large and well-established websites. However, it allows completely abandoning the placement of any advertisements. Users will pay directly for access to the content or portal, and you will no longer have to think about how to bypass Adblock. The drawback is that this option is only viable for popular platforms. For example, "Librusek" is an online library with a huge number of users.
Access restriction
This method is somewhat of a middle ground between redirecting and locking content. In this case, users are not redirected to external resources, but the content and features remain blocked. Visitors with an active ad blocker will simply see a message like "Please disable Adblock to access our site" (or something similar).

To implement this method, you need to insert a similar script into your website.
The main drawback of this approach is the negative consequences from search engines.

This method increases the bounce rate, worsens user engagement metrics, and negatively impacts the reputation of the entire website (even if you restrict access only to specific pages)
Useful services
Here are some services and tools that can be used to bypass AdBlock, set up restrictions for users with ad blockers, etc.:
Antiblock.org: This is a small website that allows you to create a simple script to embed into your pages. The code is inserted into "footer.php" or another part of the website, displaying a message asking users to disable their ad blocker.
Blocktrough: This service offers a ready-made solution for bypassing AdBlock. You will need to insert a line of code into your website to start using it. The company does not require payment for using its solution, but it may take a small percentage of the revenue generated through its assistance.
Profi-link: An advertising network that ads are not detected by AdBlock. You can place advertising blocks of existing advertisers on your website and earn through the Pay-to-Click model (payment per click on an advertisement).
wordpress.org/plugins:

This is the official plugin library for WordPress. Here, you can find the necessary solutions for bypassing AdBlock and add them to your website with just a few clicks.
Conclusion
Advertising is a tool for earning revenue for every webmaster. By creating content and investing time and effort in the development and promotion of a website, you need to generate income.

Placing advertising campaigns (banners, contextual ads, teaser blocks) allows you to monetize the created resources. Of course, an excess of advertising can irritate visitors. However, due to the use of ad blockers, everyone suffers: both honest and not-so-honest webmasters. That's why everyone has to find ways to bypass AdBlock, and the methods for doing so are chosen individually.