"Drops" are domains that have been left by their owners for various reasons. Some may forget to renew the domain, while others may run out of funds, and so on. In any case, a abandoned resource emerges, filled with content, possessing link authority, and some level of trust from search engines.
Certainly, searching, purchasing, and developing drops requires time and effort. The simplest way to make money with abandoned domains is through cybersquatting. Essentially, you search for high-quality drops and then resell them, earning income from the price difference.

For example, on Telegram, you can find channels dedicated to buying and selling drop domains.
However, there are ways to use such domains more profitably to generate more money in the long run.
Benefits of Drops
What makes drop domains attractive?

Age: A drop domain comes with a history. This means it doesn't need to go through Google Sandbox algorithms. Essentially, the older the drop domain, the better it is for you.

Trust level: Drops that were promoted with unique content have a high level of trust from search engines. They can pass this trust to your main site through backlinks.

Link weight: A drop domain already has a certain number of inbound and outbound links. This saves you from the need to build a link strategy and develop the purchased site. Moreover, with multiple drops, you can transfer their link weight to your main website, which you want to boost in search engine rankings.

As a result, you save time and resources. By acquiring a drop domain, you essentially get a ready-made website with content and link weight, which has a certain level of trust from search engines. This is cheaper and faster than developing a resource from scratch.
How to use drop domains?
There are several purposes for which drop domains are used:
Building a PBN (Private Blog Network): For instance, if you have a main website promoting a specific offer, you can find high-quality drop domains with a similar theme and place backlinks to your main site. This way, you pass link authority to your site and increase its rankings in search engine results.
Earning from affiliate programs: Instead of creating a website from scratch and developing it, you can buy a drop domain, restore it, and host affiliate program offers and CPA networks on it. As a result, you can quickly occupy a certain position in search engine results and generate SEO traffic for the advertiser. The advertising format can vary from banners to push notifications, depending on the chosen strategy.
Selling backlinks, contextual, or teaser advertising: After purchasing and restoring a drop domain, you can continue to fill it with unique content. This allows you to earn money by placing various types of advertisements, either through link marketplaces or by connecting the site to advertising networks.

Selling websites: You can buy and restore a drop domain, wait for it to regain its positions in search results (it is also recommended to invest in new content), and then sell it to other webmasters. Additionally, high-quality drop domains with strong metrics can be resold immediately after restoration, providing a relatively quick source of income.
Where to look for drops?
The first task is to search for existing or potential drop domains. We need to find "expired" domains and also pay attention to domains with registrations that are about to expire. To do this, we can use both cloud services and specialized software.

MyDrop: This service monitors domains in over a hundred domain zones. When choosing a drop domain, you can immediately see the number of indexed pages, their content, and traffic. It also allows for quick content restoration.

GoDaddy Auction: An auction platform where you can find abandoned domains for .com, .org, and other domain zones. You can view domain age, traffic, and bids made by buyers.

Expired.ru: A Russian-language auction where you can search for abandoned or expiring domains. The service shows domain age, Alexa and Yandex Citation Index (ИКС), and the number and types of links to them.

DropCatch: An auction platform to buy drop domains for .com, .org, .net, and other domain zones. The service shows the status (drop or sale by the owner), the highest bid, and the auction end date.

BluechipBacklinks: An affordable service where you can even find free drops. It is suitable for those who want to create their own PBN network with low costs.

In addition to the mentioned services (and there are many more), you can find drops on your own using parsers.

How to do it? Let's consider Netpeak Spider/Checker as an example.

This method requires more time and effort. What do you need to do? Create a list of websites from which you need backlinks. Load it into the parser and start the scraping process (the required time depends on the number of donor websites). Send the obtained domains to Checker, set the condition DNS -> ip, and start scraping again. As a result, you will get a database with drop domains where the ip field should have a NULL value. Copy the obtained domains and check their availability through Whois. This method is beneficial as it allows you to find drops that may not be available on auctions and marketplaces, saving significantly on the purchase price.
Checking drop domains
Before purchasing a drop domain, it is essential to perform a thorough verification. Several services can assist with this process:
Ahrefs

Semrush

Moz

Rush Analytics

WhoisHistory

DomainTools
What to look for:
Link profile:
It is necessary to assess the overall backlink picture. Ideally, the number of links should be gradually increasing or remaining consistent over time. Sharp fluctuations in the link profile can be a negative signal.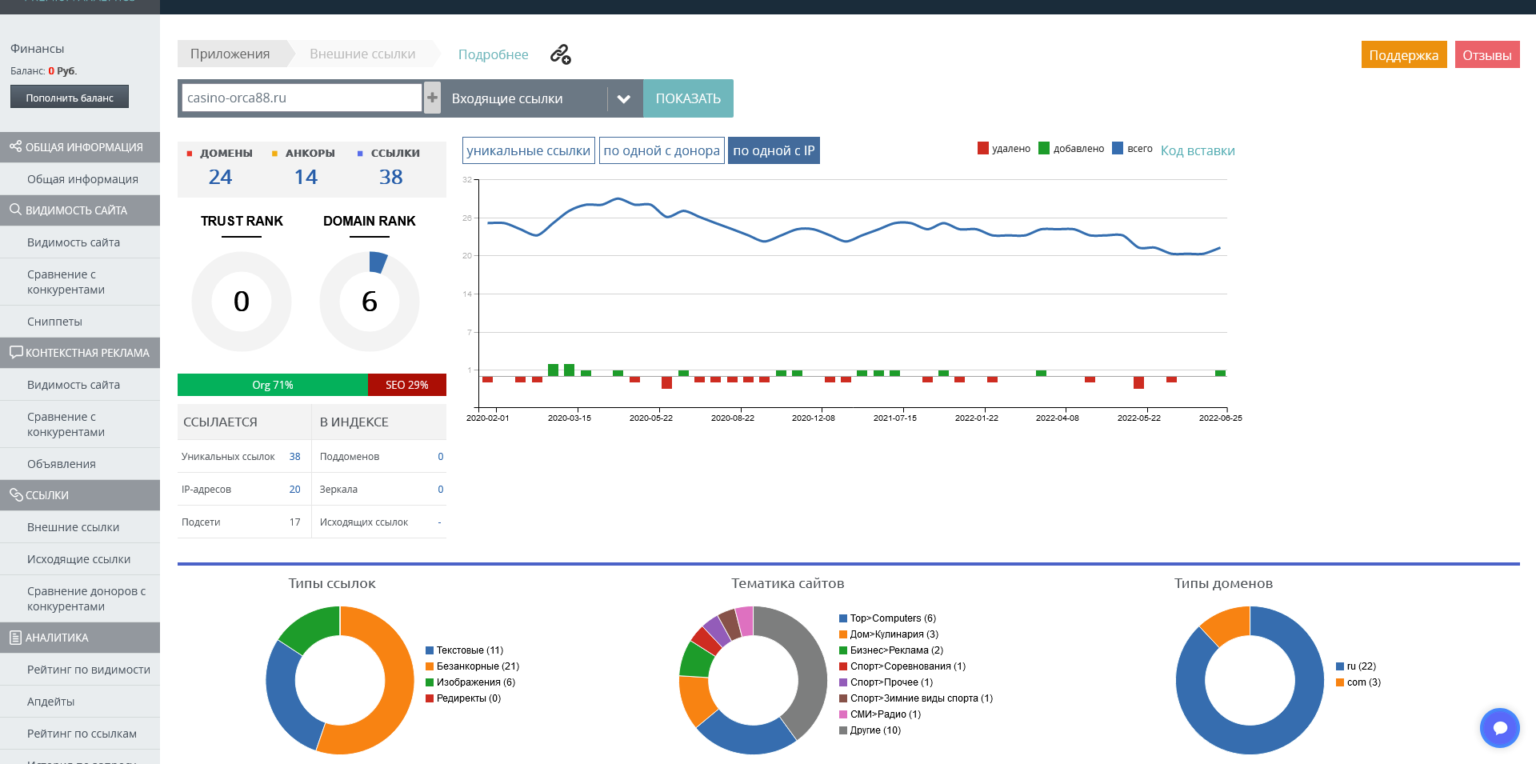 Citation Flow (CF) and Trust Flow (TF) metrics: CF indicates the quantity of citations (links) from other websites, while TF represents the quality of those links. For example, if CF is high and TF is low, it means there are many links, but they are of poor quality. It is recommended to use the CF/TF ratio, and ideally, choose drops with a ratio between 0.7 and 1.5.

Anchor text: Examine the anchor texts used in the links. They should be organic, free from spammy keywords, and contain the domain name being linked to and general words like "here," "there," etc.

Drop domain indexing: Check how the pages of the drop domain are indexed in different search engines. If they appear irregularly in search results, it may be a problematic drop. To do this, use the "url:" operator in Yandex and the "site:" operator in Google by entering them in the search bar along with the page address.

Content of pages: Visit the web archive and review the content that was published on the drop domain. Ideally, its theme should match or be closely related to the site you intend to attach the drop to. Be sure to check the drop for any doorway pages, prohibited content, etc.

Number of previous owners: Similar to purchasing a used car, the more previous owners a drop domain had, the worse it may be.
How to develop the purchased drop domain?
Regardless of how you plan to use the purchased domain (transferring link authority, hosting affiliate program offers, creating a PBN network, or reselling), there are three main options for actions:
Keep it as is: If the purchased drop meets your requirements, it is best to let it "age" for 1-2 months. During this time, it will regain its positions in search results and start generating traffic. You will then only need to place links to your sites or offers and wait (ensuring they match the drop's theme).
Develop the content: In this case, you will need to gather new keywords, define a content plan, hire authors, and continue developing the drop. As a result, you can not only have a site starting from decent positions in search results but also significantly improve them.
Radically change the theme: It is possible to do so but in very rare cases. To avoid potential penalties and preserve trust from search engines when dramatically changing the theme, the drop should initially have exceptionally high metrics like CF, TF, DA, etc.
Questions and answers
Alex SEO Nomad
Have you ever used drop domains?
In our team, there is no specific focus on drop domains, but when choosing a domain, we first look for it among expired domains. We haven't intentionally hunted for drop domains at auctions. It's strange considering how often sites get penalized in the gambling niche. To search for domains among those being sold or expired, we use expireddomains.net.
Where to buy drop domains?
In my opinion, the most popular website for buying drop domains is GoDaddy. There are also smaller platforms like Dynadot, Epik, Sedo, DropCatch, and others.
How to verify a drop domain? What aspects to pay attention to?
Dima Sokhach recently provided an excellent response to this question, so I'll quote him as there's not much to add.
Key criteria for selection:
Index, traffic, ranking history, non-typical keywords, external backlinks. Check through Ahrefs.
Whether it was used by Chinese users, hacked, or used as a PBN. Check through the Wayback Machine.
Whether there are any trademarks, past virus issues, history of changing NS servers, and others.
What to do next? How to develop the drop domain?
Essentially, there are two paths to follow. The first is to fully restore the drop domain and add the necessary pages (or use it for PBN purposes). The second is to leverage its authority (mainly domain authority) to boost your site with related content.
Bakusheva Galina
Have you used drop domains?
Yes, I constantly use drop domains for various purposes - for launching websites, for redirects, and for backlinks.
Where to buy drop domains?
You can specifically buy (rather than find) drop domains or auctioned abandoned domains on well-known platforms like GoDaddy (they have their auction), Expireddomains, NameJet (quite involved, but if you manage to work with them regularly, it's a valuable platform), NameSilo, and others.
Indeed, you can search for drop domains using aggregators like Expireddomains, Spamzilla, mydrop.io, and others. These aggregators provide valuable tools and data to help you find and analyze expired and dropped domains for various purposes.
How to verify a drop domain? What aspects to pay attention to?
When evaluating drop domains, it is essential to review the domain history, backlink and traffic dynamics, technical parameters (which may vary based on different situations), the number of times it has been dropped, domain age, and its overall cleanliness in terms of usage (checking for spam, casino-related content, trademark issues, etc.). Thoroughly analyzing these factors will help in making an informed decision about the domain's quality and potential for your intended use.
What to do next? How to develop the drop domain?
You have various options when it comes to developing a drop domain, and it depends on the domain's behavior after you purchase it. If it gets indexed and shows good ranking results, you can create a satellite site or link it to your money site. If it's not performing well but has excellent technical attributes, you can still use it for link weight by placing a link from its main page, ensuring that the main page is indexed. You can also decide to restore the old site from the Wayback Machine or create a new site with relevant content and develop it further. The best course of action will be clearer after the drop domain is indexed and its performance can be evaluated. Avoid planning too far ahead and be flexible with your strategy based on how the domain behaves after purchase and indexing.
Conclusion
Drop domains are a great opportunity for an arbitrageur to generate SEO traffic for their offers without spending money and time on developing sites from scratch. Moreover, they can be profitable through reselling, not just by hunting and analyzing good domain names. It is essential to pay attention to drop domains and incorporate them into daily traffic generation strategies.