In Russia, a new advertising platform called Huawei Ads has become available. The company announced this on their official blog.

Now Russian advertisers, certified agencies, and developers can place their advertising offers in Huawei's ecosystem services and partner services.

Officially accessible to advertisers in Russia, Huawei Ads is a promotional platform for promoting products in Huawei's proprietary services, including the AppGallery app store, Petal Search, Huawei Video, Huawei Music, Huawei Books, Huawei Assistant, Huawei Browser, and Huawei Themes. It is also available in partner services such as SSP partners Yandex and myTarget (a VK project) and applications that have integrated Huawei Ads' advertising SDK.

Users of Yandex and myTarget advertising platforms can already place ads on Huawei platforms through programmatic auctions, targeting users in Russia. In the near future, these opportunities will also be available in regions such as Latin America and Asia.
The audience of Huawei Ads
Huawei offers advertisers access to a large audience.
700+ million monthly active users
83+ million users with premium Huawei devices
220+ countries
22+ million users from Russia (according to RIA Novosti website)
This audience engages with Huawei's services and partners.
Campaign settings
Only companies can display advertisements. To do this, it is necessary to provide basic company information such as name, address, and products. After completing this information, the user can access their personal account and configure the campaign.

Campaigns have all the basic settings that already exist on other platforms.
Objective:
Sales;
Brand awareness;
Automatic app promotion;
No specified objective
Campaign type:
Display advertising;
Search advertising;
Product advertising.
Network:
Contextual-media network
AppGallery.
Traffic can be directed to a landing page or an Android application
Targeting:
The advertising network provides extensive targeting options.
Settings:
Geo;
Mobile network operator;
Languages;
Gender;
Age;
Behavioral targeting;
App interest;
Devices;
Networks;
Audiences.
Finances:
You can purchase traffic using CPC, CPM, and CPI models. Currently, there are no accounts in Russian rubles. You can replenish your account with US dollars, euros, yuan, yen, and pounds.

The account section provides detailed information about your account.
The 'Top Up' button is located next to the 'Cash account in' field.

Currently, Huawei Ads only supports replenishment using the provided account details. You also need to upload a screenshot of the bank transfer.
In the notes section below, please specify the payment subject, account number, and purpose of the top-up.
Instruments
A few words about the tools. In the menu, they are divided into several categories: file management, placement management, creative tools, and account management. There are interesting tools available.

For example, in the personal account, you can create a landing page for mobile app advertising. There are ready-made templates.
In the builder, you can create your own version or modify a ready-made one.

You can also pre-create a targeting template.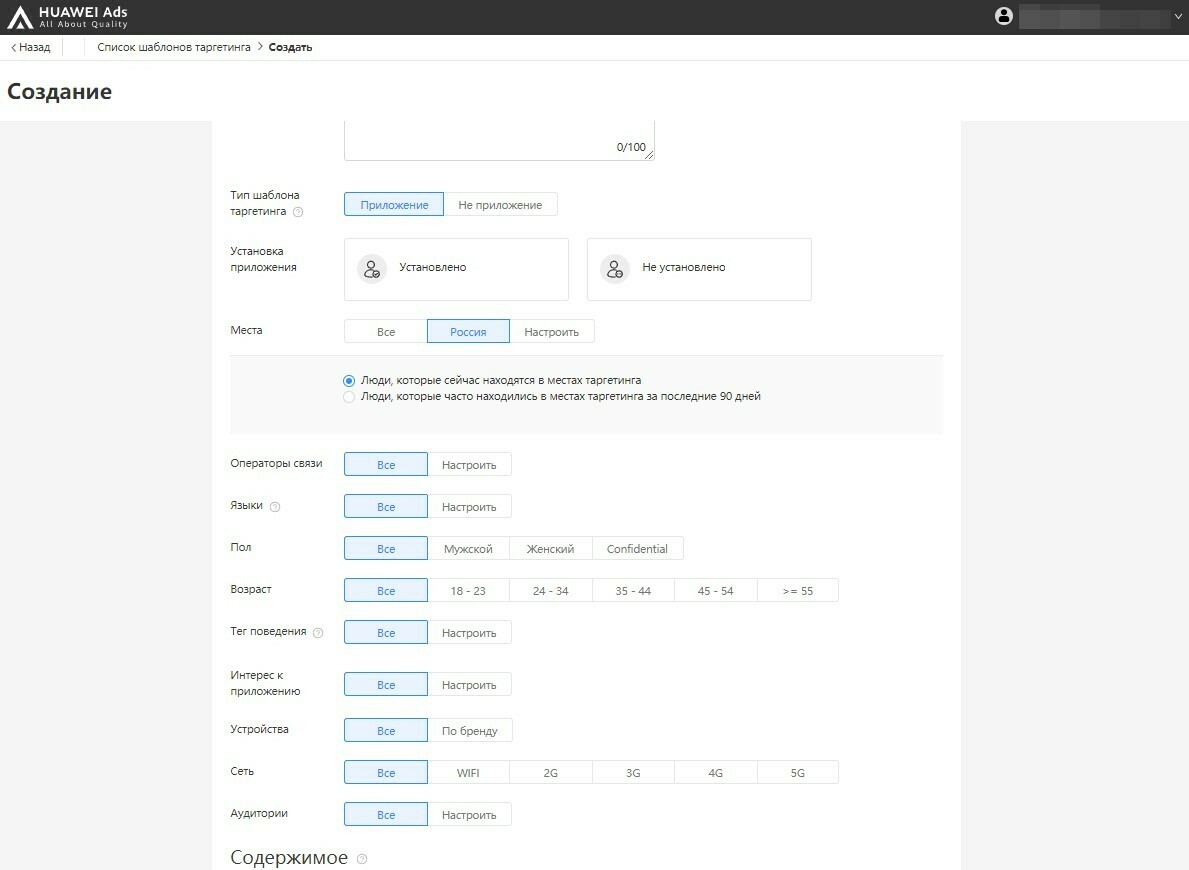 There are other tools available that can assist with managing the advertising account.

Huawei Ads has everything you need to launch your first advertisement.