SMS activators are services that offer virtual phone numbers for receiving verification messages. For example, when creating an account on Facebook or VKontakte, or setting up an advertising account on Google Ads, you may be required to enter a code sent via SMS.

Most often, these numbers are provided for rent for 20 minutes. Therefore, if you want to have long-term access to the created account, you need to purchase a permanent number or get a real SIM card.

Another drawback of such services is that the provided numbers can be reissued. When a number is reissued by the operator, it is considered fresh and becomes available for sale. However, it may have already been used to create an account on social networks. Therefore, when choosing a service, it is essential to pay attention to the refund policy.
365SMS.ru
The service provides numbers for operators in Russia, CIS countries, and other countries around the world for a duration of 20 minutes, without any restrictions on the number of received SMS. If a number doesn't receive a message, the funds are refunded to the balance. There is an API available for integration with third-party software. It is possible to obtain a number for activating accounts on Facebook, Instagram, Viber, VKontakte, and so on.
5sim.net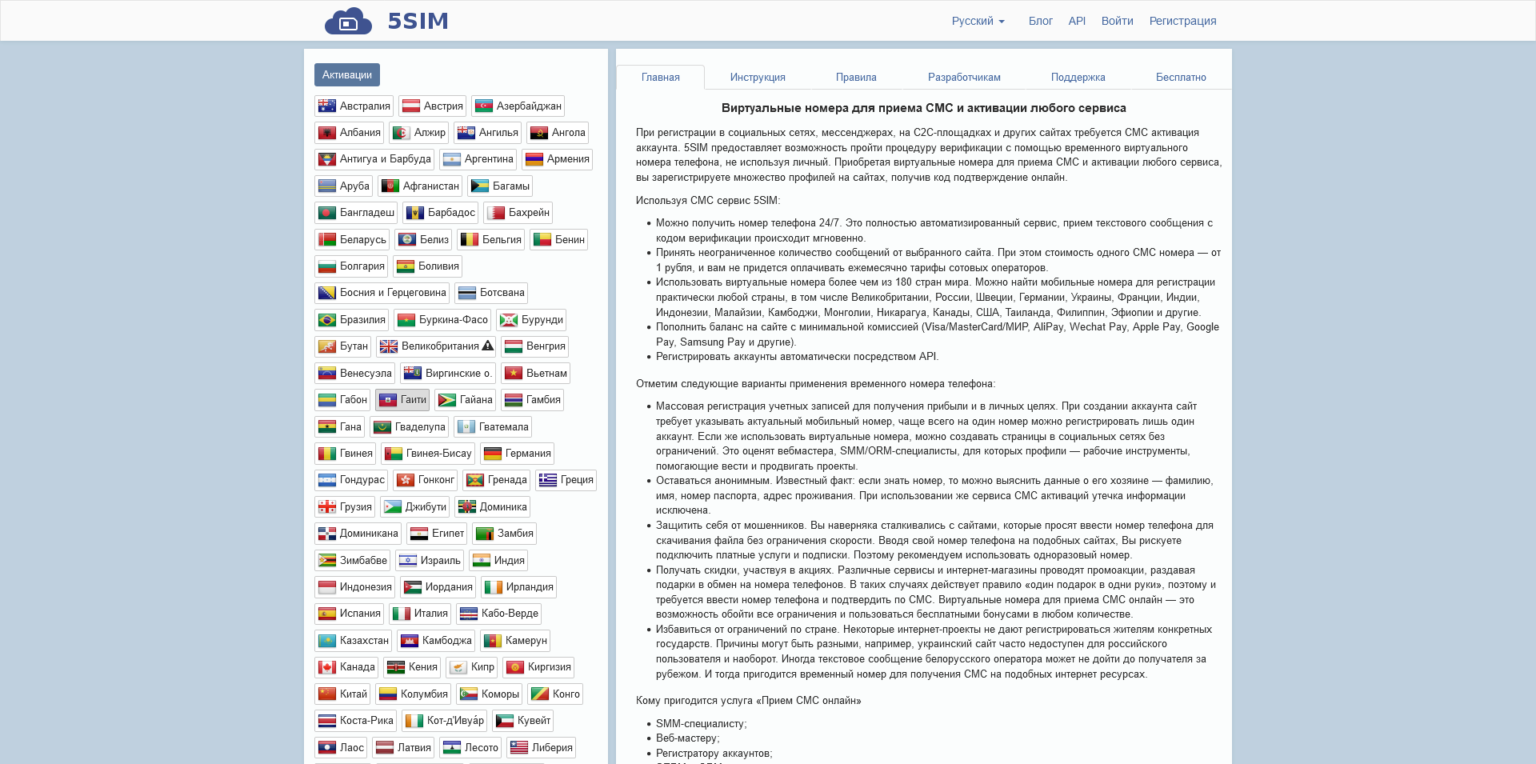 The website has been operating since 2017. Users have access to numbers from operators in 180+ countries and all popular services and networks. Numbers can be obtained for long-term rental, ranging from 3 hours to 1 month. The availability of numbers depends on the selected geographical location.
OnlineSIM.ru
The activator started operating in 2013. Virtual numbers can be obtained for a duration ranging from 10 minutes to 30 days. The service covers 72 countries within its geographical scope. After purchasing a number, access is provided exclusively to the owner and is not transferred to other individuals after its closure.

If an SMS is not received on the requested temporary number, the service may refund the money.
SimSMS.ORG
The platform was launched in 2014. In addition to SMS services, customers of the platform also have access to proxies (4G and LTE). Numbers from 45+ countries are available for purchase, with new geographical locations regularly added. The platform works with 1000+ websites and social networks, but if the ones you need are not on the list, they can always be added.
SMS-activate.org
One of the most popular services for SMS verification. According to platform statistics, around 20,000 people use the numbers daily. The website stands out with detailed activation statistics, a large number of available numbers (100,000+), low commission fees, and refunds in case of message delivery issues.
SMS-acktiwator.ru
The service offers affordable numbers in 10 countries, ranging from Russia and England to Indonesia and the USA. The list of available operators varies depending on the chosen geographical location.

You can test the service using a free public SMS reception. The rental period can be extended up to 90 days.
Sms-man
The company offers numbers for 500+ popular services and platforms worldwide. Customers have the option to rent a virtual number for a long-term period. The API allows integration of the platform with other software for automated SMS retrieval.

Additionally, the service has a referral program in place to reward its users.
SmsVK.net
The SMS activation service has been operating since 2014 and provides numbers for the USA and Canada. You can receive messages from VKontakte, Google, Facebook, Instagram, WhatsApp, Telegram, Viber, AliBaba, KakaoTalk, Microsoft, Naver, Netflix, TikTok, and Kwai.

After topping up your account, the funds are deducted from the balance only upon message receipt. The delivery time ranges from 10 seconds to 15 minutes. Prices vary from 1 to 20 rubles.
SMS Service
The service provides numbers from 170+ countries. The platform offers real SIM card numbers instead of VoIP numbers. Access is granted to only one client, and it is also possible to extend the rental period for a longer duration, up to 3 months. Once a number is used, it is closed, thereby eliminating the possibility of resale.
VAK-sms.com
The website is designed for SMS activation, message reception, and obtaining virtual phone numbers. It has been operating since 2017, covering 18 countries within its geographical scope. Additionally, there is an option to retain a used number and extend access to it in the future. Another distinguishing feature of the service is the minimal commission fee for balance top-ups.
Conclusion
SMS activators not only assist in the verification process when creating a Facebook advertising account but also help in setting up accounts on marketplaces, conducting mass mailings on social networks, and more. Therefore, such a service is a valuable tool for anyone involved in traffic arbitrage.