To engage in grey hat offers on Facebook and Instagram, it is required to create dozens of disposable accounts. If you are just starting out, you can work with 2-3 profiles without using proxies, but even this activity, when combined with mass liking and mass following, can raise suspicions among moderators. In large-scale operations, mobile proxies are a must-have for an arbitrator as they allow you to bypass IP bans and extend the lifespan of the profiles.

Source: trafficcardinal.com
In this article, we will discuss how mobile proxies can solve the issue of bans on social networks and outline their advantages over server proxies.
General information
The essence of mobile proxies is that they connect to the internet through mobile operator networks and act as intermediaries between your utility or device and the internet. For arbitrage marketers, mobile proxies provide an additional layer of security since thousands of people are using the same IP address within the network, making it more difficult to trace individual activities.
Advantages
For effective traffic arbitrage, you will require:
Anonymity
The ability to farm accounts and perform multiple repetitive actions
Geo-spoofing
Bypassing blocks.
All of these requirements are fulfilled by mobile proxies. They allow you to send identical requests to a server as if they are coming from multiple users within the same cellular network.
IP Rotation
Due to the fact that the number of mobile devices connected to the network significantly exceeds the number of IPs in the mobile operator pools, hundreds or even thousands of people can be using the same IP address to access the internet. Services providing mobile proxies are aware of this aspect and automatically change the IP addresses for their users, enabling:
Automation of operations
Increased level of anonymity
Reduced likelihood of blocking
Circumvention of restrictions
Mobile proxies allow for IP changes via API, through a button in the user dashboard, or automatically at specified intervals, making them an ideal solution for browser fingerprinting.
Number of IP addresses
In mobile proxies, unlike server proxies, there is the capability to use hundreds of IP addresses with just one subscription plan. With a large pool of IP addresses available, it is possible to change them frequently, typically ranging from 2 to 10 minutes.

Server proxies do not possess these advantages. They are static and provided in packages. When using server proxies, you can only acquire a single IP address, and if that IP address gets blocked, you would need to spend money again. This limitation is the main inconvenience when opting for this option.
How to choose services to work with
When choosing mobile proxies, pay attention to the following parameters:
Connection Speed: It is recommended to use mobile proxies with 4G and LTE connections as they provide high-speed connections, making the user appear more authentic.
Number of IP Addresses: The more IP addresses available, the better. If the service offers a large IP pool, you can choose different mobile operators and geolocations.
IP Rotation Method: Most services offer automatic IP rotation at predefined intervals. It is more convenient if you can also initiate the rotation manually when needed.
Privacy: Shared channels are cheaper, but the actions of other users can negatively impact your work. It's better to opt for services that offer private channels, as they are more suitable for arbitrage.
Cost: Be cautious of extremely cheap offers, as they may have limitations on traffic volume, geolocation, and speed. Find the optimal option for yourself by utilizing trial periods or the ability to pay for just one day.
Speed: An effective proxy provider should have minimal impact on connection speed. Working with low speed can be inconvenient.
Pay attention to these factors and choose options with the desired geolocation and mobile operator. This will allow you to simulate the behavior of a real user to search engine bots and social networks.
TOP 15 mobile proxy services
To make your search easier, we have compiled a list of top mobile proxy services and provided detailed information about their usage conditions below.
Soax
It provides access to over 8,500,000 IP addresses worldwide, allowing you to work with top-tier operators without the fear of being blocked. It also offers the convenience of configuring mobile proxies directly from your user dashboard.

Its main advantage is the absence of speed limits for connections. Additionally, there are several plans available, each of which can be tested for just $1.99.

During the trial, you are given 100 MB of traffic, and upon purchasing a full month, you can utilize 2 GB of data with the option to add additional packages starting at $29/GB. The tariff plans differ in the included amount of gigabytes, the number of ports, and the cost, including additional services.
Soax Personal Account Interface
Basic information about the service:
The minimum monthly price is $70.
There is a trial period available, where you are given 100 MB for 3 days at a cost of $1.99.
The connection protocols supported are HTTP and SOCKS5.
The service covers worldwide locations, and there is the option to finely target specific countries and cities.
The minimum rental period is 1 month.
Subscription cancellation is possible during the trial period. Within three days, you will have access to a "Cancel Subscription" button in your user dashboard, but refunds are not provided.
Advantages: High connection speed, extensive geographical coverage, and a user dashboard available in Russian. Disadvantages: No refund policy if you are unsatisfied with the service, and there are traffic volume restrictions.
Soax - official website.
MProxy
Here, both shared and private mobile proxies are offered upon request. Shared channels accommodate a maximum of 3 users, while private proxies are provided individually. There are a total of 3 tariff plans available to cater to specialists of different levels.

For the Ukraine GEO, a special tariff plan is available, offering unlimited connections at maximum speeds of up to 100 Mbps. This option can only be activated for 30 days at a cost of $90. The service will provide you with an individual channel and maximum capabilities.

On shared channels, there is no option to request IP address changes, which is only available with individual connections. There is a small pause during the rotation process. Additionally, this service has one specific feature: SMTP ports are closed, limiting their use for email distribution purposes.
Main features of MProxy:
Minimum price: $8 per week for a shared channel.
Trial period: 2 hours, free of charge, provided upon request.
Supported protocols: HTTPS and SOCKS5.
GEO: Russia and Ukraine.
Minimum usage period: 7 days.
IP address change on request: available.
Refunds and discounts: discussed individually.
Advantages of this option: weekly payment option, modern connection protocols, IP address change on request. Disadvantages: limited to only two GEO locations, inability to test proxies without selecting a tariff and making a payment.
MProxy - official website.
ProxyMonster
This is an automated service that provides proxies from mobile operators. It allows you to pay only for the days when you plan to use the anonymizer. If a user is willing to pay for a whole month upfront, they will receive a discount.

Only private channels are provided here, and they are individually configured. The address change can occur as frequently as every 2 minutes and can be done by IP as well. Users have praised the high connection speed, convenient user interface, and flexible individual settings.
Personal account ProxyMonster
Users are offered services with the following parameters:
Price: Starting from 49 Russian rubles per day.
Trial period: Not available.
Supported protocols: HTTP and SOCKS.
Geolocation: Russia and Ukraine.
Rental period: Starting from 1 day.
Ability to change IP on request: Possible.
Refunds: Only possible before starting to use the proxies.
Advantages: Only private channels, modern connection protocols, referral program for earning rewards.
Disadvantages: No trial period, limited geolocation options, some mobile operators are consistently unavailable for selection.
ProxyMonster - Official website.
Proxy24
Another service for private proxies that offers connection speeds ranging from 7 to 30 Mbps. The owners claim to use the most reliable scheme by routing traffic through real SIM cards without imposing any limits.

The system employs modern connection protocols. IP rotation can be configured either automatically at set time intervals or on request. Each region is allocated a pool of at least 10,000 IPs for each mobile operator.
The scheme of the service
Work description:
Minimum price: $1.99 per day.
Trial period: Not available.
Supported protocols: HTTPS and SOCKS5.
Geo: Only Ukraine.
Minimum usage period: One day.
IP change on request: Available.
Refunds: Not provided.
Advantages: Stable operation, the option to rent proxies for just one day, high connection speed using modern protocols. Disadvantages: The final cost and service interface can only be determined after ordering proxies, and there is only one available geographical location.
Proxy24 - official website.
TopSocks
Another exclusive club offering clean residential proxies with real human IP addresses, rather than artificially generated ones. Access to the personal account is only granted through an invitation code (similar to a referral link). Invitations are distributed on forums for webmasters and arbitrage specialists.

Promotional codes are published on external websites, allowing users to obtain discounts and additional funds for their deposit. The system utilizes the modern SOCKS5 connection protocol and provides the option to select mobile operators from around the world. A large number of IP addresses are available for the United States and the United Kingdom.
Registration form Home Page
Features of this proxy service:
Price: Starting from $0.2 for Russia and Ukraine. Cost in other regions is determined individually upon ordering.
Trial period: Not available, but you can receive a starting balance from the person who invited you.
Protocol support: SOCKS5.
GEO: Worldwide.
Minimum rental period: From one day.
IP rotation: Depends on the parameters you request.
Refunds: Only applicable to the deposit.
Advantages include a wide selection of GEO locations, the use of modern protocols, and the provision of clean IPs to reduce the risk of bans.
The main drawback is that it is a closed club with limited registration information on the website. There are traffic limitations, and you cannot set a specific limit. For example, you can rent a pool for three days, but you can only use it for a total of 24 hours.
TopSocks- official website
SocProxy
The interface of this proxy service differs from closed club options, as it provides a lot of free information on setting up and using mobile proxies. For arbitrage specialists, there is a program for managing Instagram available with a 7-day demo. Additionally, there is a referral program offered to compensate for part of the expenses.

SocProxy offers both server and mobile proxy options. It operates exclusively in Russia and, unlike its competitors, it can provide regions in Siberia and the Far East. The website indicates that IPs from Ukraine and the United States are occasionally available for sale, although they are less common.
Personal account Socks Proxy
Key information:
Price: 1900 rubles.
Trial period: Not available.
Supported protocols: HTTPS, SOCKS5 - can be changed at any time.
GEO: Russia (other options promised on the website but currently unavailable).
Minimum usage period: 1 month.
On-demand IP rotation: Available.
Refunds: Considered on an individual basis.
Advantages: Suitable for beginners due to user-friendly interface and extensive information available. Covers almost all regions of Russia. Affordable price.
Disadvantages: Limited GEO selection. Minimum usage period is at least one month. No trial period.
Socks Proxy - official website
Traffny
raffny is an ecosystem for online promotion that caters to arbitrage specialists and marketers. One of the options offered by the service is Ukrainian mobile proxies, which are suitable for web scraping, promotion, and account farming.

Specialists are attracted to the service due to its low prices and the presence of a trial period. It is possible to acquire your own proxy farm to become independent from the system. Instead of having the equipment delivered to your home, you can invest in the project and "attach" the equipment to gain access to the system.
Getting access to a proxy in Traffny
Basic information about Traffny:
Minimum payment: starting from $1 per day.
Trial period: 1 hour, free of charge.
Protocol support: HTTPS, SOCKS5.
GEO: Ukraine.
Minimum rental period: 24 hours.
IP rotation via API: available.
Refunds: not provided.
Advantages: stable performance, unlimited traffic, approximately 25 Mbps speed, affordable pricing.
Disadvantages: limited to a single GEO (Ukraine), access by request only.
Traffny - official website.
RSocks
The service provides unlimited mobile proxies with high connection speed. However, to access them, you need to verify your account using a mobile phone by entering the code received via SMS in your personal account. The website also features a referral program with a 10% reward.

During the purchase process, you can select the desired GEO location. Changing the GEO is available after connection in the personal account through a checker tool, where you can choose the desired country and city. Working with the proxies is limited to a single IP address. If you intend to use the service from multiple computers or with a dynamic IP, an additional fee is required.
RSocks offers the following key features:
Pricing: The minimum price starts at $3 per day, but it varies depending on the chosen GEO location (for example, the USA costs $10).
Trial period: A 1-hour trial period is available with unlimited IP rotation and no traffic restrictions.
Protocol support: HTTP(S), SOCKS4/4a/5 protocols are supported.
GEO coverage: 68 countries worldwide, including the USA, Turkey, and others.
Minimum rental period: 1 day.
On-demand IP change: IP change is available upon request.
Refund policy: Refunds are only available within 24 hours of payment and do not apply to daily plans.
Advantages: Wide range of GEO locations, user-friendly and intuitive interface in the personal account, affordable prices, private connections, and the ability to choose from multiple protocols.
Disadvantages: Limited city selection, pricing varies based on GEO location, and account verification is required.
SpaceProxy
RSocks automatically provides proxies based on the parameters you enter. There are multiple tariff plans available, with connection prices starting from 20 rubles per day. The exact price for the selected option will be known after filling out the order form.

During the form filling process, one drawback becomes noticeable: it is unclear whether you will receive a server proxy or a mobile proxy after placing the order. It is recommended to choose a tariff plan through the main page of the website, based on the type of tasks you intend to perform.

The service is not targeted towards specialists but rather towards regular users who want to access foreign websites, online games, and other resources.
General information:
Minimum price: 9 rubles per day on the shared channel.
Trial period: Not available.
Protocol support: HTTPS/SOCKS5.
Geographical coverage:
Over two dozen countries.
Minimum rental period: From 5 days.
IP rotation on request: Available.
Refunds: Possible within 48 hours of payment.
Advantages: Low prices, modern connection protocols, wide range of geographical options. Disadvantages: Confusing user interface in the personal account, no trial period, final price is known only after making a request.
Proxys
It provides access to private channels that offer high connection speed and flexible settings. Users are given the opportunity to change the geographical location and mobile operator once a day (when purchasing a package for a longer duration).

For the selected geographical location and operator, the pool of addresses consists of 2000 to 5000 IPs. Users can utilize two connection protocols simultaneously, switching between them based on their specific needs.

It is specifically designed for arbitrage specialists who operate businesses in different geographical locations and work with multiple cities simultaneously. To gain access, users need to fill out an application and pay for the proxies.
Proxy Features:
Price: Starting from 699 rubles per day.
Trial period: Not available, but you can pay for access for just one day.
Supported protocols: HTTPS and SOCKS5.
Geographical locations: Russia and Ukraine, with dozens of cities available.
Minimum rental period: 1 day.
IP rotation on request: Available.
Refund policy: Not provided.
Advantages: Ability to change geographical locations and connection protocols, availability of multiple cities within the chosen region.
Disadvantages: High price, lack of a trial period, and access only through application.
Proxy-Hobbit
Proxy with an unusual geographical location - provides access to IP addresses used in Belarus. It works with only one city in the country - Minsk.

It can be connected through modern protocols, and the connection speed depends on the performance of the telecommunications operator, typically ranging from 5 to 20 Mbps. There is a free testing option available without traffic limitations. Communication with managers and receiving the access link to the personal account is done through Telegram.
Application form Proxy-Hobbit
Key Features:
Minimum price: 1500 rubles for 15 days
Trial period: 6 hours with no limitations
Supported protocols: HTTPS and SOCKS5
GEO: Only Belarus (Minsk)
Minimum rental period: 15 days
IP change upon request: Available
Refund policy: Considered on an individual basis
Advantages: Modern protocols, unique GEO location, high-quality service. The drawback is that it is a closed system, and gaining access is not straightforward. One needs to confirm their intention to purchase the proxy, and only then will access for testing be granted.
ProxyShop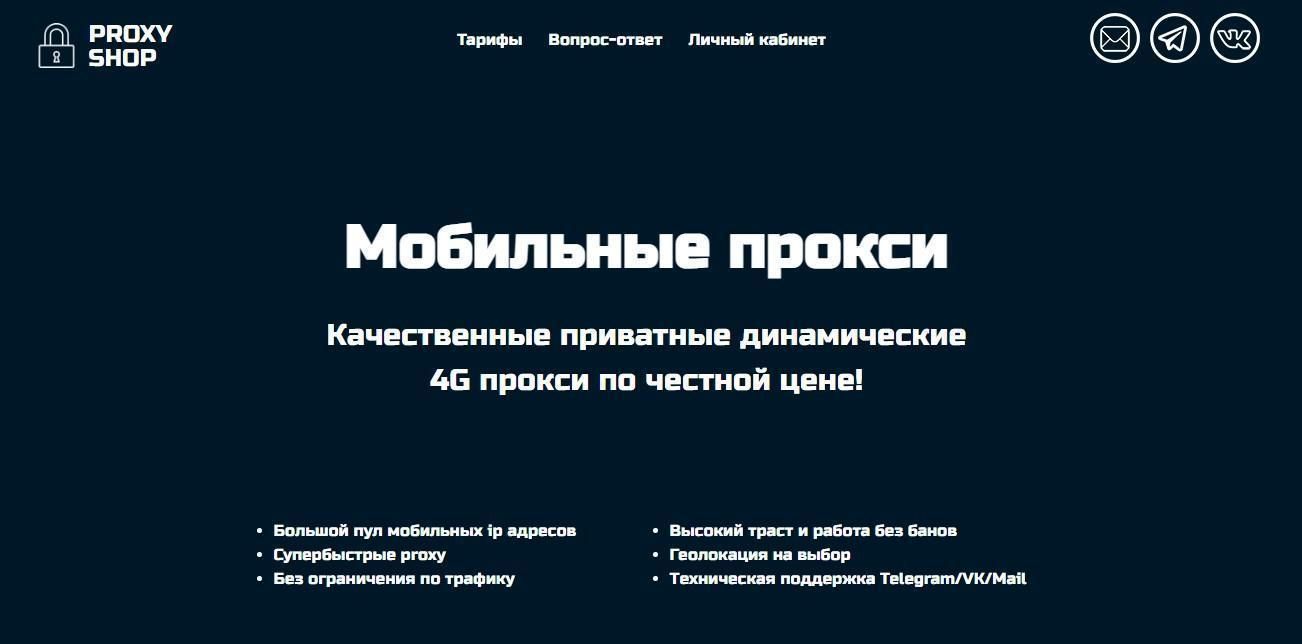 Designed for those who prefer working with Russia, as it is uncertain whether it offers other GEO locations. Connection speed is guaranteed only on the VIP tariff, where the connection operates at speeds of 4-30 Mbps. An individual channel can only be paid for on a monthly basis.

The conditions on shared channels are more convenient than other proxies, as only up to 3 people have access to the IP pool, and rotation occurs every 5 minutes. There are no traffic limitations on this proxy, allowing arbitrageurs to work in their preferred mode.

Access to the trial version and refund requests are made upon request. A manager will reach out to you using the Telegram messenger.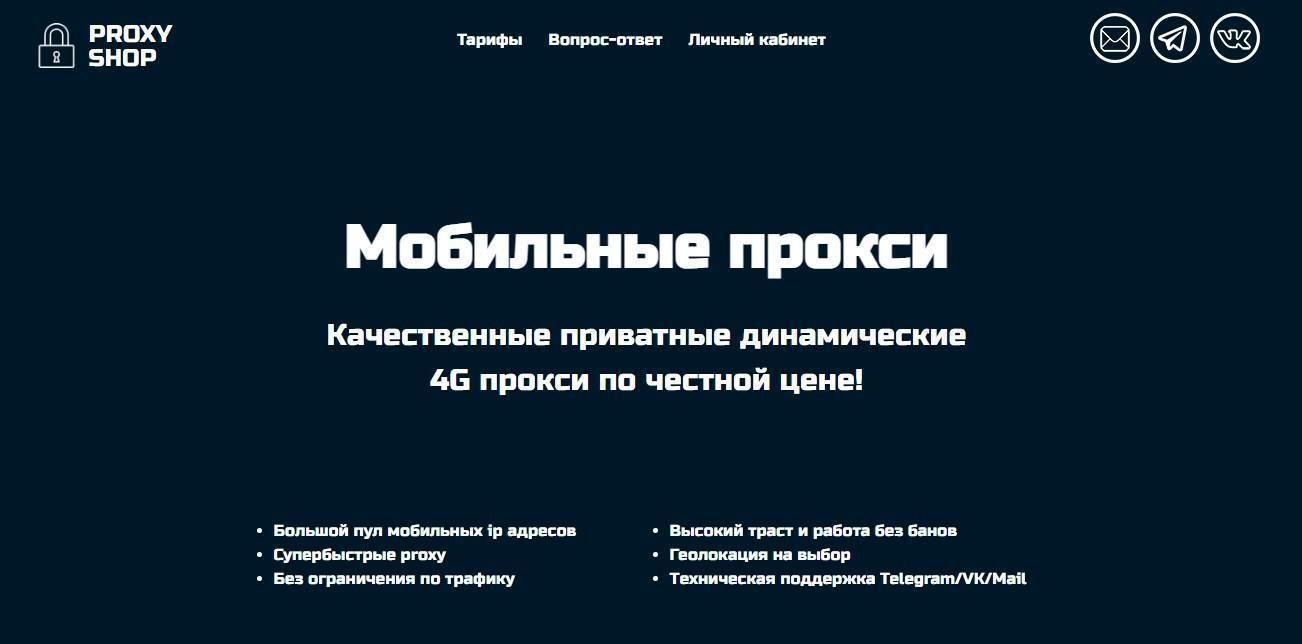 Personal account Proxy Shop
Offers:
Price: Starting from 600 rubles per week for channel usage.
Trial period: Available, but specific details are unknown.
Supported protocols: HTTP and HTTPS.
GEO: Russia.
Minimum rental period: 7 days.
IP change via API: Only available on a private channel.
Refunds: Handled individually by managers.
Disadvantages: Due to the absence of SOCKS support, not all software will work with the proxies. All inquiries need to be addressed to the company's management, and manual configuration is required.
ProxyShop - official website.
Proxy Promo
A closed registration mobile proxy service aimed exclusively at interested individuals. Traffic volume is not limited, but a subscription needs to be renewed every month to continue enjoying all the privileges of access.

There are three tariffs, but only one of them is private. The other tariffs allow simultaneous usage by up to 5 people. On public channels, there is a speed limitation of 2-4 Mbps.

Periodic technical maintenance is conducted on the company's servers, but managers provide advance notice. They are constantly available to communicate with you via Telegram. A free trial is available for only 30 minutes, but it provides enough time to learn more about the service.
Application for registration in Proxy Promo
The principles of operation for mobile proxies provided by this company are as follows:
Price: Starting from 500 rubles per month.
Trial period: A 30-minute trial is available upon request, free of charge.
Supported protocols: HTTPs and SOCKS5, as they are compatible with most software.
GEO: Russia, Ukraine.
Minimum rental period: 1 month.
IP rotation via API: Available.
Refunds: Not provided.
Drawbacks: Registration is by request only, there is no refund policy, and the choice of GEO locations is limited.
Proxy Promo is the official website for this service.
OnlineSim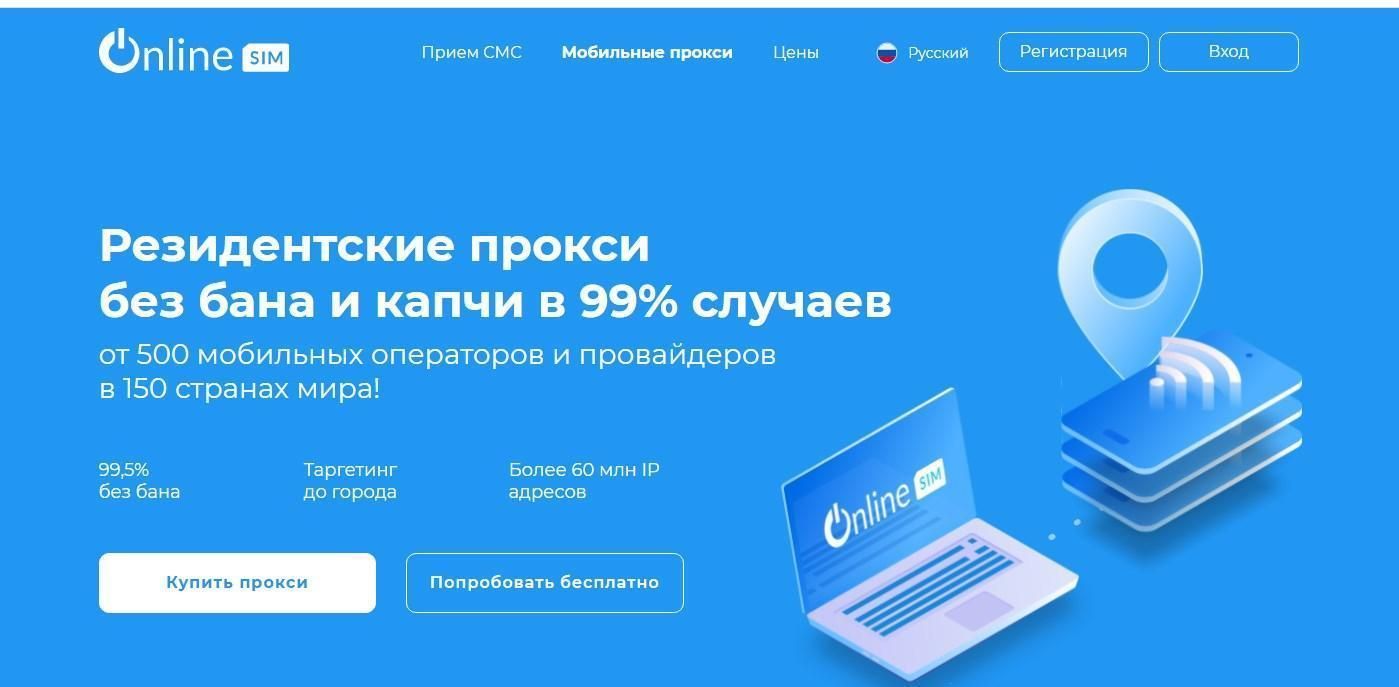 Upon initial connection to the service, its convenience is striking - there is no need to register or verify a phone number. It is sufficient to provide data from social networks. Additionally, this service offers access to virtual phone numbers for registrations and necessary software, which is very convenient for arbitrageurs.

There are more than 5 tariffs available, allowing you to choose the one that suits you best. In the private options, there are no traffic restrictions, and you can disable timeout during rotation and set a suitable rotation frequency.
Personal account OnlineSim
Key Information:
Minimum price: 149 rubles (with traffic limitations), 169 rubles (unlimited)
Trial period: Available upon request
Protocol support: HTTPS and SOCKS, specified during purchase and remains unchanged
GEO: Russia, limited to the 4 largest cities
Minimum rental period: 1 day
IP change via API: Only available on private channels
Refunds: Not available
The advantages of the service include flexible customization options upon purchase, connection via modern protocols, availability of a trial version, and multi-port support. Disadvantages: Trial period is provided upon request, limited to a single GEO, and protocol cannot be changed after purchase.
OnlineSim - Official website.
FrigateProxy
This service positions itself as a provider of affordable proxies for various purposes. It offers not only mobile proxies but also other options. While a free trial period is unavailable, you can obtain a private channel for a symbolic fee that lasts for 4 hours.

The price of proxies depends on their intended use. You can choose a private or semi-private option specifically for social networks such as Facebook or Instagram. By opting for such a limited version, you can save on costs. Additionally, the price varies based on the country, with Estonia being the most expensive.
FrigateProxy Personal Account
Key features:
Minimum price: 50 rubles
No trial period, but small access packages are available instead
Support for HTTP and SOCKS5 protocols
GEO: Russia, Belarus, Moldova, Estonia, India, Ukraine
Minimum rental period: 4 hours for any country and level of privacy
IP change via API is available on fully private channels
Refunds with a 20% commission on the unused amount
Drawbacks: No trial period, refunds only available for purchases of multiple days, commission for MoneySend transactions.
There are many mobile proxy services available on the market. They all share the use of modern connection protocols and the ability to purchase high-speed access. You can find a suitable option based on available GEO locations, price, and usage conditions.
FAQ
Which mobile proxy operators are better?
In Russia, the top three operators are considered to be MTS, MegaFon, and Beeline. They have a large pool of IP addresses and numerous real subscribers, making it easier for an arbitrator to blend in among them.
Is it possible to change addresses using the API at any time?
Yes, if the service provides such an option, changing IP addresses via API is available only on private channels.
Is it possible to change the mobile proxy protocol from Socks to HTTPS and vice versa?
It depends on the chosen proxy service. Some companies offer the option to change protocols during the use of mobile proxies.