Telegram allows you to work with any kind of offers, from nutra and e-commerce to gambling and adult content. The main challenge lies in attracting an audience to your channel. There are no completely free methods as they always require time and effort. However, besides preparing content, you can buy subscribers on exchanges, advertise in popular channels, and much more. Therefore, it is important to understand what can be used to attract users.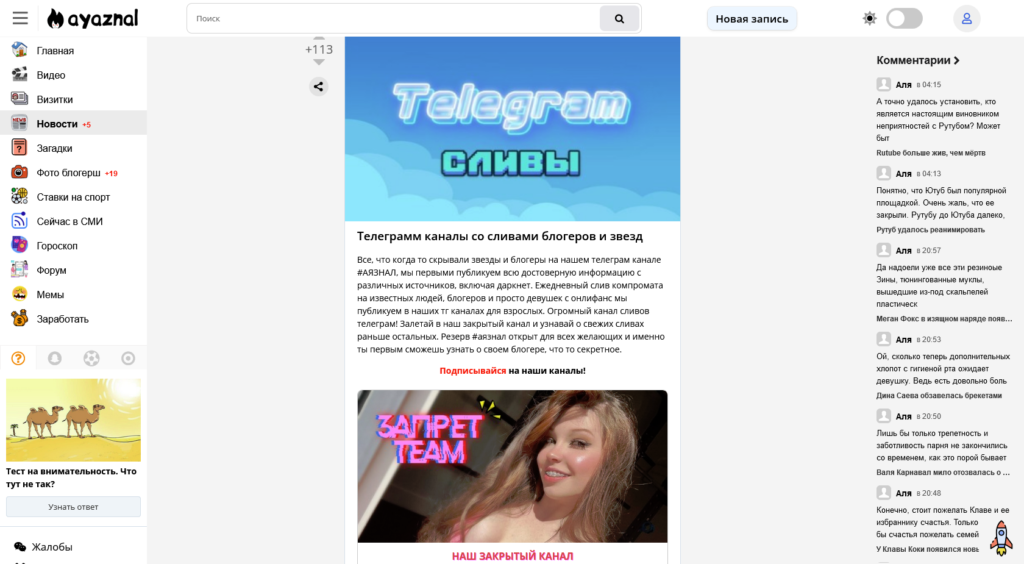 There are several methods that will help you build an audience both within the messenger itself and from external sources.
Free methods
The option with free methods does not require you to pay for placements on external resources or in other Telegram channels, but it will require you to invest effort and time in creating content, searching for free platforms, etc.
Content
This method may not be suitable for every vertical. You need to create native materials that will be posted on popular websites, forums, and image boards (such as VC, TJ, Pickabu, etc.).

The key is to prepare a post that encourages the audience to visit your Telegram channel and include a link to it. It is important to monitor the comments, address any potential negativity, or engage with users. Therefore, it is necessary to evaluate the theme of the platform and assess the audience beforehand. Otherwise, you may end up wasting your efforts by promoting a gambling offer where the target audience is interested in weight loss products.
SEO
You can create your own websites or PBN (Private Blog Network) where you can place links to your Telegram channels. This method allows you to redirect the audience from websites that are quickly blocked by Yandex or Google. For example, you can create a directory of online casino bonuses, bookmakers, or adult sites, and promote it to the top search results for low-frequency or medium-frequency queries. As long as it is not blocked, you can gain users for your Telegram channel and then redirect them to the desired offers.
TikTok, YouTube, and more.
Video hosting platforms are an endless source of traffic. In this case, you will need to invest time and effort into coming up with and creating content that will attract the audience. Despite the fact that advertising certain offers may be prohibited, you can create short videos with a call-to-action like "Want to learn more? Join us on Telegram." One of the simplest examples is sports match analysis, where links to a Telegram channel with sports predictions and a link to a bookmaker offer are included.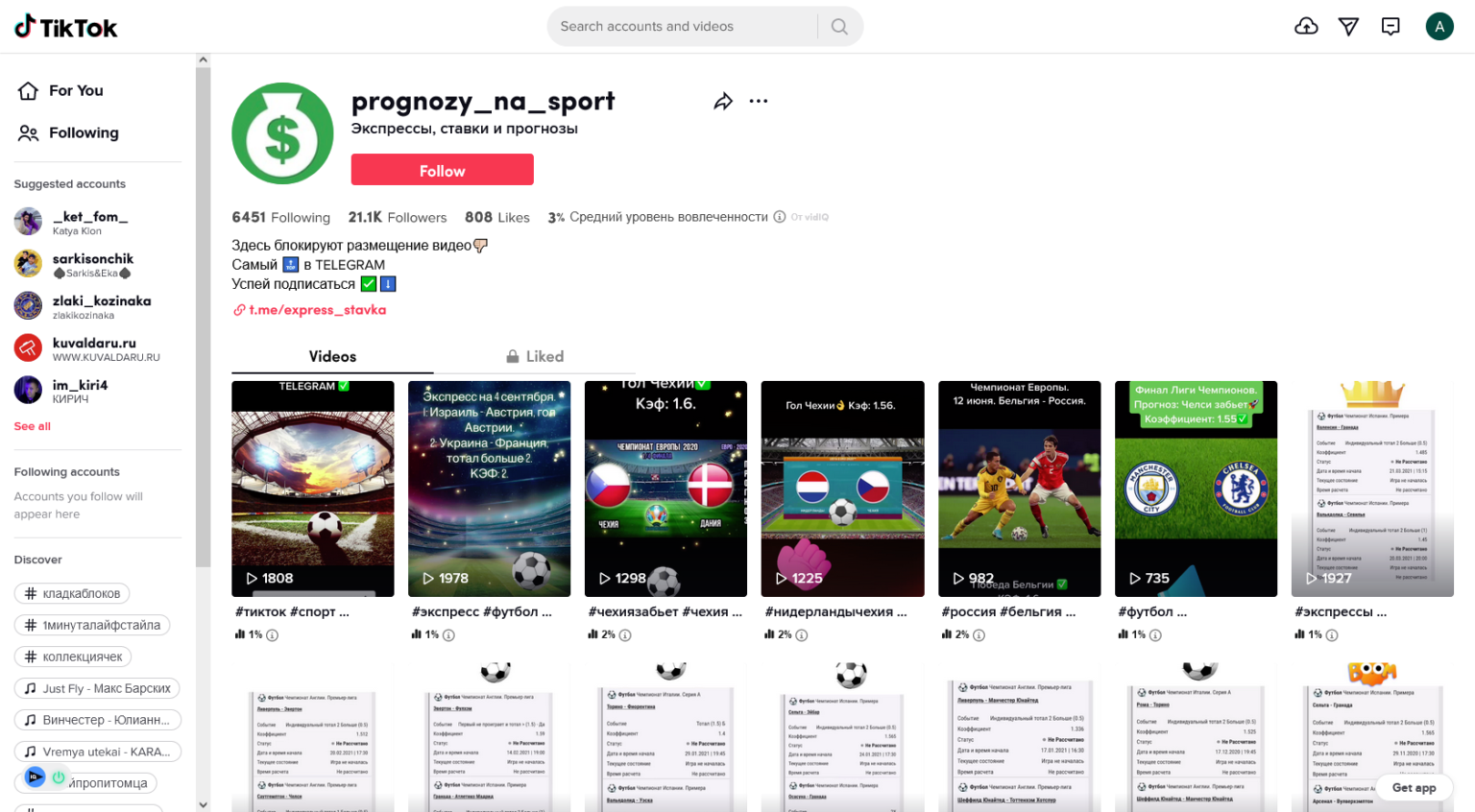 The format of the video and its content are, of course, determined by the chosen platform. For example, on TikTok, you can use short videos with emotions, match highlights, or memes. On YouTube, on the other hand, it is worth adding videos with analysis or evaluation of past or upcoming games (which can also be "clipped" from official sports channels).
Sticker packs
Telegram allows you to create your own sticker packs that are free for other users. In these sticker packs, you can include the name of your channel or brand. If they become popular, you will gain users who will be interested not only in your stickers but also in visiting your channel. To start working on your sticker pack, you can use the @stickers bot. And don't forget to prepare images with dimensions of 512x512 pixels with a transparent or white background. The more unique and vibrant the stickers are, the more attention they will attract.

This method is suitable for "white hat" verticals and those who plan to work on their channel for the long term.
Mutual PR
This method is suitable for those who have already built a small audience. You can find channels with similar themes and place your promotional post there in exchange for them posting their post on your channel. To target the most relevant audience, it is advisable to analyze the channels for the advertisements they publish and the level of subscriber engagement beforehand.

Another option for mutual PR is conducting joint broadcasts. Come up with a topic for discussion, have an engaging conversation, and subscribers will come to you.
GPS search or local groups
This method requires installing software that can change your GPS location in the eyes of Telegram. After that, you can use the "People Nearby" feature to see groups based on your desired location. You can then choose which group to post your promotional message, write a comment with a link to your channel, and so on.
Additionally, you can create your own local groups. This will require some time or assistance. The key tip is to come up with creative names for the channel and avatars.

IMPORTANT: This method will only allow you to see users who have enabled the "People Nearby" feature.
Yandex.Q and similar platforms
Question-and-answer services are another way to attract an audience to your channel. The task is simple: you need to answer existing questions and attach answers that contain the desired TG link (don't forget about usefulness and nativeness).

Additionally, you can publish your own questions and provide answers, including a link. The key is to select SEO keywords so that your polls are promoted on these platforms.
Paid methods
Of course, there are promotion options that do not involve creating content but require investing in advertising, purchasing links, or paid posts.
Directories
Telegram directories are services that gather popular channels and allow you to place a link to your channel there. While placement can sometimes be free (although very rarely), it is worth paying attention to these resources as they help you find relevant channels and launch advertising in them with just a few clicks. The following services can assist you:
Telemetr.me

Tgstat.ru

Catalog-telegram.ru
Such services also provide statistics on the channels where you can advertise. This helps you choose the most suitable option and avoid wasting money on advertising that would be shown to bots.
Invites
This is a "semi-free" method. However, it will require expenses for purchasing Telegram accounts and services from other providers. The idea is simple: you scrape or add the user's username to your contacts. After that, you can initiate a mass message or directly reach out to them with an offer to subscribe to your channel.
Permanent link exchange platforms
This method allows you to place a link to your Telegram channel on external websites, where it will remain permanently (as long as the website is live). It enables you to passively attract subscribers to your channel. However, it is important to carefully select the thematic relevance of such websites. Which link exchange platforms can be considered?
Blogun

GoGetLinks

Miralinks
Advertising in popular channels and groups
In this case, you purchase paid placements in pinned messages of thematic groups or channels. Analyzing the activity and relevance of their audience will help you achieve success.
The difference between channels and groups is that a TG channel is a counterpart to a community on VKontakte (a popular social networking site in Russia and CIS countries), while a group is a private chat where users interact with each other. Groups are often created to provide support to users who have purchased access to an online course, for example.
Subscribers boosting
This method involves paying services to artificially increase the number of subscribers to your channel. Users are incentivized with rewards to join your channel. However, one of the drawbacks is that these users are unlikely to click on advertising links or take desired actions. On the other hand, this approach can help you acquire the initial 1000+ subscribers to attract the attention of a live audience or offer mutual promotion to other bloggers and content creators.
Targeting in Yandex.Direct or VKontakte
You can use targeted advertising to promote your channel. The principle is similar to regular targeting, but instead of directing users to a landing page, you provide a link to your Telegram channel. It is important to note that for users to click and subscribe, they need to have the Telegram application installed. This method allows for more precise targeting of the audience.
Advertising with bloggers
In any social network, you can find your target audience. To do this, look for popular channels, profiles, or communities. Then, you can discuss collaboration opportunities with the blogger by offering payment, providing free materials for promotion, offering a guide, and so on. The key is to include a link to your Telegram channel to attract users.
Conclusion
Telegram offers various methods to attract users to different offers. The key is to prepare your channel and populate it with a certain amount of content before launching advertising. The simplified moderation process and the ability to directly communicate with users can help you achieve profit regardless of the vertical you're working in.