A VKontakte group is a community of users with common interests where they discuss specific topics, interact in the comments, and react to posts made by its creators. Groups can be either open or closed, depending on their privacy settings. Depending on the number of users and their activity, such communities can be of interest to advertisers who are willing to offer them products or services.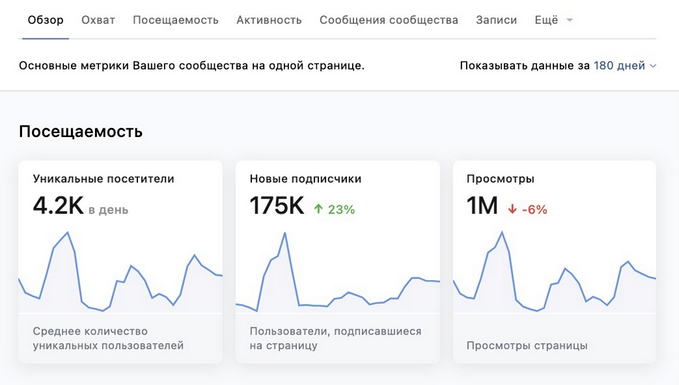 Collecting statistics for a VKontakte group serves several purposes. Primarily, it helps evaluate the core of the most active users, identify the number of empty or bot accounts within the community, and assess the potential profitability of purchasing advertising from the group administrators.

This analytics is essential for any arbitrage specialist, regardless of their goals. If you're redirecting traffic from VK communities, it's crucial to forecast how many subscribers will react to your advertising. Without gathering such statistics, you might end up spending your budget on groups with bots or communities that have an irrelevant audience for your needs.
Metrics in VKontakte statistics
You can view the statistics of a VKontakte group through the "Statistics" button located in the group management menu. There are 8 main metrics available:

Overview: This tab provides all the essential data on one page, including unique users, views, new members, comments, and more. It also contains a button to export data to .xls or .csv files.

Reach: In this section, you can see the users who viewed the community's posts on the wall or in the newsfeed. It provides data on their gender, GEO (city or country), and device type (mobile or PC). There is also an option to allow open access to the statistics.
Visits: This page provides detailed information about unique visitors and views. It includes data on the sources of traffic to the community, such as direct links, VKontakte search, user profiles, messages, or other groups.
Activity: This tab displays the number of users who have subscribed to receive notifications about new posts from the group. Additionally, it provides information about users' reactions to the posts.

Products: If the community offers any products or services for purchase, this tab allows you to assess buyer activity. It collects data on views, orders, and revenue related to those products or services.

Community Messages: This tab presents indicators related to communication with users to whom you have sent messages on behalf of the community.

Posts: In this section, you can view statistics related to the reach of posts, both viral and organic, as well as user reactions, joins, and link clicks within the posts. Additionally, you can obtain data for individual posts by clicking on them in the table.

Reports: This section contains weekly reports on all the key metrics of the group. It also provides the ability to compare with other posts and periods of their publication, view popular publications, and access data on the engaged audience.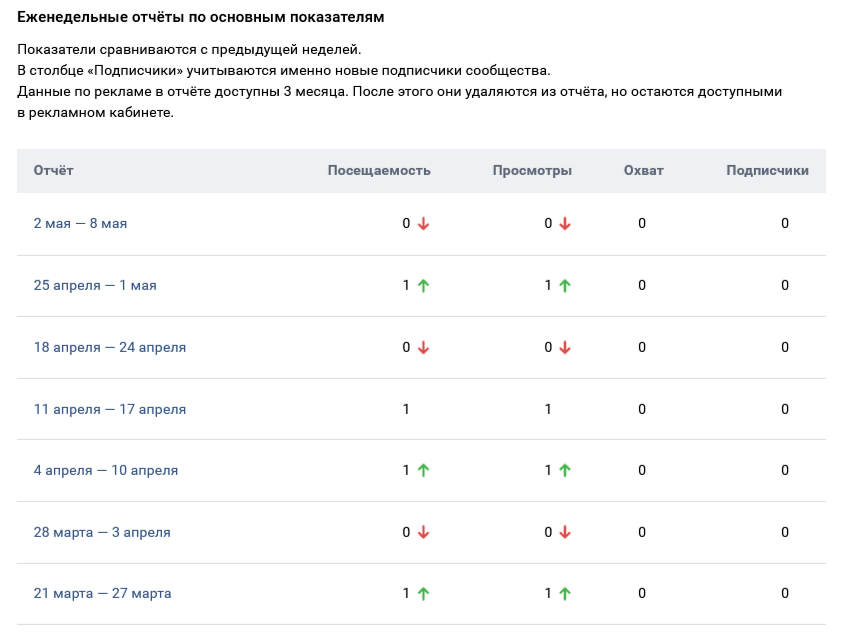 Indirect statistics
Even if you don't have access to the community's statistics, you can always assess it based on indirect signs. To do this:
Go to the main page of the desired community.
Click on the "Followers" section.
In the pop-up window, click on the magnifying glass icon.
By following these steps, you will not only see all the subscribers of the community but specifically active users. If their number significantly differs from the total number of participants, it may indicate that the subscribers were obtained through dishonest means.

Next, you can set filters based on GEO, age, gender, etc., to identify the core audience of the community. You can also use categories like "Life Position," "Occupation," and others, which will help you fine-tune your advertising campaigns in the future.

The next step in verifying indirect statistics for a VKontakte group is to analyze the community's activity. Pay close attention to the number of likes, reposts, and comments on posts. The more engagement, the better. If a community with a large audience lacks good virality, it is a negative indicator.
What to pay attention to?
The data provided by VKontakte's functionality allows you to assess audience activity and draw conclusions about the group's development. The following metrics are of crucial importance:
Active part of all subscribers (the portion of the total number that consistently reacts to the content being posted).
Average reach coefficient of subscribers and new unique users.
Level of engagement for individual publications.
Average engagement coefficient across posts.
Overall traffic level and cost per click in the community.
Sales within the group or community.
Conversion rate: how many people transition from being a "subscriber" to becoming a "lead."
Services for data collection and analysis
Of course, group statistics are not always accessible. If you cannot check them yourself, you have to rely on the honesty of administrators. They may provide a "modified" version of reports to make things look better than they actually are. Therefore, it is worth paying attention to third-party services that collect statistics independently and provide accurate data.
POPSTERS
This is a service for analyzing posts and pages on social media platforms. It works not only with VKontakte but also with YouTube, Odnoklassniki, Facebook, and others. There is a 7-day free trial available (with a limitation of 10 initial uploads and 15 items in favorites). The platform allows you to compare pages and communities, view post performance, track audience activity, create quick reports in popular formats, and more.

It is suitable for those who want to obtain detailed data about any community.
PUBLER
One of the most popular services among arbitrage specialists. One of the significant advantages is the ability not only to view group statistics but also to find public pages for advertising based on pre-defined selection criteria. With its help, you can see the characteristics of the community's audience, their engagement level, the number of bots, and much more. The main drawback is the relatively high price.
JAGAJAM
A service for collecting statistics from social networks. With its help, you can obtain all community metrics (reach, post lists, views, comments, reactions, clicks, and much more). It offers functions for automating reporting, analyzing advertising campaign results, and comparing two competing communities. One of the drawbacks is the limitations on the trial access. Due to these limitations, you won't be able to analyze communities without a paid subscription.
MEDIA-VK
A simple service for viewing statistics and analyzing VKontakte groups. Reports are sent to the email linked to the service. The platform collects information about gender, age, marital status, location, and the public pages that the audience of the studied community belongs to. Additionally, there is a feature to create a portrait of a typical subscriber, which is compiled from profiles across the entire audience. The drawback is the necessity to pay for each data collection (the amount varies depending on the size of the VKontakte group).
ALLSOCIAL
A convenient and free service that allows you to quickly filter groups by audience reach, user growth, and advertising cost. It also provides category filters for easy navigation. Moreover, it features a "Changes" function that shows recent modifications in groups. For instance, if a public group changes its name or theme, you can easily identify those changes. This is useful if you want to avoid advertising in communities where your content might not be relevant to the audience. One minor drawback is that the amount of data available for analysis is relatively limited.
Conclusion
Statistics of VKontakte groups are essential information that is indispensable for social media arbitrage. These data will help identify the most profitable public groups for advertising purchases, forecast revenues and expenses, and find the most relevant target audience for your offers.

That's why it is always necessary to collect and analyze statistics, both using VKontakte's functionality and through third-party services that can facilitate this process, making it faster and more efficient.