And before that, one more question – why live streams specifically? Why not push notifications and short videos?
Answer: live streams create a sense of connection with the audience. There's also more trust: streamers can answer pressing questions (or tempt viewers to try something new). The impact of clickbait headlines and stories on the brink of magic hasn't dropped to zero but has decreased. So, it's time to create enticing content.
To do this, take two steps.
Step one: study the pitfalls.
Twitch
On Twitch, sexual content is prohibited. The maximum you can expect, 'rare but precise,' is a bikini and discussions on adult topics. In the latter case, it must be marked '18+.' However, it's still possible to bypass the platform's vigilance. Regular users come up with such methods. They attract subscribers to OnlyFans and Instagram with seemingly innocent activities. Is doing fitness on a treadmill somewhat questionable? How about a live stream of cooking? As for revealing tops and leggings, everyone thinks 'to each their own level of corruption.' Streams targeting viewers with various preferences fall into this category too. And if something works, arbitrageurs adopt it. Replace the link to a personal page with an offer link – and you're all set!
But we still recommend hiring beautiful young women.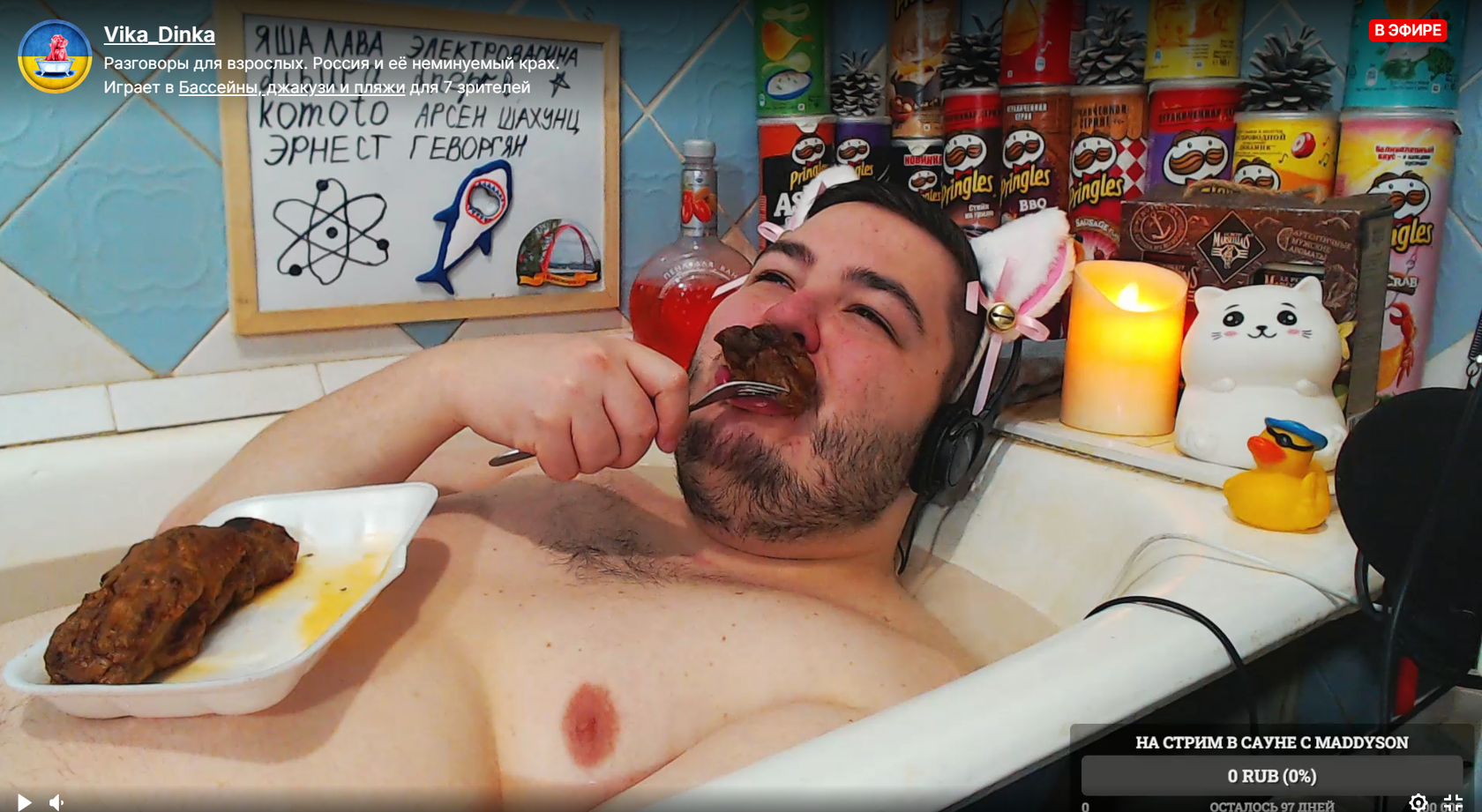 What 'genres' are best suited for dating?
ASMR. Its purpose is to relax, and Twitch has no issues with it. Even if the host is dressed provocatively in the frame. No suspicions will arise as long as it doesn't veer into pornography.
Conversations on topics of attractiveness and relationships. Ideally by a pool or on the beach, in swimwear. Again, taking precautions: no explicit calls, just hints.
Massages, yoga, and sports activities.
What about gambling? There have been issues with it.
Twitch is banning streams of gambling games.
The exception is having a license. There are two ways out of this situation: cloaking links or being a law-abiding user.
Onlyfans
With OnlyFans, it's simpler. Except for one caveat: if you're in Russia or Belarus, you'll need to use a VPN.
Adult and dating content is fully allowed. You can either arrange a joint stream with a popular celebrity or hire a new model and create an account.
Users are more interested in adult dating, websites, and everything related than in gambling games. However, the audience is financially capable and subscribes to paid services. This means they may want to spend money on other forms of entertainment. Thematic clothing on models (with the website's name, casino, etc.) and mentions of them can help increase this opportunity.
TikTok
Not the platform where gambling and dating can be easily promoted. Even a mention of the forbidden word in the name will result in a ban. In the case of short videos, the problem is solved either through hints or a torrent of one-day accounts.
If you've chosen live streams, focus on dating. Streaming gambling games, wearing a branded t-shirt, or subtly praising a casino throughout the entire broadcast is not an option.
However, hosting a broadcast with a beautiful girl who talks about the offer (even with a hint) is completely acceptable. Moreover, TikTok is known for its dances and short videos bordering on sexual content. Here, it won't be an issue.
Instagram*
Advertising casinos is prohibited in countries where gambling is illegal. In places where it's legal, you can only promote licensed products. For dating, use the scheme that works on Twitch.
VK
You won't be able to start streaming with a link to a gambling site directly. However, launching a stream on behalf of a community, sharing a link to a 'bridge page,' and then to the offer – sounds like a plan!
Step two: place a bet.
Choosing an influencer and shifting all responsibility onto them is a utopia. Here are a few pieces of advice to help make the right choice and fine-tune the outcome.
Don't focus too closely on the numbers. Subscribers could turn out to be a bot army rather than potential leads.
Don't choose a streamer with an underage audience. Excuses like '18+' don't always work, as teenagers can still follow their idols. So if you suspect there's no financially capable audience, move on.
Don't make concessions. If an influencer ignores, refuses to follow your brief, or performs negligently, look for another one. However, don't become a tyrant. Listen to their suggestions; after all, they know their audience better. Don't shy away from compromises and explanations in other matters as well.
Don't rely on negative publicity. If people watch the streamer out of hate, it's not a suitable option for promoting an offer unless you want your brand to be associated with something extremely annoying.
Don't demand what you can't explain yourself. Create a detailed brief.
Don't rely on 'rare but precise.' If an influencer tends to fall into a creative crisis every week, they're not a reliable option.
Don't be stingy. Nobody wants to waste money, but watching streams in terrible quality with a crackling microphone is not a good experience either. So, the optimal choice is to select a 'middle-of-the-road' streamer.
Don't be lazy to check the influencer's content. If they jump from topic to topic, audience engagement will be minimal, if any. The presence of a stable audience will also be questionable.
Don't overlook micro-influencers. They may have a small audience, but it often takes their recommendations to heart, like advice from a best friend. Especially if they are close friends.
Conclusions
The most profitable options are Twitch and OnlyFans, at least for streams. Other platforms are associated with different formats: photos, short videos, clips. People come to them for those formats, and sometimes they don't even know about the streaming function.
No matter how much we joke about the banhammer, a more popular and convenient platform for streaming than Twitch hasn't been invented yet. Choose the one with more lenient rules - you'll have fewer viewers. And forget about accidental interested users. OnlyFans automatically has a smaller audience (the need to pay discourages many people from watching anything), but targeting a financially capable audience is better.
However, don't write off other platforms prematurely. More challenges often mean fewer competitors. So, remember the golden advice more frequently: tests, tests, and tests again!