TikTok is a young and rapidly growing social media platform where every user can receive free views. It is beloved by influencers and has also been used for arbitrage. Another feature that makes it worth considering for offer promotion is its fast-growing audience.

Link to the source: trafficcardinal.com
By 2021, TikTok's popularity had grown and nearly matched Instagram, with 1.29 billion users on the platform. This is supported by download statistics from around the world. According to Statista, TikTok has long surpassed other social media platforms in terms of the number of installations.
And that means it's the perfect time to use the social network for offer promotion. However, specialists haven't been utilizing it for arbitrage on a massive scale yet. We have already studied how to drive traffic from TikTok and will share that information in our article. You will find not only general information about the social network but also practical case studies that prove arbitrage can be profitable on TikTok.
What you need to know about TikTok
When it comes to the popularity of TikTok, it is experiencing rapid growth. It is gaining popularity in countries with a financially capable audience, including those in Tier 1.

For beginner arbitrage specialists, it is easier to work with the CIS region (Commonwealth of Independent States), and in this regard, TikTok surpasses its closest competitors, such as Instagram and Facebook, in terms of popularity. This is confirmed by a study conducted by Mediascope.
With each passing month, the audience of the social network continues to grow, and the number of registrations is increasing. References to TikTok videos are appearing in blogs, personal pages on other social media platforms, and in the mainstream media.
Target audience in TikTok
As of now, TikTok is used by over 1.29 billion people worldwide:
Users launch the app an average of 7 times per day.
The average daily usage time is 45 minutes.
60% of users watch entertaining and funny videos.
According to Global Web Index, due to the explosive growth in popularity in 2020, TikTok offers traffic for offers from any GEO (Geographical location).
The rapid growth of TikTok has made it attractive for arbitrage for another reason - the ability to reach diverse audiences on the platform. Initially, the app was created for people aged 16 to 25.
Currently, 50% of TikTok's audience consists of people up to the age of 34, with 43% being male and 57% female. The app is used by
media personalities,
politicians,
entrepreneurs,
IT specialists, and many others.
The main question when promoting offers on TikTok is the purchasing power of the target audience, and in this aspect, everything is in order: 66% of registered users have an average or higher income.
In terms of GEO, the majority of TikTok users reside in the United States, according to Business of Apps statistics. Research conducted by this company has shown a trend towards expanding GEO coverage and increasing user reach.
How difficult is it to drive traffic from TikTok
According to Nielsen, 43% of TikTok users believe that advertising on the platform blends in with the rest of the content. On one hand, this simplifies the task of arbitrage, but on the other hand, it requires the creation of high-quality creatives that do not annoy users. These creatives should capture attention through visuals and music.
First and foremost, it is important to choose the right vertical for arbitrage. Here are some areas that appeal to the younger audience:
Dating.
E-commerce, particularly electronics.
Promotion of online services.
Gambling.
Beauty.
The platform has its drawbacks as well. Despite the purchasing power of the adult audience, leads from this demographic tend to interact less with advertisements. Additionally, working with TikTok can be challenging due to the constantly changing rules, which is a result of the platform being in a developmental phase.
Cons:
The audience is growing rapidly.
Focus can be placed on viral content.
Hashtags can help simplify audience targeting.
The built-in video editor allows for professional effects with a single click.
The platform is popular among users.
Native videos perform well.
However, there are some downsides:
The most active audience (16-25 years old) may not be the most financially capable.
Description text is limited.
Not all users can include links; manual moderation is required.
Video length is limited to 15-60 seconds.
Advertising in certain niches can be expensive and accessible only to brands.
It requires adapting to the concept of paid advertising, which differs from other social media platforms.
How does the social network differ from its competitors
The choice to use TikTok for arbitrage should be based on the target audience. It is not recommended to promote the following categories:
Potency drugs.
Premium e-commerce segment.
B2B (Business-to-Business).
Rheumatism ointments and similar products.
These arbitrage directions are not suitable for Instagram either; it would be better to choose Facebook instead. This is because the main audience of Instagram and TikTok consists of younger users.
However, the situation is changing, and TikTok is now popular not only among school students. For example, in Tier 1 countries, 51.8% of TikTok users earn an average income of $75,000 per year.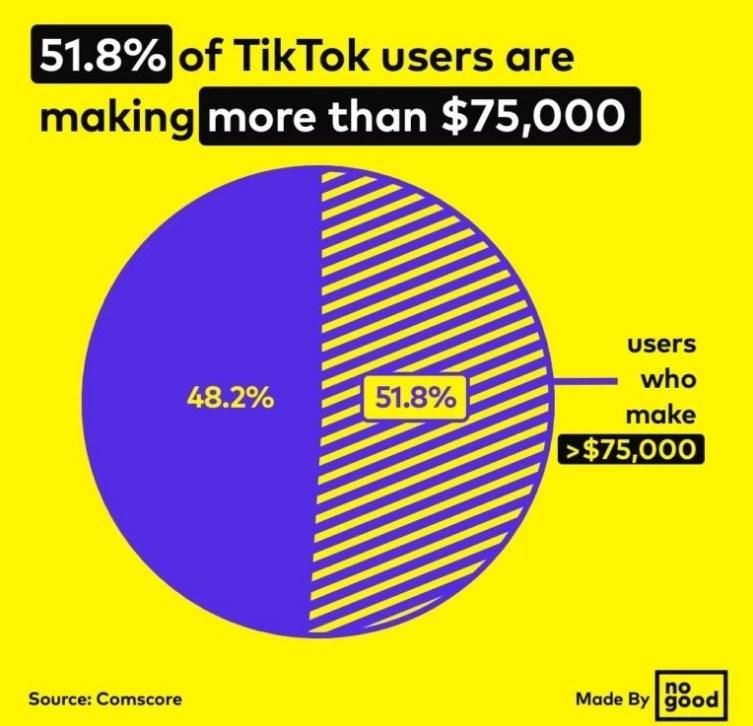 TikTok's traffic differs from that of Facebook and Instagram, so special attention needs to be given to creatives. They should be unique, non-irritating, and interesting. Within 3 minutes, you need to:
Capture the user's interest.
Communicate the promoted product or service.
Amaze the user.
Due to the recommendation system guided by algorithms, traffic on TikTok can suddenly increase or decrease without apparent reason. Therefore, it is advisable to try different promotion methods, change strategies, creatives, and constantly analyze their performance on TikTok.
How does the TikTok algorithm work
Content creators and arbitrage specialists cannot fully understand the principles of video display on TikTok as the platform's owners do not disclose all the secrets. Occasionally, information about introduced changes becomes available. For example, videos in the "For You" category are displayed based on the user's geographical location. The algorithm shows the user videos that are closer to their location. This is important to know for organic arbitrage.
When selecting content, the artificial intelligence takes into account the following factors: geographical location, user interests, and audience engagement, including the number of reposts, comments, and likes.
Videos created using the built-in editor are more actively promoted, so there is no need to use professional tools or use them sparingly.
New accounts undergo strict moderation. If you can surprise users with your initial videos, their attitude towards your account will become more positive.
The algorithm is constantly changing, so it is not possible to simply capitalize on one trend when engaging in arbitrage. It is necessary to try different approaches to sustain audience growth on TikTok.
Consistency is important. If you stop posting videos, the promotion of all videos on your account will be halted.
The primary method of promotion is through recommendations. Initially, a video will receive a small number of views, and if the audience response is positive, it will start to be promoted to thousands of accounts.
Organic promotion is facilitated by the fact that recommendations for users are based on their recent interactions with videos. If a person likes a video with a specific theme, they will be shown similar videos more frequently in their feed.
Trendy filters and popular hashtags are effective promotion methods.
Well-chosen music or sounds can help a video reach the top of the recommendations list.
It is best to create TikTok videos with real people as they generate a greater response from the audience compared to screen recordings or animations. However, it is important to avoid lengthy monologues or boring enumerations of advantages, keeping in mind that the platform is entertainment-oriented. Create vibrant visuals that grab attention.
Features of the offer selection
Choosing an offer for traffic arbitrage in TikTok is not difficult; you just need to follow some general rules:
To create truly high-quality content, choose a niche that interests you and is close to your expertise.
Select an arbitrage vertical in which you already have experience on other platforms.The better your chances of conversion, the more ideal it is.
Choose a reliable affiliate network for arbitrage, ensuring that all leads are accounted for and rewards are delivered promptly.
Focus on Tier 3 countries, as they are developing nations with low traffic costs and high conversion rates.This provides more opportunities to run powerful campaigns, including using TikTok.
Do not overlook spy services for arbitrage to observe and analyze competitor campaigns.Pay attention to the effectiveness of creatives and the marketing funnel – you can use similar ideas and make them even better and more interesting.
Start by learning from offers with smaller payouts and follow the advice of your manager. This will allow you to gain minimal profits in the initial stages. Once you understand the traffic sources and start driving effectively, you can choose more profitable options and change the GEO.
Arbitrage specialists in TikTok work with various offers
The audience should also be interested in the promoted product. For TikTok, the following types of offers are suitable:
Product offers: gadgets, fashionable clothing, and shoes - everything stylish and popular among young people. Whitehat offers can be promoted through the advertising account, while for greyhat offers, any other methods will be suitable.
Beauty products and services: Youth cosmetics, especially Korean brands, perform well. Premium brands and anti-aging products have poor sales on TikTok, so TikTok can only be used as one of the traffic sources for promoting them.
Dating: The regular dating variant performs well, while the adult variant has a lower response. Arbitrage is conducted through farm TikTok accounts, utilizing comments, subscriptions, and likes.
Gambling and betting:

Their official advertising is prohibited. Therefore, it is not possible to promote them through the advertising account. Organic promotion would be suitable, such as creating your own channel where you can share success stories of playing in casinos or making bets. To make the content valuable, it is necessary to disclose successful strategies and earning methods.
When conducting arbitrage through TikTok, it is only possible to attach links to landing pages in one place - in the profile description. Keep this in mind and create separate profiles for each offer.
How to use TikTok for Arbitration
Not too long ago, TikTok advertising was only available to large brands. However, now you can set up an advertising account for arbitrage purposes, but it can only be used for promoting whitehat offers. For verticals such as betting and gambling, it is best to generate organic traffic through your own TikTok channel or by collaborating with influencers.
Additional arbitrage methods can be utilized, including:
Spamming within limits: Subscribing to influencers, leaving comments, and giving likes while adhering to specified limits.
Setting up through cloaking and Yandex.Direct for displaying ads on social networks.
One of the advantages of TikTok is that bans are typically issued only for severe violations, and you can create multiple accounts from one device. You can follow up to 200 profiles per day, leave up to 500 comments, and use up to 5 hashtags under videos.
Creating your own group
Unlike other platforms, arbitrage through your own TikTok channel doesn't require much time. Even beginners can get into trends with just 5-6 videos, generating tens of thousands of views.
An ideal advertising method for newcomers is using music stickers. If the advertisement is interesting to the audience, it can result in conversions. It's better to avoid direct advertising.
The only inconvenience is that clickable links cannot be inserted in the video description, and many users may have difficulty copying them or simply not want to do so.
There are several workarounds:
Create a funnel by linking your Instagram profile or YouTube channel to your TikTok account.
Use multi-link services or URL shorteners.
Connect a business account.
Use promo codes instead of links, but make sure they are tied to your personal ID before doing so.
For organic arbitrage, you can later upgrade your TikTok account to paid features. This will give you a larger reach, and some options may be provided for free. Recently, active arbitrage specialists have started connecting Pro accounts through profile settings, which grant access to additional tools such as analytics.
Working with opinion leaders and bloggers
The essence is simple: you buy a mention of your profile in a video by a popular TikToker. The audience, trusting the TikToker, clicks on the tag and then proceeds to the advertiser's website through the link in the profile.
To make the advertising work, prepare your profile:
Insert a link to the landing page in the description.
Add several videos, with a couple of them explaining your product.
The most important aspect is to evaluate the profiles of the bloggers you plan to buy advertising from. Their followers should not be artificially inflated. It is important to assess their previous integrations based on the number of views and likes. If the audience is engaged, you can negotiate a collaboration.
Official paid advertising
These methods are most commonly used by arbitrageurs as they have become accessible and support multiple formats simultaneously.
Brand Takeover
This arbitrage tool allows you to display a banner during app launch. The image is shown for 3 seconds, while GIF or video can be displayed for up to 5 seconds. This format is suitable for offering users to:
Visit a website.
Explore your profile.
Download an application.
The size of the image or video should be up to 2 MB. You can use static images with minimal movement, as they resonate well with users. Ready-made templates from affiliate networks are suitable for this type of advertising.
TopView
Another format for arbitrage is advertising during the launch of the TikTok application in the form of video demonstrations, ranging from 5 to 60 seconds. The video will have a "Sponsored" label. This format is suitable for brand promotion:
Increasing online visibility.
Finding customers to visit a website.
Growing profile followers.
This method of advertising is not suitable for beginners due to the high cost per impression.
In-Feed Native Video
This option resembles advertising in Instagram Stories, where a video up to 60 seconds long appears while users are watching videos. Users can interact in several ways:
Commenting.
Liking.
Following the profile.
Using the music from the video for their own videos.
Visiting the landing page.
Because the video is seamlessly integrated into recommendations and appears in the feed, this option is often used for TikTok arbitrage.
Another reason to use this method is that there are several payment options for In-Feed ads:
Pay per view.
Pay per click (both regular and optimized).
Pay per impression.
You can launch TikTok ads through the TikTok for Business dashboard, and the cost depends on the results of the auction. Currently, the cost is not as high since not many arbitrageurs are working with TikTok yet.
Hashtag Challenge
This option works well for major brands. They collaborate with influencers and celebrities to launch challenges where users are required to create videos on a specific theme and include the designated hashtag. Additional conditions may include featuring the brand's product in the video and using specific music.

An example of such a campaign on TikTok is the Converse promotion. It was initially launched in the UK but gained popularity worldwide. Users created videos of themselves customizing their Converse sneakers. Participants gained followers, and winners of the challenge received prizes. Within 6 days, the challenge ad garnered 24 million views. Conducting a conventional campaign with such reach would be nearly impossible in arbitrage.
Branded Effects
A non-intrusive promotion method that was previously used by brands for VKontakte campaigns. The essence of this approach involves the company's designers creating stickers, filters, and special effects.

Additionally, a challenge can be launched to encourage users to incorporate these elements into their own content. This will result in additional mentions for the company and increased audience loyalty.
How to pour traffic from a TikTok
If you have experience with Facebook's ad account, understanding TikTok won't be difficult. You will need to prepare your ad, set up targeting, go through moderation, and launch your campaign. All formats support placing links and selecting specific target audiences.

In your location, the business account feature may not be available. To bypass this limitation, simply specify a different country during registration. To verify your phone number in this case, you can use a virtual number.
Creating ads
Creatives on TikTok include images, videos, and texts that users see. You can upload a ready-made solution to the platform or create a video using the built-in editor. It's best to use a pre-made banner or video and apply effects within the app.
The following creatives tend to perform well:
Videos that are up to 20 seconds long
Vertical image orientation
Rapidly changing frames
Energetic music accompanying the ad
Prepare your video and save it, after which it will undergo moderation. The platform's administration will review the video to ensure compliance with the rules.
If you want to enhance the effectiveness of your advertising campaign or if you're unsure how to promote your chosen offer on TikTok, consider using SPY services. With their help, you can discover successful creative options that have yielded positive results for others, gain inspiration, and improve your own campaigns.
Passing moderation
Knowledge of the platform's rules will help you pass moderation. The restrictions on TikTok are similar to those on Facebook and Twitter. The following actions are prohibited:
Using symbols or imagery associated with prohibited or criminal organizations in music or hashtags.
Promoting narcotics, including featuring scenes of drug use.
Advertising weapons, poisonous, explosive, or toxic substances.
Encouraging violence through any means.
Inciting hatred based on nationality or religion, including negative comments about other TikTokers.
Promoting fraudulent services.
Using spam or advertising other platforms such as Instagram or Telegram.
Including explicit or pornographic content in videos.
It's not advisable to use videos featuring children under the age of 13, as they undergo strict moderation. Violating the rules may result in the removal of the non-compliant video and even the suspension of your account.
Before publishing content, make sure to clarify what constitutes prohibited symbols in your chosen location (e.g., in China, criticism of the government and Peppa Pig are banned).
For promoting grey offers such as gambling and betting, you may need to use cloaking techniques and farm accounts. It's generally better to promote these offers organically by building and rotating profiles, actively engaging with other users, and adapting them after bans.
Setting up a campaign
Working with advertising campaigns will be facilitated by the following algorithm:
After registering and verifying your account, you will gain access to campaign creation. Fund your account with the desired amount, taking into account any applicable fees.
2.Specify the objective you want to achieve - attracting traffic, app installs, conversions, or maximizing video reach.
Goal selection:
3.Then, you can choose a budget or skip this step. Specify whether the ads will be run in automatic mode or if you will make manual adjustments.

4.Set the main options: add a link, select the promotion type, provide a campaign name, profile image, and indicate how users will interact with the ad.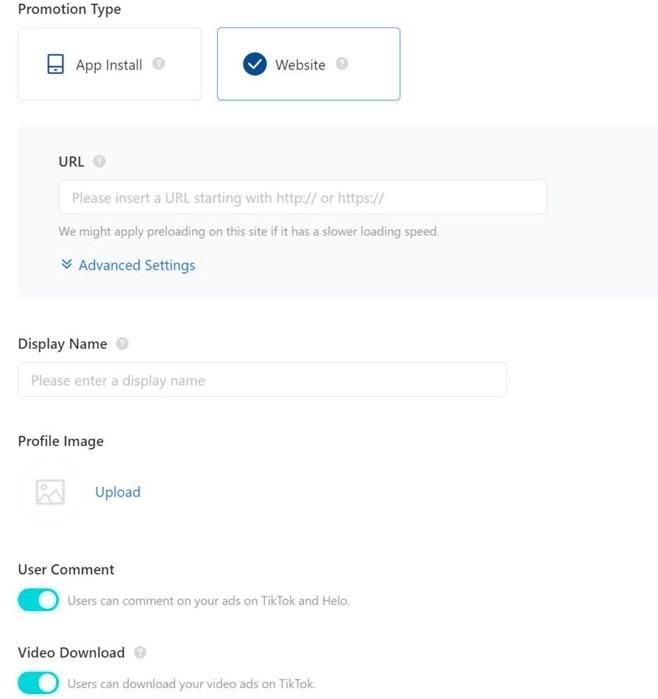 5.With automatic optimization, the system will generate presets based on the content. Multiple variations of the ad will be created, and then the algorithm will select the most effective ones.

6.Set the standard targeting settings: GEO, target audience - age, gender, interests.


7.Set the bid rates for impressions, determine the budget, and schedule for ad delivery.

8.Add creative content for arbitrage. Content generation can be entrusted to artificial intelligence, but the ad will not be effective without proper optimization.

Wait for ad moderation, and then proceed with campaign monitoring.
Advertising Analytics
TikTok offers a built-in tool for tracking ad statistics, but its capabilities are limited. For example, it does not include A/B testing of campaigns, which helps to gain a comprehensive understanding of the responsive audience's profile.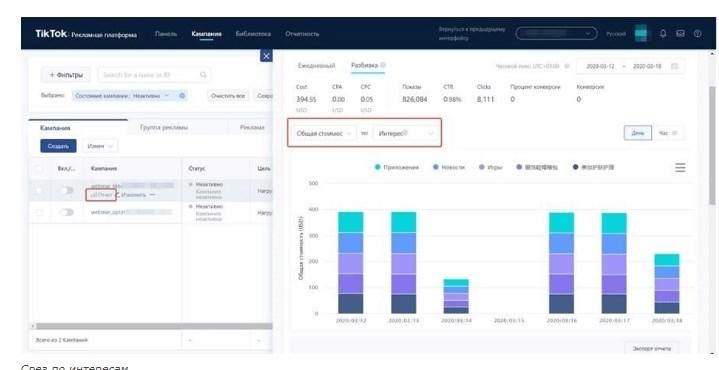 For effective arbitrage, it is better to use third-party services such as Tune, AppsFlyer, AppMetrica, Voluum, and others.

Among the built-in features, the pixels are particularly useful, as they can be used for conversion tracking.
Examples of successful cases
Arbitrage specialists who have dared to run campaigns on TikTok regularly share successful case studies:
A record amount was earned on app installations for Joom, where a specialist earned $247,000 in 5 months. Native videos featuring products from the well-known marketplace were used for promotion. The earnings could have been even higher if the first creative hadn't included branded content. The affiliate program halted the campaign, and the videos had to be re-uploaded. Nevertheless, the earnings exceeded the costs and put the arbitrage specialist in profit.
2.A profit of nearly 64,000 rubles was made from promoting mirror dash cameras. The earnings could have been higher with precise audience targeting. Due to the age range chosen from 18 to 55 years, the cost per click was high.
3.Over 61,000 rubles were earned in a week from selling "I love you" pendant jewelry. The creative involved a product review with a linked URL to the store. The ad was targeted towards a male audience aged 18 to 55, and the video itself was sourced through an SPY service. The expenses amounted to approximately 60% of the affiliate reward paid out.


There are many successful creatives in TikTok across various verticals. Arbitrage specialists find successful combinations, encourage leads directly to landing pages, or invite them to download applications.
Here are a few more examples:
Driving traffic to Amazon product listings using videos with reviews of useful items.
High earnings from organic promotion of gambling offers.
Funnel for attracting traffic to a dating application.
Generating profit from in-app purchases in gaming applications.
In the mentioned cases, arbitrage specialists earned between $1,500 and $3,000 by utilizing organic promotion methods.
To achieve success, they had to put in some effort, create interesting creatives, and consistently upload videos.
Tips for novice arbitrageurs to earn money on TikTok.
To generate traffic, follow these tips:
Optimize your account by shortening links, attracting users, and linking to other social media platforms.
Create interesting vertical videos and consistently upload them. Participate in challenges and flash mobs.
Use hashtags, but limit them to a maximum of 5 per video.
If you are promoting gray offers, consider upgrading to Pro status, which allows you to track audience reactions to your videos.
If you are using paid promotion, utilize third-party tools to test and track your campaigns.
Ensure that your TikTok ads appear as natural as possible. This rule applies whether you are promoting directly from your account or through a personal dashboard.
Before getting started, study your competitors' campaigns using SPY services. These tools will help you discover successful creatives that have already passed moderation and are generating profits. Use them as inspiration for your own ads to avoid advertising issues.