Facebook not only bans advertising accounts but also offers convenient tools for work. Using dynamic ads, you can create a template, and the system, using machine learning, will automatically combine ads and creatives based on it. This automates the process if you, for example, promote products from an online store, services of tour operators, streaming services, etc. Essentially, you don't need to create 100 ads; instead, you can create a single catalog.
What does it look like? A dynamic ad is indistinguishable from a regular ad. It can be a carousel gallery, a single image, or a collection of multiple images. They are placed on Facebook, Instagram, Audience Network, and Messenger.
Advantages:
Why is it beneficial to use dynamic advertising?
Personalization: Facebook automatically displays the most relevant creatives to users based on their interests and behavior.

Time and effort savings: You don't have to create separate ads for each product or service - Facebook does it for you.

Retargeting: You can enable this feature to show ads to users who have previously visited your website but haven't made a purchase.

Wide audience targeting: You can reach people who have shown interest not only in your offers but also in similar ones.

Organic formats: Ads from dynamic advertising campaigns will be shown repeatedly on Facebook and Instagram (e.g., in the Instagram Shop feed).
Who is this format suitable for?
The most common opinion is that dynamic advertising is only suitable for online stores. However, it can be used to create catalogs for info courses, streaming services, tour operators, real estate agents, and more.
To launch dynamic advertising, you can follow these steps:
To start, you will need three things:
Facebook Pixel for your website or SDK for your mobile application (they will be used to track conversion data).
Facebook Ads Manager.
Product or service catalog.
It is recommended to create the product catalog in Commerce Manager beforehand so that you can easily connect it later.
Next, open your Facebook Ads Manager and begin creating a regular advertising campaign. The step where you connect the product or service catalog will depend on the chosen objective.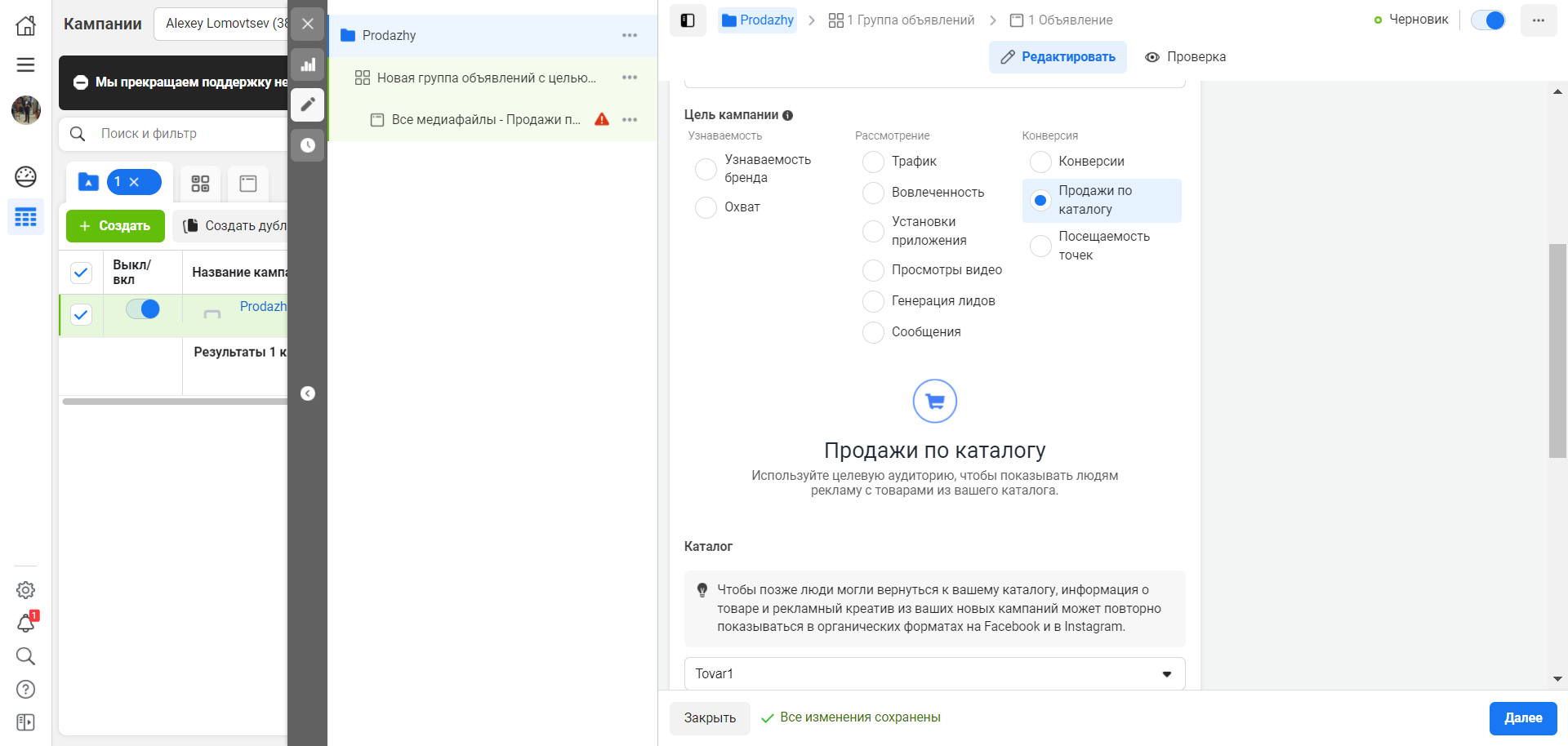 "Catalog Sales" is selected as a campaign objective right at the campaign creation stage. "App Installs" and "Lead Generation" objectives are set at the ad set level during campaign creation. "Conversions," "Traffic," and "Messages" objectives are chosen when creating individual ads. What is the difference between these objectives? When using dynamic ads for "Catalog Sales," the system automatically selects products or services from the catalog you have created and promotes them. In all other cases, you create a catalog with creatives that will be used to generate ad variations. Make sure to enable the "Dynamic Creatives" setting. After selecting the objective and connecting catalogs, follow the usual instructions for launching an ad campaign, configuring targeting, GEO settings, etc. Essentially, launching dynamic ads only differs in preparing the product catalog and media files from which Facebook will generate ads for display.
Tips and recommendations:
Here are some tips and recommendations for running dynamic ads:
Familiarize yourself with the requirements for setting up dynamic ads.
Avoid pausing your ads frequently. Each time you pause an ad, the algorithms and campaign optimization will start over, potentially leading to increased cost per lead.
Target broader audiences. The wider your targeting settings, the more people you can reach. For example, you can set an age restriction of 23+ and specify the geographic location, but avoid narrowing down the targeting unless you have a specific reason to do so.
Don't limit your retargeting efforts. The larger the retargeting audience, the higher the cost per lead may be, but it can also result in better performance and higher conversion rates.
Remember to regularly monitor and analyze the performance of your dynamic ad campaigns, making adjustments and optimizations as needed to improve results.
Conclusion:
Dynamic advertising is a tool that allows you to save time and effort when launching ad campaigns. Facebook's algorithms automatically select the most relevant audience for your offers. This ad format can attract new users and re-engage those you have worked with before.