We have compiled popular CPA trackers for traffic arbitrage, along with descriptions, tariffs, and discount promo codes.

A traffic tracker is a tool for tracking, managing, and optimizing traffic.

The list includes both cloud-based and server-based solutions. Each one has different capabilities and functionality. Some are specifically designed for cloaking.
Keitaro
Keitaro is the best self-hosted tracker on the market, allowing seamless cloaking and integration with IM KLO, among other features. It is more than just a tracker. It offers campaign optimization, CPA arbitrage, tracking the effectiveness of traffic acquisition channels, and platform protection.

Type: Server-based Interface:
Russian-language
The advantages of Keitaro are as follows:
With the help of Keitaro tracker, users can:
Build campaigns without redirects - upload landing page archives directly into the tracker.
Automatically import expenses from Facebook.
Park domains and use them as campaign links.
Edit landing page code directly in the tracker interface.
Forward postbacks from order forms on websites to the tracker and affiliate networks.
Send and receive postbacks from landing pages of affiliate networks via API.
Create and use smartlinks.
Connect PHP, JS, and WordPress websites on other servers and hosting to the tracker.
Create users with different access levels.
Generate various reports using over 30 different metrics to determine the effectiveness of advertising campaigns.
Tariffs (per month):
There is a free 7-day trial.
Basic: $25
Professional: $40
Business: $70
Binom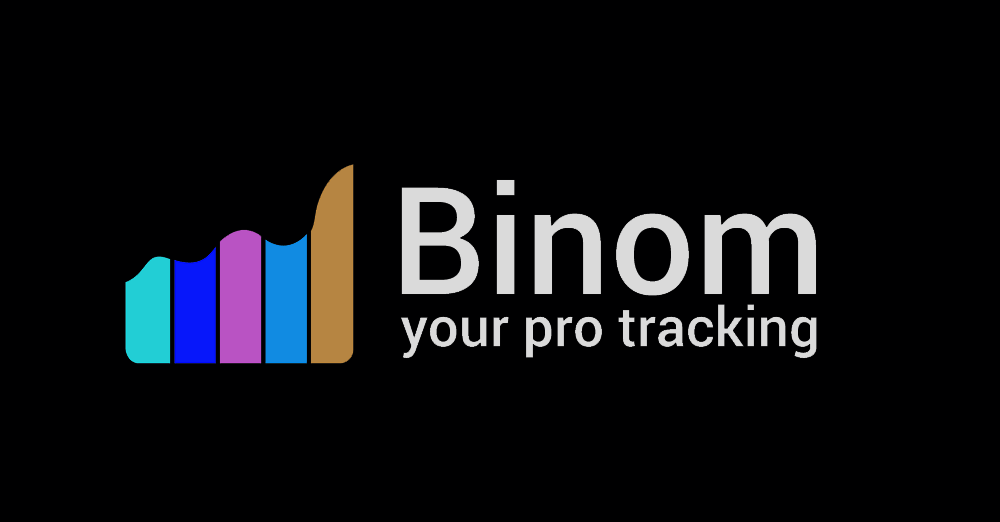 Binom is a self-hosted tracker that boasts absolute leadership in click processing speed and report generation. Our main goal is to save your time.
Type: Server-based
Interface: English
Advantages of Binom:
A tracker is a crucial tool in arbitrage, and choosing the right one is one of the most important decisions. Tracking errors can be highly critical, leading to loss of ROI, while an inconvenient interface can cost you valuable time. By selecting Binom, you gain unique advantages over your competitors.
Key advantages of Binom include:
License payment regardless of traffic volumes.
Ability to handle millions of clicks per day effortlessly.
Click processing in 7ms, regardless of the volume.
Market-leading report generation speed.
Campaign-based group reports.
Regular and extensive updates on a monthly basis.
The fastest and most user-friendly interface available.
Flexible user system with access rights.
Average support response time of 2 minutes.
Choosing Binom ensures you gain a competitive edge in the industry.
Tariffs (per month):
Tracker: $99
adspect
adspect is a Cloaking, Bot Filtering, and CPA Tracker all in one! Quickly identify and exclude bot-generated traffic sources. The service verifies all clicks to your landing page or affiliate offer and classifies each as legitimate or non-legitimate. Legitimate traffic is seamlessly granted access to your content, while potentially harmful visitors are redirected to another page that does not contain confidential information.

Type: Cloud-based
Interface: Russian
Capabilities of adspect:
Ability to advertise anything on any ad network: adspect allows you to promote any type of content or offer across various advertising networks.
Long-lasting, continuous advertising campaigns: adspect enables you to run campaigns that can sustain for a long duration without interruptions.
Reduced expenses on non-converting placements: With adspect, you can minimize expenses by avoiding non-converting ad placements and focusing on more effective ones.
Built-in tracker with flexible funnel statistics: adspect includes an integrated tracker that provides flexible funnel statistics, allowing you to track and analyze the performance of your campaigns.
Automatic split testing of offers and landing pages: adspect offers automated split testing functionality, enabling you to test different offers and landing pages to optimize your conversions.
Automatic rotation of target pages on a timer: adspect allows you to automatically rotate your target pages based on a timer, ensuring a varied user experience.
Full support for CDN, including Cloudflare in proxy mode: adspect fully supports Content Delivery Networks (CDNs), including Cloudflare in proxy mode, to optimize the delivery of your content.
REST API for traffic flow management: adspect provides a REST API that allows you to manage traffic flows programmatically.
No KYC requirements, moderation, or intrusive questions: adspect operates without Know Your Customer (KYC) requirements, moderation, or intrusive questioning, providing a hassle-free experience for users.
Tariffs (per month):
Standard: $300
Pro: $500
Voluum
Voluum - manage all your campaigns from a single tracker. Track, optimize, and automate your advertising using the recommended affiliate tracking software by digital marketers worldwide!
Type: Cloud-based
Interface: English
Features of Voluum:
Rule-Based Targeting: Voluum allows you to set up targeting rules to optimize your campaigns based on specific criteria and audience segments.
Direct Tracking Pixel: With Voluum, you can use direct tracking pixels to accurately track conversions and gather data on user interactions.
User Conversion Tracking: Voluum enables you to track and analyze user conversions, providing insights into the effectiveness of your campaigns.
Manual Data Handling: Voluum gives you the flexibility to manually work with your data, allowing you to customize and analyze it according to your specific needs.
Over 30 Metrics: Voluum provides more than 30 metrics for each impression, visit, click, and conversion, giving you detailed insights into campaign performance.
Campaign Monitoring on Mobile App: Voluum offers a mobile application that allows you to monitor and manage your campaigns conveniently from your mobile device.
Tariffs (per month):
Discover: $69
Profit: $149
Grow: $449
Agency: $999
AdsBridge
AdsBridge is a universal solution for businesses of all scales. It offers a wide range of tools for work and does not limit functionality based on the pricing plan. AdsBridge works for you, aiming to increase the profitability of your business. It addresses all the challenges that good software should solve.

Type: Cloud-based
Interface: Russian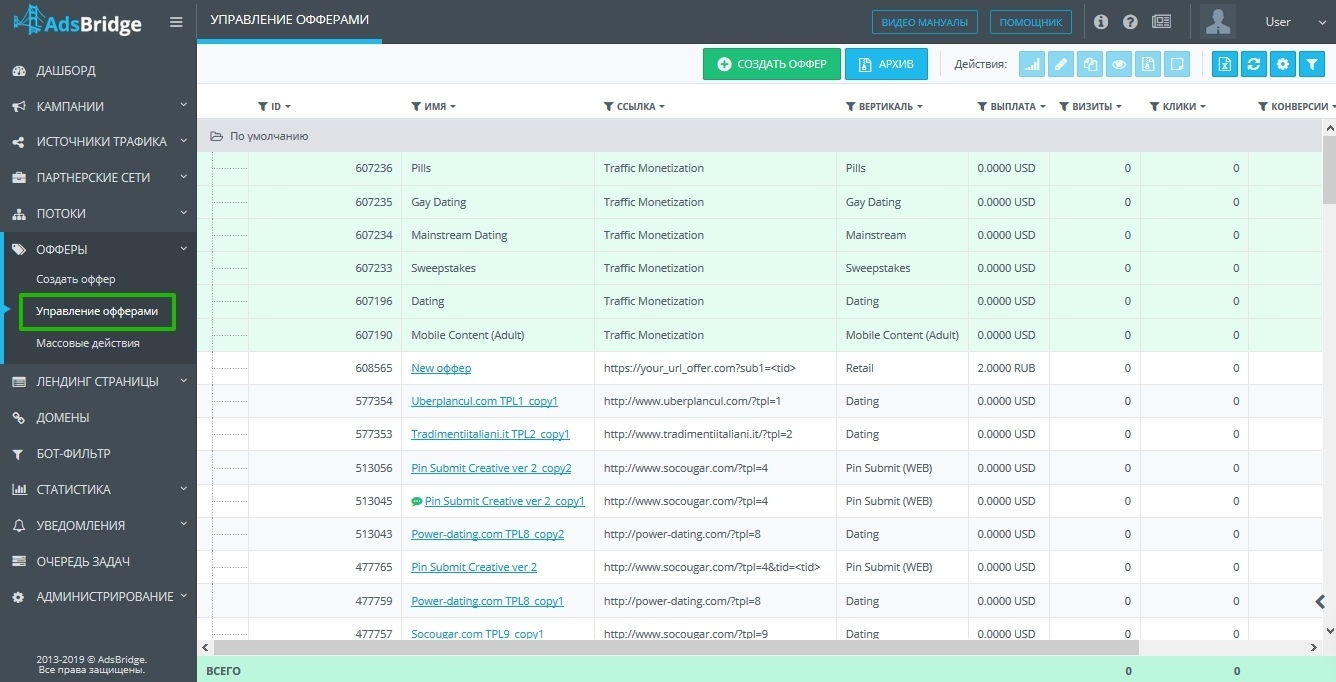 Advantages of AdsBridge:
secure cloud hosting;
user-friendly platform;
extensive selection of features;
super-fast redirects;
flexible reporting system;
scalable infrastructure;
campaign auto-optimization.
Tariffs (per month):
Starter: $29
Advanced: $89
Professional: $199
Business: $379
OctoTracker
OctoTracker - The most powerful and flexible tracker for arbitrage specialists. Offers 2 working options: as a cloud service or on-premises server.

Type: Cloud/On-premise
Interface: Russian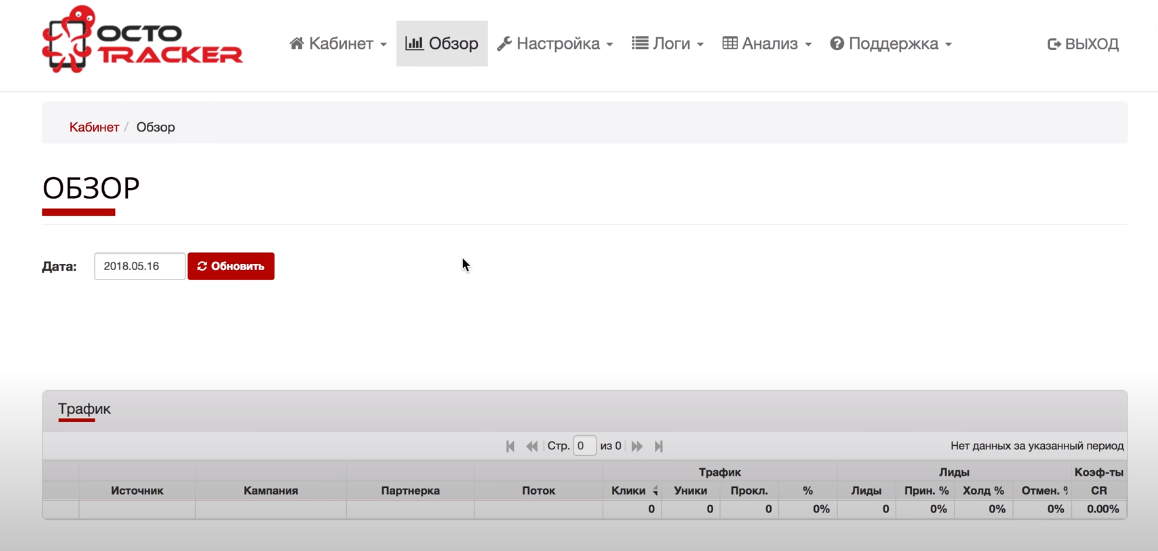 Advantages of OctoTracker
Most powerful analytics
Most flexible TDS (Traffic Distribution System)
Full support for lead statuses
High performance and reliability
Ideal for affiliate marketing
Tariffs (per month):
Self-hosted tracker
Beginner: 2400 RUB
Pro: 3700 RUB

Cloud-based tracker Cloud
Beginner: 2600 RUB
Cloud Pro 30: 4200 RUB
Cloud Pro 100: 8500 RUB
VIP Cloud: Custom conditions
RedTrack
RedTrack - doesn't concede to more expensive alternatives. This versatile advertising tracker will help you increase the effectiveness of your affiliate campaigns and find valuable insights to improve your return on investment.

Type: Cloud-based
Interface: English, Russian, Chinese, Spanish
Capabilities of RedTrack:
Enhanced tracking without redirects.
Automated rules.
Multi-user access.
No 3rd party cookies tracking.
A/B testing with redirects.
Click and conversion fraud detection.
Flexible postback settings.
Filter for anonymous and proxy IPs.
Tariffs (per month):
Individual: Basic:
$49 Pro: $99
Advanced: $149

Team:
Team: $249
Agency: $449
Enterprise: $1119
Peerclick
Peerclick - Free CPA tracker. Allows you to manage, track, analyze, and optimize advertising campaigns and affiliate programs in real-time. Keep track of all your advertising campaigns in one place and analyze data for efficient control over all work processes.
Capabilities of Peerclick:
Instant redirects
Auto traffic distribution
Anti-fraud protection
Team collaboration
Pixel tracking
Pre-set templates
API reporting
Tariffs (per month):
FREE: Free
Basic+: $99
Advanced: $249
Exclusive: $649
Zeustrack
Zeustrack - the perfect tool for CPA arbitrage, regardless of traffic type. Track the results of your campaigns, deploy servers, manage landing pages, collaborate with teams, assign different access levels to employees, scale campaigns, and much more, all in one interface.

Type: Cloud-based
Interface: English
Capabilities of Zeustrack:
Distributed Infrastructure: Zeustrack utilizes a distributed infrastructure to ensure high performance and reliability.
Cloud Landing Page Storage: Store your landing pages in the cloud for easy access and management.
Advanced Filtering: Zeustrack offers advanced filtering options to optimize your campaign targeting and quality of traffic.
JS Integration: Seamlessly integrate Zeustrack with JavaScript for enhanced tracking capabilities.
Direct Tracking: Zeustrack supports direct tracking, eliminating the need for redirects and improving tracking accuracy.
Multi-Level Reporting: Generate comprehensive reports with multi-level insights for better campaign analysis.
Free SSL Certificates: Each domain in Zeustrack comes with a free SSL certificate for secure connections.
Team Pricing: Zeustrack offers team pricing plans to accommodate collaborative work environments.
Tariffs (per month):
There is a free 7-day trial available.
Essential: €210
Grow: €399
Pro: €675
zTDS
zTDS - a free traffic distribution system (TDS). It allows you to conduct split testing and distribute traffic based on device type, GEO, and various filters and settings without additional costs. You can filter out bots and redirect them to white pages. It is an excellent tool for budget constraints or when simple traffic distribution is needed without extra features.
Pricing: Free
BeMob
BeMob - A tracker focused on the foreign market. Ad tracking software for media buyers and affiliate marketers. A versatile solution for internet advertising challenges.

Type: Cloud-based
Interface: English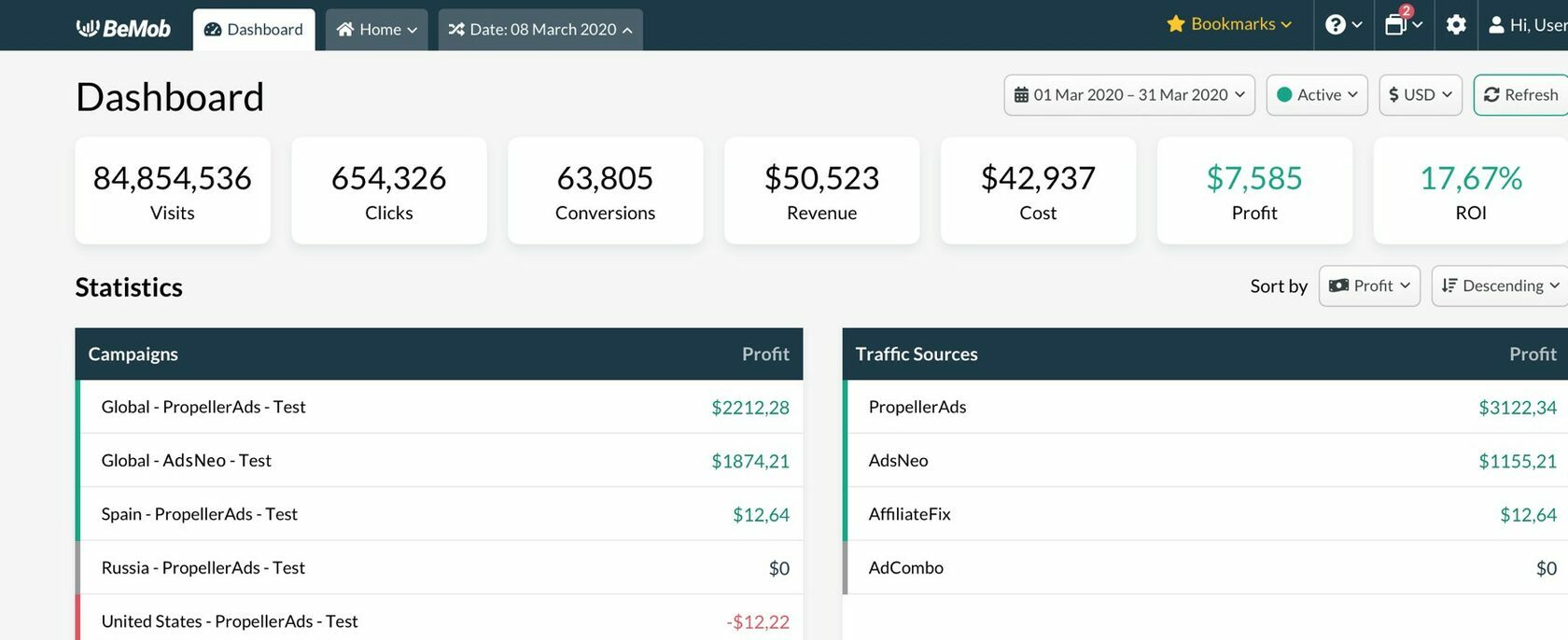 Advantages of BeMob:
Seamless Redirects: BeMob offers seamless redirects, ensuring a smooth user experience without traffic loss.
Advanced Rules and Targeting: It provides advanced rule-based targeting options to optimize your campaigns and target specific audience segments.
Multilingual Interface and Support: BeMob supports multiple languages in its interface and provides multilingual customer support.
Fraud Protection: BeMob includes fraud protection features to help prevent and mitigate fraudulent activities in your campaigns.
Automatic Optimization: It offers automatic optimization features to optimize your campaigns for better performance.
Multi-Channel Notifications: BeMob supports notifications across multiple channels to keep you informed about campaign performance.
Customizable Parameters: It allows you to customize and configure various parameters to tailor the tracking experience to your specific needs.
Flexible Workspaces: BeMob provides flexible workspaces, allowing you to organize and manage your campaigns efficiently.
Traffic Sources Integrated with API: It supports integration with API for seamless tracking of multiple traffic sources.
Multi-Sequence Tracking: BeMob enables tracking of multiple sequences, allowing you to analyze complex user journeys.
Cookieless Tracking: It offers tracking capabilities without relying on cookie files.
Tariffs (per month):
Basic: free
Professional: $49
Business: $249
Enterprise: $499
CPA Tracker
CPA Tracker is a cloud/server-based tool that provides statistics from all advertising networks, including information on expenses and revenues, in a single window.

Type: Cloud/Server-based
Interface: Russian language
Tariffs (per month):
Personal: Free
Solo: 2,500 rubles
Business: 5,000 rubles
Thrive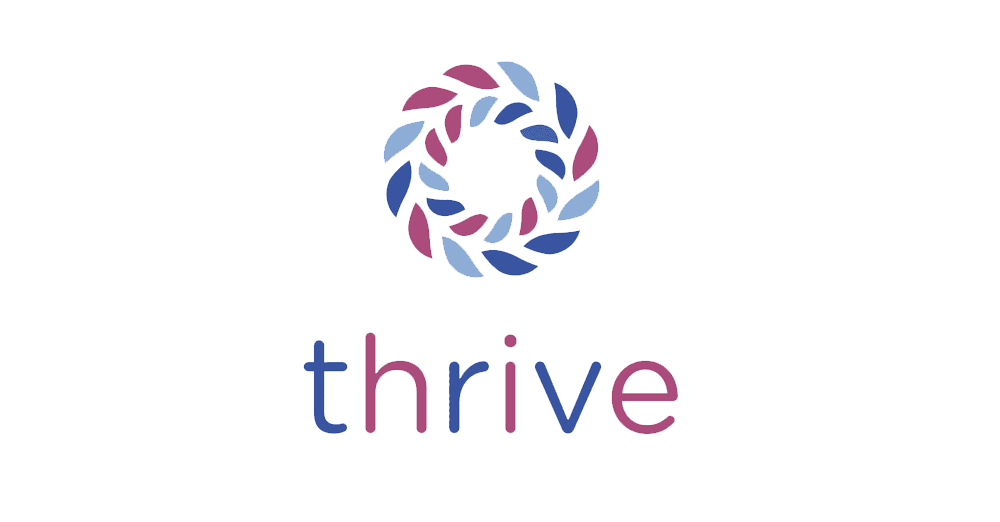 Thrive is a tool that brings together all sources of your traffic and all your offers into one dashboard.
Advantages of Thrive:
AI Optimization
Bot Filter
Fastest Redirections
Automatic Scaling
Domain Management
World-Class Support
LP Pixel
Funnel Support
Multi-User Access

Translation to English:
AI Optimization
Bot Filter
Fastest Redirections
Automatic Scaling
Domain Management
World-Class Support
LP Pixel
Funnel Support
Multi-User Access
Tariffs (per month):
There is a free 14-day trial available.
Cloud Lite: $35
Cloud Classic: $79
Cloud Pro: $249
Cloud Entrepreneur: $375
Cloud Enterprise: $799
Improvely
Improvely is a tool that allows you to track, test, and optimize your internet marketing efforts. Join over 7,000 marketers who are improving their result tracking and fraud detection. It accurately identifies the source of each subscription and sale, whether it's a marketing campaign or any other channel. The monitoring systems examine each click for suspicious activity. Receive instant notifications about potential fraud with clicks, and take action to protect your advertising budget.
Advantages of Improvely:
Fighting Click Fraud
All in One Place
Free Trial
Tariffs (per month):
There is a free 14-day trial available.FREELANCER: $29
STARTUP: $79
SMALL AGENCY: $149
LARGE AGENCY: $299
ClickMeter
ClickMeter - Get the most out of your links. Track, compare, and optimize all your marketing links in one place to increase conversion rates.
Tariffs (per month):
Medium: $29
Large: $99
X-Large: $349
iMobiTrax
iMobiTrax - 40+ detailed tracking metrics. Created by media buyers for media buyers.

The more data you can track, collect, analyze, and optimize, the more efficiently you can focus on scaling your campaigns.
Advantages of iMobiTrax
Safe, Secure
Redirect Speed Optimized
Landing Page, Direct Link, Path Split Testing
Multiple Post Click Redirection Rules
Tariffs (per month):
Fixed: $179