Setting up advertising in Google AdWords is not an easy task. This article will help you understand the intricacies of setting up advertising in Google: what it is, how it works, its advantages and disadvantages, and what challenges may arise in management.

Source link: trafficcardinal.com
A brief overview of AdWords
Contextual advertising in Google Ads or Yandex.Direct is a type of advertising where ads are displayed to users based on their search queries. Additionally, targeted keyword advertising is shown on platforms within Google's partner network. The service allows ads to be displayed on the top, side, and bottom of search engine results pages.
Example of search results in Google
Advantages
Ability to acquire initial customers in a short period: Contextual advertising provides the opportunity to quickly attract the first customers to your business.
Time-efficient setup in automatic mode: Setting up contextual advertising can be done in an automated mode, saving you time and effort.
Flexible budget options: Contextual advertising offers flexible budget settings, allowing advertisers to make changes based on campaign performance.
Broad advertising opportunities: Contextual advertising extends beyond search engine results and includes display on various platforms, which can result in higher conversions by reaching the most suitable audience.
Large audience reach and high-quality traffic: Google has a larger user base compared to other search engines, providing a broader audience reach and potential for higher quality traffic.
Detailed data collection in the account: Contextual advertising platforms provide access to metadata such as keywords, audience targeting, cost per click, and conversions. This allows for more precise campaign adjustments and the ability to generate more leads at a lower cost.
Disadvantages of Google advertising
Due to the multitude of features in the advertising account, it is not easy to navigate, and as a result, advertisers may encounter difficulties when setting up advertising campaigns.
Simplified advertising setup in Google.
Even users with no prior experience in contextual advertising will be able to handle it. The first step will be selecting the objective of the advertising campaign:
Choosing an advertising campaign goal
We have chosen calls as our objective. Next, enter the name of your company:
We specify the name of the company when setting up advertising in Google Adsense
After that, specify the webpage of the website you want to advertise:
Select the page that users will go to
The next step will display a preview page on computers and mobile devices;
Preview a page on a mobile device in Google Adsense
Next, we proceed to fill in the main parameters:
Two descriptions with a limit of 90 characters each.
Three headlines with a limit of 90 characters each.
Phone number.
It's worth noting that the headline text can be displayed in search results in one or two lines.
After filling in all the fields, you can proceed to the next step, which is keyword selection. Keywords are selected to ensure that the ad closely matches the user's search query.
Adding keywords to the rok Google
The next step will be choosing the ad display location. You can target customers based on a specific city, zip code, and country. Additionally, you should specify the radius of the display.

Geographic targeting settings:
Next, you need to choose the budget, and there are two options:
Enter the amount manually.
Manually selecting a budget
Choose from the provided options, which are calculated based on the theme and frequency of keywords:
Ready-made budget options
At the last stage, you can check all the data:
The page for verifying the entered data in the Google Adsense ad settings
After that, you need to add the payment information:
physical. or a legal entity;
tax status;
payment options;
contacts.
Or we confirm the existing ones:
Filling in payment information in a Google advertising campaign.
After accepting the terms of service, the setup can be considered complete. Ad display will begin after payment.
Manual ad setup in Google Adsense
If advertisers need advanced options, they should click on "Tools," select "Switch to Expert Mode" in the account settings.
Switching to manual settings in the Google Ads account.
For a new campaign, you need to select "All Campaigns," click on the "Campaigns" button, and then click on the plus button.
Creating a new advertising campaign in Google AdWords
Next, you need to determine the objective:
"Sales": If you want to increase the number of sales through an app, store, phone, or website. Suitable campaign types include search, display network, and shopping campaigns.
"Leads": Designed to find new potential customers. Suitable campaign types include search, shopping, display network, and video campaigns.
"Website traffic": Generates traffic to your website. Suitable campaign types include search and display network campaigns.
"Brand awareness and reach": If you want to attract potential customers and increase brand or product consideration in the future. Suitable campaign types include video campaigns and display network campaigns.
"Brand awareness (reach)": If you want to expand your business and inform users about promotions and offers. Suitable campaign types include video campaigns and display network campaigns.
"App installs": If you want to increase the number of app installations and registrations.
"Store visits and promotions": If you want to increase foot traffic to offline stores. Google provides the ability to track store visits as conversions.
The next step will be selecting the network. There are three options:
Search Network: Ads will be displayed in product catalogs, search sites, and partner resources.
Display Network: Advertising campaigns will be shown on partner network resources. This network stands out for its flexible targeting system.
Shopping: This is a type of campaign in Google Ads where you can set up banner ads with products in search and the Display Network.
If desired, you can choose either each network separately or both networks when setting up your advertising.

Network selection in the Google advertising campaign settings
Next, you need to select the audience, languages for your ads, and the location where they will be displayed.

Geographic targeting: It is important to choose the cities or regions where your product is sold or your service is provided.
Choosing a geo to display ads on Google
Languages: Here you need to select the language of your target audience. For example, for Russia, it is better to choose English and Russian since many users browse the internet in English.
Choosing a language for rk in Google
Audience: At this stage, you need to configure the description of your target audience based on demographics and customer preferences.
Bids
There are manual and automatic options available. There are several options to choose from:
"Impressions and Views"
"Conversions"
"Clicks"
Managing bids in an advertising campaign
Manual bid assignment is suitable for experienced users as it allows them to optimize their budget by adjusting the bid for specific keywords. Using this strategy, advertisers can set their own cost-per-click.
Auto bid assignment is based on Google's algorithm, and there are a total of 7 strategies available:
Target CPA (Cost per Acquisition): The webmaster calculates the desired cost for a conversion and specifies it, and Google adjusts the bids to achieve the desired cost.
Maximize Conversions: This strategy aims to maximize the number of conversions.
Target Search Page Location: There are two types:
Top of the first search results page: The advertiser wants to place the ad above the search results.
Anywhere on the first search results page: The system will aim to display the ad in the ad block below the organic search results.
Return on Investment (ROI): Advertisers calculate the desired return on investment (ROI) and add the desired percentage in the settings. Google will try to adjust the bids accordingly.
Maximize Clicks: This strategy is aimed at increasing the number of clicks to the target page.
Target ROAS (Return on Ad Spend) (Return on Advertising Spend): This strategy is based on the defined goals in the campaign and calculates the probability of conversion after each user visits the site.
Target Impression Share: This strategy aims to maximize the share of impressions the ad receives in the auction, either in absolute terms or in a specific percentage
Additional links
Based on the device type and position in the search results, Google can display anywhere from 2 to 8 links. By clicking on "Add New Sitelink," you can enter the required information for the additional link.
Adding callouts
Here, you can find additional information about the service or product, such as warranty and delivery options.
Preview of clarifications
Adding a phone
When adding a phone number, you can indicate that the advertisement is intended for mobile devices. There is also a "call reporting" option that needs to be enabled, so the system will gather statistics on the calls.
Setting up phone numbers in an advertising campaign
Structured descriptions
In advertising campaigns, it is possible to add ad extensions, for example structured descriptions, they inform the user about the services and products of the campaign, are displayed in ads.
Form for adding structured descriptions
Creating a form
In the advertising account, you can create and customize forms for potential clients, where users can ask questions or leave their contact information.
Ad rotation
Optimization - the system will display advertisements more frequently that generate a higher number of clicks.
Not optimizing the advertising - suitable for experienced advertisers, it helps to assess the effectiveness of the advertising independently.
Show schedule
Advertising can be displayed around the clock if no involvement in placing an order is required. If there are promotions or discounts available at specific times, it is better to enable ad display during those times. Pay attention to the "presence" option; when this parameter is enabled, the ads will be shown only to users who are located in a specific city. If you select the "interest" option, the advertisement will be visible to users who are interested in visiting that particular city.
URL Setup
It is necessary for further tracking of productivity. You can add UTM tags, configure using this service
Setting up an Ad Group
At this stage, you need to select the keyword options generated automatically with an approximate number of views. For each query, you should put your own group of keywords, this will simplify the management of the company.
Setting up a group in Google Adsense Ads
It is also worth adding a list of negative keywords to avoid demonstration for non-targeted queries.
Creating ads
For each group of keywords, you need to create the most relevant ad and specify the appropriate phrases.
Creating ads in the Republic of Kazakhstan Google Ads
In adaptive ads, no more than 4 descriptions and 15 headlines are included, and the system selects those that generate more clicks.

"Phone Number Only" - Here, it is necessary to specify the phone number, company name, description, and URL.

"Ad Variant" - Allows creating multiple similar ads with changes in specific parts such as headlines, descriptions, URL paths, choosing the most effective one.
Setting up a billing account
This is the final step. You need to select a country and time zone.
Confirmation of payment data when setting up advertising in Google Adwords
The next step will be selecting an account, and you also need to provide a name and address.
Filling in customer information
Next, you need to specify the payment amount, select the payment method and confirm.
Choosing the payment method and amount
AdWords setup is complete!
How to set up app ads in AdWords
It is possible to use three types of companies:
"application installation";
"interaction with the application";
"registration in the app".
Please note, the latter type is only available on Android.
Choosing the type of campaigns to advertise apps
When creating a text ad, you should specify the appropriate store. To enter the package name, enter the id in the search bar and select from the options that the system has suggested.
Setting up an identifier when creating a text ad in Google Adwords
The next step is to enter information about names, languages, rates and budgets.
Adding information to an ad for rk in Google
Next, you need to enter a description and title, and it is also possible to add an image.
Configuring basic parameters in a text ad
You should choose multiple variations of advertisements, but their meaning should differ. These variations can be shown based on the format, either simultaneously or individually.
RLSA campaigns
This is a remarketing tool aimed at targeting users who have already visited the website. It is created within a regular search advertising campaign but with the addition of audiences and their lists in Google Analytics. To use it, you need to link the accounts.
Match Modifiers
There are several types of modifiers:
"[]" exact match— when used, only exact keywords or with approximate meaning will be shown;
"" "" phrasal correspondence — several words taken in quotation marks will be displayed in a direct occurrence with various additional words;
"+" wide matching— phrases with only certain words or their close variants will be shown;
Recommendations for creating an ad
differentiation of the campaign.It should be remembered that when creating a company, it is worth differentiating the types of impressions and using different rates in them, this will positively affect the advertising budget;
links to applications. In order for users to download applications after clicking on the ad, you need to attach links to the application;
use of promotions.In the options, it is possible to set up promotions for customers. It is possible to choose the type of promotion (cash discount, percentage discount), it is also worth describing the terms of the offer;
dynamic ads.This type of ads works well with online stores. it is created exclusively in the search campaign, if you enable this option, the system will automatically select the titles and links of ads;
landing pages.#It is extremely important to pay attention to user convenience and landing page loading speed. An AMP page can be used as a landing page, the search network saves it and gives the user a cached version, which significantly reduces the loading time.;
split tests.This tool allows you to increase the effectiveness of advertising, for this you need to go to the "Advanced" section.
The "projects and experiments" tab in the rok Google
After adding a new experiment, you need to specify its name. Next, specify the time frame and click "Conduct an experiment".
Setting up a new experiment in a Google advertising campaign
To increase effectiveness, it is necessary to conduct tests on:
Extensions
Bidding strategies
Keywords
Ad sizes
Displayed URLs
Descriptions
Variations of headlines and text
Tracking the effectiveness of advertising in Google Ads.
There are two ways to monitor the effectiveness:
Through Google Analytics: To do this, you need to set up goals. Google Analytics is a completely free service that allows you to track the performance of your campaign and generate informative reports.
Through the Google Ads account: You can transfer the set goals to your Google Ads account by linking both accounts. This will enable tracking of goals within the Google Ads interface.
To add a goal, follow these steps: Go to the Admin section, select Goals, choose a template, specify a name, and select the goal type.
Selecting a goal when setting up rc
To set up goals, you need to:
Describe the customer actions that will lead to different conversions. It is important to separately describe macro and micro conversions and determine their priority in order to assign their value.
Specify the technical details of the goals in Google Analytics.
Verify the goal setup in Google Analytics.
Goals can be set up in Google Analytics or transferred to the Google Ads account to track the results there.
Call Tracking
During the setup process in Google Ads, there is an option to enable phone call tracking. You can choose to monitor it manually or automate the process.

Manually, you can track the productivity and calls. However, a drawback is the lack of informativeness.

For automated tracking, you need to go to the "Tools - Conversions" menu, click on the "+ Conversion" button, and select "Phone Calls" as the conversion source.

Next, you will need to add the generated tag to your website's code.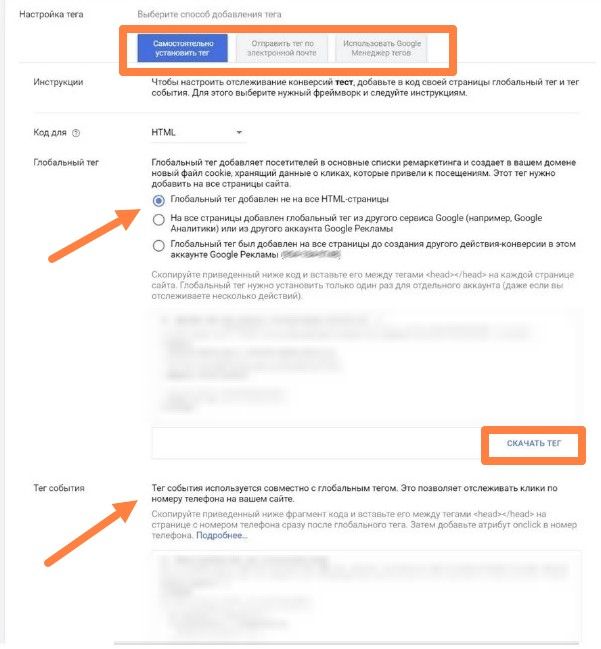 The output window with the tag
After that, it will be possible to track calls that have been received from users of mobile devices.