Those who work with SEO know that a good copywriter is a mandatory requirement for successful website promotion in any industry. Such a specialist can write content that is interesting to users, improves behavioral factors, and consequently, search engine rankings. Therefore, every webmaster sooner or later faces the question of finding a copywriter.
On the one hand, you can go to a content marketplace and place an order for text creation. In this case, you will be able to evaluate the candidates yourself and choose the best one. On the other hand, it is always more beneficial to have a permanent employee with a certain level of skills who consistently completes tasks without dealing with marketplaces, paying commissions, etc.
Freelance marketplaces
Content marketplaces act as intermediaries between the client (you) and the performer (copywriter). They also serve as guarantors of task completion and payment.
It is worth noting that it is better to order texts on the marketplace that corresponds to the specific GEO (geographical region) you intend to work with. Here are some platforms you can consider:
Twago:

A German freelance marketplace where you can find performers who write in English, German, French, Italian, and Spanish languages.

Fiverr:

An English-language marketplace where you can find authors and translators. The platform allows direct communication with performers to assess their skill levels.

Constant Content:

A large service for finding authors and copywriters in various languages. The platform claims to have a registry of around 70,000 performers from different countries.

Text.ru:

One of the popular Russian resources. It has an internal rating system for performers and clients, and its own arbitration for conflict resolution. One downside is the presence of commissions not only when replenishing the client's balance but also when placing an order.

Kwork:

A major freelance marketplace where you can find copywriters and native translators. The average daily online presence is over 2300+ performers.
It is worth noting that finding a specialized copywriter on a marketplace, for example, someone who writes about online casinos, can be quite challenging. Often, performers are willing to write on any topic without delving into a specific niche. Therefore, if the text requires the use of slang expressions or specialized terms, it is essential to specify these requirements in the project description (Technical Brief or Task Brief).
The more detailed and clear your order description is, the higher the quality of execution will be.
As it is known, without a clear Technical Brief, the result is unpredictable — we have mentioned this in one
of our articles.
Where else can I find a copywriter?
"Habitats" for copywriters are not limited to freelance marketplaces. How else can you find an author?
Job boards and resume websites. On platforms like HH.ru, Superjob, FL.ru, you can post a job advertisement to find potential employees. Additionally, you can browse existing resumes and directly contact specialists. Similar resources exist in other countries, which can help you find native speakers of the desired language.
Forums and university community groups. Depending on the desired GEO, you can find a linguistics student who will write texts for you. The main challenge is to find active communities where you can leave your message with a job offer. To do this, you'll need to explore social media platforms such as Facebook, VKontakte, and others. This option is suitable for those who want to find and gradually develop their own specialist for long-term work.
What to check and what to ask about?
Once you have found someone willing to create content for your websites, how do you check their suitability? Of course, they should write without errors, but what else should you inquire about?

Request a portfolio: Viewing their previous works will demonstrate the quality of their writing. It is recommended to examine not only the content but also the task descriptions to understand how well the copywriter comprehends given tasks.
Check reviews: If you are selecting a performer from freelance marketplaces, be sure to look at positive and negative reviews, the number of missed deadlines, and so on. Negative feedback may provide insights into any mistakes made during work, responsiveness to requested revisions, and overall approach to the job. This will help you assess their adequacy and work ethic.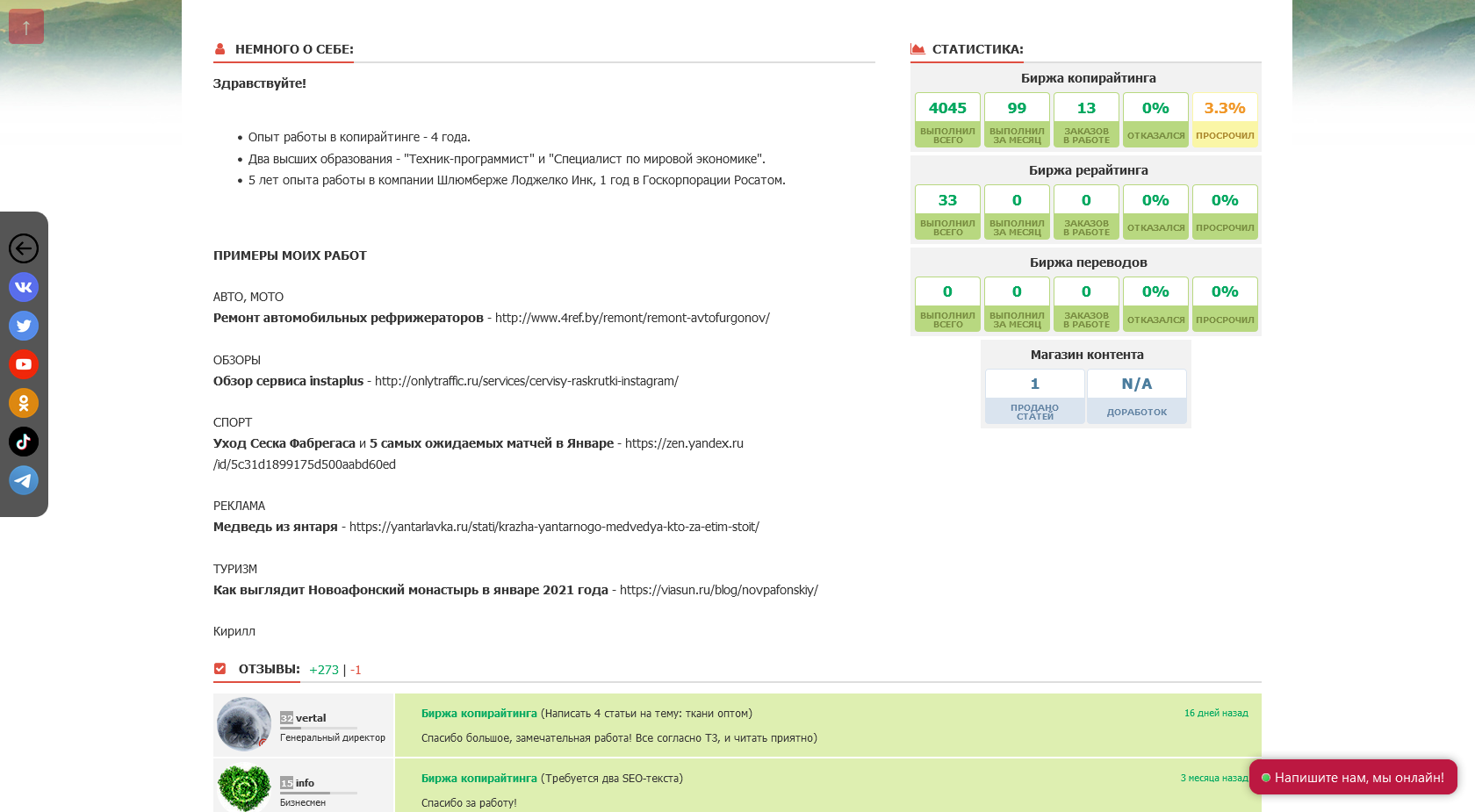 I suggest giving a test assignment. It will help assess how comfortable it is to work with the specific copywriter, the quality of their texts, and their task execution speed. It is worth noting that the test assignment can be paid, as it will increase the specialist's trust in you as a client.

Define the niche. Writing about everything at once is impossible. Therefore, be sure to specify the theme of the texts in the Technical Brief (Task Brief) or job posting. Keep in mind that many copywriters are willing to immerse themselves in a new niche if they like the working conditions (payment rate, potential number of orders, etc.). This option is suitable for those looking for a permanent writer and are willing to help them get acquainted with a new field. It will require some time, but eventually, you can acquire a valuable team member.

Discuss the logic of text composition. This aspect is not always obvious. A good author always starts by structuring the content, which directly depends on the given task. If the copywriter is willing to explain how they will structure the text based on your brief, it is an additional positive sign in their evaluation.

Additionally, you can provide reference websites in the Task Brief. They will help a copywriter, who is not familiar with the subject matter, to quickly gather information and understand it. Essentially, you will receive rewritten material from several articles while accelerating the specialist's learning process.
Questions and Answers
Alexander Strizh
Finding a good copywriter is challenging. My approach is somewhat unconventional: I prefer to set simple tasks rather than write exhaustive Technical Briefs that can be tiring to read. I provide the necessary keywords, their variations, and content guidelines. The main focus is on creating texts for people, addressing the query matching the keyword, with the word count being of secondary importance. "Fluffy water" content is not needed by anyone. If a person finds the answer to their query, it improves behavioral factors and search engine rankings. As a result, I can utilize less experienced copywriters, which helps reduce costs.

Another option is to search for students on social media. For example, I found a copywriter for Norway through VKontakte groups. She may not have had much experience, but she had conversational Norwegian skills, and she quickly grasped the subject matter. I had her texts proofread by native speakers and affiliate managers—no issues at all.

Ideally, I look for a copywriter who understands the niche. For instance, if they write about gambling, it's preferable that they play online casinos themselves or, at the very least, are familiar with the slang, terminology, etc. To achieve this, I may suggest they watch popular streamers, try out demo slots, and more.
Yevgeny Datura, CEO of Seciva.ru
If I need to write content, I prepare a Technical Brief (Task Brief) for the article, specifying the topic, word count, reference articles, keywords, and the desired keyword density. Then, I post the order on KWORK or Text.ru. On the platform, I search for copywriters based on their expertise and rating. Sometimes, I create multiple identical tasks and communicate with the applicants before selecting the most suitable one to whom I then provide the Technical Brief.

The primary criteria for selection are the cost of services, the copywriter's rating on the platform, and the feedback from other clients.
Conclusion
Finding a suitable copywriter is quite a challenging task. First and foremost, you need to determine the task they should accomplish. If you require a specialist who understands a specific field, most likely, you'll have to gradually develop one yourself or search in thematic communities. For instance, on forums for gamblers, sports betting enthusiasts, and so on. However, for filling websites with SEO-optimized content, you can utilize the services of freelance marketplaces.