For traffic arbitrage, well-developed landing pages are a crucial component of success. Even with a good offer, a weak landing page from an affiliate network can significantly reduce the effectiveness of advertising. That's why arbitrage specialists quickly come to the decision to create their own landing pages.

At the initial stage, webmasters often attempt to create landing pages using HTML, Javascript, or CSS. But what if you have never worked with web design and haven't delved into programming languages? Or if you need multiple landing pages at once? The solution is a landing page builder.

Source: trafficcardinal.com
Regularly encountering the challenge of creating single-page websites, it is possible to fully master the intricacies of their functionality. Drawing from experience in searching for effective landing page builders, learn how to do it quickly and professionally.
What are constructors
A landing page builder is specialized software that allows you to create a high-converting landing page. These builders are used by marketers, entrepreneurs, advertisers, and traffic arbitrage specialists. But why do they use them? To conduct effective advertising campaigns, A/B testing, and generate sales.
TOP 20+ best landing page designers
The article features a TOP 20+ list of verified landing page builders. The described resources allow for the creation of successful landing pages with stylish design and logical navigation.
Mottor
The full name of the "Landing Page Motor" builder, translated into Russian, means "Engine for Landing Pages." The target audience of this resource includes entrepreneurs, traffic arbitrage specialists, bloggers, and self-employed individuals.

The developers opted for a concise design. The service allows for the creation of websites and single-page sites, featuring built-in CRM functionality and integrations. It is possible to connect an autoresponder, create quizzes, and assemble pages using free and block sections.
Motor Personal Account interface
Key information about the service: There are three available pricing plans to choose from: "Lite" (466 rubles per month. Regular price - 690 rubles), "Business" (716 rubles per month. Regular price - 1250 rubles), and "Unlimited + Autoresponders" (6658 rubles per month. Regular price - 12,900 rubles).
Creating landing pages is free. The number of pages is unlimited. However, to publish the landing page on the internet, you need to subscribe to one of the pricing plans.
Mottor's geotargeting feature allows for dynamically inserting the user's city into the page information and changing certain elements based on the potential customer's geographical location.
LPGenerator
Home page of the LPgenerator resource
A convenient landing page builder that is suitable for professionals such as webmasters, experienced marketers, and traffic arbitrage specialists. Those familiar with the principles of conversions and methods to increase them can leverage the powerful technical foundation of the LP Generator. The service provides a comprehensive set of tools for promotion and marketing, allowing for the integration of applications and scripts, and offers webinars and instructional videos.
Personal Account interface v
Key information:
There are three pricing plans available:Start - 330 rubles, Lite - 466 rubles, Business - 716 rubles. The prices are per month when paid annually, saving the user 52% off the regular price of the tariff packages.
The free plan offers a 7-day trial period with no functional limitations. There is a limit of 200 visits for traffic. During the trial week, only one domain can be added.
The service offers geotargeting functionality for contextual advertising. Options for Google AdWords and Yandex.Direct are available.
Ulanding
Landing Service Home page
Ulanding is a project by the company uKit. The target audience of this website builder is beginners. The online platform features a simple design and functionality. Each tool is efficient and concise. Users can create single-page websites, launch contextual advertising campaigns on Yandex.Direct or Google, and track statistical data and A/B tests.
Landing Personal Account interface
Here's what you need to know about the service:
The platform offers the following pricing plans: Starter for $8.99 - 1 project and 5 landing pages, Business for $14.99 - 3 projects and 30 landing pages, Advanced for $24.99 - 10 projects and 100 landing pages.
There is a 7-day free trial period available.
Geotargeting is not available.
uKit
Home page of the uKit service
uKit has one of the best visual editors on the market. Almost everything can be done using the mouse. The functionality is concise yet comprehensive. It is suitable for both beginners and experienced webmasters and arbitrage specialists. With uKit, you can create a top-notch business website or a small online store. The administrative panel consists of four categories: control panel, pages, builder, and design. You can customize any element.
About the landing page builder:
The service offers 4 pricing plans: Starter - $5 per month for basic functionality, Basic - $10 for extended statistics and real-time chat support, eCommerce - $12 per month for creating an online store with a shopping cart and on-site payment, Pro - $15 per month for advanced creative solutions and code integration for professionals. Discounts are available when paying for 3, 6, 12, or 24 months.
Trial period: 14 days.
Geotargeting: Not available.
Ucraft
Ucraft is used by entrepreneurs, artists, performers, models, and other professionals who need visually appealing portfolios. According to UGUIDE, Ucraft ranks 5th among the top 10 website builders. The workspace is divided into the Editor and Dashboard. With these areas, you can edit the design and every navigation element down to the smallest detail.
Catalog of Ucraft templates
The main information about the service is as follows:
There are 3 personal pricing plans and 3 branded plans available. In the personal plans, there is "Pro Website" for 650 rubles per month, "Shop" for 1400 rubles, and "Unlimited" for 4400 rubles. Prices are indicated for annual payment. For the branded section, the following packages are available: "PayGo 1" for 2463 rubles per month, "PayGo 2" for 4358 rubles, and "PayGo 3" for 6884 rubles.
There is an indefinite free plan with limited functionality.
Wix
The main page of the Wix resource
Wix is a simple and user-friendly website builder. It allows optimizing SEO content, creating vibrant and pastel galleries, connecting custom domains, and integrating APIs with external platforms. The platform is equipped with dozens of widgets. Users can optionally enable payment processing, create pop-up windows, and add an online chat.
Interface of Wix:
Here is the main information about the service: There are 4 pricing plans available: "Connect Domain" for $4.50 - for domain connection only, "Basic" for $8.50 - for personal use, "Unlimited" for $12.50 - for entrepreneurs, and "VIP" for $24.50 - with priority support.
There is no free plan. There is a 14-day trial period, and if the customer decides not to continue using Wix within this period, the company will refund their money.
Geotargeting is available. It can be configured using services like Google Maps and Yandex.Maps.
LP Platform
Both beginners and professionals can create landing pages on the Platform. The service offers extensive functionality and competes with Mottor and LPGenerator. The advantage lies in its multifunctional editor. In addition to standard features, users can customize widgets in any style and have a wide range of design customization options. It is also possible to utilize multi-landing, which involves displaying different landing pages for various cities.
Personal Account LP Platform
Information about the service:
Pricing plans: "Micro" for 490 rubles per month, "Economy" for 790 rubles, "Business" for 1390 rubles, and "Business+" for 1990 rubles.
Free trial: 14 days.
Multi-landing is available.
Flexbe
Flexbe has integrated two CRM systems: Bitrix24 and amoCRM. Users can register or transfer a previously created domain name. SSL will be automatically enabled. The platform supports Yandex.Metrica and Google Analytics counters. Users can also add their own code for counters from other statistical services if desired. Widgets, including Callback Hunter, Jivosite, and UniSender, are available.
Information about the service:
Pricing plans: "Starter" package for 750 rubles per month, "Small Business" for 950 rubles, "Business" for 1500 rubles.
Trial period: 14 days.
Geosection customization is available.
Bloxy
Bloxy offers 44 sections in 9 categories (homepage, values, trust, CTA, footer, and more). It provides a vast range of options for customizing designs. Users can gather statistics about users and their orders, conversion data, and information about traffic sources using UTM tags.
Platform information:
There are 2 pricing plans: "Lite" for 690 rubles per month and "Pro" for 1490 rubles.
The full functionality can be used for free for 7 days.
When using links such as "buy in Moscow" or "buy in Barnaul," it is possible to retrieve the city name from UTM tags. There is no built-in capability to automatically detect the city, but it can be added using third-party scripts.
Tobiz
The target audience of Tobiz includes beginners, website developers, and affiliate marketers. The service is particularly suitable for creating landing pages. While Tobiz's builders rarely offer extensive functionality, they do provide a built-in service calculator, the ability to create quizzes, and a wide range of commercial designs. The system is designed for mass creation of landing pages, and it allows users to obtain overall statistics for each landing page.
Information about the service:
The cost of the tariffs varies due to the set of features. The "Mini" tariff costs 270 rubles, "Biz" - 378 rubles, "Vip" - 504 rubles, "Grand Biz" - 756 rubles, "Grand VIP" - 840 rubles, and "Web Master" - 2100 rubles. The prices are discounted for a 2-year payment term.
You can set up a multi-landing page.
The first 14 days are free of charge.
Tilda
Tilda Builder is a stylish landing page editor. It allows you to add footers, columns with information, tariff blocks, videos, testimonials, galleries, and other elements. If desired, you can customize your own sections or use standard ones. When paying for a year, the client receives a free domain. Integration with many resources is possible, including Jivoite, Chatra.io, Callbackhunter, Robokassa, PayPal, and others. There is A/B testing and the ability to export statistics.
Here is the structured information about the service:
Pricing:"Personal" plan: $10 "Business" plan: $20
It is possible to create one website for free.
Multi-landing configuration is available.
Mobirise
Mobirise is a free landing page and website builder. It is available for Windows, Mac OS, and Android platforms. To work online, a powerful hosting service is required. It is suitable for beginners in traffic arbitrage and aspiring entrepreneurs. Mobile responsiveness is emphasized as an important ranking factor, so the service focuses on it. The editor of the platform is visually appealing and functional.
Mobirise Personal Account
Here is the structured information about the service:
The builder is free to use, but there are paid features available.
Geotargeting configuration is possible.
1C-Umi
Umi constructor has the following features:Built-in synchronization function with 1C.The service emphasizes the creation of tools for promotion and marketing, providing a basic-level CRM.The control panel's ergonomics are top-notch, resembling WordPress and UMI.CMS.Creating an extraordinary landing page is easy, but Umi does not allow for structural changes to blocks. Only template elements can be edited.
Data about the service:
The tariffs vary depending on the purpose of service usage. The "Specialist Website" tariff is 136 rubles per month, "Landing Page" is 219 rubles, "Company Website" is 275 rubles, and "Online Store" is 322 rubles.
The free tariff has limitations.
There is a geotargeting configuration available.
Nethouse
Nethouse is a free website builder. You can create websites and landing pages without any financial investments or limitations, but the full functionality of the service is unlocked after subscribing. Creating a single-page website involves selecting functional elements, and their structure can be freely modified. Editing a landing page can be done in real-time mode. There is a feature to activate various applications such as financial tools, online consultants, statistics, maps, and others.
Key information about the service:
The service is available for free. Connecting a domain and gaining access to the full features of the resource costs starting from 240 rubles per month.
With the help of geotargeting, it is possible to change the currency and city according to the client's IP address.
Wfolio
Wfolio is a website builder that specializes in creating visually appealing landing pages that can attract customers with a single visual. The service offers a competitive level of SEO optimization. Users can add photos to the platform, categorize them, and present them stylishly. Wfolio has fewer customization options compared to other services, with a focus on creating impressive landing pages. The target audience includes photographers, models, and individuals who need to sell or attract customers to visual content.
Data about the service:
There is a fixed price - 2990 rubles per year when paid upfront for 12 months. If paid on a monthly basis, the amount will be 299 rubles per month, totaling 3599 rubles per year.
There is an 8-day free trial period available.
Regional customization is available, i.e., geotargeting.
Diafan.CMS
Diafan is a hybrid website and landing page builder with a CMS (Content Management System). The client receives a domain and hosting space, installs the engine and database. Everything necessary for the CMS is done automatically. The website will be populated with demo content. After subscribing to a tariff, the user can work with FTP access. The service allows creating landing pages while maintaining the convenience of administration with full CMS capabilities.
Diafan.CMS Personal account
Information about the service:
Tariffs: "Economy" costs 826 rubles per month when paid annually, "Advanced" - 2506 rubles, and "Premium" - 6216 rubles.
It is possible to work on a free tariff with limited functionality.
There is a feature to customize the geomap.
Redham
Redham - landing page builder. The target audience consists of entrepreneurs and affiliates who appreciate comfort and a wide range of editor functionalities. The platform offers over 50 templates, each with 3-4 color schemes, multiple fonts, and the ability to customize structural elements. Unlike similar resources, Redham's menu items do not have tabs.
Key information about the service:
Pricing: The "Starter" plan costs 200 rubles, the "Standard" plan costs 350 rubles, and the "Premium" plan costs 600 rubles.
A free trial without any financial commitment is available for 14 days.
It is possible to configure geo-changes based on the visitor's IP address on the landing page.
Reg.ru
Reg.ru is a large-scale hosting provider and domain registrar. They have an optimized version of WordPress with an additional plugin for a virtual editor. This simplifies navigation and allows beginners to easily use the service. The builder is well-developed, customized, and focused on creating a fully functional landing page within a short timeframe. The hosting is optimized, and security settings are in place.
Service Information:
On the "Annual" plan, which costs 1,499 rubles per year, there is no advertising, 25 GB of storage, over 170 templates, and advanced builder capabilities.On the "Infinite" plan, which costs 3,498 rubles per year, there is unlimited storage and access to the full functionality of the service.
The "Free" plan allows users to access limited features of Reg.ru.
Designer Tinkoff
Tinkoff Landing Page Builder
Tinkoff Landing Page Builder is a product offered by Tinkoff Bank. The goal of this builder is to meet the needs of business owners. The platform provides over 150 templates for single-page websites, allowing users to create a website with responsive design. Users have control over the structure of the page as well as individual blocks. It is possible to connect a custom domain or use a free one.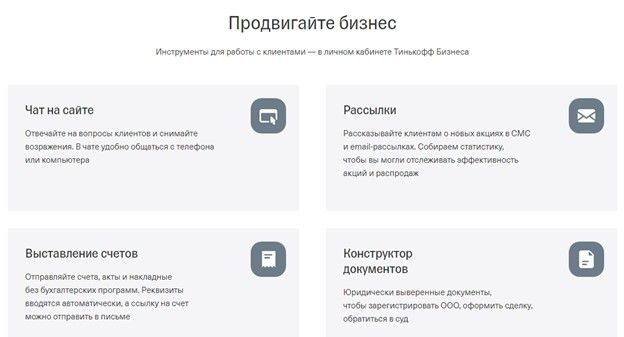 Service Information:
The Tinkoff Landing Page Builder is available for free. Users only need to pay for separate services, such as domains.
There is an option to configure geotargeting.
The service seamlessly integrates with other Tinkoff products, creating a business ecosystem that doesn't rely on external platforms.
Bitrix24
Bitrix24 Landing Page Builder is part of a multifunctional platform. In addition to the builder, the system includes a virtual contact center, CRM, and more. The service offers standard functions for modifying template elements and a wide range of customization tools. Users can integrate their landing pages with messengers, SMS servers for mass messaging, CRM systems, and online spreadsheets.
Bitrix24 Personal account
Key information about the service:
Pricing: The "Basic" plan costs 1,494 rubles per month, the "Standard" plan costs 3,594 rubles, and the "Professional" plan costs 7,194 rubles.
A "Free" plan is available.
Geotargeting configuration is supported.
Weblium
The approach to designing templates on Weblium follows current trends in styles and color schemes. The created designs are adaptable to various gadget formats. The maximum number of pages in a template is 7. The service is focused on creating landing pages rather than extensive websites. The advantage of the builder lies in its customization capabilities, allowing users to publish infographics, videos, and access an extensive photo stock.
Information about the resource:
The "Pro" plan is available for $8.25 per month when paid annually and $15 per month for monthly payments.
There is a free plan available for testing purposes.
Geotargeting is not available directly on the platform, but it can be configured using a third-party service like Google.
LPTrend
LPTrend is a one-page website builder with a simple and intuitive functionality. The service offers 6 templates with the ability to modify the structural elements of each template. Users can add necessary sections to the templates. It is possible to integrate with external platforms such as UniSender, SendPulse, and SMS Aero. All analytics and SEO settings need to be specified manually. There is no built-in CRM system, and it is not possible to connect to a third-party CRM system.
Information about the service:
The "Starter" plan offers 5 GB of storage for 400 rubles per month.The "Basic" plan provides 35 GB of storage for 725 rubles.The "Premium" plan includes 100 GB of storage for 1450 rubles.Discounts are available for semi-annual or annual payments.
Customers receive a 14-day free trial.
There is no support for multi-landing pages.
Creatium
Creatium's pricing is conducive to mass creation of landing pages. It is suitable for large entrepreneurs and arbitrageurs. The focus is on creating persuasive pages. The platform offers extensive customization features, an integrated CRM system, and statistical services. Users have the option to install Yandex.Metrica and Google Analytics plugins.
Creatium Personal Account
Information about the service:
In the unified tariff, the costs vary as follows: 600 rubles per month for the first published website and 100 rubles per month for each subsequent website. Some additional services require separate payment.
Currently, Creatium does not offer a ready-made solution for city substitution based on IP.
It is possible to integrate a shopping cart for products, connect with external platforms, conduct A/B testing, and enable collaborative access.
Recommendations for working with designers
Recommendations for working with landing page builders:
Templates look stylish if they are appropriately selected for the project's theme.
The landing page should meet the needs of the audience.
The simpler the navigation, the better.
The content should be practical and applicable.
Use analytics to increase conversions.
Test the service before paying for a subscription.