Streams are not only a means of communication and entertainment but also a way for people to connect with and associate themselves with the streamer. And you can earn money from it. For example, by becoming a streamer for online casinos. The main challenge is the initial promotion when you don't have a consistent viewer base yet.
Today, we will discuss how streamers earn money, what is needed to start a stream, how to find offers, and begin working as a streamer.
How do online casino streamers earn money?
The source of income for streamers is the users they attract to the casino (similar to affiliate marketing). These users click on the links provided in the stream description or chat, take advantage of offered bonuses or promo codes, and so on. As a result, the leads are associated with the streamer and generate revenue for them.

There are two working models: CPA or RevShare. In the first case, you will receive a payout for each first deposit made by the users you attract. If you choose the RevShare model, the advertiser will give you a percentage of the money spent by the users. Additionally, streamers can receive a certain amount for hosting sponsored streams, for example, when playing in a specific online casino.

The working model is outlined in the terms and conditions of each offer. You can also discuss it with your personal manager after registering with the affiliate program or CPA network.
To find out the payout for an offer, you can use aggregators such as OfferVault. Select the Gambling category, choose the desired GEO (Geographical Targeting), and enter "YouTube" or the name of the platform where you plan to stream in the search bar. This will help you find relevant offers and their associated payouts.
What do I need to run?
To become a streamer, you need to prepare your equipment and find an offer in an affiliate program or CPA network. Conducting live streams is not difficult: you just need to set up the equipment and follow these steps:
Install broadcasting software: You can choose software such as Open Broadcaster Software (OBS), XSplit, or any other program of your choice.
Configure signal sources: Within the broadcasting software, select the sources for your video and audio. This can include capturing your screen, webcam, or any other desired sources.
Connect your microphone: Ensure that your microphone is properly connected and configured within the broadcasting software to capture your voice.
Set up streaming keys: Configure the streaming keys provided by your chosen streaming platform. These keys will allow you to connect the broadcasting software to the platform and start your live stream.
By following these steps, you'll be ready to start your streaming journey.
Of course, it's necessary to practice in order to learn how to engage with the audience, communicate with viewers, and maintain their interest in what's happening on the screen. You can watch popular streamers on YouTube or Twitch to understand what they do and how they do it. Additionally, during the preparation phase, it's beneficial to attend popular streams of online casinos to immerse yourself in the atmosphere, hear the slang, and understand what the audience enjoys.
Choosing an affiliate program
One of the most challenging aspects of preparation is choosing an affiliate program. All affiliate programs and CPA networks want high-quality traffic, but not all of them are willing to work with beginner streamers who don't have an established audience yet. This is a common condition because the advertiser provides the streamer with a test balance or pays for the stream and needs to ensure that the budget doesn't go into negative.
Therefore, initially, you will have to stream independently to achieve a stable viewership level. Before contacting an affiliate program or CPA network representative, it's important to gather channel statistics for at least three months or more.
When deciding whether to work with a direct advertiser or a CPA network, there are several pros and cons to consider for each option.
A direct advertiser may offer higher rates. However, you will be responsible for handling any technical issues related to payouts, expanding GEOs, and working conditions on your own.
A CPA network takes care of the communication with the advertiser and can help you secure more favorable conditions through their existing relationships. With the assistance of a personal manager, you can obtain not only promo codes or creatives but also resolve technical matters, such as setting up a tracker to analyze incoming traffic, tracking conversions, and optimizing performance.
Software Setup
Every live stream begins with the preparation and configuration of broadcasting software. Let's go through the process using OBS (Open Broadcaster Software) as an example. Other software works in a similar way, so you can use this guide to set them up as well.
Create a channel on YouTube or Twitch.
Download and install OBS.
Open the settings.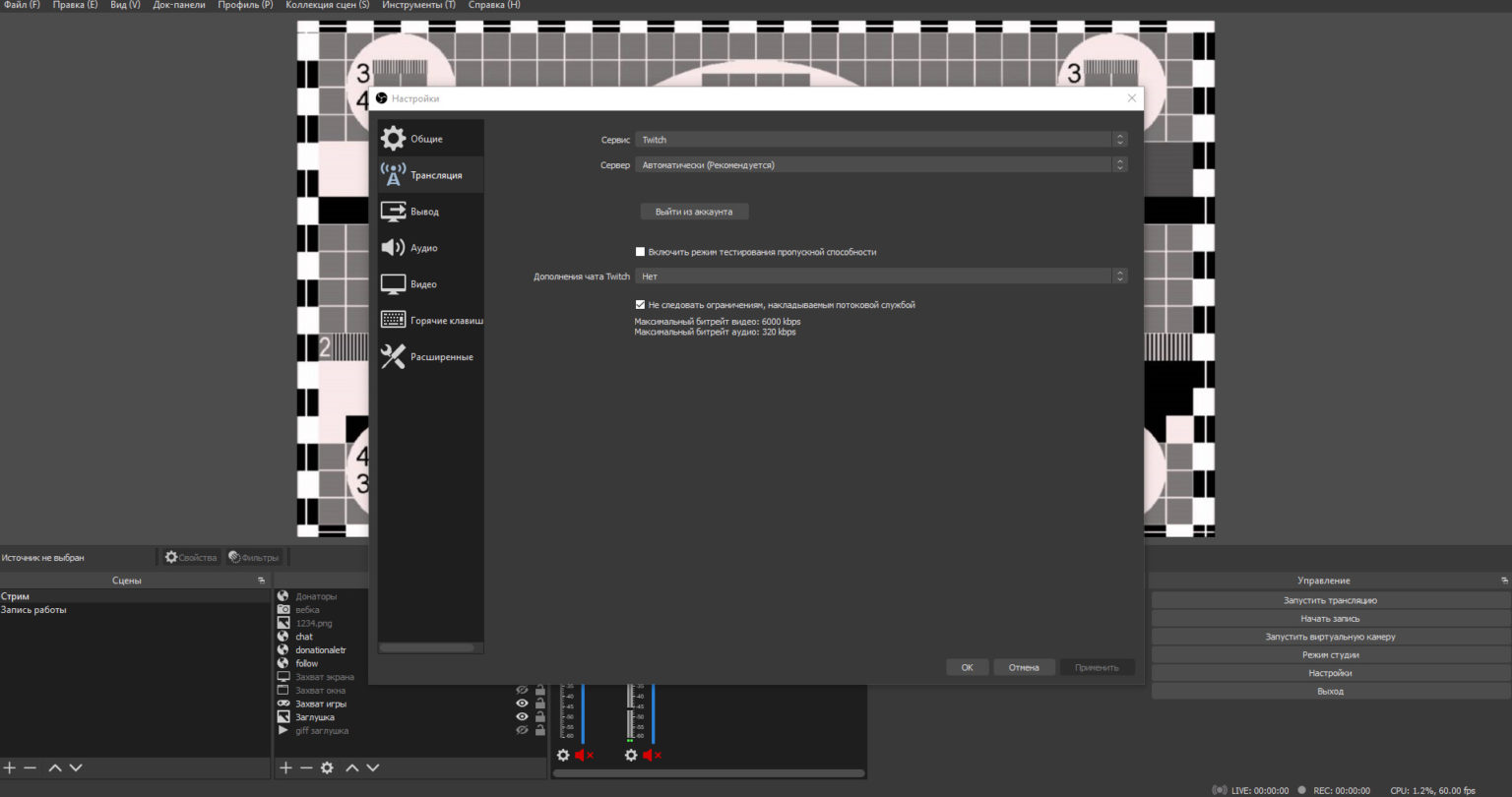 In the "Stream" section, select your streaming service. Here, you need to enter your stream key (which can be found in your Twitch account settings or when starting a stream on YouTube). You can also connect your account to OBS so that the stream settings are automatically activated.
In the "Output" section, specify the bitrate. This directly affects the quality of the image for viewers. It is recommended to set it to no lower than 5000 Kbps.
In the "Audio" section, select your connected microphone and the audio source from your desktop. This allows you to capture sound not only from the microphone but also include music, game sounds, and more in your stream.
In the "Video" section, set the resolution of your stream. For streaming in Full HD, you should set it to 1920x1080.
Remember to click "Apply" and then "OK" to save your changes after configuring each section.
These steps will help you configure OBS, or similar broadcasting software, for your streaming needs. Make sure to test your settings and make adjustments as necessary before going live.
The preliminary setup is now complete
After that:
Create a new scene in OBS.
Add a source for your signal. Choose "Window Capture" and select your browser. This way, you will be able to stream what is happening in that window (the gameplay process in the casino, for example).
Add another source and select "Video Capture Device." Connect your webcam to overlay its image onto the stream.
Similarly, you can add chat displays, donation notifications, subscription alerts, or follower alerts to your stream.
What to do next? Fill in the description of your stream on YouTube, Twitch, or another platform. Customize your channel and place the link to the selected offer provided by your CPA network or affiliate program manager.
YouTube, Twitch, and other platforms.
Before choosing a platform, it is recommended to familiarize yourself with the rules of the services to avoid constant video blocks or channel closures. Therefore, even for test streams, be sure to indicate the appropriate category. For example, on Twitch, you can select "Gambling" or "Card and Board Games."
The main platforms where advertisers accept traffic are:
YouTube
Twitch
TikTok
Instagram
If you have an active audience but stream on other platforms, it is important to discuss this with your personal manager from the CPA network or affiliate program before selecting and connecting an offer.
Do YouTube, Twitch, and other platforms ban casino streamers? The platforms themselves may allow streams of gambling content. However, they may block such content based on requests from regulatory authorities in different countries (e.g., Roskomnadzor in Russia). Additionally, it is important to study the rules of the platforms before starting the streams to avoid any sanctions from their side.
Questions and Answers
Anya Rogova, CBDO of Profitov.Partners
Which model do streamers use — RevShare or CPA? What rates do you offer?
Our streamers work on a CPA model. The payout rate varies depending on the GEO: starting from $40 for RU, BY, KZ. For international traffic, the rates are higher, naturally.
Are there any requirements for a streamer to start working with an affiliate program or CPA network (such as minimum views, viewership, etc.)?
Yes, there are requirements, primarily set by the advertiser. This is because they provide a test balance that is not free — they pay for each ad slot to the provider of that slot. Therefore, the advertiser needs to ensure that it will not result in a negative outcome. Before approving an offer, we review the webmaster's channel and request statistics. The statistics should be up-to-date, covering the last three months to six months.
From which platforms (Twitch, YouTube, etc.) do you accept traffic?
Twitch, YouTube, TikTok, Instagram.
Can a beginner (new channel with no subscribers) start working with you?
No, we do not provide a test balance to beginners. We are only willing to work with experienced individuals.
Are there any restrictions, and how are they implemented, for example, for RU users from Europe, the CIS, or Canada?
There are restrictions, just like with any other offer without streams. If an offer only accepts RU traffic, the advertiser may exclude other CIS countries or offer lower payouts for them. However, there are offers that accept multi-geo traffic at the same rate without any issues. Again, it all depends on the specific offer.
Anton Muravyov, Head of SEO & Streams at Alfaleads
Which model do streamers use — RevShare or CPA?
Streamers, in the vast majority of cases, do not consider working on the CPA model as RevShare is more beneficial in the long run. The quality of the audience and their motivation for prolonged engagement has always been a strong point of streaming.

Currently, the model of fixed payment for streams has become more widespread. This can be additional compensation alongside RevShare or a fixed payment where the streamer's profit is based on their winnings after a certain duration of streaming without referral links. This model effectively provides an advance payment for traffic and is often considered under the CPA model within the affiliate network. It ends if the FD (first deposit) turns out to be expensive. Depending on the prominence of the streamer, there can be hybrid variations of the aforementioned models. Of course, the more interesting the streamer, the higher the payment.
What rates do streamers get offered?
The rates offered to streamers depend on their status and potential. The average conditions are around 20,000-30,000 per stream, along with a dynamic revenue share ranging from 25% to 45%. Streamers who have a well-developed affiliate program can sustain themselves through revenue share, using a portion of the earnings from the affiliate program and directing them towards stream deposits.
Which platform to choose?
The main platforms are Twitch and YouTube, and the choice is up to you. I know many examples where someone struggled for years to reach 100 viewers on YouTube but immediately had 300 on Twitch. In terms of gaining new audiences, it feels like the growth on YouTube is much more active. Currently, there are issues with YouTube due to constant channel blocks, so some streamers have moved to TikTok. However, after the TikTok block, streamers shifted to Twitch, while others are trying to master RuTube or streaming on Telegram, and some are experimenting with alternative platforms like Trovo. At Alfaleads, we accept traffic from any streaming platform, as long as it is stable and not artificially inflated.
Are there any requirements for a streamer to start working with an affiliate program or CPA network (such as minimum views, viewership, etc.)?
When it comes to direct casino affiliate programs, the size of the streamer's audience plays a significant role. Large programs are not interested in streamers with less than 200-300 concurrent viewers, as they won't actively pursue collaboration with them. Streamers would need to reach out to the affiliate programs themselves and discuss the terms. However, smaller and newer casinos may approach streamers privately even with an online viewership of 50.

Once a deal is made, the product will be evaluated based on the results of the initial period. Casinos are not only interested in the raw viewership numbers but also in metrics like First Deposits (FD), Net Gaming Revenue (NGR), and total deposit amounts. However, viewership metrics are still necessary to approach the affiliate program, as brand advertising on a large scale typically requires numbers of 10,000 or more concurrent viewers.
Are there any restrictions for Russian users from Europe, the CIS, or Canada?
Everything can be resolved by expanding the advertiser's GEO targeting. Additionally, it is possible to set up paths at the tracker level to direct players to the appropriate working casino in the desired GEO. If it is observed that many players are coming from non-agreed GEOs, it is possible to communicate with the advertiser and adjust the rules in the tracker for more relevant player conversions.
Can a beginner start working with CPA networks?
An analogy can be drawn with a beginner affiliate marketer: if you have experience in streaming and a small online presence, you are a desirable client for every CPA network. Alfaleads takes full responsibility for communicating with the advertiser. We assist with product selection and provide alternative casinos to expand coverage. Streamers often promote not just one product but have a range of options, even while playing in a single casino.
Conclusion
An online casino streamer can earn money without the knowledge required for launching advertising campaigns, setting up trackers, etc. All they need to do is attract an audience, gain access to an offer, and start streaming. However, it is important to note that streaming is just as much work as account farming, campaign launches, etc. It requires continuous dedication and effort.