With the help of classified ad platforms like Avito, money makers and arbitrageurs find clients and generate leads. Millions of people visit the platform daily, making them a potential target audience for your business. You can easily place a free ad on Avito in the relevant category. Learn how to do it quickly with our step-by-step guide.
Create an account
To do this, go to the website
https://www.avito.ru/rossiya
. Then follow these steps:
Click on "Sign in and registration" in the top right corner of the page.
Please enter your active phone number in the provided field. You will receive a confirmation code within 2 minutes.
You can also register using the social media buttons.
After creating your account, you can proceed directly to placing an ad.
Place an ad
What needs to be done::
Click on "Post" or "Publish."
Choose the appropriate category (for example, "Home and Garden")
Select one of the types of offers - choose "selling my own" since the subcategories "product from the manufacturer" and "product acquired for sale" are paid options.
Fill in the description and other fields - specify the price, upload up to 10 photos.
Add contact information, then click on "Save and exit."
If you are placing multiple ads within the same category, they may become paid ads as Avito limits the number of free listings for regular accounts. In a separate article on our website, you can find information on which ads on Avito are paid and how to bypass existing restrictions in order to still post them for free.
Edit your offer
You can edit or make changes to the submitted advertisement at any time:
From the main page of Avito, click on "My Ads."
Select the desired ad and click on "Edit."
Fill in the necessary fields.
In the description, you can outline the benefits that the buyer will receive and showcase the advantages of the product.
Here are 2 examples where it is written bad and go
Add a video
Regarding creatives, a video is one of the best ways to visually showcase all the benefits and advantages of a product. On Avito, there is an option to add your own videos. Create your videos, upload them to YouTube, and then paste the obtained link into the designated field when editing your advertisement.
Upload photos
To do this, follow these steps:
Click on the image of the camera.
A new tab will open on your computer's desktop, where you should select suitable illustrations and upload them.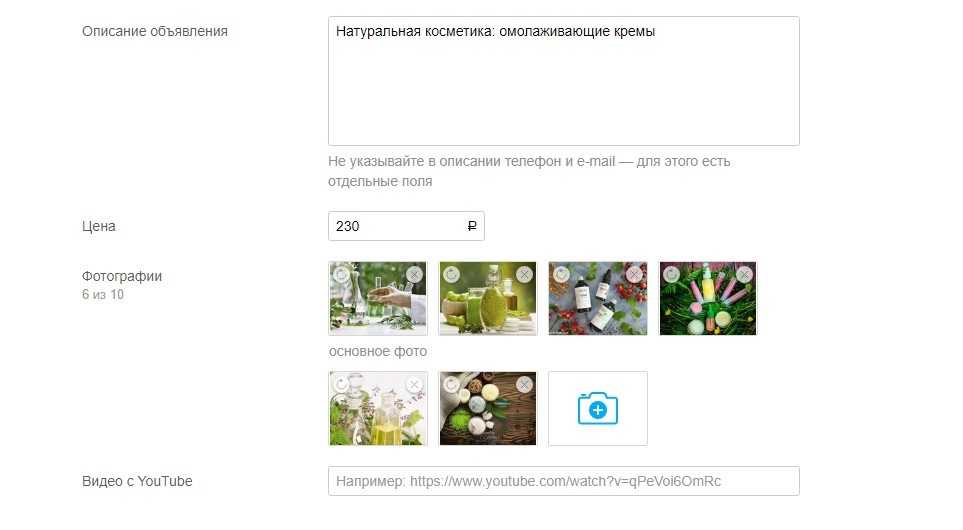 Regarding free advertisements
95% of private users on Avito place their advertising offers for free. However, there is a limit on these free advertisements, which refreshes every month. Users receive a notification stating that they are allowed to publish up to 30 free ads. Some categories and regions have a paid tariff.

To remove paid services, uncheck all the additional service options and select the "Regular Sale" package.
Useful recommendations
The tips below will help you successfully pass moderation:
Provide as detailed information about the product as possible – a complete description and high-quality illustrations will attract more attention.
Fill in all fields with current information and pay attention to pop-up tips.
Avoid creating multiple accounts from the same IP address – use proxies if necessary.
Profile suspension for rule violation.
Do not include price lists, keywords, or contact information in the description.
In the title, only include the product name, model, and important parameters - avoid including anything unnecessary.
Avoid using the same photos and descriptions when creating multiple product listings - each one should be unique.
Standard rules: Do not insert links in descriptions, images should be free of captions and watermarks, and direct advertising is prohibited. Arbitrators can only attract customers with the product itself, encouraging them to call or email (contact information can be provided in the appropriate section).
In conclusion
Avito, as a platform, has great prospects. It provides various ways for arbitrageurs to earn, one of which is through spamming with free advertisements. However, keep in mind that this approach requires multiple accounts to reach the target audience effectively. It is crucial to consider the specific preferences of the audience, as they visit Avito to find products based on the "price-quality" framework.

Placing advertisements on Avito is free and straightforward. Additionally, the platform allows you to open your own store and access professional tools for business development through paid tariffs.
What is Avito Shop?
Avito Shop is a paid account type that allows you to create an online storefront on the platform. It allows you to add links to landing pages and other promotional materials.
How long does moderation take?
Usually, the advertisement appears within a few minutes, but in rare cases, it may take up to 2 days, but no longer.
What makes Avito beneficial for an arbitrator?
Avito is the largest classified ads platform in Russia and the CIS countries, with over 1 million visitors per day searching for products. This presents an excellent opportunity for arbitrators to gain a significant amount of free traffic.
How to post from multiple accounts without using proxies?
You can use freelance marketplaces where you can hire a performer at a low cost.
Is there an alternative to Avito?
"Yula," "From Hand to Hand," UBU, "Buy-Sell," and others.
Is it really possible to arbitrage on Avito in 2023?
The board is alive as never before, arbitrageurs appear here regularly. Everyone works in different ways: they use universal strategies, pour through paid categories or place ads for free.