Hey, folks! Recently, we wrote about how to create and configure a chatbot on Facebook. However, as messenger platforms have become the primary means of communication between sellers and buyers over the past year, WhatsApp has gained significant popularity. And while there are plenty of platforms available for creating a bot on Facebook, and the platform itself offers automated responses, it's not as straightforward with WhatsApp. Today, we will tell you how to create a chatbot to work on WhatsApp, one of the most well-known messengers in the world.
Chatbots on WhatsApp are not as widespread yet as they are on Telegram or Facebook, so it's important to seize the opportunity and carve out your niche now in order to reap the benefits before competitors do.
What is the purpose of a chatbot in WhatsApp?
A chatbot in WhatsApp serves as a new business tool to attract and retain customers within the messaging app. Many people are tired of traditional landing pages and prefer direct contact with sellers. In addition to the benefits provided by other platforms, WhatsApp provides the contact information of users who initiate a chat, making it an excellent opportunity to expand your customer base.

WhatsApp users are often more engaged, reducing the likelihood of being banned even if you offer non-"white" products. Furthermore, messages in messaging apps are typically not ignored and are read promptly. A well-developed chatbot can significantly increase traffic conversion, automatically and efficiently handle leads, and provide analytics on customer actions.
WhatsApp is particularly effective when it comes to nurturing leads through "live" conversations. It works well for dating platforms where personal communication within WhatsApp chats is more engaging for leads compared to banner ads or email campaigns.

WhatsApp can be utilized effectively in various arbitrage verticals such as gambling, sweepstakes, instant microloans, surveys, real estate purchase inquiries, fortune-telling subscriptions, and uniquely designed diet plans with orders for weight loss products. With the right configuration, WhatsApp can be used in almost any arbitrage vertical.

It's important to understand that WhatsApp doesn't directly handle promotion but serves as a powerful tool for successful traffic monetization. Therefore, for maximum effect, it should be used in conjunction with other resources.
WhatsApp Chatbot Creation Guide
The official API for accessing WhatsApp's functionality is closed. Chatbots cannot operate without it, so using platforms like Flow XO, ManyChat, or ChatFuel is not possible. The autoresponder feature in WhatsApp is only available for business accounts and only on Android devices, with limited functionality.
Officially, you can set up a chatbot through the WhatsApp Business API, which is a messaging channel for exchanging messages with customers on WhatsApp. However, the cost of connecting to this API starts at 10,000 rubles per month for small businesses and 20,000 rubles per month for larger businesses. Despite the high price, there aren't many providers who offer the capability to connect you to this channel. The process takes about three weeks. Due to these reasons, it's not easy to find a free chatbot builder specifically for WhatsApp on the internet. Even on platforms that offer such functionality for Telegram or Viber, you won't be able to set up a WhatsApp bot without paying for it.
We have compiled a list of builders that offer a free trial period for creating a chatbot on WhatsApp:
W-constructor - 1 day.
SaleBot - 3 days.
UnitBot - 3 days.
Chatlead.io - 14 days.
WatBot - 14 days.
We have chosen the popular builder SaleBot, which is versatile and allows you to connect your bot to Telegram, VKontakte, Facebook, Viber, Odnoklassniki, Avito, Talk-me, and, of course, WhatsApp. The website offers the option to either build a custom bot or develop one independently.

To register on the SaleBot platform, you need to enter your email and create a password. Alternatively, you can register using your Facebook or VKontakte account. The registration process takes just a couple of minutes. The website is in Russian, but the actions are intuitive, making it accessible even for less experienced developers.
Steps to Create a Chatbot in WhatsApp
Sign in to SaleBot. After that, you will see the option "Create Project." Select it.
Come up with a project name and click "Done."
Next, in the left menu, select "Funnels" where you need to create the message flow. This interface allows you to design the bot's communication sequence with the customer. It consists of blocks through which the user should receive the necessary information. It's important to ensure that the flow is not too long or complex as it may cause the person to get tired and abandon the chat. The ideal scenario is to have no more than five to seven blocks.
On the right side, there is a window where you can edit text and arrange the sequence of messages. The first message that the customer receives from the bot is the greeting. This block is highlighted in green.
Next, we continue the conversation sequentially. In our case, it is a dialogue with a flirtatious girl, so the bot playfully suggests sending a photo from the bathroom, and then the customer receives a link to a dating website.
Our bot is ready, and now we can test it by clicking on the "Test the Bot for Free" option at the bottom of the page. We have seen that everything is working perfectly.
To connect the bot to the messenger, you need to click on the "Messengers and Chats" option in the black menu on the left, and then select "WhatsApp". Here, you can also synchronize the bot with Telegram, VKontakte, Viber, and other platforms.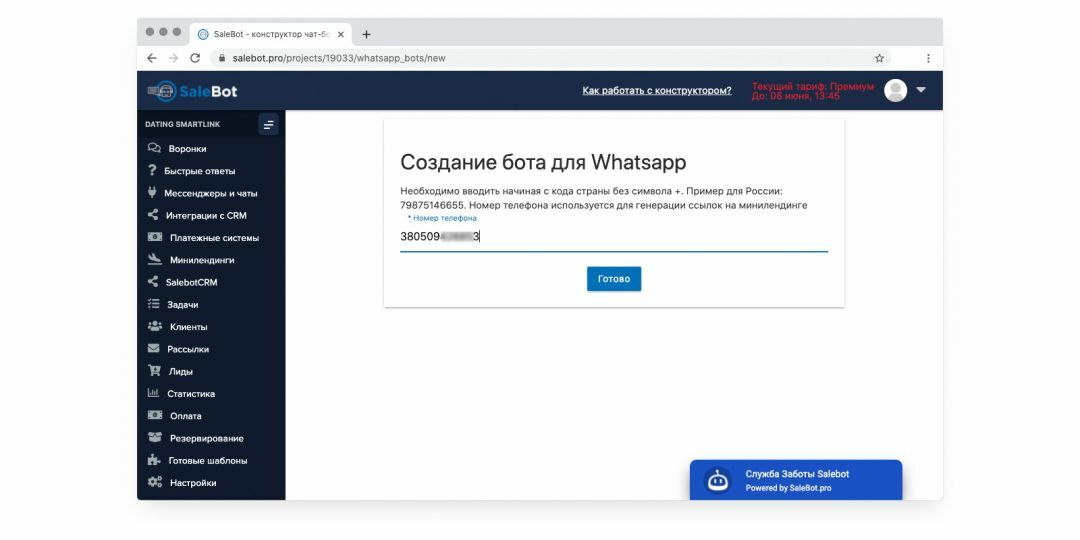 Next, enter the phone number and click "Done."
Proceed with the authentication of the WhatsApp bot by scanning the QR code using the mobile application. It's important to ensure that WhatsApp is disconnected on your PC, as it should only be active on your phone and on SaleBot; otherwise, the bot won't start.
Then a window will appear with the authorization status and the status of the bot connection.
Important! For the WhatsApp bot to work, the mobile phone associated with the account must be turned on and connected to the internet.
Let's test our bot in WhatsApp.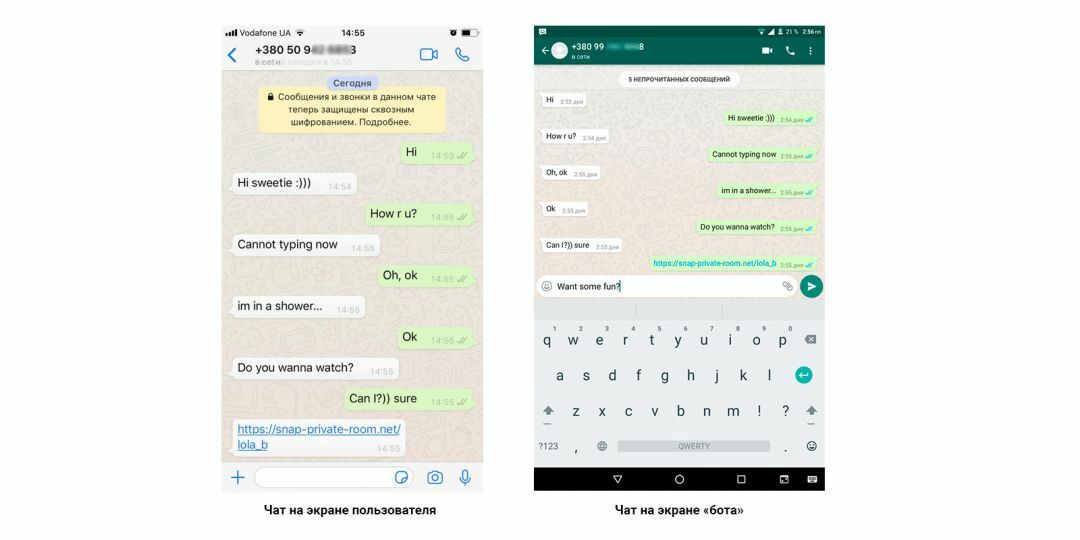 All right! Our bot is ready!

Setting up a chatbot for WhatsApp won't take much time, but it can significantly streamline your work by enabling round-the-clock interaction with customers. It's worth noting that on the SaleBot platform, you can also track conversions, edit recipient lists for bot messages, and configure integration with CRM systems.
Conclusion
It is evident that advertising on WhatsApp is more effective than traditional websites, as this service saves customers' time and reduces the likelihood of them abandoning the process due to tedious forms.

Developing a WhatsApp chatbot has its nuances, but the benefits are substantial: efficient lead processing, CRM integration, resource optimization, increased conversion rates, and detailed analytics on customer interactions. It is likely that chatbots will soon replace sales managers and fundamentally transform the market.

Test, explore new possibilities, reach a broader audience, and gain additional profits!