In traffic arbitrage, it can be challenging to determine which trend deserves your attention and which hypothesis to test while discarding others. SPY services, ad intelligence tools, or simply "spies," allow you to gather more data and explore the landscape, so to speak. Despite their "spy" name, spies are primarily used as a source of inspiration and a means of discovering new trends. Simply downloading someone else's promos and immediately replicating them is not the best idea. It's not just about ethics; most likely, such an approach won't work a second time.

And now, let's move on to the main point: we have compiled a selection of spy services among which you will undoubtedly find the one that suits you best.
AdHeart
AdHeart
helps monitor and save creatives, landing pages, and offers. It is perfect for arbitrage specialists and webmasters working with Facebook and Instagram.
It offers filters based on language, creative type (static or video), text, source, headline, and more. It is also possible to spy on mobile applications for both Apple and Android.
By using the promo code from
Aivix
, you will receive a 15% discount on the platform's functionality. The promo code can be obtained in your personal account in the "Bonuses" section.
AdMobiSpy
AdMobiSpy
is a spy service that helps monitor advertising campaigns, select the most suitable traffic sources, and improve CTR through thoughtful promo optimization. It has a database of 12 popular traffic sources, including advertising platforms like PropellerAds, Vungle, and myTarget, as well as social networks like VKontakte.
It works in any GEO and allows for bulk downloading of promo materials and link tracking.
The pricing plans range from $49 to $599 per month.
By using the promo code from Aivix,
you will receive a 25% discount on access to any plan. The discount is valid for the first month of payment. The promo code can be obtained in your personal account in the "Bonuses" section.
AdPeriscope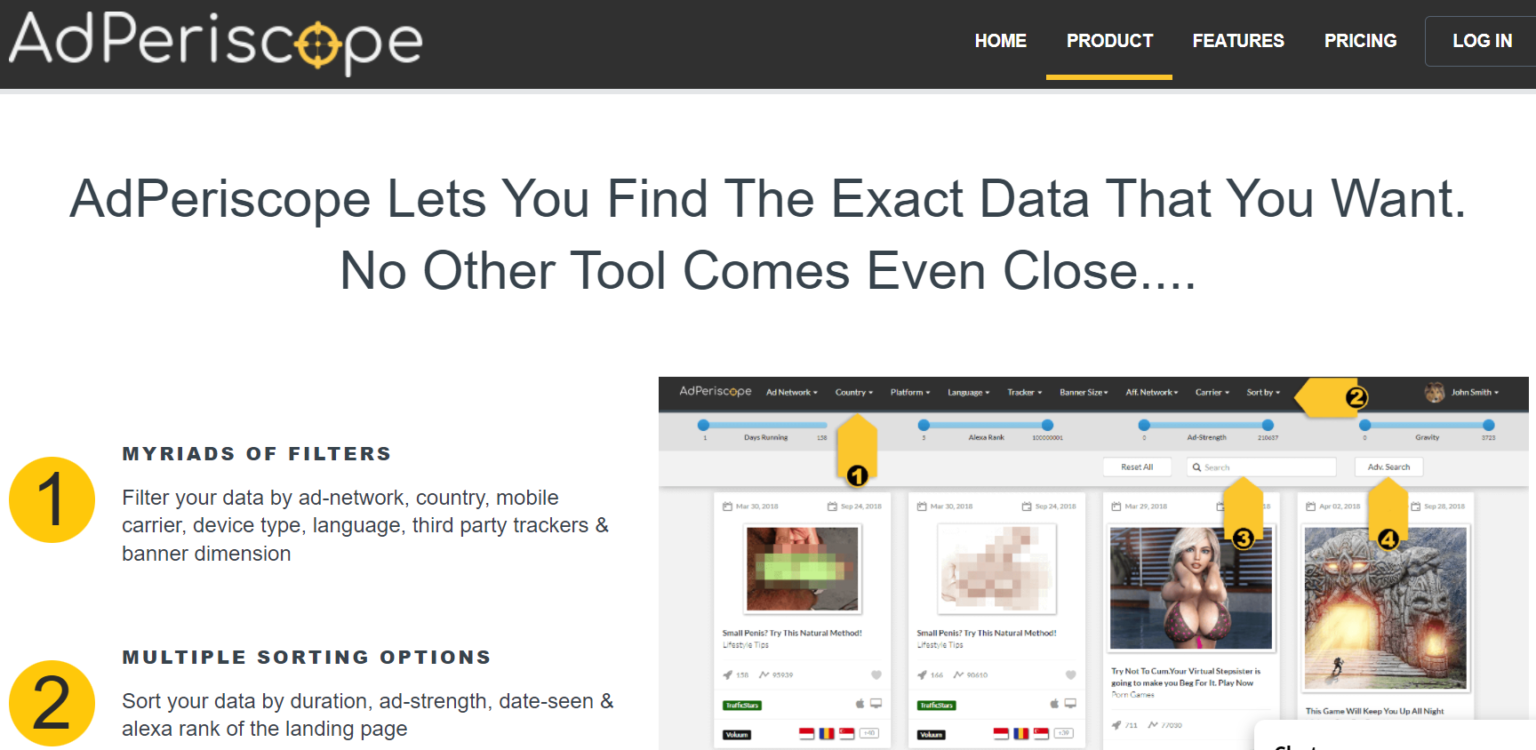 AdPeriscope
is a thematic spy service specifically designed for campaigns within the adult vertical. On this platform, you will find a wide selection of adult banners, access to 56 GEOs, 150 mobile operators, and major adult advertising networks. You can filter results based on the advertising network, GEO, keywords, operator, device type, language, tracker, landing page, and more. Additionally, you can download landing pages and create lists of favorite promos for future reference. It is also possible to enable notifications to receive alerts when competitors launch new creatives.
The service is priced at $89.99 per month.
AdPlexity
AdPlexity
is one of the most popular spy services used by arbitrage specialists and marketers worldwide. It allows you to search for creatives, text, landing pages, and more. The database includes over 100 advertising networks, 80 GEOs, and 90 providers. Attila O'Dree, better known as iAmAttila,
has compiled a detailed guide for those who want to master AdPlexity.
There are several versions of AdPlexity available for different verticals and sources: Mobile, Adult, Native, Push, Desktop, and eCommerce.
AdPlexity does not offer a free or trial version. Pricing starts at $149 per month.
By using the promo code from Aivix, you will receive:
20% discount on Push and Carriers
50% discount on Mobile, Desktop, and Adult
50% discount on Native.
The promo code can be obtained in your personal account in the "Bonuses" section.
AdSpy
AdSpy is
a service that is best suited for campaigns on Instagram and Facebook. The platform allows you to search by advertising network, offer, affiliate ID, landing page, and even comments. With AdSpy, you can also gather audience demographic data and bypass cloaking, allowing you to obtain more data for analysis.
AdSpy boasts a database of 116.4 million ad listings, supports 88 languages, and covers 216 GEOs.
A subscription to AdSpy costs $149 per month. There is also a free version of the tool with limited functionality.
AdVault
AdVault is
another marketing service for working with native advertising. It has a database of 14 million ads, covers 13 advertising networks (including Outbrain, MGID, and Taboola, the most popular native platforms), and operates in 19 GEOs.
The platform provides filters for sorting ads based on effectiveness and popularity, which are important metrics for campaign analysis. It also allows for creating lists of favorite ads to easily reference them among the flow of other promos. AdVault also enables users to visualize the entire campaign funnel, which is highly beneficial for detailed analysis.
AdVault offers two pricing plans: $97/month and $1499/month. More information about the features included in each plan can be found on the service's website.
Ahrefs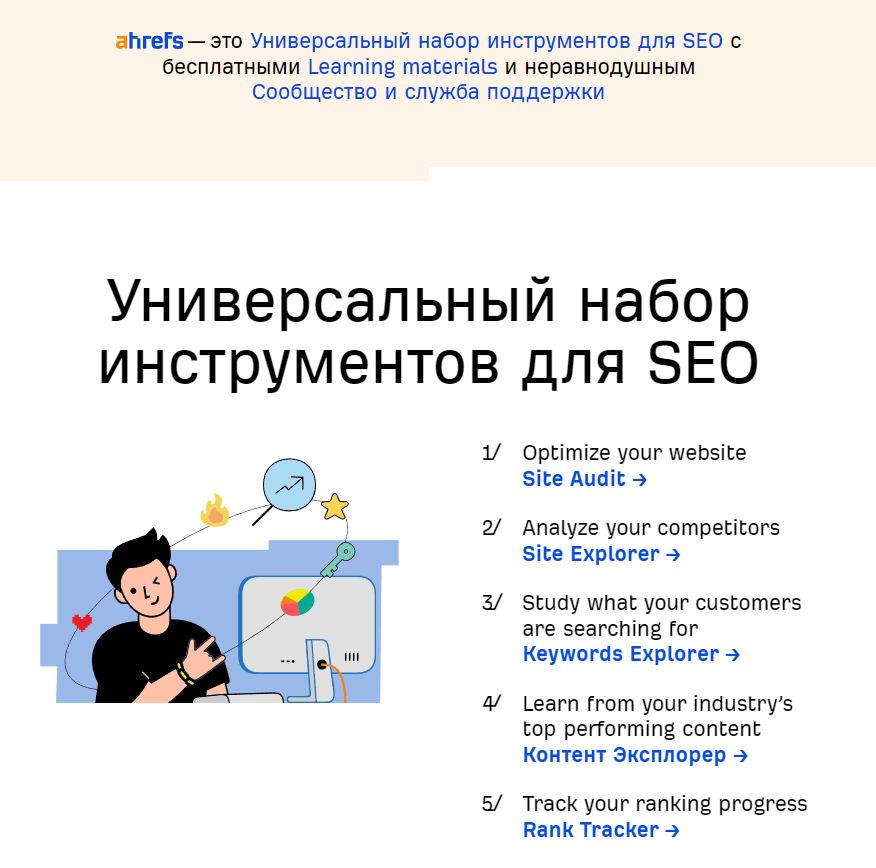 Ahrefs
is one of the most popular "spy" tools for SEO campaigns. This service analyzes various aspects of campaigns, including ranking positions, backlinks, domains, bidding, creatives, landing pages, and more.
Ahrefs' Organic Search Report provides insights into the keywords through which your competitors are ranking. The Top Pages tool helps identify the pages on competitors' websites that drive the most traffic. The Content Gap feature reveals keywords that your competitors are targeting but you may be missing out on.
There are no discounts or trial versions available for Ahrefs, and the pricing ranges from $99 to $999 per month.
Anstrex
Anstrex is
a spy tool that offers multiple versions: Native, Push, Dropship, and Pops. It has a wide database of advertising materials such as landing pages and creatives, and a user-friendly interface that is easy to navigate, even for beginners. It offers search options based on keywords, advertising networks, categories, countries, devices, affiliate networks, trackers, and more. The tool integrates smoothly with platforms like Shopify, WooCommerce, AliExpress, AWS, and Digital Ocean.
Anstrex offers plans starting from $59.99 per month for native advertising and from $79.99 per month for push notifications. There is also a combined plan available for $124.99 per month.
Arbalet
Arbalet is
a multifunctional service for traffic analysis and resale. Its advanced functionality allows for automatic downloading of landing pages, working with trackers, and integration with offers.
The service offers features such as offer search, landing page downloads, code editor, integration with affiliate networks, and hosting.
There is a trial version available, and pricing plans start from $13.
By using the promo code from Aivix
, you will receive a 20% discount for 1 and 3 months. The promo code can be obtained in your personal account in the "Bonuses" section.
SEMrush
SEMrush
is a tool primarily used for SEO but also useful for CPA campaigns. With this service, you can analyze keywords and campaign budgets, find backlinks, target pages, and export texts. The platform includes a feature that shows you which thematic keywords your competitors have missed. It also offers keyword research for your campaigns.
SEMrush provides a service for localizing promos for campaigns, which is particularly useful when entering a new GEO. The CPC map tool displays current data on bid rates for different GEOs, allowing for quick campaign optimization.
There is a 7-day trial available, and paid plans start at $119.95 per month.
SpyOver
SpyOver
is a monitoring and analysis service specifically designed for native advertising. It has been operating since 2017 and features a continuously expanding database with over a million ads.
Analyze your competitors' ads and stay one step ahead.
The database includes 14 networks, 150 GEOs, 5 browsers, and 8 trackers.
There is a free trial available, as well as two paid plans: $149 and $299.
By using the promo code from Aivix, you will receive a 30% discount. The promo code can be obtained in your personal account in the "Bonuses" section.
SpyPush
SpyPush
is a multifunctional monitoring service for Push, native, popunder, and adult advertising. SpyPush works with six popular advertising networks including Adsterra, Megapush, MGID, PropellerAds, Evadav, and Datspush. The system's database contains over 500,000 ads from 100 countries worldwide.
By using the promo code from Aivix, you will receive a 20% discount on the first payment. The promo code can be obtained in your personal account in the "Bonuses" section.
WhatRunsWhere
WhatRunsWhere
is a tool designed for marketers and affiliates that shows traffic sources, landing pages, creatives, and more. With this tool, you can discover top-performing creatives and converting traffic sources in your vertical. You can also filter data by keywords, format, GEO, date, and more. The service allows you to download materials that you find interesting to use new ideas in your campaigns.
WhatRunsWhere has a useful feature that allows you to see which advertisers are placing ads on specific websites. This helps you identify effective spots that you can utilize in your own campaigns.
The platform covers 500 networks, 5 GEOs, and 60 million ads. There is a 3-day trial period. Contact the WhatRunsWhere team to learn more about available pricing plans.
Conclusion
To succeed in the affiliate industry, it's crucial to always stay one step ahead of your competitors, preferably ten steps ahead. This is where having a good pool of data and conducting in-depth analysis comes into play, enabling you to make informed decisions rather than relying on guesswork.

However, spy services will only be beneficial if you use them correctly. Define the goals of your campaign, develop an overall strategy, and identify the metrics you want to track or improve. When you know what to look for, spy services will provide valuable insights. If you're unsure about investing in a spy subscription, you can start by exploring open ad libraries like Facebook Ad Library. Alternatively, you can manually search for ads, which is a simple method that only requires time and motivation, without the need for additional tools.