Anti-detection browsers are programs that substitute browser fingerprints, provide unique online work capabilities, and allow users to simultaneously manage multiple advertising or social media accounts. There are plenty of products available on the market that promise complete confidentiality. Therefore, we have reviewed popular options.
Table of Contents
Dolphin Anty
Indigo Browser
Incogniton
AntBrowser
Linken Sphere
AdsPower
GoLogin
Octo Browser
AEZAKMI
Multilogin
Ghost Browser
swSpyBrowser
MultiBrowser
Antidetect
Marketer Browser
Che Browser
broBrowser
Dolphin Anty
Dolphin Anti is a free anti-detection browser designed for traffic arbitrage tasks on platforms like Facebook, Google, TikTok, and others during its beta testing period.
Use the promo code CPARIP to get a 30% discount! - This applies once the browser becomes paid, but the promo code should be entered now
The only anti-detection browser on the market based on Chrome, not Chromium (like other competitors).
The browser is currently free! It is in beta testing. Just sign up on the website and that's it.
Indigo Browser
Indigo Browser is a tool based on Multilogin. It is an application created by arbitrage specialists for arbitrage specialists, specifically designed for managing and creating traffic arbitrage accounts. The authors have optimized the product for the CIS market, offering Russian language support and isolated servers separate from the main Multilogin servers. The technical support team consists of individuals experienced in working with Facebook and AdWords.
The promo code for Indigo gives you a 15-day trial: CPARIP (50% cashback to your account). The browser uses the engine from Multilogin.
Tariffs (per month) for Indigo Browser:
Basic Plan: $29
Pro Plan: $69
Business Plan: $149
Incogniton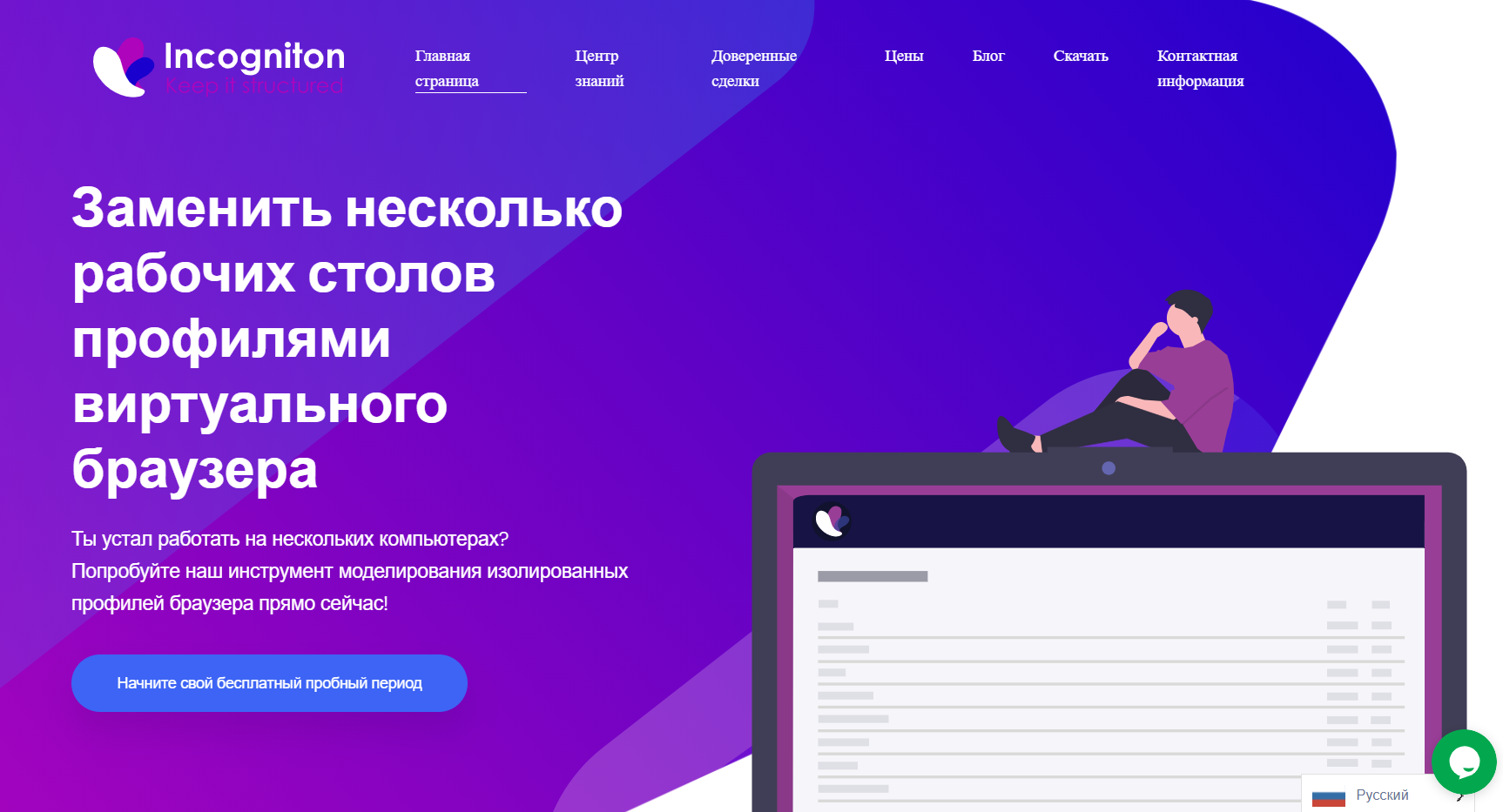 Incogniton is a tool for simulating isolated browser profiles. Browser profile data is securely stored in an online database, or you can choose to store the data on your own device. It integrates with Selenium Python for automated browser tasks to save time.
Tariffs (per month) in Incogniton:
Starter (up to 10 profiles): Free.
Entrepreneur: $29.99.
Professional: $79.99.
Multinational Website: $149.99.
AntBrowser
AntBrowser is a service based on Firefox developed by Russian-speaking programmers. The program positions itself as a tool for working with multiple profiles and browser fingerprint uniqueness.

Today, the team behind this project informed me that they are preparing a major update focused on team collaboration.
Let's take advantage of the free 1-day access (automatically activated after registration) and take a look at the anti-detection features from the inside.
Firstly, you can only work in one profile at a time. Therefore, it raises the question of how to accumulate cookies for 10, 20, or 30 accounts simultaneously. When switching profiles, all previously opened pages are refreshed.

Secondly, you can manage profiles from your personal account from anywhere, using any browser or computer. The main requirement is having the login credentials. It is important to consider the amount of information that is sent to the developers' side.
The cost of AntBrowser is as follows:
1990 rubles per month.

For testing with small volumes and at such a price, it is an excellent solution.
Linken Sphere
Linken Sphere is a program created based on the Chromium engine. It is suitable for tasks requiring anonymity and multiple profiles, such as Facebook, AdWords, classified ads platforms, bonus hunting, and others.
The promo code for Linken Sphere is "CPARIP," which will give you a 10% discount.
Anonymity is maintained during registration, as login credentials are known only to the user. Therefore, it is important to save or remember the login and password. In case of their loss, it is impossible to recover them.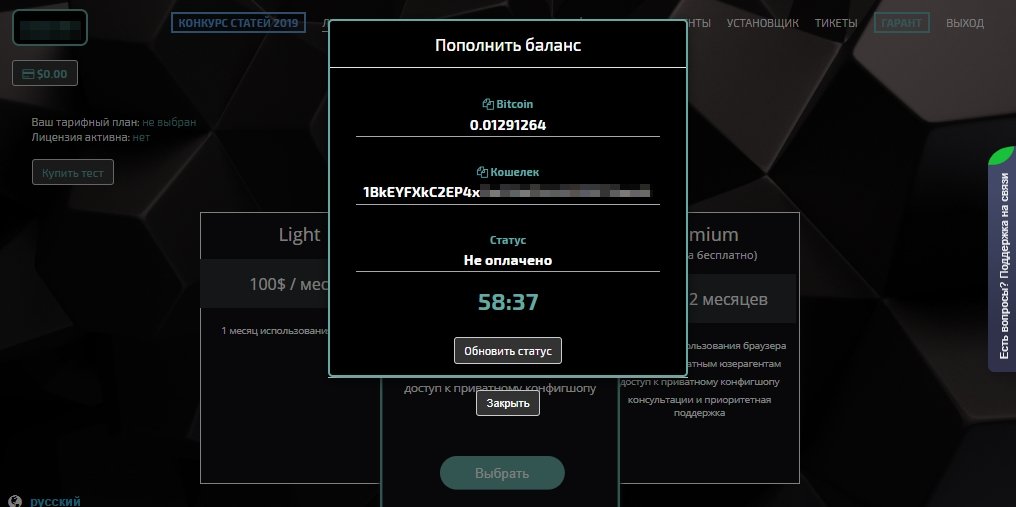 The same level of security is applied to payments: access can only be paid with Bitcoin.


Linken Sphere tariffs: Light:
Light: $100/month.
PRO: $500/6 months.
Premium: $900/12 months.
AdsPower
AdsPower is a powerful anti-detection browser developed by Chinese developers. It supports both English and Russian languages, although some translations may not be entirely accurate. It offers features such as mass account creation, account management, and advertising optimization on social networks. Any repetitive action in the browser can be automated using AdsPower. There is also an application center with plugins to extend its functionality.
The tariffs (per month) in AdsPower are as follows:
Free: $0 (2 profiles available).
Paid: $10. Up to 10 browser profiles, up to 1 team member.
Paid: $25. Up to 50 browser profiles.
Paid: $100. Up to 200 browser profiles, up to 4 team members.
Custom: Create your own tariff plan through technical support.
Automation
GoLogin
GoLogin allows you to create and manage an unlimited number of profiles on any website. Customize every parameter of your fingerprint. Currently, there are over 50 connection characteristics available. Each browser profile is stored separately in the cloud, ensuring the protection of your data and online anonymity.
The tariffs (per month) in GoLogin are as follows:
Professional: $49. Business: $99. Enterprise: $199. Custom: Create your own tariff plan through technical support.

There is a 7-day trial version.
Octo Browser
Octo Browser is a tool that doesn't "crash". It is a versatile and fast ANTI DETECT browser that provides maximum protection against browser fingerprinting. It offers real fingerprints, team collaboration, and complete confidentiality. Additionally, it features a user-friendly interface.
The tariffs (per month) in Octo Browser are as follows:
Starter: €29.
Base: €79.
Team: €169.
Advanced: €329.
AEZAKMI
AEZAKMI is an anti-detect browser based on the Chromium v81 engine (development is underway on the Firefox engine) designed for secure work with multi-accounts. It is adapted for use with Facebook, traffic arbitrage, bookmaker's arbs, as well as contextual advertising and SMM.

Along with the browser, the service provides its own Facebook accounts.
Promo code for AEZAKMI:
Promo code CPARIP - will give you a 15% discount on the first month. Free trial - 2 days upon registration.
The tariffs (per month) in AEZAKMI are as follows:
CJ – 69$
Ballas – 139$
Grove Street Family – 249$
Multilogin
Multilogin is an anti-detection browser developed by Estonian developers. Its main features include browser fingerprint uniqueness and simultaneous work in multiple unique profiles. It has two proprietary developments: Mimic based on the Chromium browser and Stealthfox based on Firefox.

The company Indigo and Multilogin work together.
The pricing plans for Multilogin are as follows:
Solo: €99.
Team: €199.
Scale: €399.
Custom: Creating your own pricing plan through technical support
Ghost Browser
Ghost Browser is a system based on Chromium. It was created for testers, designers, and SMM specialists. It offers profile isolation and fast switching between sessions.

The monthly payment cost is $20 per month. When purchasing an annual subscription, it is $10 per month. If proxies are used in your work, you need to purchase the extension from the same developers, which costs an additional $8.25 per month.
swSpyBrowser
swSpyBrowser is a multi-browser that attaches its own cookies, user-agent, and proxy to each new tab. It supports major operating systems and connections.
The one-time payment for swSpyBrowser is 2490 rubles.
MultiBrowser
MultiBrowser is a program similar in functionality to the previous browser. Each tab has its own cookies, user-agent, and proxy. As claimed by the developers (Lizard Program), websites cannot detect the user's real IP address.
One-time payment for MultiBrowser is 1490 rubles.
Antidetect
Antidetect is a program for creating browsers with different configurations. There are two versions available: Antidetect 7.6 and Antidetect 8.

Antidetect 7.6 is suitable for both professionals and beginners. Most fingerprints are taken from real browsers. The workflow is different from previous versions: in the program, we create a new browser. Then we can open the created browser even without the software. To create a new browser, it is necessary to purchase a configuration.
One-time cost of Antidetect 7.6: $600.

The program is tied to the computer. Rebinding costs $100. Updates can be both paid and free.
Monthly price in Antidetect: $100.
It is tied to the computer.
For professionals, a private browser called Antidetect 8 is available. It can bypass even the most advanced systems. It offers free configurations and browser profiles that closely resemble real profiles.

Price: $2990 + $100/month for personalized technical support and server operation.

If you need unique browser profiles, you can choose from one of the preferred products. Some developers also offer demo versions and trial periods for testing purposes.
Marketer Browser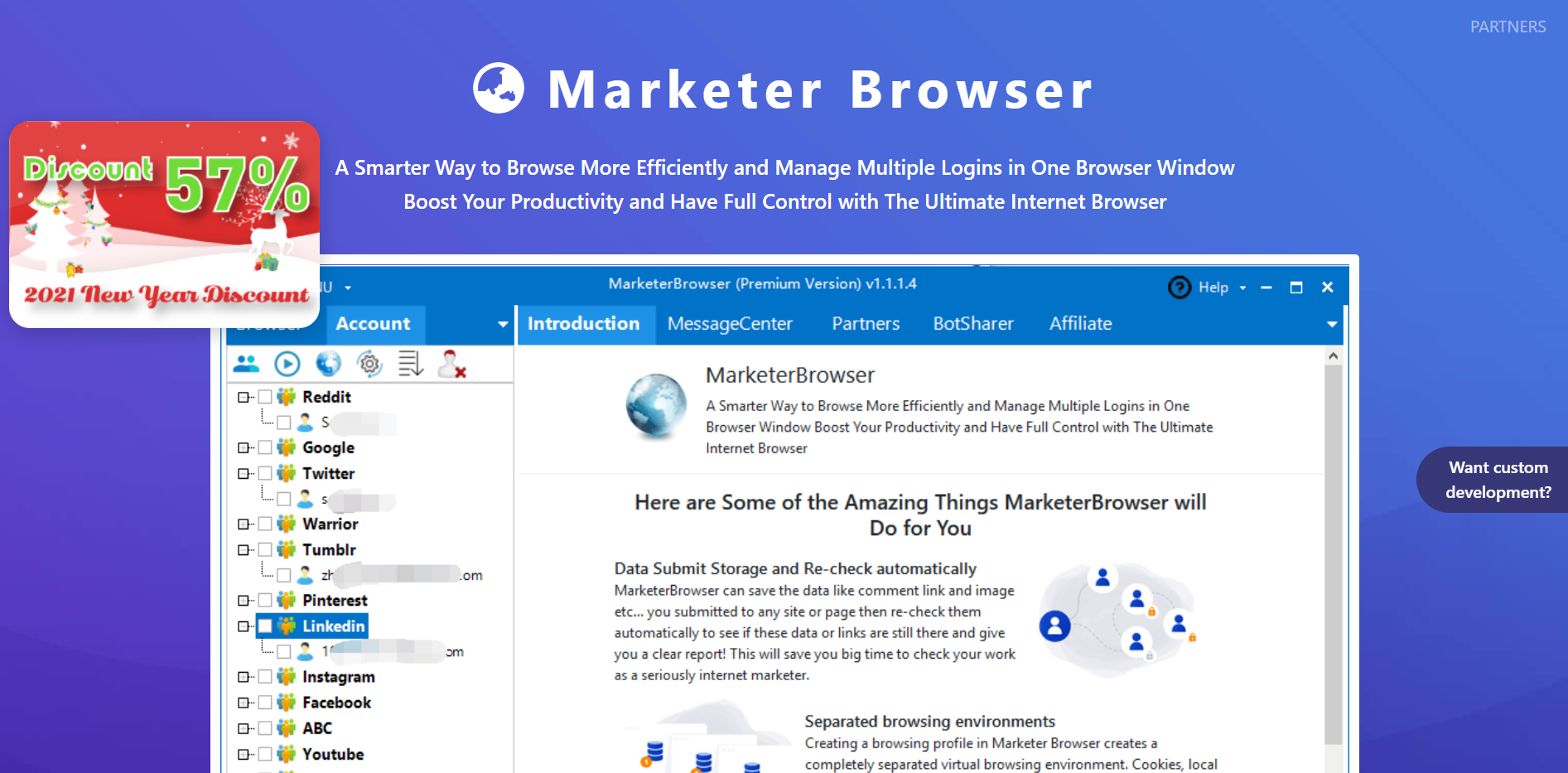 Marketer Browser is a smart way to efficiently browse and manage multiple accounts within a single browser window. It is browser software developed by the MarketerBrowser team to assist internet marketers in managing multiple accounts on the same website. You can open multiple pages and associate different proxy servers and user agents with each page. The accounts are independent of each other, allowing for seamless management.
Tariffs (per month) in Marketer Browser:

Free (1 profile): Free.
Premium: $149.
Elite: $248.
Ultimate: $394.
Che Browser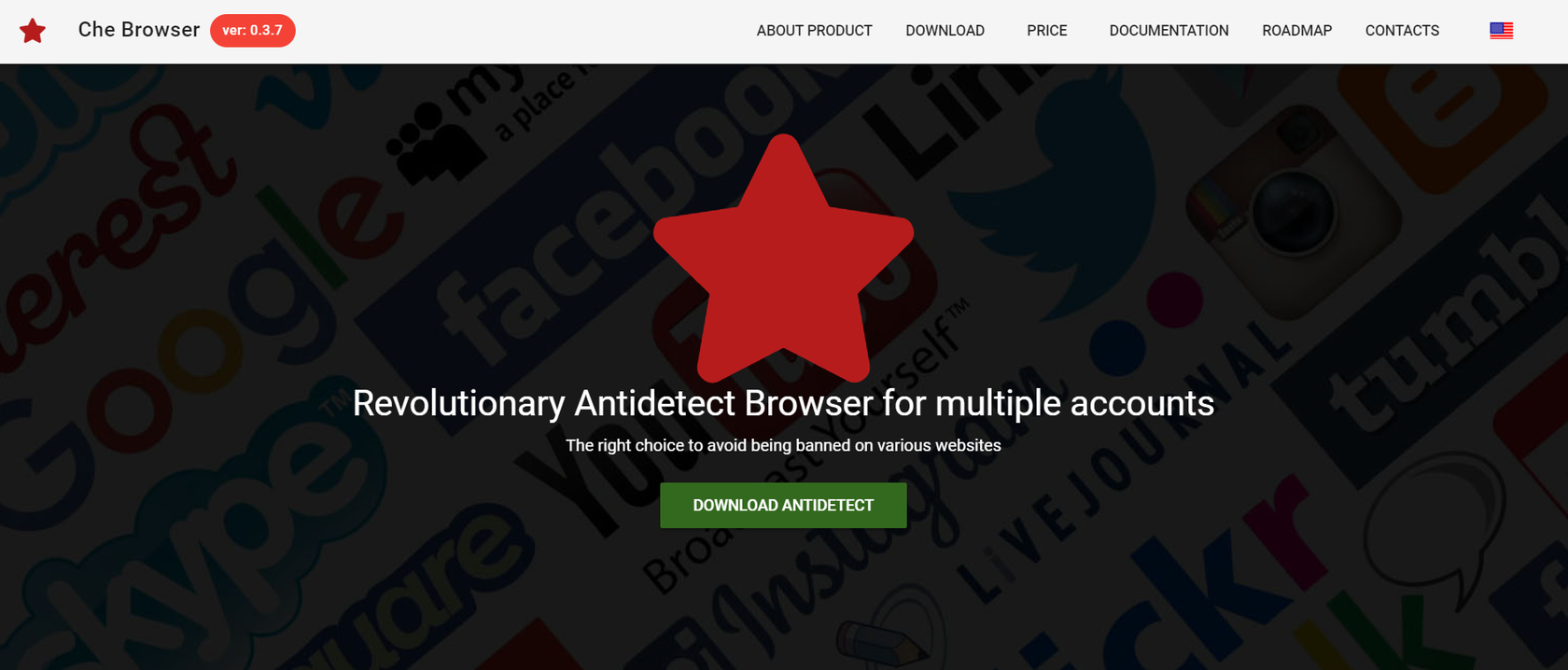 Che Browser is a desktop application that replaces browser fingerprints and hardware information of your PC. If you create multiple accounts on any website from the same computer and want to avoid being banned, you should use Che Browser.
Che Browser subscription: 1 day - $5 1 week - $14 1 month - $30
Profiles and Settings in Che Browser.
Default profile - $1.
Customization for target domain - starting from $1.
Wipe - $0.05.
Additional settings - $0.20.
broBrowser
broBrowser is an application for managing the Google Chrome browser with additional features. Despite the author's statement about the uncertain fate of the browser, the project is actively being developed. Google Chrome browser must be installed for it to work.

This is an ALPHA version, and everything needs to be triple-checked!