The next important step after selecting a promising product for entry into a marketplace is finding suppliers. The satisfaction of future customers and the overall profitability of the business depend on the correctness of actions in this case. In the article, we will discuss how to find a reliable partner from whom you can source products and explore the available options.
How to choose a reliable supplier
When choosing a partner, it is important to consider the following criteria:
Compatibility with the chosen marketplace platform: Ensure that the supplier is able to sell their products on the specific platforms you have selected, such as Ozon, Wildberries, Yandex.Market, SberMegaMarket.
Product cost: Make sure that the wholesale price offered by the supplier allows you to set a competitive retail price on the marketplace. To assess potential profit, it is necessary to calculate the unit economics, taking into account not only the purchase cost but also additional expenses such as platform fees, logistics, packaging, labeling, and taxes.
Minimum order quantity: The supplier may have a minimum quantity requirement measured in units or a minimum total order amount.
Return policy: Check if the supplier allows for returns of defective or damaged goods and whether they provide compensation for the product cost and delivery expenses. It is preferable to have a transparent and understandable policy regarding exchanges/returns in the case of receiving defective items.
Available payment methods: Clarify all payment conditions and choose the most convenient option for you, such as prepayment, installment plans, cash on delivery, or payment upon receipt.
Additionally, the supplier should regularly provide up-to-date information about their product assortment through an effective inventory tracking system. If there are issues with maintaining a stable stock of high-demand items, it is better to avoid starting a partnership with such a company.
Where to look for a partner
You can source products for marketplaces from manufacturers, wholesalers, distributors, or dropshippers, as well as through aggregator platforms that connect you with suppliers from China.

Manufacturers typically specialize in one type of product or various items within a specific category. By directly partnering with manufacturers, you can purchase products at more favorable prices, thereby increasing the profitability of your business.

Distributors obtain goods directly from manufacturers and distribute them to wholesale sellers under specific conditions.

Wholesalers are sellers who specialize in bulk supply. They offer various product groups and categories. Their warehouses are typically located in different regions of the country, which simplifies logistics for marketplace sellers.
You can find suitable partners through:
Online catalogs.
Supplier ratings.
Lists of companies on exhibition websites.
Specialized magazines and directories.
Thematic chat platforms.
Word-of-mouth recommendations.
The easiest way is to enter a relevant query into a search engine and look for useful information in the search results on the first few pages. For example, you can search for "furniture manufacturers." This can lead you to official manufacturer websites, from which you can then explore distributors and wholesalers. Alternatively, if the conditions are suitable, you can negotiate direct supplies.

Another effective method is to search locally. This allows you to discover good organizations that may not have an online presence. Pay attention to outdoor advertising or ask the sellers in stores that offer the desired products where they source their goods from.

It is recommended to start the search within the territory of Russia, as there are numerous suppliers offering a wide range of products. Look through catalogs, exhibitions, and magazines. Try conducting on-site searches as well.

Collaborating with domestic partners is easier and more convenient. Firstly, it reduces logistics costs. Secondly, you can quickly replenish your assortment with popular items that sell out rapidly. Having products in stock is one of the key factors for successful marketplace trading.
If suitable options are not available in Russia, then you can consider searching abroad. Prices in Europe are generally higher than the average. While there is a wide selection available, it can be challenging to establish a direct relationship with manufacturers. Local factories prefer to collaborate with agents who supply products to retailers with their own markup.
As an alternative, you can consider Turkey or China.
China, in particular, offers a wide variety of products at affordable prices through various Chinese trading platforms such as:
AliExpress
Alibaba
TaoBao
1688, and others.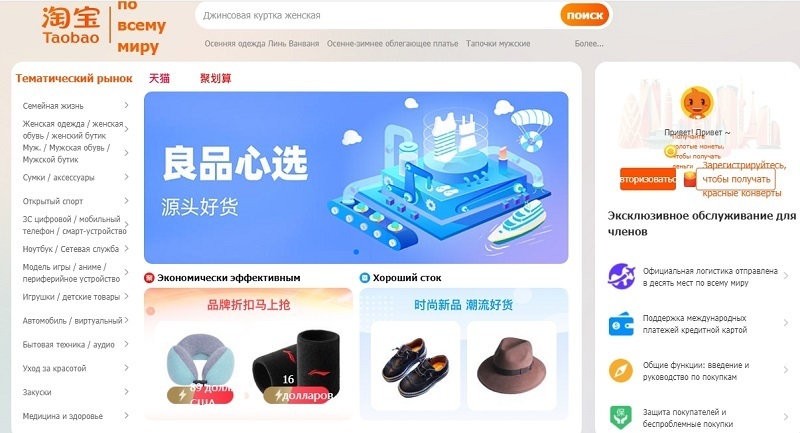 It is better to work directly with factories. If you plan to make purchases through Russian or Chinese agents, make sure to check their reputation by thoroughly reviewing feedback and reviews. Additionally, compare prices and inquire about the quality of the products. Chinese platforms often have fraudulent sellers, so exercise caution.

Another important aspect to verify before collaborating with foreign partners is the presence of compliance certificates for specific product categories. This is a mandatory requirement for most popular marketplaces. Conducting certification independently can be costly and time-consuming in terms of both finances and time.
TOP 8 suppliers of goods for marketplaces
INLIVITI
A wholesale supply service for stores and marketplaces provides a comprehensive range of services. They conduct negotiations with manufacturers in China, negotiate favorable pricing and quality conditions, and deliver goods to the customer's warehouse. The company also handles customs clearance, certification, branding, and product tuning.
You can order the following products for marketplaces through INLIVITI:
Home appliances and electronics
Mobile device accessories
Household goods
Building materials
Furniture
Home decor
Tableware
Bedding
Cosmetics
Sporting goods
Bags
Professional beauty equipment
The list of available items is constantly expanding.
Personal managers assist in selecting the most suitable shipping method from China, including railway, air, road, sea, or consolidated cargo.
HitsOptom.ru
It is a wholesale online store offering products from various categories,
focusing on high-demand items for marketplaces.
There is no need to wait for delivery from other countries as the entire range is already available in their warehouse in Moscow. Assembly is completed within 24 hours.
The catalog includes offerings from the following categories:
Watches
TV-Shop
Auto products
Everything for children
1,000 small items
Gadgets and accessories
Backpacks, wallets, clutches, bags
Hoverboards
Costume jewelry
Sports and weight loss products
Products for gardening/home
Cosmetics
The minimum order amount is 4,500 rubles. The company operates on a 100% prepayment basis, but installment options are available for regular customers. Free product exchange for defective items is provided within 7 days after receiving the order.

If you are unsure about what to sell on the marketplace, you can subscribe to the best-selling products newsletter. It provides sellers with up-to-date lists of interesting and popular products.
Standartoptom.ru
The store has a constantly updated assortment that showcases various product trends.
It offers wholesale and dropshipping services. One distinctive feature of the company is the thorough product inspection for defects and high-quality packaging to prevent any damage during transportation. Photo reports are provided for each shipment to the customer.
The catalog includes all popular categories found on marketplaces:
Cosmetics, perfumes
Personal care products
Watches
Electronics, gadgets
Children's products
Accessories, jewelry, bags
Home, garden, automotive, sports, and outdoor products
New Year's decorations and accessories.
Delivery to transport companies and courier services is free of charge. Orders with a value of 10,000 rubles or more are delivered to the desired location at the company's expense. Each new customer receives a coupon for a 5% discount. Wholesale-priced products are available for shipment from the first unit.
Optomus
Wholesale supplier of products for marketplaces, online stores, landing pages, and group buying organizers. Provides delivery services throughout the territory of Russia and the CIS.
The following categories are available for ordering:
Jewelry
Gadgets
Auto accessories
Home and garden products
Cosmetics
Fashion accessories
Clothing
Hunting and fishing equipment
Bags and wallets
Tools
Party supplies, gifts, and more.
The minimum order amount is 5,000 rubles. To enhance the convenience for their customers, the company sends newsletters with up-to-date information about top market trends.

The website also features a separate section that showcases popular product selections for marketplaces based on sales statistics from "Optomus" clients. For example, currently, you can find items such as a 3D pen with a display, a wireless car vacuum cleaner, and a 360° panoramic camera. This information can be utilized as guidance for curating a sought-after assortment on your marketplace.
Trend-opt
Trend-opt is a wholesale company that collaborates with sellers on marketplaces, online stores, single-page websites, and social media groups. Their specialists regularly monitor the market situation and expand their assortment with trending products, delivering them from China.
Virtually everything showcased in their catalog is available in stock in Moscow.
Additionally, the company provides fulfillment services for marketplaces, and discounts are available for regular customers.
Here's what you can source from them:
Various automotive accessories
Gadgets and accessories
Children's toys and watches
Ring lights
Electronics
Bags
New Year's attributes
Products for gardening, home, sports, and leisure
TV-Shop items, and more.
There is a separate section in the catalog dedicated to the best-selling items on marketplaces. It serves as a source of inspiration if your assortment is not yet formed. For example, currently, they offer mini sunset projectors, oil sprayers, decorative cutting knives, vacuum sealers, and many other popular items for procurement.

The minimum order requirement is 5,000 rubles. It is important to indicate color and size preferences in the comments when placing an order. Otherwise, the items will be shipped with random parameters.
Fastimport
Another service that supplies products for marketplaces from China.
They work with all popular online trading platforms in Russia, such as "Wildberries," "Ozon," "Yandex.Market," and "SberMegamarket."
The range of services includes:
Supplier verification and search.
Negotiating favorable contracts in China.
Quality control inspection.
Optimal route delivery to Russia.
Customs clearance.
Receiving and shipping to marketplace warehouses.
Product preparation for sale.
Thanks to an extensive database of verified partners,
Fastimport can find a manufacturer for any product.
To calculate the estimated shipping cost, you can use the convenient online calculator. To initiate collaboration, you need to submit a request on their website.
Chinese Platforms
There are many large online platforms operating in b2b format in China. This is one of the most affordable and convenient ways to find a supplier and make wholesale purchases of any products for marketplaces.
Here is a list of popular sites with a large selection:
Alibaba.com: A platform for sourcing products from different manufacturers, intermediaries, and wholesale trading companies. Most sellers on this platform deal with large-scale wholesale. It provides a Russian-language version of the website.
Made-in-China: A service catering to international trade, offering information on Chinese suppliers and products across 27 different categories for wholesale buyers worldwide. It operates in 11 languages, including Russian.
Global Sources: A platform offering various services for online retailers, including a wholesale online store, trade exhibitions, smart search, and additional services. It has an automatic Russian translation, but specialists recommend using the main English-language version of the site.
DHgate: An e-commerce website catering to buyers in the small and medium wholesale segment. It has over 2,000,000 registered Chinese sellers. The platform is available in a Russian-language version.
HKTDC: A trade platform featuring numerous companies and manufacturers from China and Hong Kong. It facilitates even small-scale wholesale purchases.
Global Market: A platform for connecting with certified manufacturers. The profiles of potential partners provide information on business licenses and other important documents. The website is available in Russian.
Yiwugo: The official website of a large international market for wholesale consumers. It is implemented in both Chinese and English language versions.
DIYTrade: A global B2B trading platform for sourcing products in 20 popular categories.
<url> Suppliers
A platform where you can obtain information about manufacturers and suppliers of almost any desired product.
The database includes information about suppliers in various product categories, such as:
Clothing and footwear
Food products
Furniture
Building materials and equipment
Children's products
Automotive and motorcycle products
Household and domestic goods
Climate control equipment
Stationery
Textiles
Pet supplies
Electronics
Jewelry, accessories, and more.
There is indeed a lot of information available, and among the options provided, you will certainly find suitable partners. For example, in the clothing category, there are over 6,000 companies listed. If you open the profile of any of them, you will find all the necessary
information that is worth reviewing before starting cooperation:
What they manufacture/sell
Minimum order quantity
Price list
Delivery, payment, exchange/return terms
Additional services
Customer reviews
Promotions, news
Contact information.
To find a partner, you need to go to the "Looking for Suppliers" or "Looking for Dealers" section and browse the options in the corresponding category. If you don't find a suitable one, you can submit a new request.

For convenience, the website provides ratings of organizations and lists of popular domestic and international companies (from Kazakhstan, Turkey, China, Ukraine). The service of verifying a partner in the Registry of Unscrupulous Suppliers and through the "Honest Business" service is also available.

By using the suppliers.ru website, you can connect with manufacturers of specific products who offer the most favorable conditions for wholesale purchases.
Here are some examples:
Lipinskaya-Brand - stylish designer clothing for women.
"Divnye Nochi" - textiles for homes and hotels.
Agent Love - women's lingerie.
Vsvoem - women's, men's, and children's clothing.
FoodWay LLC - non-alcoholic carbonated beverages and sweets.
KINGKIT - socks, bags, backpacks.
"RusBytKhim" - household chemicals.
SNACK & PACK FOOD - confectionery products.
Conclusion
After selecting a promising niche and product to enter the marketplace, the next step is to figure out where to source it from. However, simply finding potential partners is not enough. It is necessary to correctly determine which of them is the most suitable for collaboration.

To do this, pay attention to the cost and quality of the products, the availability of warehouse stock, delivery times, and the distance to the warehouse. The minimum order quantity, delivery conditions to marketplace warehouses or your own, and the presence of licenses and certificates also matter.

To ensure future growth without constantly seeking new suppliers after each assortment update, choose partners with a wide range of offerings. It is advisable to prioritize options within the territory of your country, such as Russia. For successful trading on marketplaces, the regularity and timeliness of deliveries are crucial.