Website monetization is a method of earning income by attracting visitors to your resource and engaging them in activities. For example, you create content that interests your target audience, promote your website for specific keywords in search results, and generate a certain amount of traffic. Then, you place relevant advertisements, obtain clicks on the ads, leads, and payments from advertisers.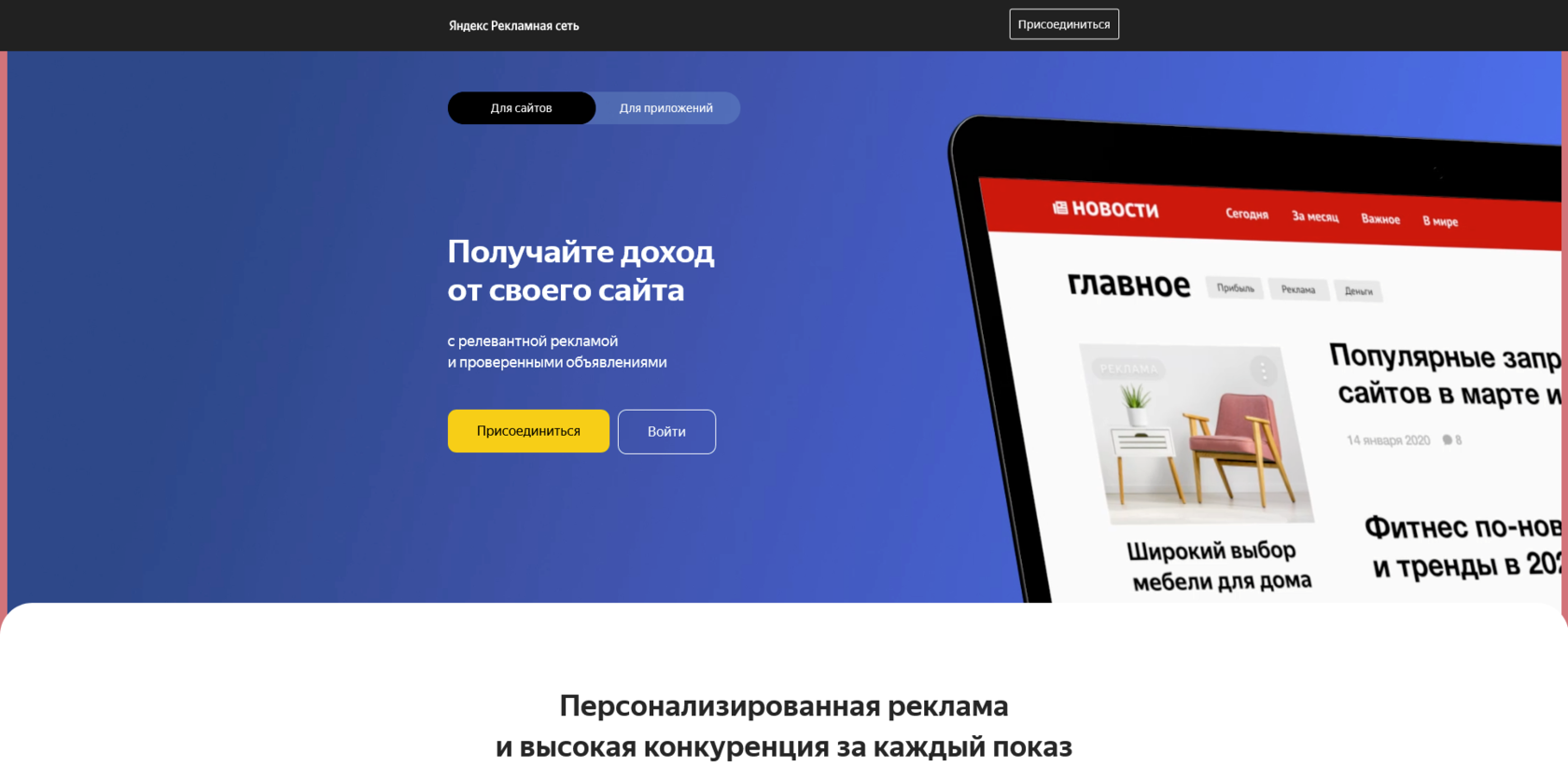 There are many ways to monetize a website, and it all depends on the chosen advertising format. You can place your own ads and creatives from direct advertisers, enter into agreements with affiliate programs, or display codes from teaser or push networks. In any case, the level of earnings and its stability will depend on the amount of traffic on your website, as well as the alignment of user interests and the relevance of the offered offers.
Types of advertising on a website
Depending on your preferences and target audience analysis, you can use different types of advertising. They vary in appearance, ad sizes, and methods of integration.
Contextual advertising (Google AdSense and Yandex Direct)
One of the most popular types of advertising among webmasters. After integration, your website will display advertisements from Yandex Advertising Network or Google AdSense (depending on your choice). The benefit of contextual advertising is that it aligns with the theme of the website and the interests of the user who sees it. This increases the chances of getting clicks on the ads. Therefore, it is recommended to work with context-based advertising on a Pay-per-Click (PPC) model: you will receive a payout each time a visitor from your website clicks on the ad and is redirected to the advertiser's website.
Banner advertising
Banner advertising involves attractive images that may include text and a link to an offer (or a persuasive landing page). Among banner ads, there are static (non-moving), animated (using HTML5 or GIF graphics), or interactive ones (allowing users to engage with them by performing simple actions, taking a survey, or solving a task to receive a discount). This type of advertising also includes teaser ads and push notifications since they essentially consist of small banners with catchy headlines.
Referral advertising (or Referral marketing)
This option is suitable for those who want to establish a stable source of income for the long term. You can offer users cashback, discounts on services or products, etc. The main thing is for them to follow the provided link or use your promo code: this way, you attract referrals and will receive a certain percentage from their spending on the advertiser's website.
Direct sales
One of the most profitable but at the same time labor-intensive forms of advertising. In this case, you need to find advertisers yourself, negotiate the terms of cooperation, the formats of the advertising used, prepare creatives, and monitor clicks and conversions. However, these difficulties can be compensated by higher payouts.
How to place advertisements on a website?
The method of website monetization is a personal choice for each webmaster. You can connect your website to an advertising network and receive payouts for clicks, promote selected offers in affiliate programs or CPA networks, or even find an advertiser to work with directly.
Yandex Advertising Network (YAN)
Website owners prefer to work with Yandex Direct if their site attracts Russian-speaking traffic. Before connecting to the advertising network, you need to ensure that your site meets Yandex's requirements. In summary, the content should not:
Violate Russian legislation.
Contain pornography or offensive content.
Advertise casinos.
Use aggressive advertising methods.
Provide links or offer downloads of potentially harmful software.
Contain many empty pages.
Offer ready-made solutions for tasks in universities and schools.
Additionally, the site should not contain doorways. After ensuring compliance with these requirements, you can submit an application to join the Yandex Advertising Network. However, Yandex may reject the application without providing reasons.
The requirements for websites include having quality content, paid hosting, a Russian-speaking audience, and traffic of at least 500 daily visitors for a month.
How to place Yandex Advertising (RSYA)?
Place the code in the header section of your website. This way, the platform can verify that you are the actual owner of the resource.

In your RSYA (Yandex Advertising) account, provide the link to your website and wait for the moderation process to be completed.

Create advertising blocks, which can be either search or RTB (Real-Time Bidding) blocks.

After completing these steps, RSYA will provide you with the necessary codes to be installed on all pages of your website.
Google Adsense
This is Google's advertising network, operating on a CPC (Cost-Per-Click) model. JavaScript is used for its functionality. How to integrate Google ads on your website?
To integrate Google ads on your website, follow these steps:
Go through the account moderation process.
Create an ad unit in your AdSense account.
Set the appearance of the ad.
Save the settings and obtain the ad code.
Next, you can add the code to one of the plugins that work with Google AdSense, like Publisher. Another method is to add the code manually to your website.
Push notifications
Monetization through Push notifications is one of the ways to earn income on a website using advertising networks. The essence is simple: when a user visits your page, after some time, they see a pop-up notification with an offer to subscribe to a newsletter, visit the advertiser's website, purchase a product, etc. Depending on the chosen push network, the displayed creatives' themes or the target actions for which the advertiser will pay may vary. Here are some networks you can work with:
zPush

Meduza-ADX

RichAds

Mgid

Roller Ads

Runative

Push.House

PropellerAds

Clickadu

Galaksion
Of course, this is not an exhaustive list of companies offering website monetization through Push notifications. The working process is straightforward: you create an account on the advertising network's website, enter your website (or multiple websites) in your account dashboard. After passing the moderation, you will be provided with a short code that needs to be placed on the pages.
After that, users will start receiving push notifications with advertisements.
IMPORTANT:
Remember not to write messages like "click the link to access the website" and similar content. This can lead to sanctions from search engine bots.
WordPress Plugins
Extensions from the WordPress repository allow you to place advertisements in just a few clicks.
With their help, you can not only specify the area to display the ad but also set up scheduling, banner rotation, prioritize, customize the appearance of the ad, and much more. One of the main advantages of such plugins is that they are completely free. Which ones can you use?
AdShipp Ads

Ad Injection

Ad Rotate

Bannerize

CM Ad Changer

Meks Easy Ads Widget

Simple Ads Manager

Text Link Ads

WordPress Ad Widget
Some of these plugins are designed to manage specific types of ads (banners, context, teasers), but for the most part, the majority of them can work with any type of advertisements.
Regardless of the chosen plugin, the process of connecting ads is quite simple. Let's go through the example of Ad Rotate. To do this, follow these steps:
Install and activate the plugin.
In the "Manage Adverts" section, click on the "Add New" button.
Enter the campaign name and the code from the advertising network.
If needed, upload your banners through the "Banner Asset" field.
Configure statistics gathering, scheduling, display conditions, and GEO targeting.
Click "Save Advert."
Next, you can set up ad groups in the "Manage Groups" section (this allows you to gather statistics for specific campaigns and all their advertisements).
That's it. However, if you want to display ads not only in specific articles but also, for example, in the website's header, you'll need to use shortcodes and PHP code generated by the plugin. To do this, open the settings of your template, go to "Appearance," then "Widgets," and choose the sidebar where you want to place the ads. After that, in the "Text" widget, insert the shortcode from the plugin to display the ad.
Note that you can place ads anywhere within the page's text. Just insert the shortcode into the text where you want the ad to appear.
Banners and Teasers
If you collaborate with advertising networks, you can connect various ad formats, from banners to teasers. To do this, you need to link your website to these networks and place the provided code on the desired pages. Remember that it is recommended to choose themes that correspond to your website's content and audience interests.
Which advertising networks can you consider?
VisitWeb

RTB Sape

HilltopAds

MaxTarget

Kadam

Contema

Adbean
Conclusion
Website monetization allows webmasters and website owners to earn from the traffic they attract. Placing advertisements is not difficult; you can do it manually or with the help of specialized plugins. The key is to choose a suitable offer, advertiser, or advertising network that will pay for the users you bring in and their clicks.